Home / All Recipes / Indonesian / Nasi Gurih Rice Cooker - Pandan and Coconut Milk Rice in Rice Cooker
Nasi Gurih Rice Cooker - Pandan and Coconut Milk Rice in Rice Cooker
How to cook Indonesian nasi gurih (pandan and coconut milk rice) in a rice cooker. With options to cook the rice in an instant pot, or on a stovetop.
Nasi gurih is Indonesian steamed white rice, cooked in coconut milk and flavored with spices. There are many regional varieties of nasi gurih in Indonesia, so depending on where you are, you may be presented with a slightly different version of nasi gurih. But they are basically almost always rice cooked in coconut milk and a blend of herbs/spices. This version I am sharing is the one most widely available in the island of Java and is also one of its simplest varieties.
What is nasi gurih?
Gurih means savory, or delicious in Indonesian. So if your Indonesian friend asks you what you think of a dish, you can now answer with, "It's gurih!". Nasi gurih literally translates to savory or delicious rice, describing the richness of the steamed rice cooked in coconut milk and spices. To prepare nasi gurih, you will need the following:
white rice. I usually use Thai jasmine rice. If you must substitute, I would suggest using basmati rice. Short or medium grain rice is not suitable to prepare nasi gurih.
coconut milk
pandan leaves, or daun salam (Indonesian bay leaves). I have to admit that pandan is so much easier to find compared to daun salam. By the way, daun salam tastes super different compared to regular bay leaves, or Indian bay leaves. So if you can't find them, it's best to omit.
salt
water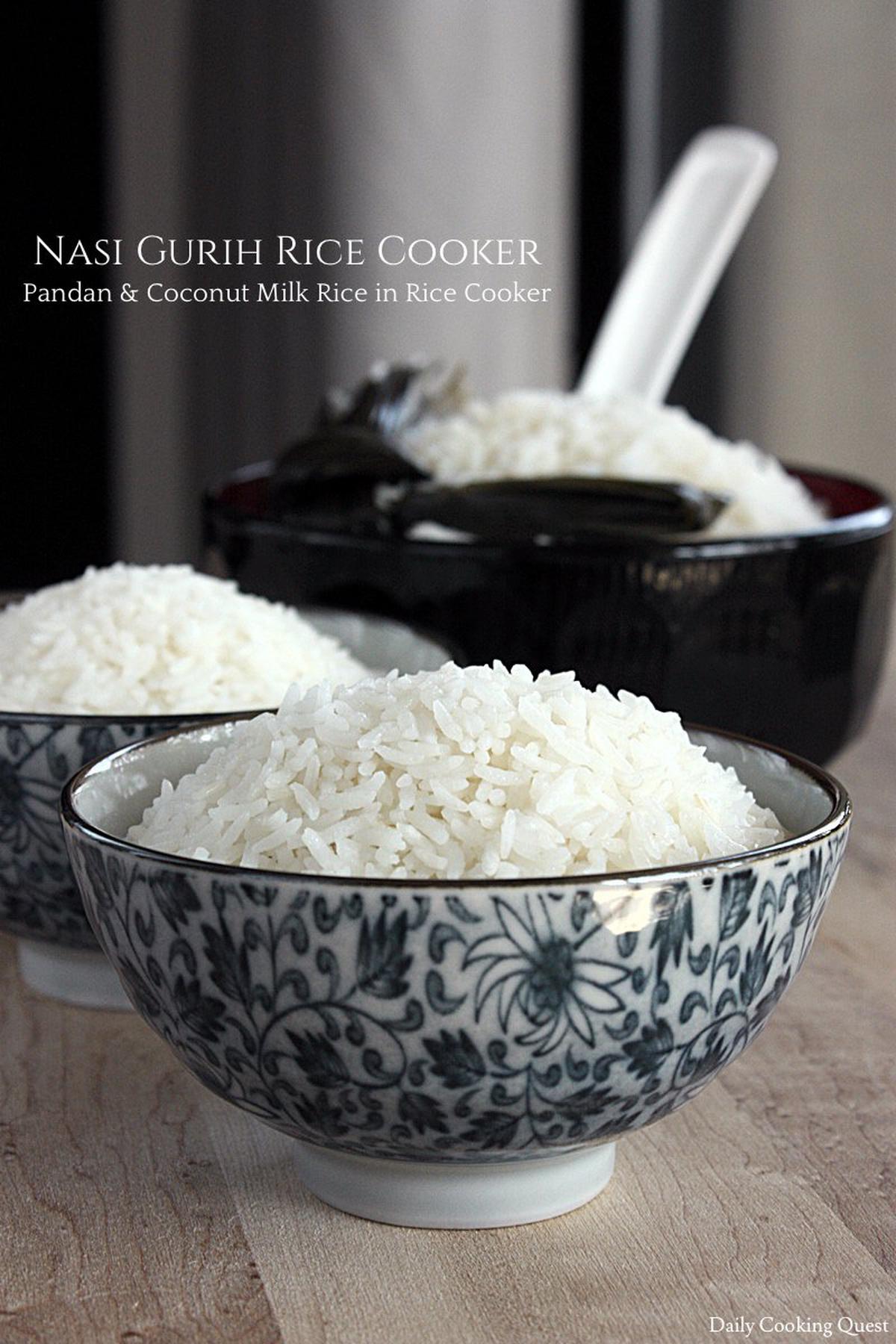 How do you cook nasi gurih?
Just like cooking regular rice, you have so many options:
stovetop in a pot
rice cooker
instant pot, the latest popular thing to own and to cook with
Regardless of choice, you will want to do the following:
Wash the rice repeatedly under cold running water until the water is clear.
Drain the rice.
Cook the rice.
Cooking nasi gurih in a rice cooker
To me, this is the easiest option to cook nasi gurih, or all sorts of rice, to be honest. To cook nasi gurih in a rice cooker, please do the following:
Place washed and drained rice in your rice cooker pot. Add coconut milk and top with water, so the total amount of liquid follows the suggested liquid measurement for cooking white rice according to your rice cooker. Most rice cooker pots have markings, and since we are cooking 4 rice cooker cups worth of rice, be sure your coconut milk + water (if needed) comes to the 4 cups mark on your rice cooker pot.
Add salt and pandan or daun salam. Stir so everything mix together.
Close the rice cooker, and cook the rice with the "white rice" setting. Or a simple "cook" button if that's all your rice cooker has.
Once it is cooked and the light turns to "keep warm", let the rice sit for 10 minutes, then open the lid and use a rice paddle/fork to fluff the rice.
Cooking nasi gurih in an instant pot
You can cook nasi gurih in an instant pot too. The steps are very similar to using a rice cooker. The only difference would be you need to press the "rice" or "pressure cook" button. "Rice" works nicely here because we are cooking white rice, but you can use "pressure cook" and set on "high" for 5 minutes too if you wish. Also, be sure to double-check the amount of liquid (coconut milk plus water if necessary) to follow your instant pot suggestion. This is typically a 1:1 ratio for white rice.
Cooking nasi gurih in a pot on a stovetop
If you don't have a rice cooker nor an instant pot, you can still cook nasi gurih the traditional way, in a pot on a stovetop. For stovetop, we want our rice:liquid ratio to be 1:2. So be sure your coconut milk plus water is double the volume of rice. To cook nasi gurih on a stovetop, do the following:
Make sure the ratio of rice to coconut milk and water is 1:2.
Boil coconut milk and water in a pot, then add the washed and drained rice, pandan/daun salam, and salt.
The liquid will stop boiling at this point, so wait until it returns to a gentle simmer.
Reduce the heat to low, and cover the pot with a lid.
Cook the rice for about 18-20 minutes. At 18 minutes mark, open the lid and see if your rice is fully cooked. It usually is, or it will be at 20 minutes mark for white rice.
Turn off the heat, cover the pan with the lid again. And let the rice sit in the pot for 10 minutes. Then fluff and serve.
What do you serve with nasi gurih?
Since I am doing a Javanese version of nasi gurih, the best side dishes to serve alongside the rice would be:
Other Indonesian flavored rice recipes
If you love nasi gurih and want to try other Indonesian flavored rice, you may want to try some of these recipes:
Nasi Gurih Rice Cooker - Pandan and Coconut Milk Rice in Rice Cooker
Ingredients
4 rice cooker cups (or 3 regular cups) Thai rice, washed and drained
3 pandan leaves, knotted
1/2 tablespoon salt
1 can (400 ml) coconut milk
water, as needed
Instructions
Place rice, pandan leaves, and salt in rice cooker pot. Pour coconut milk into the pot, then add enough water to satisfy the water level requirement of your rice cooker to cook white rice. Give a quick stir to mix well.
Place the pot into rice cooker machine. Cook until the cooking indicator switch to "warm" or "ready". Wait 10 minutes, then open the lid, remove pandan leaves, and fluff the rice with rice paddle. Serve warm.