Home / All Recipes / Indonesian / Nasi Kebuli - Fragrant Lamb Rice
Nasi Kebuli - Fragrant Lamb Rice
Today is the Idul Adha holiday in Indonesia, and on this day, many family will prepare lamb dishes in the same way the Americans prepare turkey on Thanksgiving. So, to get into the spirit of the day, I am preparing nasi kebuli, a rice dish with lamb and ton of spices cooked in coconut milk. It is a dish that we Indonesian absorbed from the Middle Eastern tradition. I suspect that if you simply switch the coconut milk to yoghurt and the cooking oil to ghee, this would probably pass as a Middle Eastern dish instead of Indonesian. ♥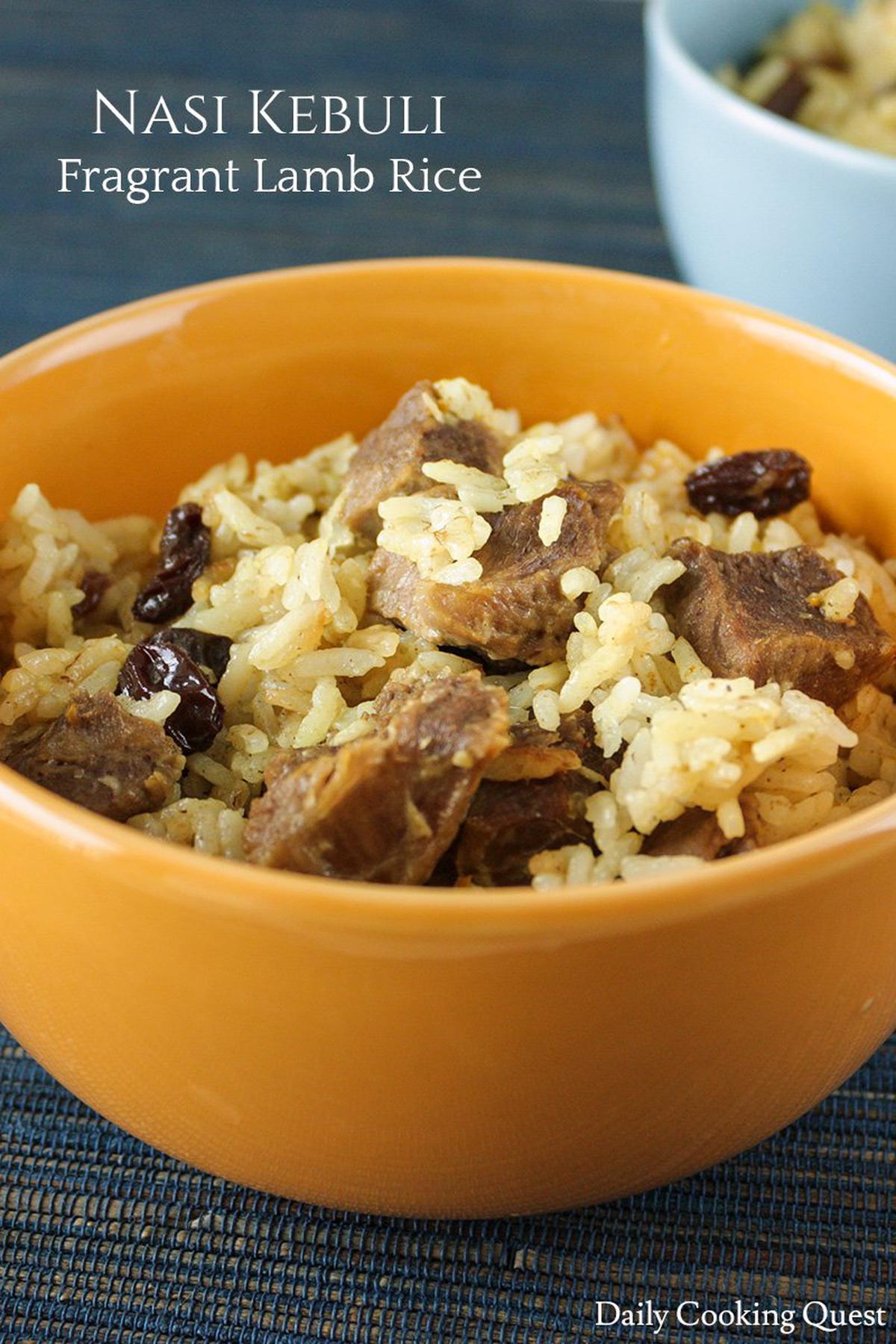 Nasi Kebuli - Fragrant Lamb Rice
4.5 from 2 reviews
Ingredients
350 gram lamb thigh (Indonesian: paha kambing), cut into 1 inch cubes
500 ml water
2 bay leaves (Indonesian: daun salam)
3 cloves (Indonesian: cengkeh)
1 inch fresh ginger (Indonesian: jahe), bruised
1 tablespoon oil
600 ml coconut milk
300 gram rice, washed and drained
3 tablespoon raisin
Grind the following into spice paste
4 shallots (Indonesian: bawang merah)
2 cloves garlic (Indonesian: bawang putih)
1 teaspoon coriander seeds (Indonesian: ketumbar)
1/2 teaspoon cumin seeds (Indonesian: jinten)
1/4 teaspoon fennel seeds (Indonesian: adas)
1 fresh turmeric (Indonesian: kunyit), peeled
1 cm fresh ginger (Indonesian: jahe), peeled
Additional spices
1 cinnamon stick (Indonesian: kayu manis)
3 cloves (Indonesian: cengkeh)
1/4 teaspoon ground nutmeg (Indonesian: bubuk pala)
1 anise star (Indonesian: pekak/bunga lawang)
2 cardamom pods (Indonesian: kapulaga)
1 lemongrass (Indonesian: sereh), bruised
4 kaffir lime leaves (Indonesian: daun jeruk)
1 bay leaf (Indonesian: daun salam)
1 teaspoon salt
1/4 teaspoon ground white pepper
Instructions
Boil lamb with water, bay leaves, cloves, and ginger and cook until the meat is tender. Drain and set the lamb aside.
Heat oil in a pot and stir fry the spice paste, and all the additional spices until fragrant, about 3 minutes.
Pour coconut milk into the pot and bring to a boil. Turn off heat and set aside.
Place rice in a rice cooker pot, along with raisin, and the pot of lamb and coconut milk.
Turn the rice cooker on and cook until the rice is ready, the machine usually turns to "warm" at this stage. Let rest for 10 minutes, then open the rice cooker. Remove the leaves and lemongrass, give a quick stir with a rice paddle and serve immediately.