Home / All Recipes / Indonesian / Nasi Kuning
Finally I got the time to make a proper and complete nasi kuning. It is quite a production to prepare this dish, since nasi kuning (or yellow rice) is traditionally served with the requisite perkedel kentang, ayam ungkep, telur dadar gulung, kerupuk udang (shrimp crackers), quick lalap, and sambal.
So, everything has to be timed just so, thus bits of juggling is required, that way, if you start cooking at 8 o'clock in the morning, hopefully sometimes around 11 o'clock everything will be done and ready and looking super yummy :)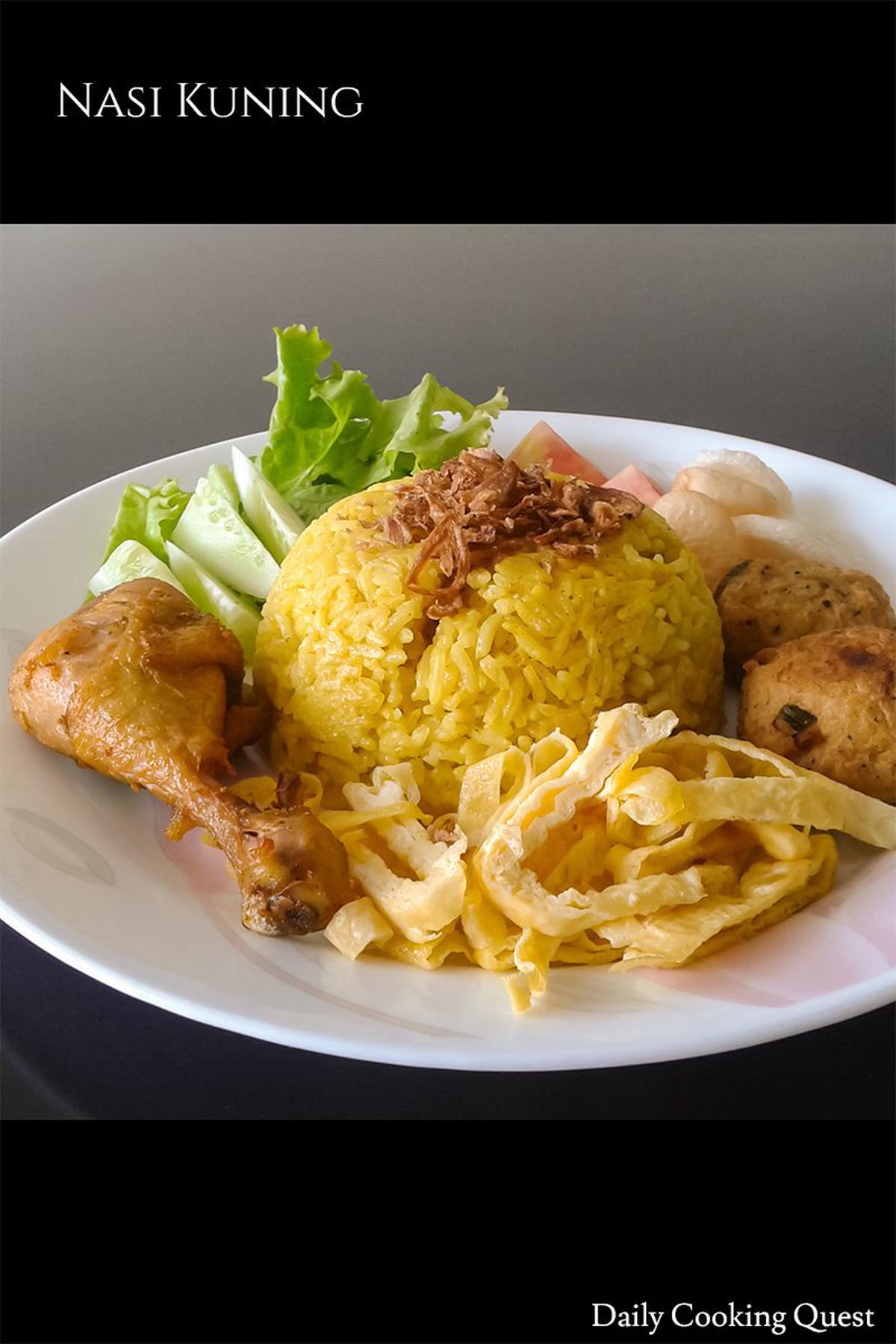 Making a complete nasi kuning meal
This post is just for the recipe of nasi kuning, if you want to prepare the complete works, please see my previous posts for:
Serving suggestion
To serve, shape rice with the aid of a small soup bowl (or rice bowl if you have one) and slightly press it down so the shape will hold, then place a plate on top of the bowl and flip it so the rice sits right in the middle of the plate.
Place one piece of ayam ungkep, a couple of perkedel kentang, 2 tablespoon of telur dadar gulung, some kerupuk udang (shrimp crackers), some slices of cucumber, tomato, and lettuce around the rice. Serve with some chili sauce (sambal).
Nasi Kuning
5.0 from 5 reviews
Ingredients
2 cup rice (use the rice cup that come with the rice cooker)
2 teaspoon turmeric powder (Indonesian: bubuk kunyit)
1 lemongrass (Indonesian: sereh), bruised and chopped
1 Indonesian bay leaf (Indonesian: daun salam)
1 kaffir lime leaf (Indonesian: daun jeruk)
½ teaspoon salt
½ teaspoon sugar
100 ml coconut milk
3 cup water (again use the rice cup that come with the rice cooker)
Instructions
Place all ingredients in the rice cooker and turn on the power. Press the "cook" or "white rice" button.
When the machine indicates that the rice is ready (usually a "warm" light will turn on), open the lid, fluff the rice, remove lemongrass, bay leaf, and kaffir lime leaf.
Close the lid again and let the rice rest for another 10 minutes before serving.