Home / All Recipes / Chinese / Nastar Gulung - Rolled Pineapple Tart
Nastar Gulung - Rolled Pineapple Tart
Pineapple tart cookies are Chinese New Year must have cookies. This version incorporate grated cheese into the tart crust, with and easy to handle log shape cookies.
Every year when Chinese New Year approaches, most Chinese families will start with the huge task of preparing mountainous amount of baked goods. The most ubiquitous among these baked goods is definitely pineapple tarts.
There are endless variation of tart crust among individual families. After so many years and testing so many different crust recipes, I consider this my favorite tart curst.
It has plenty of grated parmesan for the cheese lover in me, with minimal to non-existent expansion while baked so they retain their shape really well, and best of all, they simply melt in your mouth.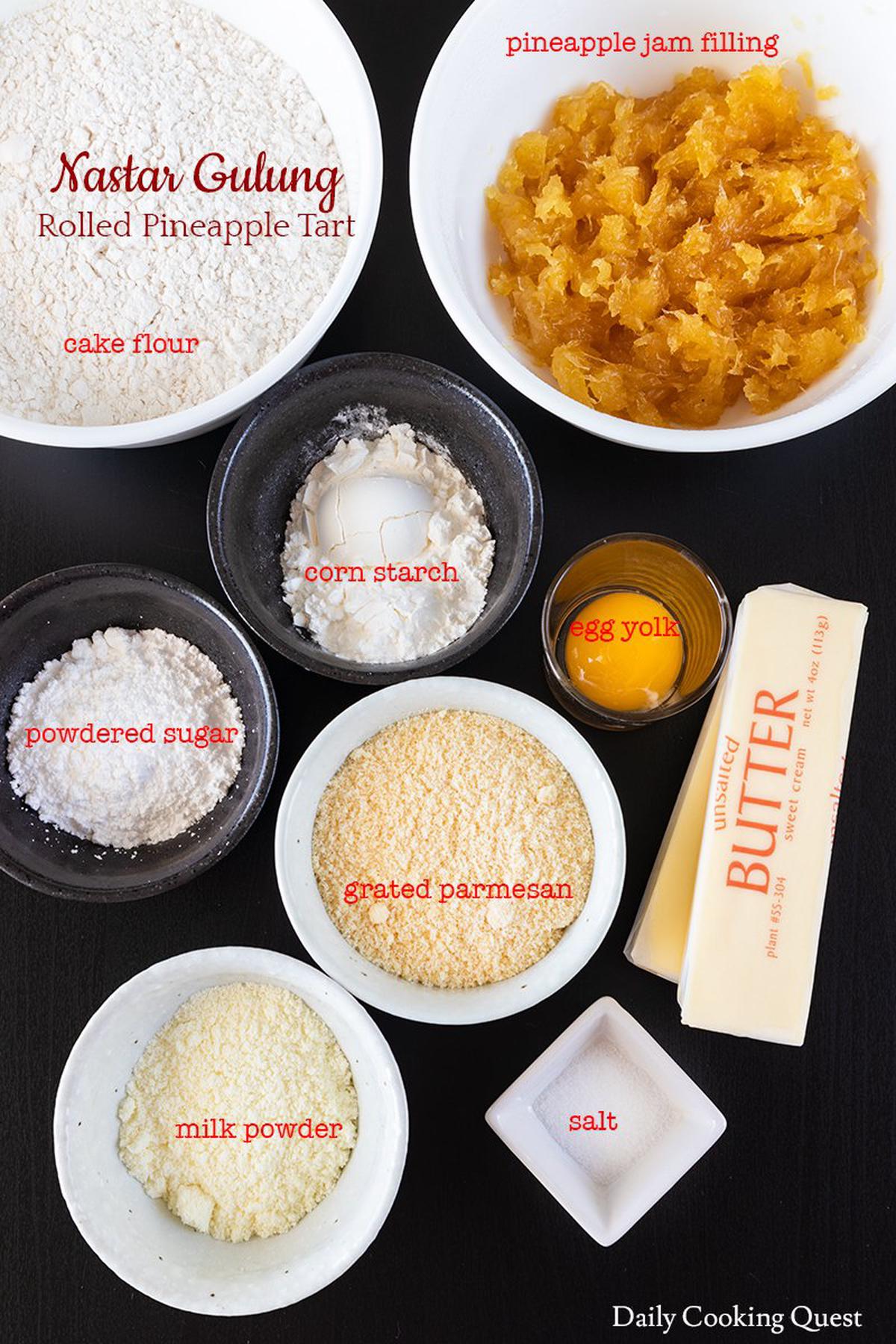 Pineapple jam filling
My usual game plan is a two-day process. The first day I simply prepare the pineapple jam filling and let them chill in the fridge overnight so I can be extra sure it will be completely chilled when I shape my cookies. Chilled filling makes the shaping process so much easier.
You can use fresh pineapple, or you can use a can of crushed pineapple. Both works well, so if you want to save time and money, the canned pineapple is really not a bad option at all.
One note for those who has never make this before, just be extra sure to make your jam filling extra dry and extra stiff. This is not jam for your morning toast, you need the jam to be extra thick paste. Imagine the thickness where you can shape the jam and it stays like that.
Make a double batch of filling
If you love to really stuff your nastar with pineapple jam filling, feel free to make a double batch of the pineapple filling. This recipe is intended for people who love a more balanced tart:filling ratio.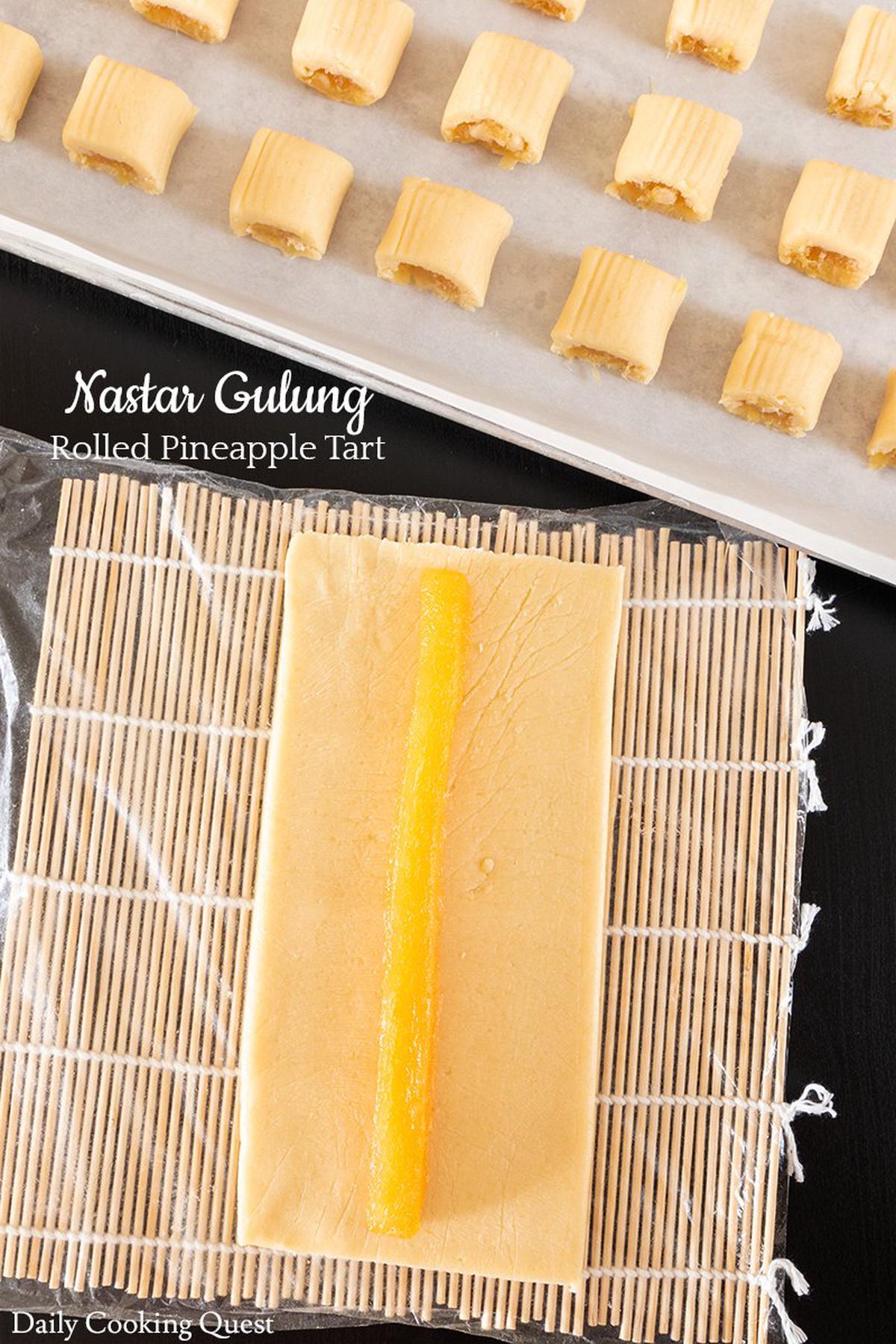 Tart crust
If you want your tart crust to be as not expanding as possible, I have two tips.
First, stick to using powdered sugar. If you use regular granulated sugar, it will definitely expand in the oven, which is highly non-desirable in a pineapple tart.
Second, be sure to chill your shaped cookies in the fridge while you preheat the oven. This step is crucial to help solidify the butter, which means, your cookies won't expand in the oven. If you need an extra guarantee, you can even chill your shaped cookies overnight and bake the next day.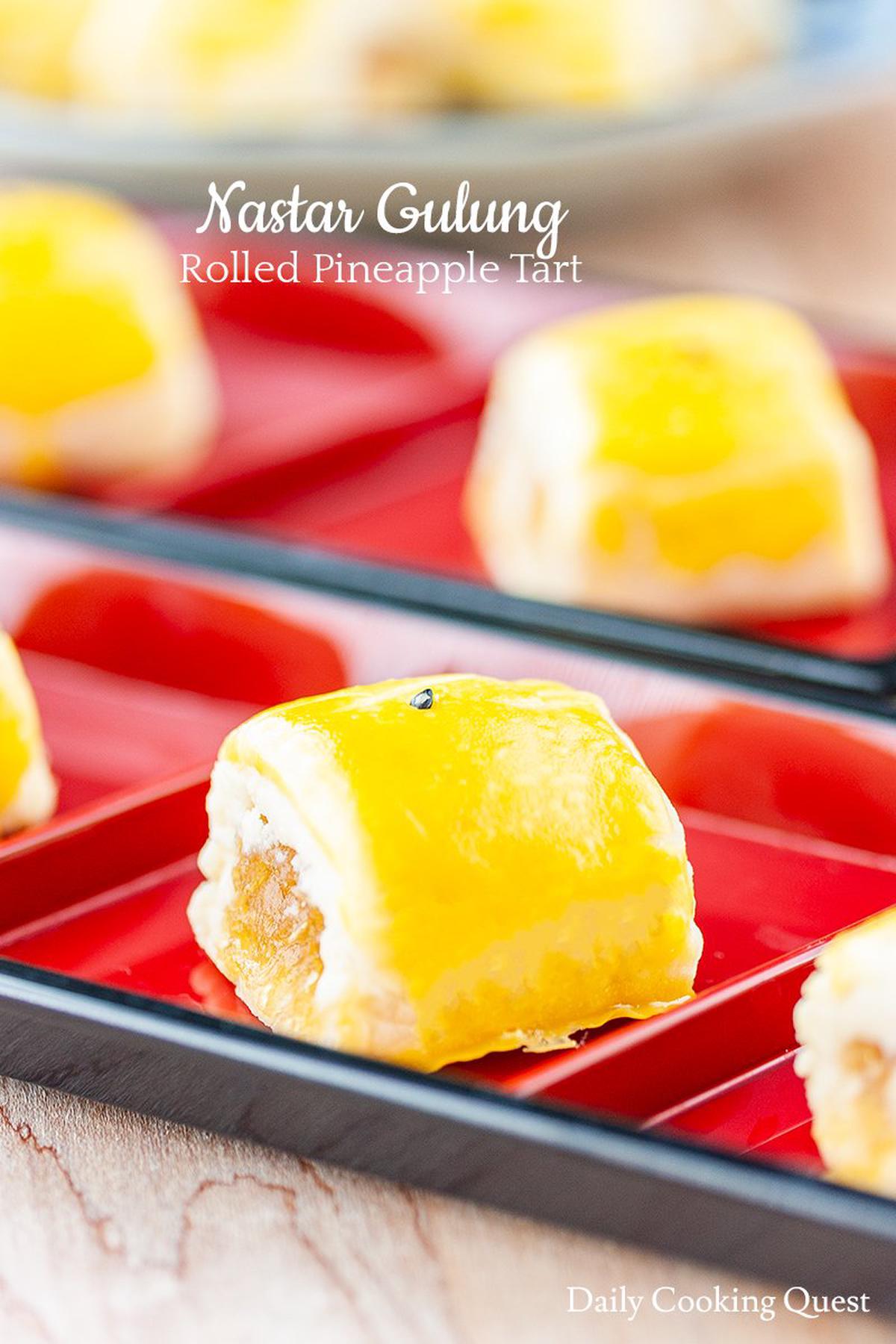 Glossy egg wash finish
The icing on the cake, or in this case, the glossy golden crust on each cookie is achieved with an egg wash.
To get that shiny golden color with smooth satiny finish, we need egg wash of egg yolks, and not at the start of the baking. Rather, I usually bake the cookies half way, in this case 20 minutes, then remove from oven, quickly apply egg wash and decorate (if desired), and bake for the remaining time.
This is mainly for insurance. In case my cookies end up expanding a bit, I would rather they finish expanding, and then I apply the egg wash so there is an extra guarantee the top glossy finish will be smooth with no cracks.
If you are super sure that the cookie dough will 100% not expand while baking, or if you don't mind having minor cracks on the glossy surface, feel free to apple egg wash prior to baking, and just bake your cookies for the entire 35-40 minutes straight.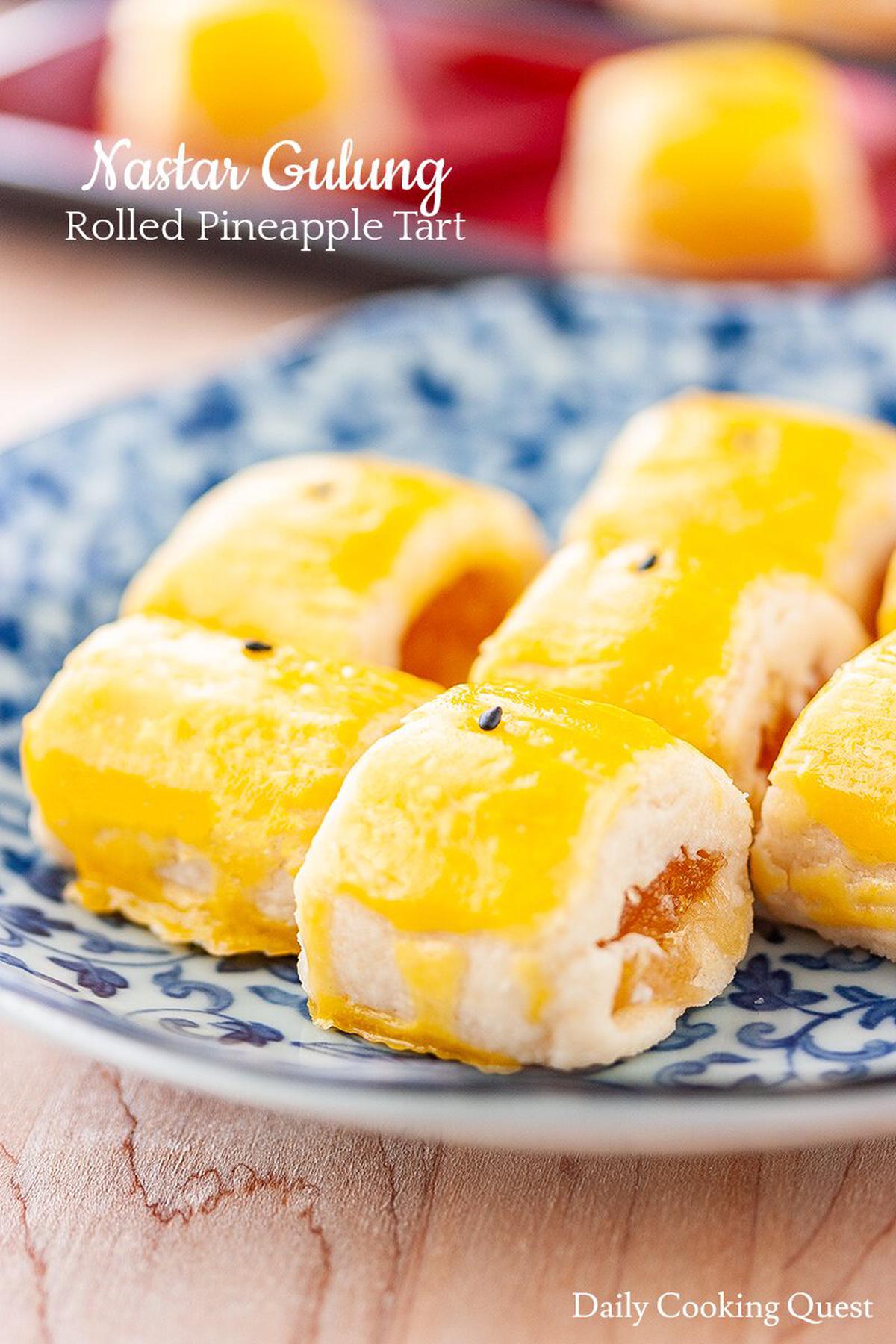 Nastar Gulung - Rolled Pineapple Tart
4.9 from 18 reviews
Ingredients
Pineapple jam filling (*)
1 can (567 gram/20 oz.) crushed pineapple
1 inch cinnamon stick (Indonesian: kayu manis)
2 cloves (Indonesian: cengkeh)
100 gram (1/2 cup) sugar, or to taste
1/8 teaspoon salt
Tart crust
2 sticks (225 gram/8 oz.) unsalted butter, softened
25 gram (3 tablespoon) powdered sugar
1/4 teaspoon salt
1 egg yolk
275 gram (2 1/4 cup) cake flour
30 gram (4 tablespoon) cornstarch
25 gram (3 tablespoon + 1 teaspoon) milk powder
50 gram (1/2 cup) grated parmesan/grated cheddar
Egg wash & decoration
2 egg yolks, lightly beaten for egg wash
black sesame seeds, decoration (optional)
Instructions
Pineapple jam filling

Boil pineapple, cinnamon, and cloves in a sauce pot over medium heat. Cook until quite dry and there is no standing liquid visible in the pot.
Add sugar and salt. Stir, cook until really dry, but make sure there are no burnt bits. Set aside to cool completely in the fridge.

Tart crust

Cream together unsalted butter, powdered sugar, and salt. Add in egg yolk, and beat until well mixed.
Sift together cake flour, cornstarch, and milk powder. Add this into the butter mixture and stir until well mixed.
Add in the grated parmesan/cheddar, mix well into a workable cookie dough.

Shaping ad baking the cookies

Line a baking sheet with parchment paper. Divide the dough into 5 portions. And, divide the pineapple jam filling into 5 portions.
Roll each portion of dough into 8"x4" rectangle, shape each pineapple jam into an 8" long thin log, place on the center of the dough. Roll into a log, and cut into 8 equal pieces, each 1" long. Arrange on the prepared baking sheet. (**)
Repeat until all dough and jam filling is used up.
Preheat oven to 150 Celsius (300 Fahrenheit). Chill the shaped cookies in the fridge while the oven is preheating.
Once the oven temperature reaches 150 Celsius (300 Fahrenheit), remove the cookies from the fridge, and immediately bake in preheated oven for 20 minutes.
Remove from oven, then apply egg wash on top of each cookie, and decorate with black sesame seeds.
Bake again for another 20 minutes, or until golden brown.
Once the cookies are completely cool, store in air-tight container.
Notes
(*) If you prefer your nastar to be filled with plenty of pineapple jam, feel free to double the filling recipe. The tart crust recipe should stay the same.
(**) I use a sushi bamboo mat to help with the rolling.