Home / All Recipes / Indonesian / Navel Orange Confit Agar
I bought a couple of jumbo navel oranges, these things are huge I tell you, the regular navel oranges sitting right next to these look puny in comparison. Here is a photo of the oranges after I carefully separate the peels from the flesh. Try to be as neat as possible when taking off the peels to get a gorgeous looking orange confit. ♥
I make the orange confit following William Curley's recipe in his Couture Chocolate, it is simple and straightforward, but like all confit recipes, your patience is gonna be tested since it takes hours and hours to simmer away on the stove. I stored the finished confit with the juice straight into a jar since I wasn't planning on making chocolate dipped orange confit. If you do plan on making one, you will need to leave the peels on a wire rack until dry, then cut into strips before dipping into tempered chocolate.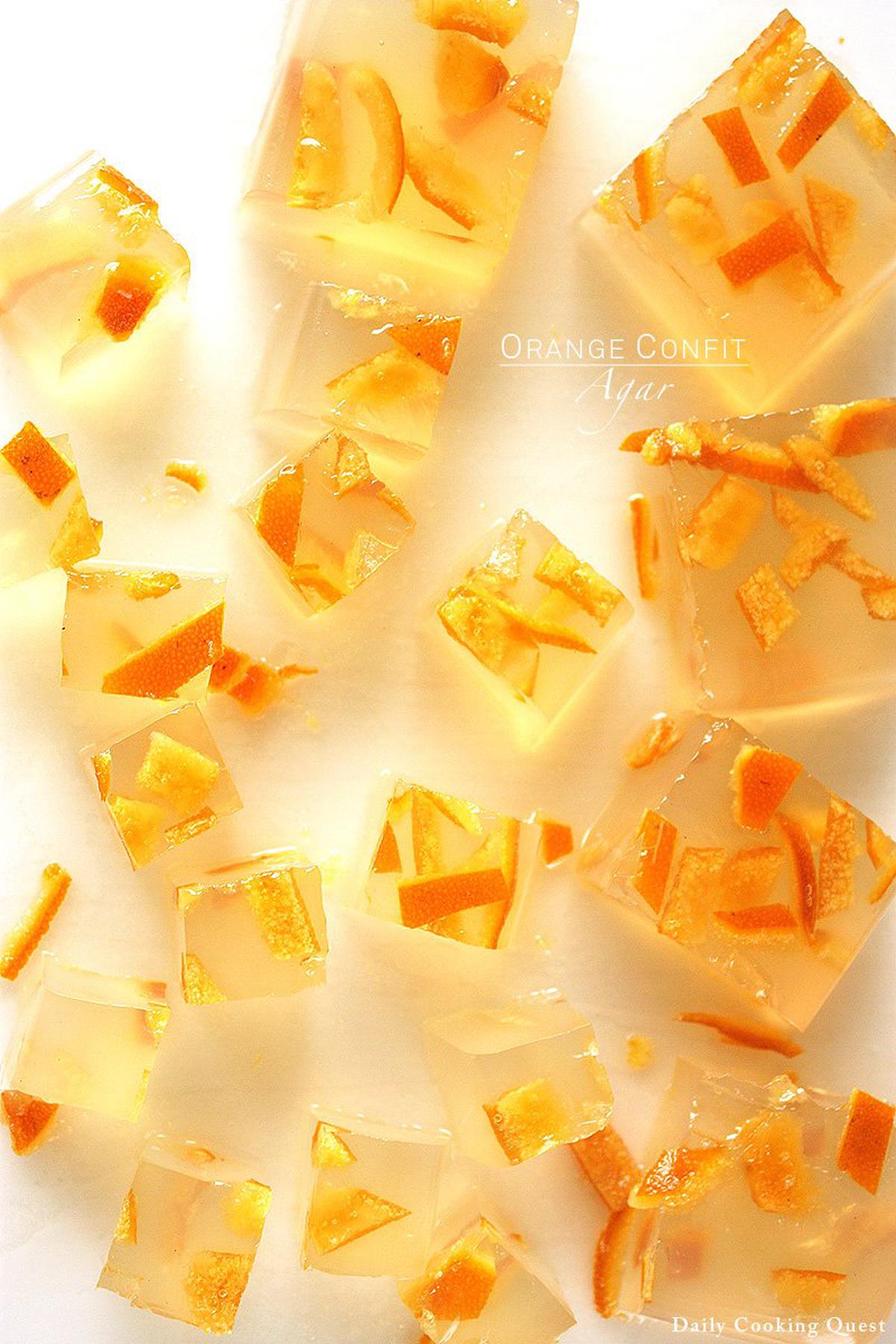 Anyway, enough with the chocolate and let's move on to the navel orange confit agar, shall we? The idea is simple enough, make a batch of agar, pour into a mold, then take a couple of the orange confit, thinly sliced and scatter into the agar. Try to add the confit strips in 2 to 3 batches, with around 5 minutes interval per batch, this way some of the confit will stay suspended in the agar, instead of all settling at the bottom of the agar, which will be so pretty when cut. Understand that this is just for effect, but totally worth it. Once it is set and chilled, I like to cut this into small cubes and serve them in pretty little glasses.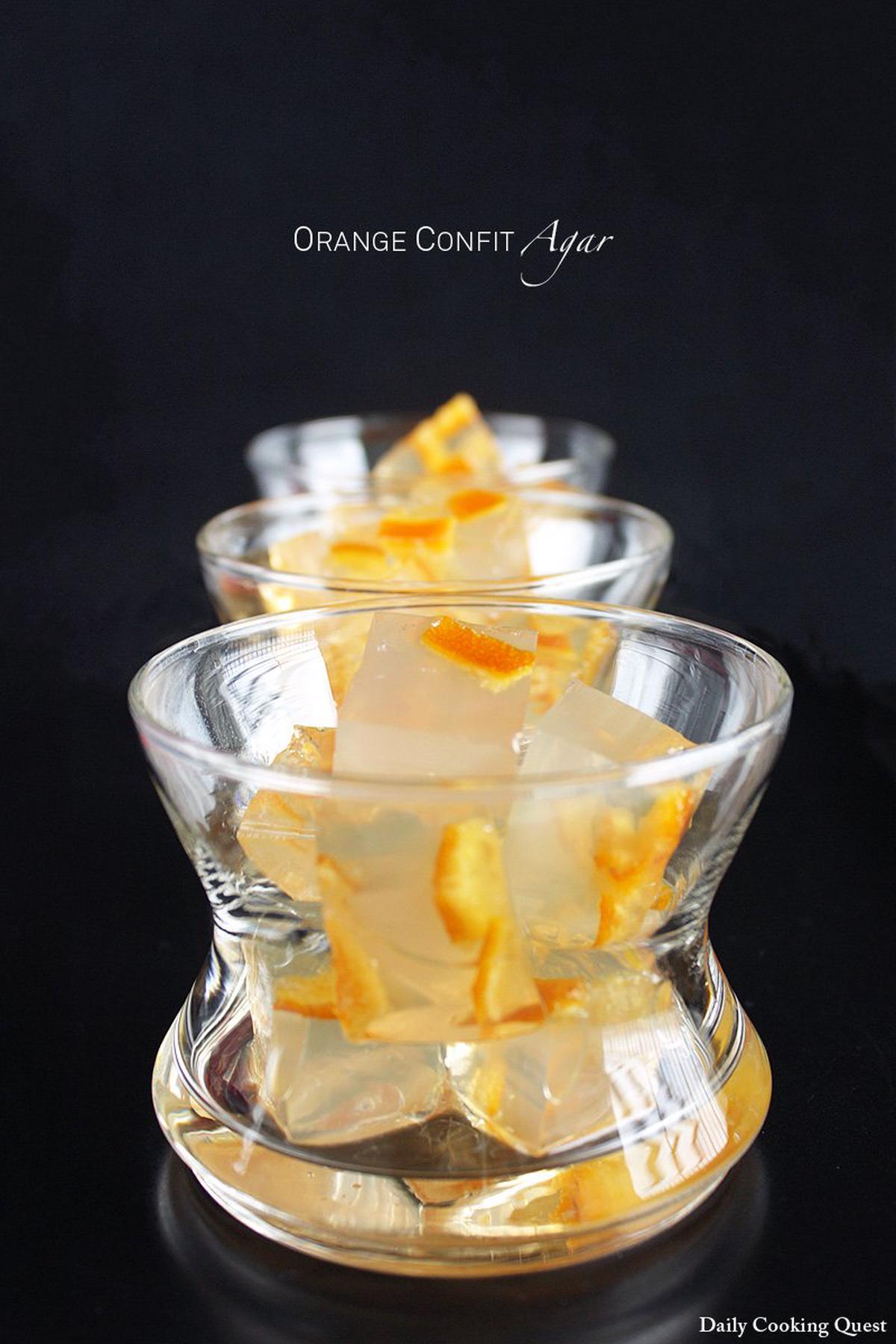 Navel Orange Confit Agar
5.0 from 1 reviews
Ingredients
Navel orange confit
2 jumbo navel oranges (or 3 regular navel oranges)
500 ml water
375 gram powdered sugar
1 teaspoon vanilla essence
Navel orange confit agar
1 packet of (10 gram) of plain agar-agar and jelly powder (I use the one from Swallow Globe Brand)
120 gram sugar
900 ml water
3 quarter peels of navel orange confit, cut into thin strips.
Instructions
Navel orange confit

Cut each orange into quarters, then gently take the peel of from each quarter. Place the peels in a sauce pan, then add enough water to cover the peels. Boil, then drain the peels, and discard the water. Refresh the peels until cold water, and repeat the process two more times.
Place orange peels, 500 ml of water, powdered sugar, and vanilla essence in a saucepan. Bring to a boil, reduce heat and simmer for 30 minutes on lowest heat setting. Turn off heat, remove from heat and let cool for 30 minutes. Cover the pot and leave to cool overnight.
The next day, bring the pot back to a boil, simmer on lowest setting and cook for another 2 hours until the orange is soft and candied. Let it cool then transferred the peels and all the juice in a jar.

Navel orange confit agar

Boil together 1 packet of jelly powder, sugar, and water according to the packet instruction. Strain into a 20cm x 20cm x 5 cm baking pan.
Scatter 1/3 of the orange confit strips into the agar, wait 5 minutes, scatter another 1/3 of confit strips, wait 5 minutes, and scatter the final 1/3 of strips.
Let the agar cools until set. Once it sets, transfer to a fridge to chill for at least 2 hours.
To unmold, run a knife along the pan's edges, cover the pan with a cutting board/serving plate, flip, remove the pan, then cut the agar into small cubes and serve in pretty glasses.