Home / All Recipes / Chinese / Oatmeal Cereal Butter Prawns
Oatmeal Cereal Butter Prawns
Cereal butter prawns with crispy oatmeal topping to substitute for Nestum cereal. This prawns dish is a Chinese New Year favorite.
When I was still living in Indonesia, there is always a big family gathering from my husband's side of the family for the big Chinese New Year Eve dinner feast, and cereal butter prawns is a dish that appears every year without fail. Since Chinese New Year is coming up, I am recreating this beloved family dish with what I can find easily in the United States using oatmeals.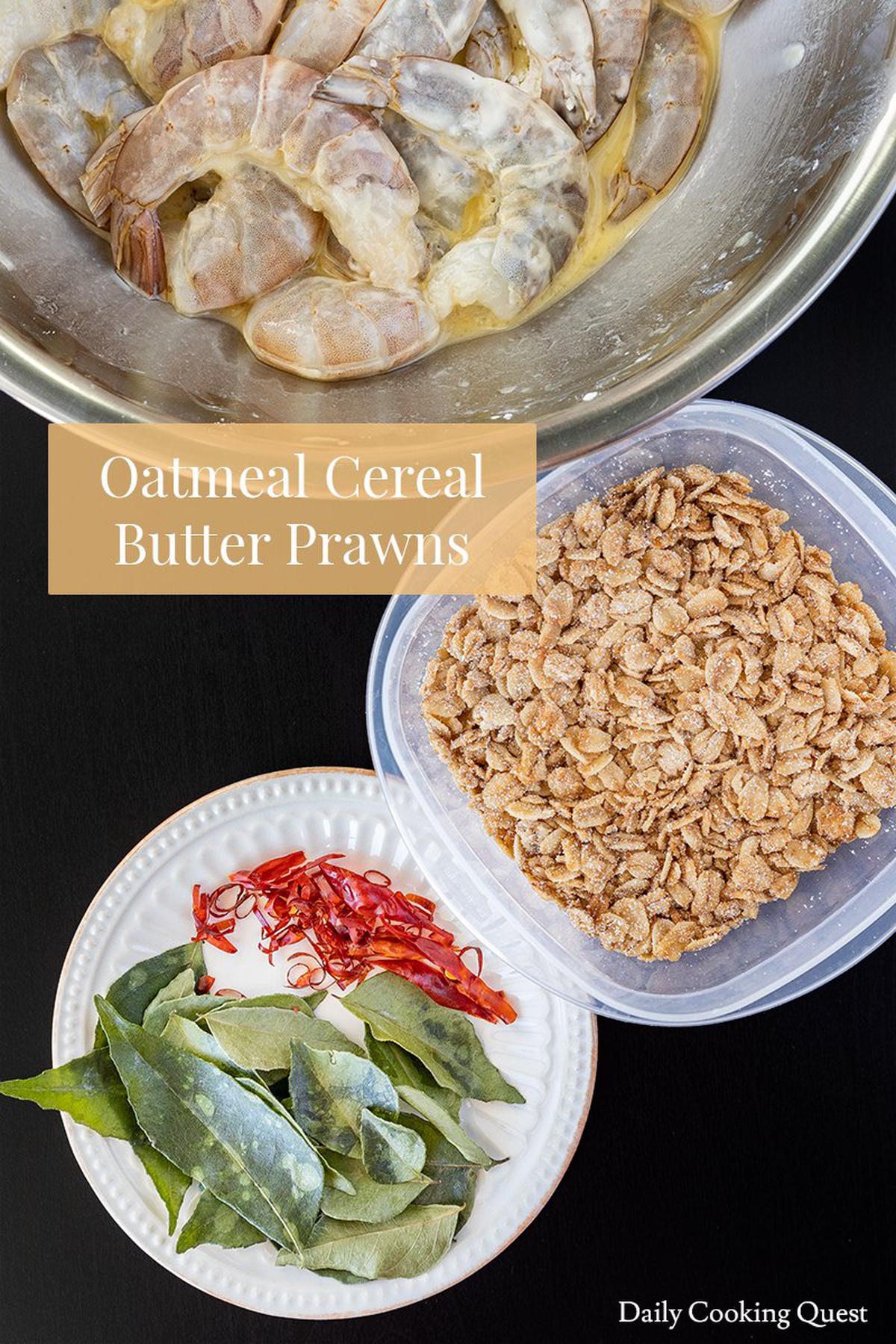 Crispy oatmeal topping, definitely not soggy!
In Asia, if you want to make the cereal portion of this dish, you start by buying Nestum cereal. If you try really hard, you may spot Nestum cereal in some random supermarket in the United States. But let's just say it is not something easy to find compared to oatmeals, which leads me to creating this recipe.
First things first, don't just simply substitute nestum cereal with oatmeals. It is not going to be delicious since you end up with soggy toppings! But after a bit of tinkering, I am proud to say that this version of oatmeals topping works!
It's crispy and most definitely not soggy. If you need some cereal butter prawns in your life and there is no Nestum cereal around, this recipe is definitely going to make you very happy. Plus, oatmeals are way healthier than Nestum cereal. :D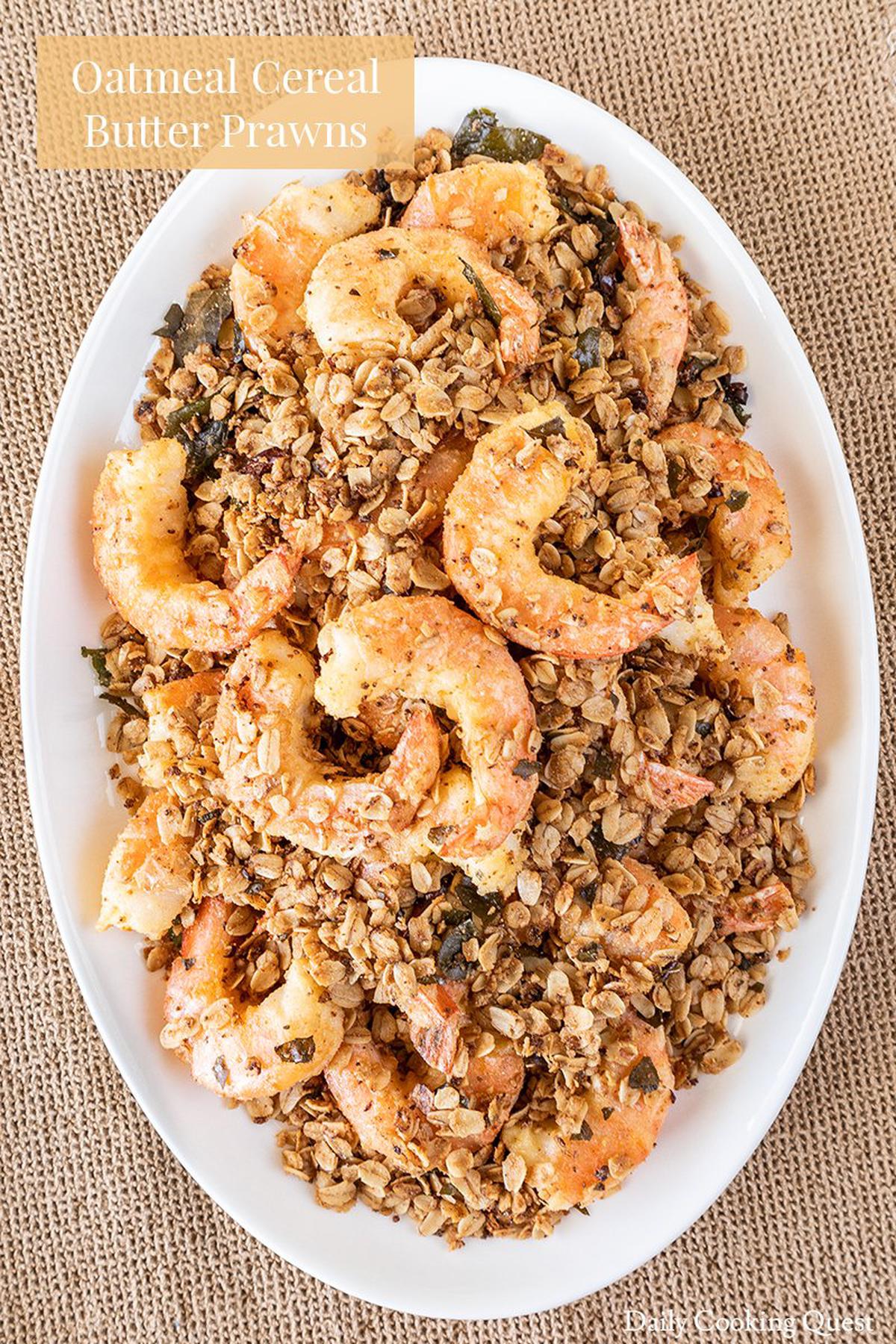 Let's bake up some crispy oatmeal topping
The trick to create this crispy oatmeal topping is by baking. You will need:
1 cup of old fashioned oatmeals,
mix with 3 tablespoon of melted butter, and
1 tablespoon of brown sugar.
Spread evenly in a baking sheet (I use a half-sheet pan), and bake in preheated oven of 180 Celsius (350 Fahrenheit) for 10 minutes, stirring half way. Once it has finished baking, remove the oatmeals from the oven and set aside to cool, then add:
1 teaspoon salt
1 tablespoon milk powder
Stir so everything is evenly mixed. And we have our lovely and delicious crispy oatmeal topping.
This topping is so good I have to stop myself from "testing". I could have finished the whole thing myself and won't have any left to make the cereal butter prawns! Next time, bake two batches, and eat one batch as snack. Incidentally, these are great with yogurt and ice cream too! 😍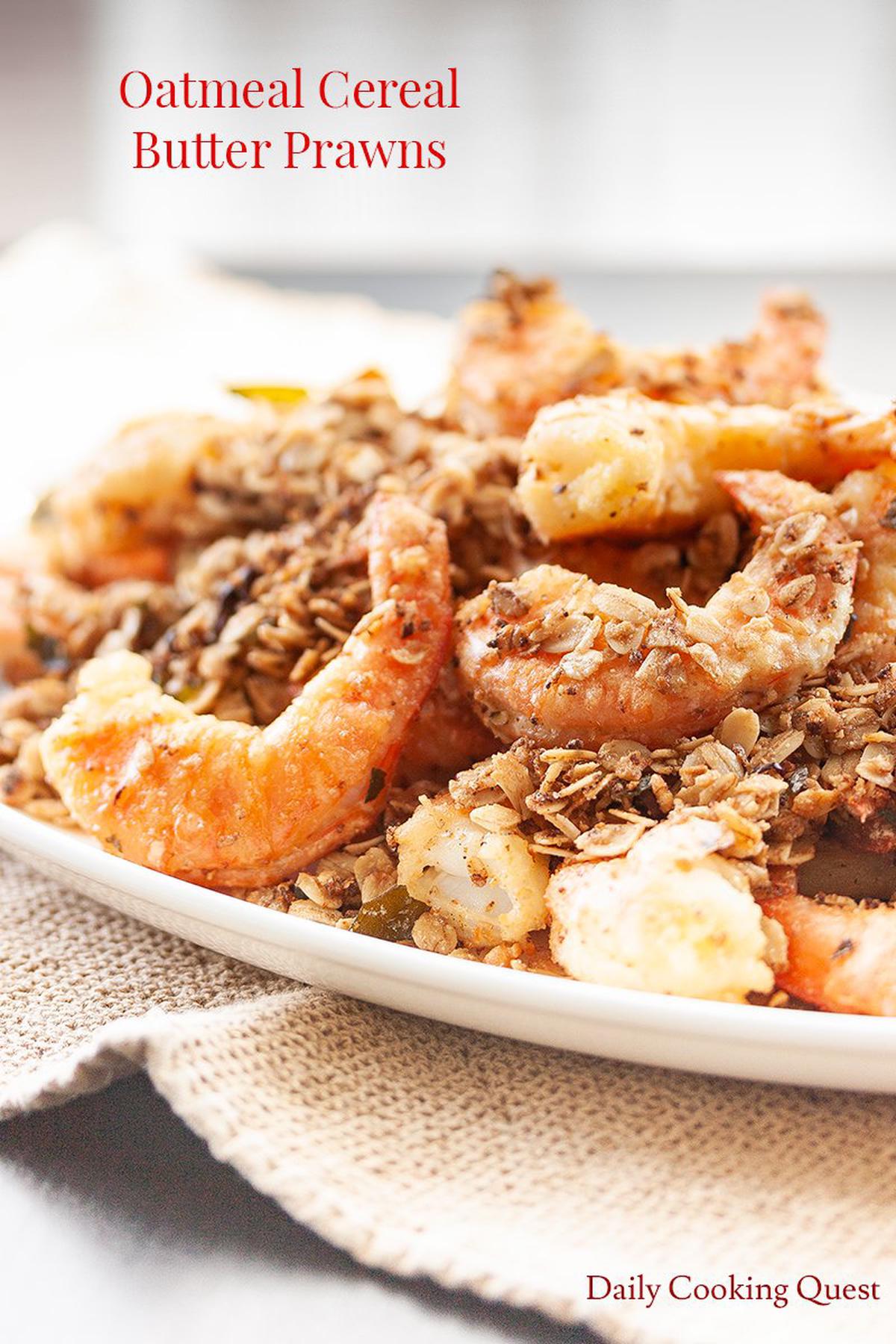 Curry leaves
The next key ingredient for making cereal butter prawns is some fresh curry leaves. This is not something you find easily in your regular grocery store. Even my regular Asian market doesn't have this since it mainly sells East and Southeast Asian ingredients. I had to visit a Middle Eastern/Indian market to find some fresh curry leaves. I notice that Amazon has some fresh curry leaves, so I guess there is always that option if you want to give it a try. Once you have everything, you are good to go. Here is a really zoomed-in shot to admire the crispy oatmeal topping. :D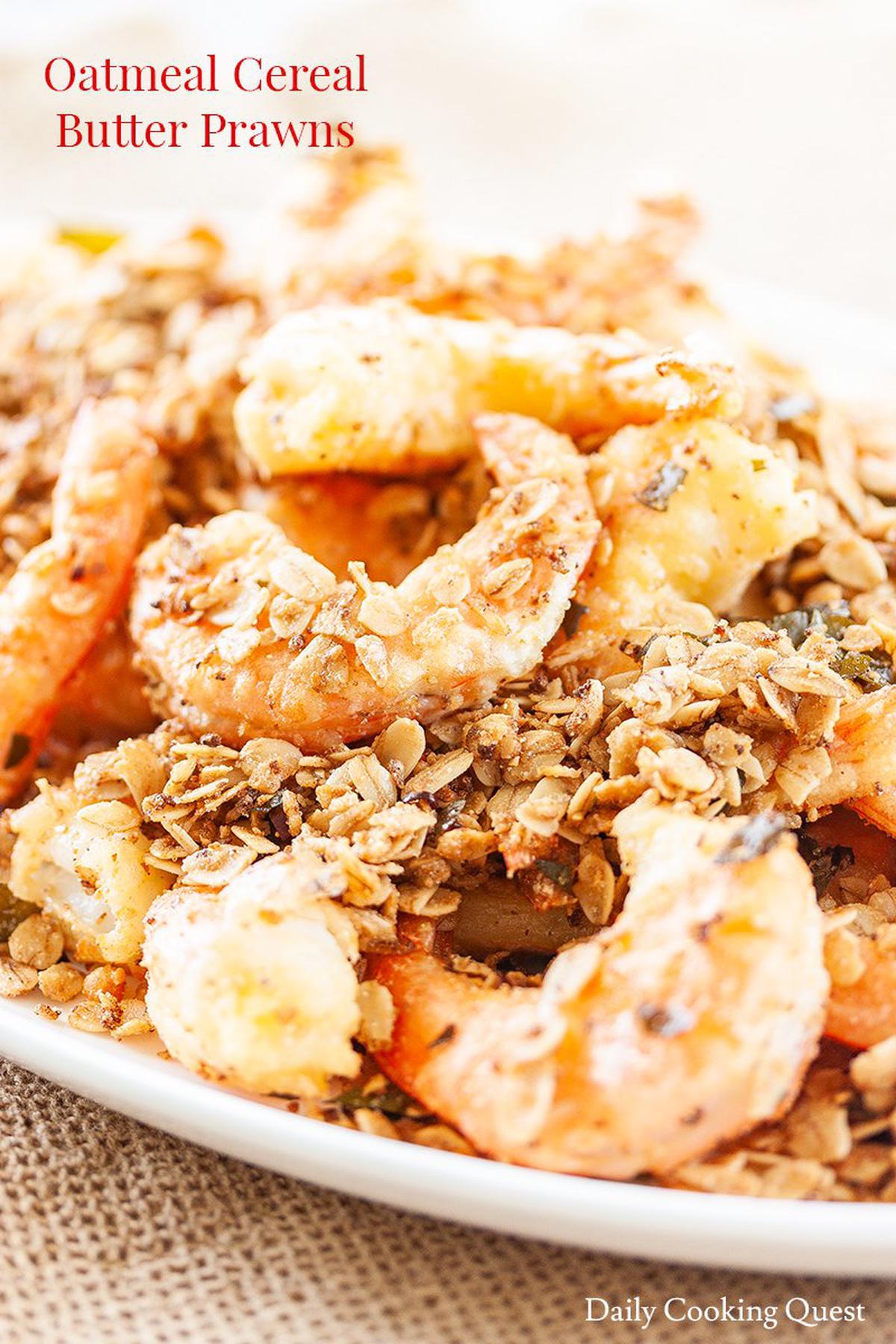 Oatmeal Cereal Butter Prawns
5.0 from 12 reviews
Ingredients
Crispy oatmeal topping
1 cup old fashioned oatmeal (not quick cook)
3 tablespoon unsalted butter, melted
1 tablespoon brown sugar
1 teaspoon salt
1 tablespoon milk powder
Deep fried prawns
450 gram (1 lb. / about 2 dozens) deveined prawns (*)
1 teaspoon lime juice
1 teaspoon salt
1 egg
3 tablespoon cornstarch
enough oil for deep frying
Other
1 tablespoon unsalted butter
2 tablespoon fresh curry leaves (about a dozen leaves)
1-2 red bird eye chilies, seeded and thinly sliced
Instructions
Preheat oven to 180 Celsius (350 Fahrenheit). Mix together oatmeals with melted butter and brown sugar. Spread evenly on a baking sheet (I use a half-sheet pan), and bake for 10 minutes, stirring half way. Once cool enough, mix with salt and milk powder. Set aside.
Mix together prawns with lime juice and salt. Set aside for 10 minutes. Then add in egg and corn starch, mix well.
Heat a pot of oil for deep frying. Once the oil is hot (180 Celsius/350 Fahrenheit if you want to be specific), deep fry the prawns for 30 seconds, or just until the prawns turn pink. Drain over wire rack to remove excess oil.
Heat butter over medium heat in a wok/frying pan until foamy. Add curry leaves and chilies, fry until the leaves look crispy.
Reduce heat to medium low. Add the oatmeal topping, mix well. Add the deep fried prawns, stir to coat.
Remove from heat immediately. Transfer to a serving plate and serve.
Notes
(*) Basically no head, cut away the feet, trim the tail part a bit, slice top and bottom through the shell and remove the yucky black stuff.