Home / All Recipes / Indonesian / Opor Ayam
Opor ayam (chicken cooked in coconut milk) is one of the easiest Indonesian recipes you can try at home, and very delicious. Unlike many other Indonesian dishes, opor ayam is mild and chili free, making this dish a perfect introduction to Indonesian dishes.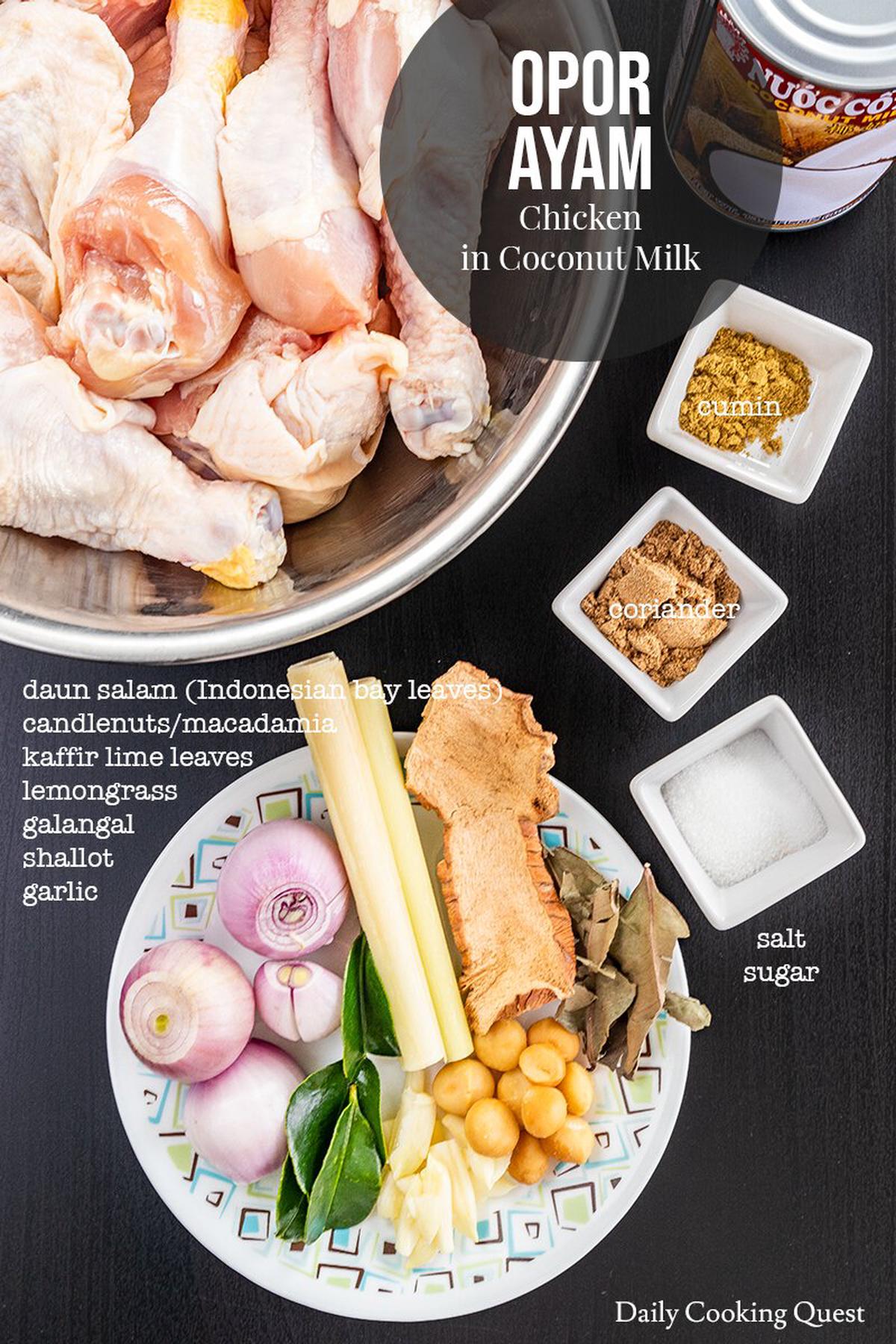 Opor ayam (chicken cooked in coconut milk) is one of many Indonesian dishes from Central Java. Most families serve opor ayam and ketupat (rice cake in woven palm leaf pouch) to celebrate Lebaran (Idul Fitri, or Eid).
For more everyday occasions, you can spot opor ayam in a nasi gudeg meal set where the chicken is served with steamed white rice, gudeg (young jackfruit sweet stew), and sambal goreng krecek (crispy beef skin and chili stew).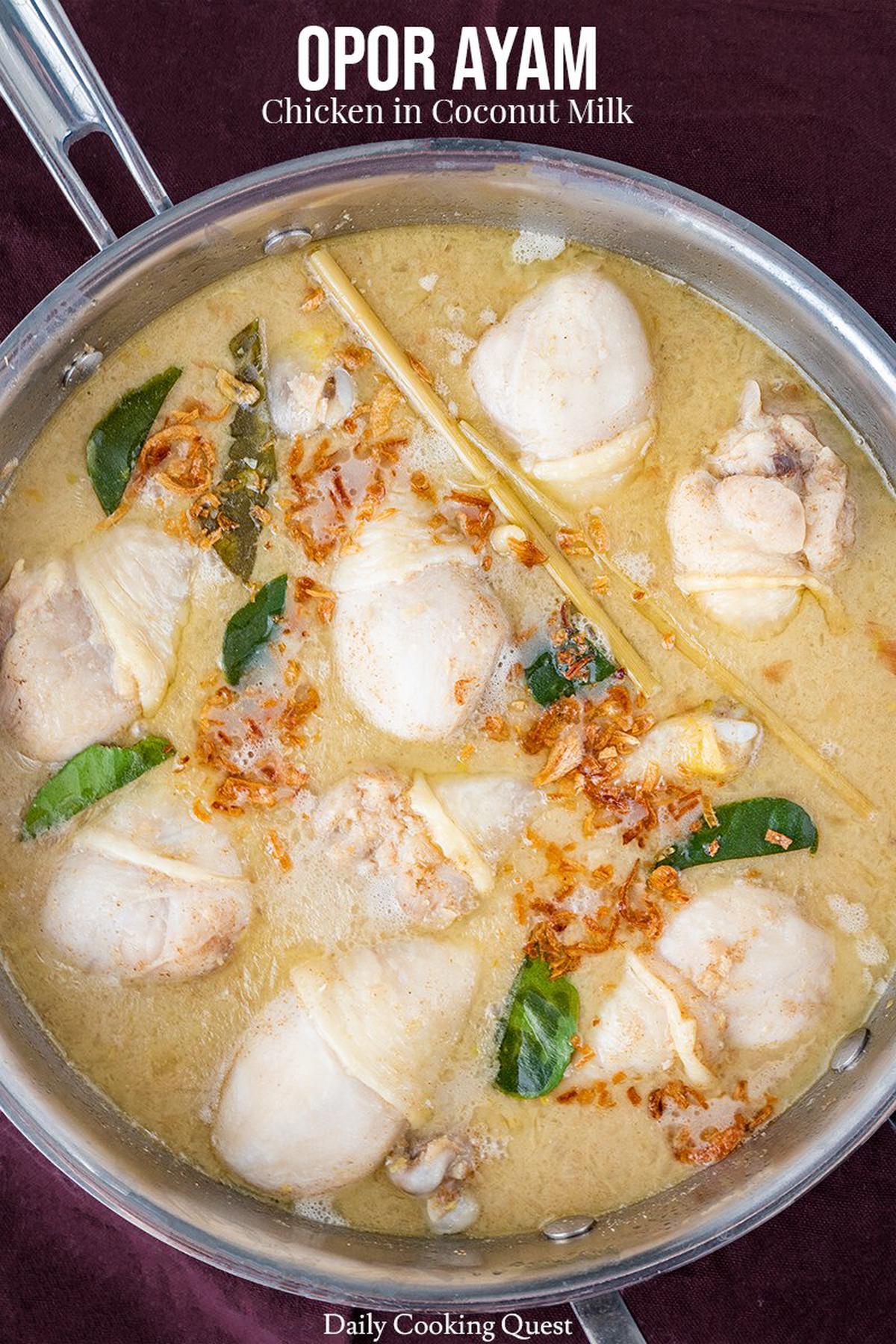 Opor ayam is a child-friendly dish
Opor ayam is very mild compared to many Indonesian dishes. It has no chilies, making this dish very children friendly. I myself remember how this is one of my favorite dishes when I was a child myself.
Although many Indonesian serve opor ayam as part of a set rice meal, it is by no mean a must. It is perfectly acceptable to serve opor ayam with nothing else but a bowl of steamed white rice.
A side of sambal bajak or sambal terasi is, of course, a welcome addition to those who do love a bit of chili kick.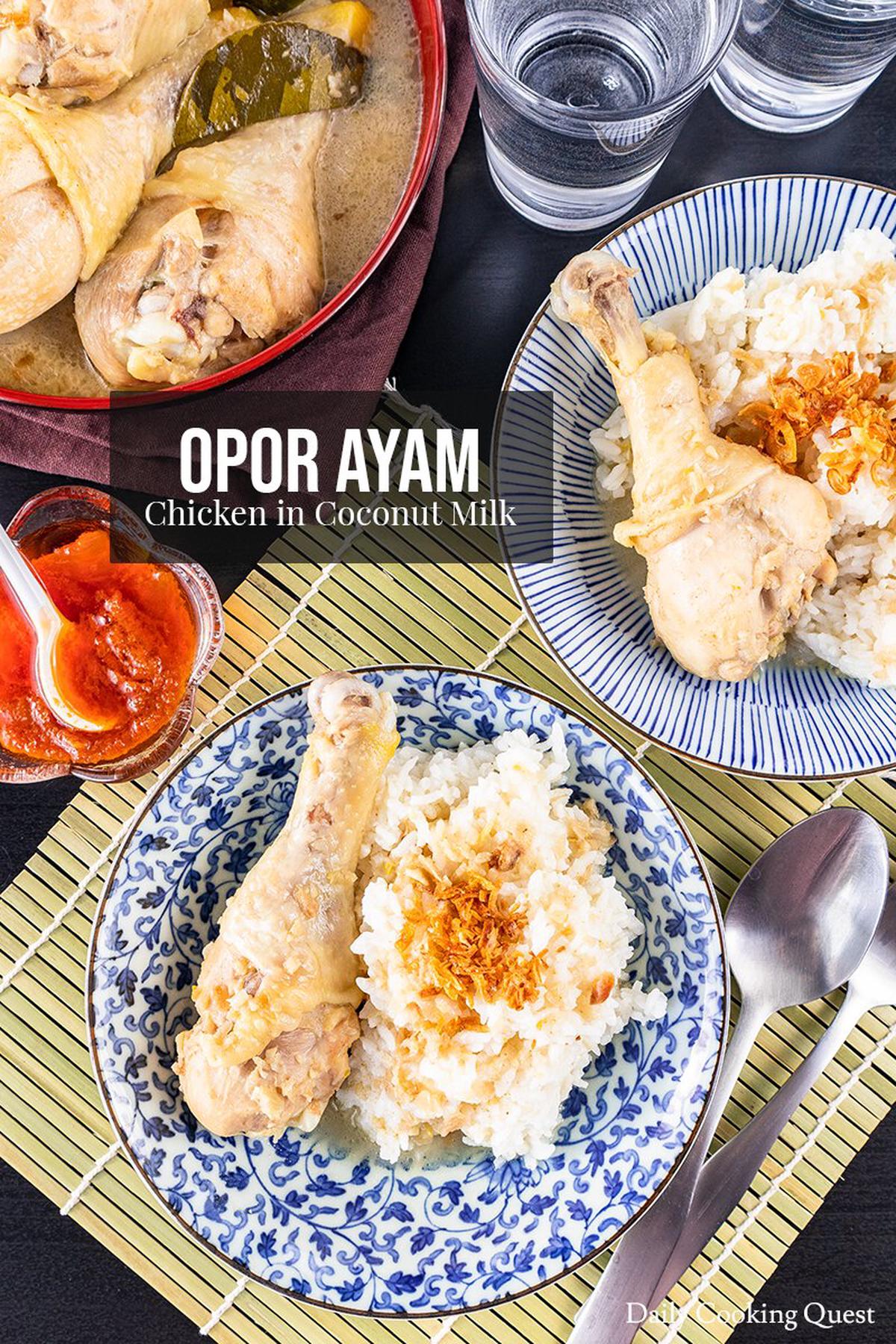 The long list of ingredients
Unfortunately, there is no avoiding the long list of ingredients in many Indonesian recipes. Luckily, if you are a fan of Indonesian dishes and plan to prepare Indonesian dishes often, the list of ingredients that you see in this recipe will appear again and again in many other Indonesian recipes.
Aside from daun salam (Indonesian bay leaves) and kemiri (candlenut), other ingredients appear regularly in many other Southeast Asian recipes, so they should be quite easy to find.
Make a proper Indonesian feast
If you are planning to serve opor ayam as part of a feast, you may want to prepare the followings too:
Opor Ayam
5.0 from 17 reviews
Ingredients
1 chicken, cut into 4-8 pieces (or use 8 chicken drumsticks)
1 lemongrass (Indonesian: sereh), cut and bruised
2 Indonesian bay leaves (Indonesian: daun salam)
2 kaffir lime leaves (Indonesian: daun jeruk)
500 ml water
fried shallots (Indonesian: bawang merah goreng), for garnish (optional)
Grind the following into spice paste
100 gram shallot (Indonesian: bawang merah)
4 cloves garlic (Indonesian: bawang putih)
5 candlenut (Indonesian: kemiri) (or 8-10 macadamia nuts)
1 inch galangal (Indonesian: lengkuas)
2 teaspoon coriander seeds (Indonesian: biji ketumbar)
½ teaspoon cumin seeds (Indonesian: biji jinten)
1 teaspoon salt, or to taste
½ teaspoon sugar, or to taste
Instructions
Heat 2 tablespoon of oil in a pot and stir fry the spice paste until fragrant, about 2-3 minutes.
Add lemon grass, bay leaf, and kaffir lime leaf and cook for another 2 minutes.
Add the chicken pieces and cook until chicken is no longer pink.
Add water and coconut milk and bring to a boil.
Reduce heat and simmer until liquid is reduced, about 20 minutes. Add salt and/or sugar as needed.
Transfer to a serving bowl and garnish with fried shallots.