Home / All Recipes / Indonesian / Orek Tahu Tauco - Tofu in Spicy Soy Bean Sauce
Orek Tahu Tauco - Tofu in Spicy Soy Bean Sauce
You want to know what's the most time consuming this in this tofu dish? It's frying the tofu actually, so if you can buy already fried tofu cubes from your nearby grocery, or better yet, if you live in Indonesia, and your street food seller is selling fried tofu, go grab some to make this tofu in spicy soy bean sauce in under 15 minutes!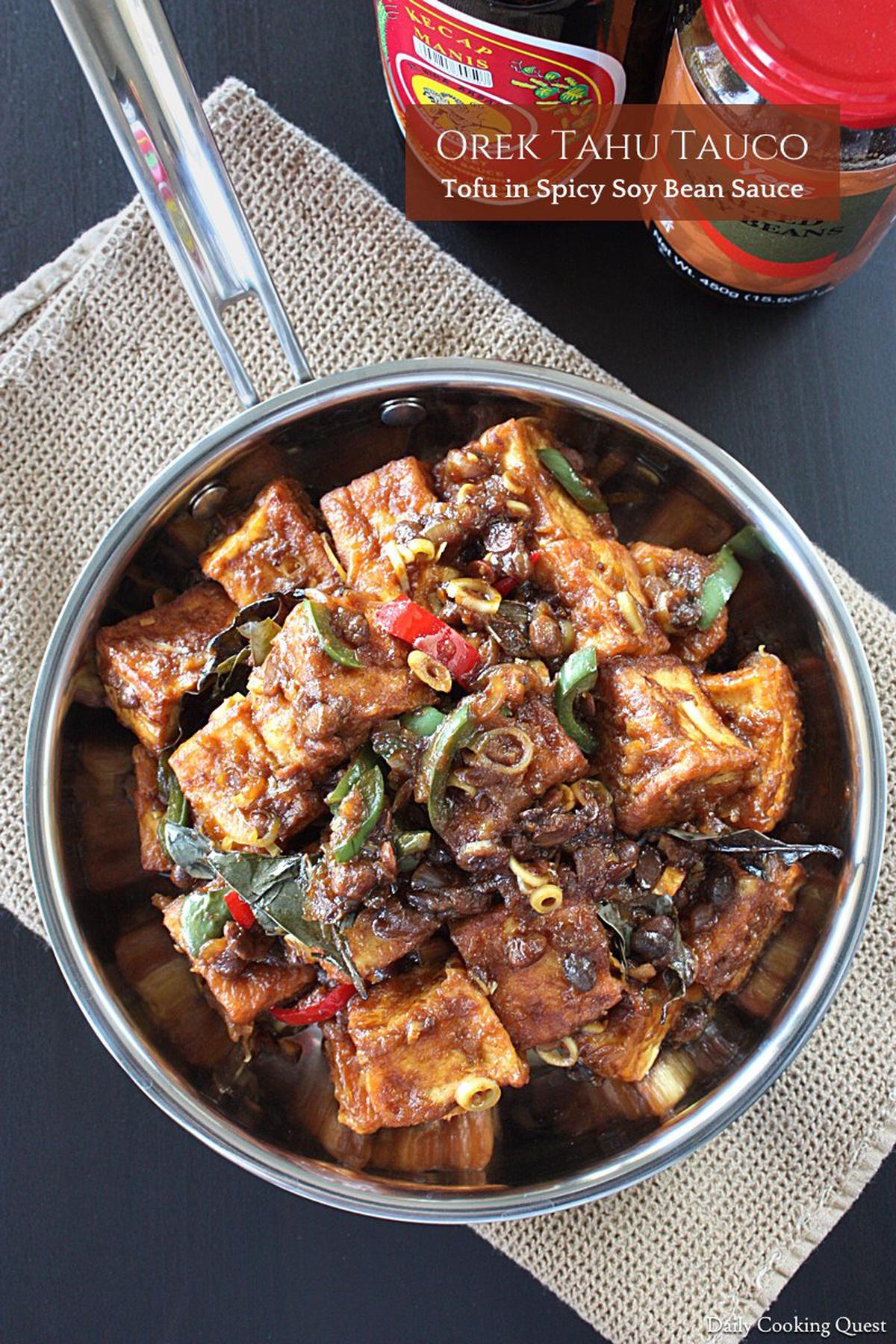 If, like me, you prefer to prepare your own fried tofu cubes, you can still go about it the easy way by making a big batch of "fried" tofu with your oven. Alternatively, the old fashion way of deep frying tofu cubes will always work, though a bit much of work in my opinion. Or, if oven is out of the question, and you are not up to deep frying, you can always pan fry your tofu. In this recipe, I am going to show you how to pan fry your tofu cubes, but you can use whichever method you want, just make sure you have some fried tofu cubes to prepare this dish.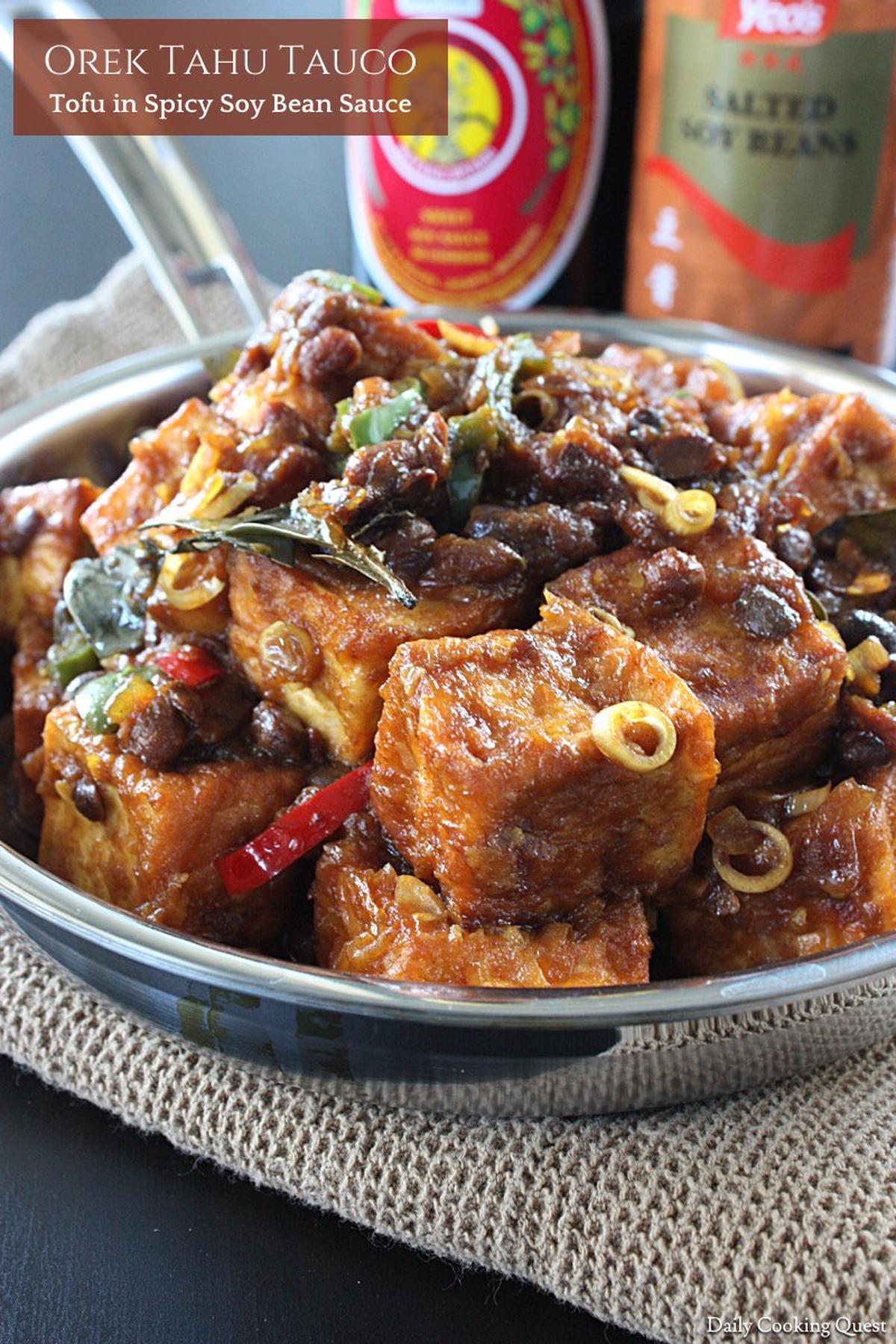 Two other key ingredients in this dish is tauco (salted soy bean) and kecap manis (Indonesian sweet soy sauce). Most Asian grocery should carry these items, but you can also buy them from Amazon, but be warned that the online price is almost always more expensive. For tauco, I like the one from Yeo's, but you can use other brand too. For kecap manis, my favorite is the one from Bango, but the one from ABC is also pretty good. Once you have everything ready, let's go to the recipe.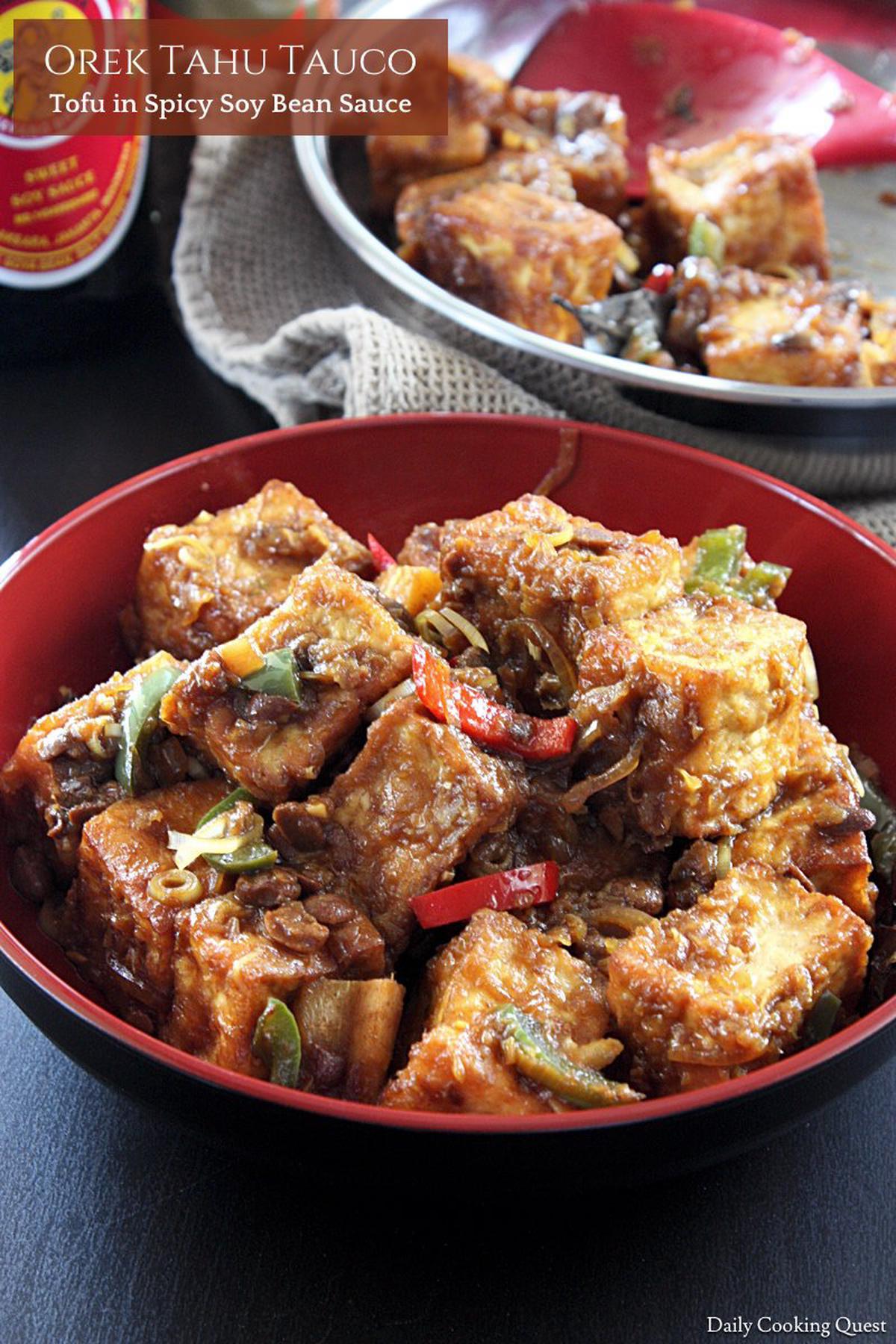 Orek Tahu Tauco - Tofu in Spicy Soy Bean Sauce
5.0 from 2 reviews
Ingredients
Fried tofu cubes
2 firm tofu blocks (about 400 gram), cut each block into 12-16 pieces
salt
all purpose flour
4 tablespoon oil
Other ingredients
2 tablespoon oil
75 gram shallot (Indonesian: bawang merah), thinly sliced
3 cloves garlic (Indonesian: bawang putih), minced
2 Indonesian bay leaves (Indonesian: daun salam), optional
1 lemongrass (Indonesian: sereh), white part only, thinly sliced
1 inch galangal (Indonesian: lengkuas), bruised
1 jalapeno chili (Indonesian: cabe hijau besar), seeded and sliced
1 fresno chili (Indonesian: cabe merah besar), seeded and sliced
5 tablespoon salted soy sauce (Indonesian: tauco)
3 tablespoon Indonesian sweet soy sauce (Indonesian: kecap manis)
1/2 teaspoon salt
1/2 teaspoon sugar
1/2 teaspoon ground pepper
3/4 cup water
Instructions
Fried tofu cubes

Sprinkle tofu cubes with salt and dust each with all purpose flour.
Heat oil in a frying pan (non stick or a well seasoned cast iron skillet) on medium heat, fry tofu cubes until all sides are golden brown. Set aside.

Orek tahu tauco (Tofu in spicy soy bean sauce)

Heat oil in a frying pan on medium high heat. Sauté shallot, garlic, Indonesian bay leaves, lemongrass, and galangal until fragrant. About 3 minutes.
Add sliced jalapeno and fresno along with salted soy sauce. Cook for 1 minute.
Add fried tofu cubes, Indonesian sweet soy sauce, salt, sugar, ground pepper, and water. Mix well. Cook until the sauce is reduced.
Turn off heat and serve immediately.