Home / All Recipes / Japanese / Ozoni - Soup with Rice Cakes
Ozoni - Soup with Rice Cakes
Ozoni (お雑煮) is Japanese soup with mochi rice cakes. This soup is traditionally prepared as part of osechi or Japanese New Year dishes. There is no de facto recipe for ozoni since most household will have their own recipe as to what should be included in the soup. The zo (雑) means miscellaneous, so you are free to use any meat, seafood, and vegetables that you like. More popular items include shrimp, thinly sliced chicken, thinly sliced pork, kamaboko, chikuwa, spinach, trefoil/mitsuba, shiitake, daikon, carrot, and taro root/satoimo. Winter in Japan is the time for yuzu, so most will garnish their ozoni with yuzu rind. For those living outside of Japan, yuzu is not a common fruit, so I usually just garnish mine with chopped scallions.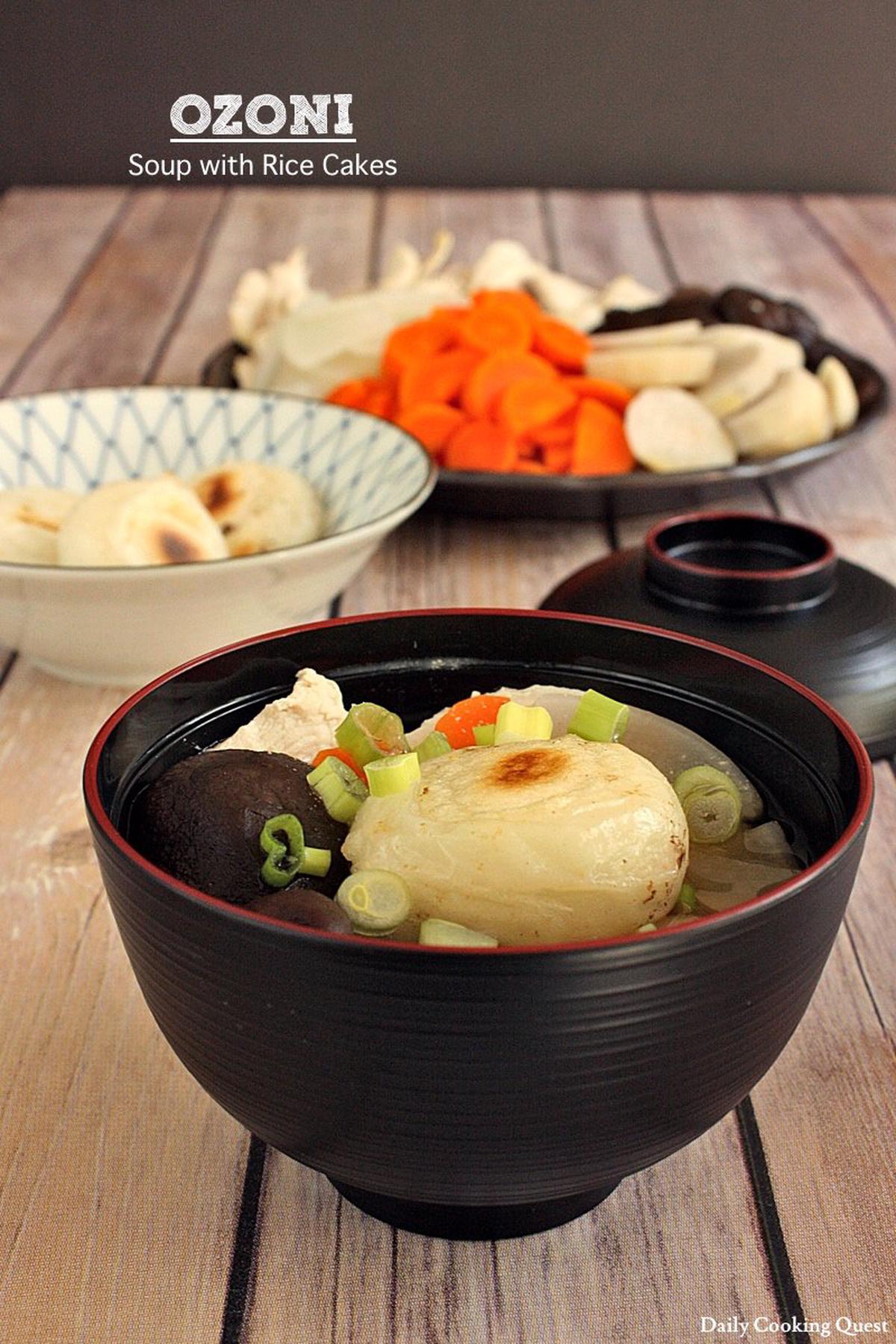 Ozoni - Soup with Rice Cakes
Ingredients
Mochi rice cake
1/2 cup mochiko sweet rice flour (Japanese: もち粉)
1/3 - 1/2 cup water
Soup
125 gram skinless boneless chicken breast, thinly sliced (about 5mm)
100 gram daikon, peeled, quartered, and thinly sliced (about 5 mm)
50 gram carrot, peeled, halved, and thinly sliced (about 2 mm)
4 fresh shiitake mushroom, remove stems
100 gram taro root (Japanese: satoimo 里芋), peeled and thinly sliced (about 1cm)
2 1/2 cup dashi
120 gram white miso (Japanese: 白みそ)
Garnish
yuzu rinds
chopped scallions
Instructions
Mochi

Place mochiko in a mixing bowl. Add water gradually, kneading, until the dough becomes as hard as your earlobes.
Divide the dough into 4 portion, and shape each into a 1 inch thick disc.
Boil a pot of water, cook the mochi discs for 5 minutes, drain and set aside.
Optional: preheat broiler and broil mochi until the surface is charred.

Soup

Boil a pot of water.
Parboil chicken breast slices, set aside.
Boil daikon and carrot until tender, set aside.
Boil shiitake caps for 3 minutes, set aside.
Place taro root in a pot of cold water, boil until tender, set aside.
Bring dashi to a boil. Add white miso and stir until fully dissolved. Turn off heat.
Arrange chicken and boiled vegetables neatly in 4 soup bowls. Top each with a piece of mochi. Pour hot soup broth to each bowl, and garnish with yuzu or chopped scallion.