Home / All Recipes / Japanese / Pan Fried Chicken Onion Teriyaki Sauce
Pan Fried Chicken Onion Teriyaki Sauce
If you take classic teriyaki sauce and amp it up with onion and garlic, you get this even more delicious onion teriyaki sauce. Here I pour the sauce over simple pan chicken breasts to get this pan fried chicken onion teriyaki sauce, and I serve this with steamed white rice to soak up all the sauce. This onion teriyaki sauce is definitely a keeper and you will want to pair it with beef steaks, or pork chops, or even pan fried tofu!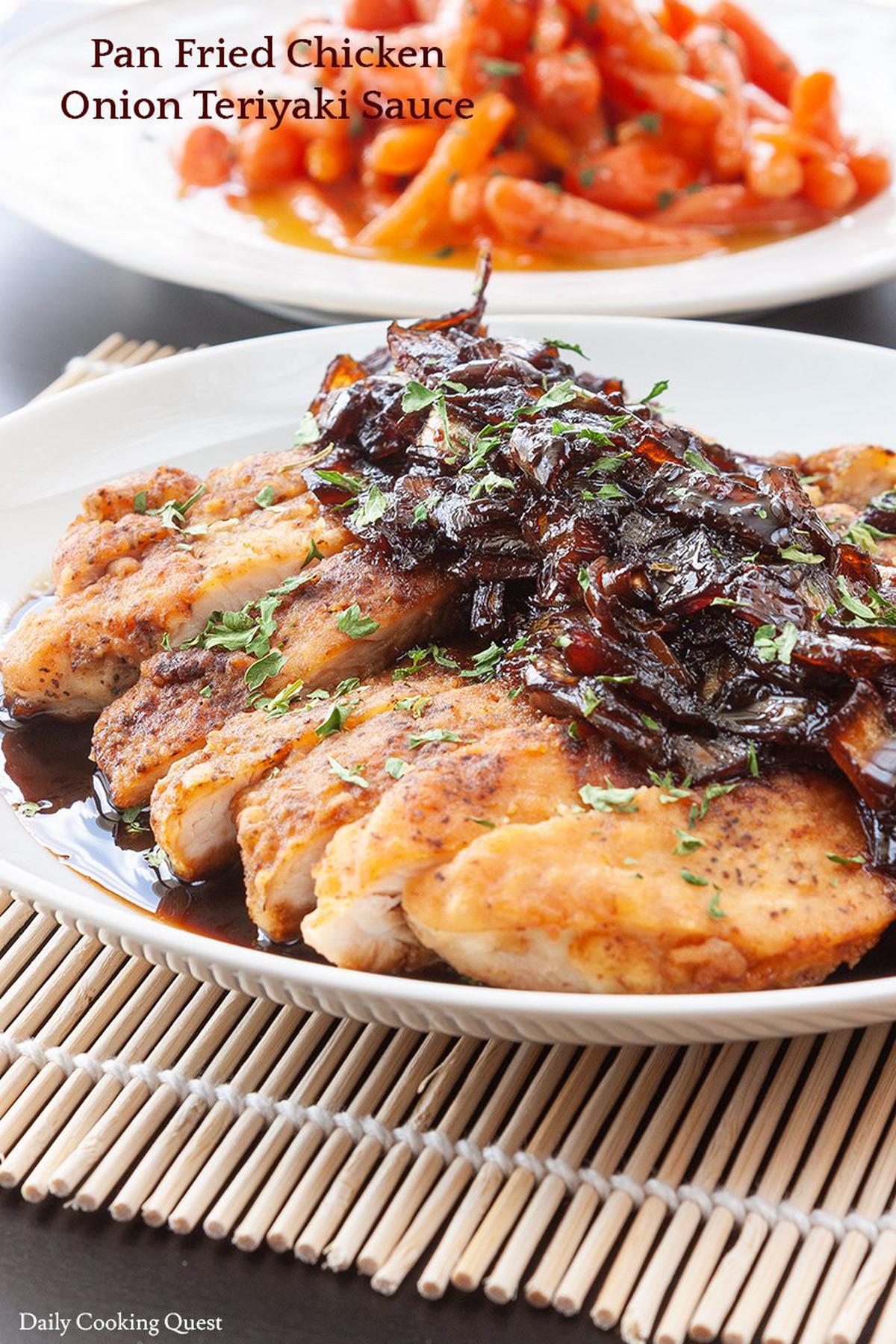 Pan Fried Chicken Onion Teriyaki Sauce
5.0 from 1 reviews
Ingredients
Pan fried chicken
1 pair skinless boneless chicken breast, cut into 4 steaks
salt
pepper
all-purpose flour
2 tablespoon unsalted butter
2 tablespoon olive oil
Onion teriyaki sauce
4 tablespoon each: soy sauce, sake, mirin
2 tablespoon each: rice vinegar, sugar
1 onion (~ 200 gram), diced
1 garlic, grated
Instructions
Pan fried chicken

Sprinkle each steak of chicken breast with salt and pepper, and dust lightly with all-purpose flour.
Heat butter and olive oil in a frying pan over medium high heat. Fry chicken until golden brown, about 2-3 minutes per side. Set aside.

Onion teriyaki sauce

In the same frying pan, boil together all onion teriyaki sauce ingredients.
Reduce heat to a simmer and continue cooking until sauce is halved and thick.
Turn off heat.

To serve

Cut chicken into bite size pieces and arrange in a serving platter. Pour onion teriyaki sauce over chicken. Serve immediately.