Home / All Recipes / American / Pear and Chocolate Scones
Pear and Chocolate Scones
These scones are buttery, soft, and fluffy. The roasted pears and the chocolates are a wonderful pairing, and these scones are always a crowd favorite.
Those who know me well don't expect me to make pretty baked goods, and I totally agree with that assessment. So it has been known and an accepted sad fact that despite being quite good in the kitchen, I am the kind of girl who still ends up having to sneak off to the nearest bakery to get a decent looking birthday cake or just any cake for that matter. If somehow this also sounds like you, don't fret, cause you and I can still make killer scones, like these pear and chocolate scones to be precise! And for once nobody is going to judge if our scones don't have perfect geometry, I would say that the more rustic they look the more adorable they are. Plus since the scones are definitely going to disappear soon right out of the oven, people will only rave about how delicious these are and all thought about the not-so-perfect-looking scones will not matter one bit.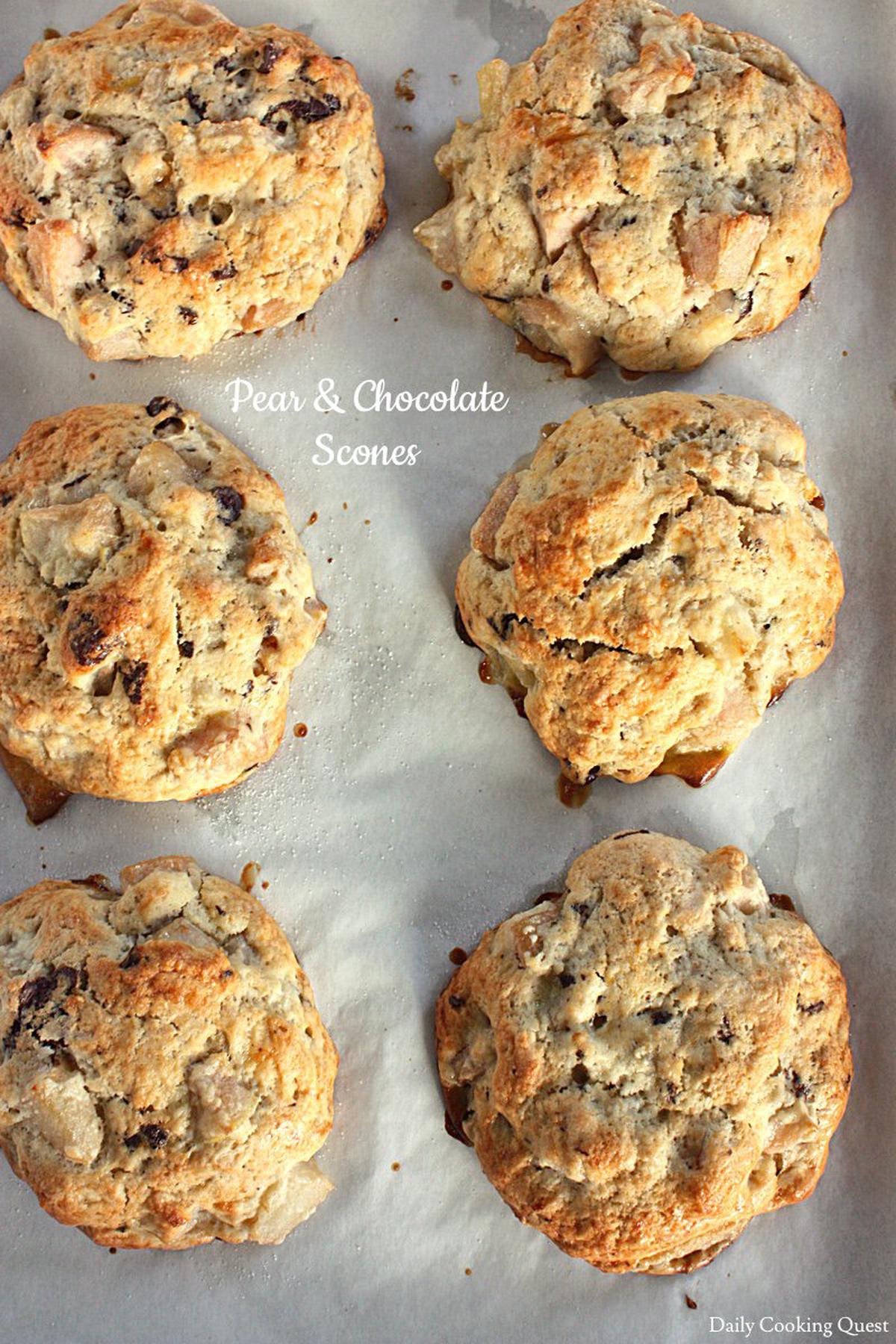 For this pear and chocolate scones recipe, I use d'anjou pears, but you can also use bartlett or bosc if that is what you have at home. As for the chocolate, it can be semi-sweet or dark (a.k.a. bitter) chocolate, whether whole and chopped or in chips form.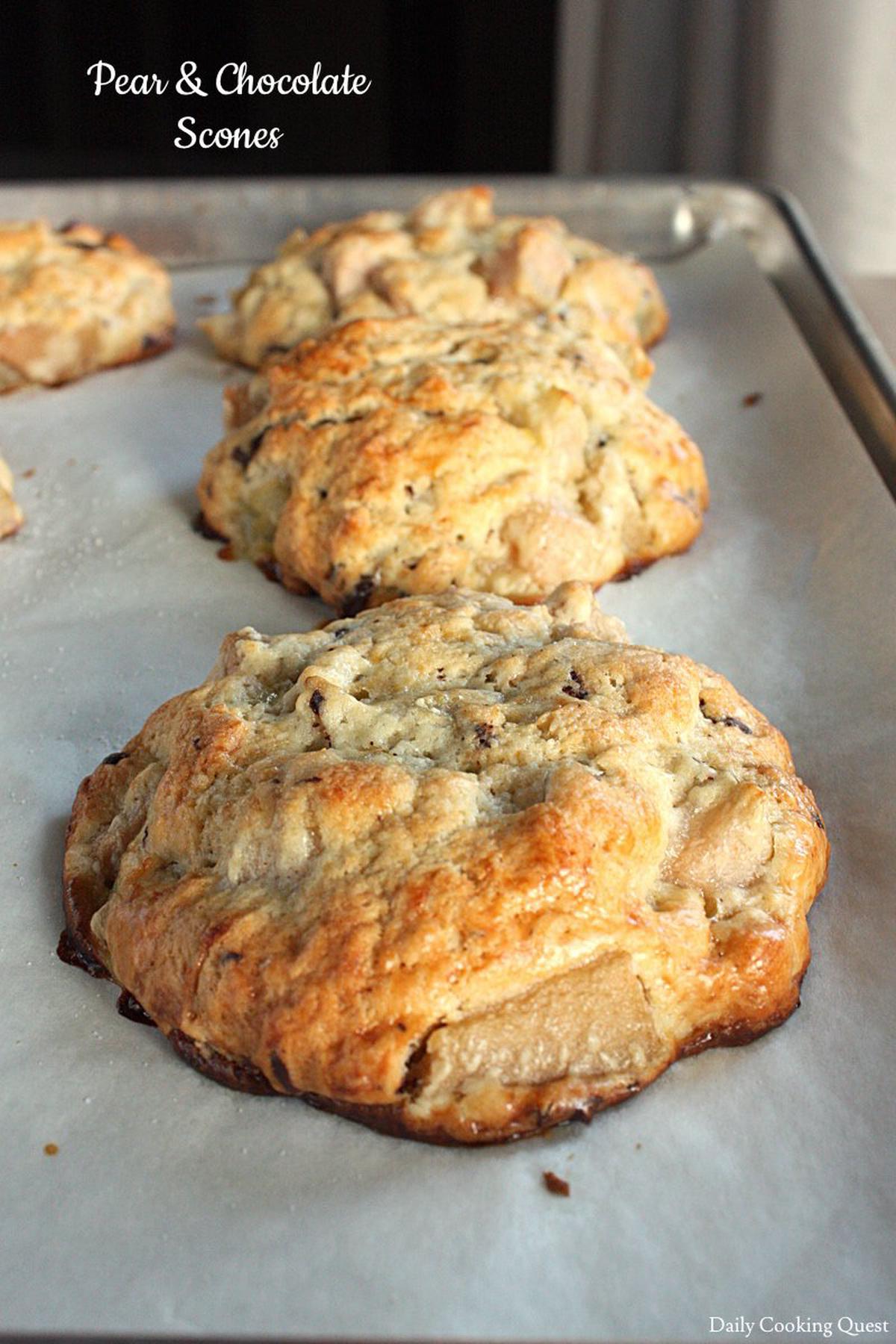 Pear and Chocolate Scones
Ingredients
3 ripe but still firm anjou pears, peeled, cored, cut into 1" cubes
1 1/2 cup all purpose flour
1 1/2 teaspoon baking powder
1/2 cup sugar
1/2 teaspoon salt
6 tablespoon cold unsalted butter, cut into small cubes
1/4 cup heavy cream
1 egg
1/4 cup semi-sweet or dark/bitter chocolate, chopped into chunks (or use chips)
egg wash
1 egg
1 teaspoon water
1 pinch salt
Instructions
Preheat oven to 375 Fahrenheit (190 Celcius). Line a baking tray with a parchment paper.
Place cubed pears on lined baking tray. Bake for 20-25 minutes until the surface is slightly browned. Transfer to a mixing bowl and cool in the fridge until only slightly warm to the touch.
Discard the used parchment paper and line the baking tray with a new parchment paper.
In a mixing bowl, whisk together all purpose flour, baking powder, sugar, and salt. Toss in cubed butter, cubed pears, heavy cream, and egg. With an electric mixer, beat on lowest speed until the dough comes together. Then add in the chocolate chunks (or chips), mix another 5-10 seconds.
Transfer the dough to a well floured surface, make into a 6" round, divide into 6 equal portions, then transfer to prepared baking tray, set them at least 2" apart.
Mix together all the ingredients for egg wash. Brush each of the dough with egg wash. If you like, you can sprinkle with coarse sugar too.
Bake for 30-35 minutes until the surface is golden brown. Transfer to a cooling rack, serve hot.