Home / All Recipes / Indonesian / Pecel - Madiun Vegetables in Peanut Sauce
Pecel - Madiun Vegetables in Peanut Sauce
Gado-gado and pecel are two of the most popular vegetables in peanut sauce nationwide. Gado-gado is almost always eaten as is, but pecel is sometimes eaten as is and sometimes accompanied with rice and called nasi pecel (pecel rice). The unique thing about pecel peanut sauce is the use of kencur (kaempferia galanga) and daun jeruk (kaffir lime leaves), lending a really refreshing taste to the sauce.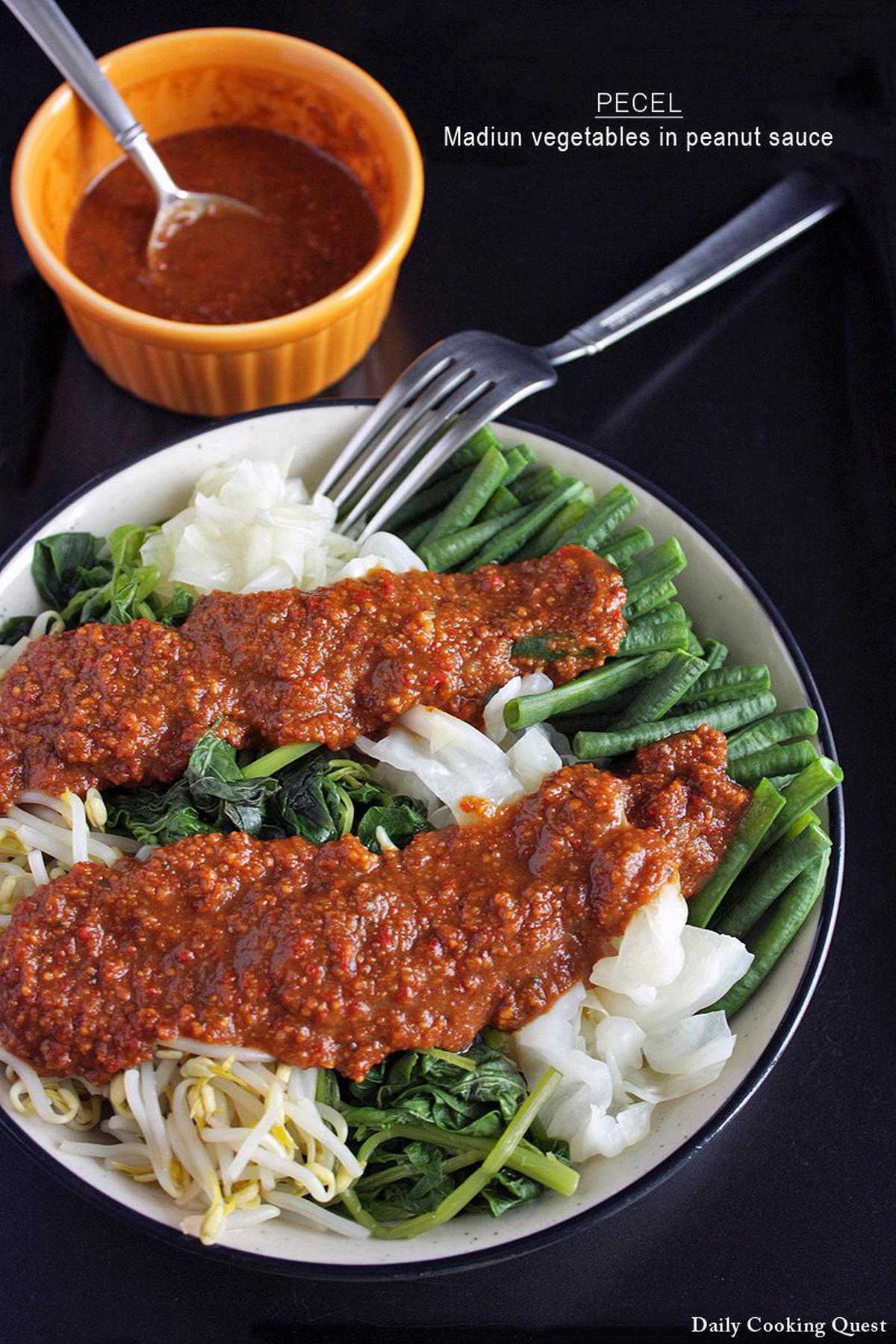 The vegetables used in a pecel varied from vendor to vendor, and from city to city too. But the common theme is raw or lightly blanched vegetables, and none of the vegetables has high carbohydrate content, so potatoes are definitely out :) Here is a list of the most commonly used vegetables in a pecel: spinach, cabbage, kangkung (morning glory/water spinach), bean sprouts, snake beans, cucumber, daun kemangi (basil leaves), and cassava leaves. Some people love to add crackers to their pecel, and the most common one is rempeyek kacang (peanut crackers), but this is purely optional. I used only 4 vegetables for my pecel, but I think the color combination of 2 whites and 2 greens looks rather pretty, no? ♥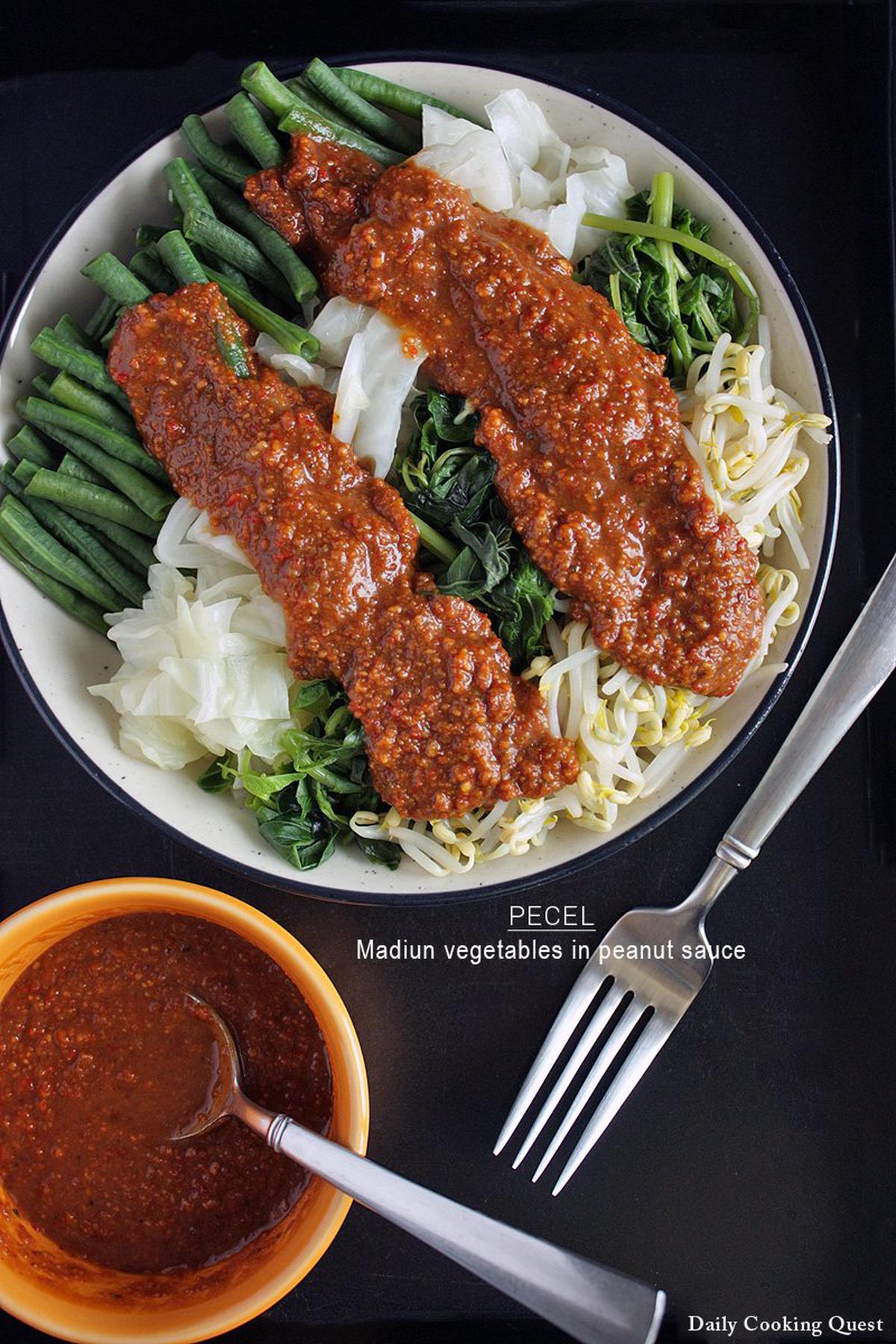 Pecel - Madiun Vegetables in Peanut Sauce
Ingredients
Pecel peanut sauce
250 gram peanuts with skin on (Indonesian: kacang tanah kulit), deep fried or toasted
8 red cayenne peppers (Indonesian: cabe merah keriting), boiled (*)
4 cloves garlic (Indonesian: bawang putih), fried
8 kaffir lime leaves (Indonesian: daun jeruk), thinly sliced
2 inch kaempferia galanga (Indonesian: kencur), peeled
1 teaspoon toasted shrimp paste (Indonesian: terasi)
75 gram palm sugar (Indonesian: gula Jawa), shaved
1/2 tablespoon salt
2 tablespoon tamarind juice (1 teaspoon tamarind + 2 tablespoon water)
enough hot water to thin the sauce (about 2 cups)
Suggested vegetables
boiled cabbage (Indonesian: kol)
boiled spinach (Indonesian: bayam)
boiled snake beans (Indonesian: kacang panjang)
boiled bean sprouts (Indonesian: tauge)
boiled morning glory/water spinach (Indonesian: kangkung)
boiled cassava leaves (Indonesian: daun singkong)
raw cucumber (Indonesian: timun)
raw basil leaves (Indonesian: daun kemangi)
Instructions
Grind together peanuts, cayenne peppers, garlic, kaffir lime leaves, kaempferia galanga, toasted shrimp paste, palm sugar, and salt with a food processor (or mortar and pestle) until everything comes together into a thick brown mess. It will be pretty sticky and should clump together and you should be able to gather them into a ball or shape into a block. This can be stored in the fridge if you are not going to use the peanut sauce immediately.
To make the peanut sauce, pour tamarind juice and just enough hot water and stir until the sauce reaches your preferred thickness. I am usually happy with about 400 ml of hot water, but some people would prefer a slightly thicker or slightly thinner sauce, so feel free to experiment.
Arrange vegetables in a plate and pour the peanut sauce right before serving. Stir everything together and enjoy.
Notes
(*) If you like spicier peanut sauce, you can substitute some of the cayenne peppers with bird eye peppers (Indonesian: cabe rawit).