Home / All Recipes / Indonesian / Pepes Ati Ayam - Steamed Chicken Liver in Banana Leaves
Pepes Ati Ayam - Steamed Chicken Liver in Banana Leaves
There is no way one can cook Indonesian dishes without eventually encounter one or two pepes dishes. It is really easy to recognize a pepes dish, if it is savory, no rice, lots of spices and herbs, and then wrapped with banana leaves in individual portions before steaming (and sometimes grilling too), it is a pretty safe bet you are seeing one :) And we cook all kind of pepes dishes too, from fish, to tofu, mushroom, and of course even chicken liver.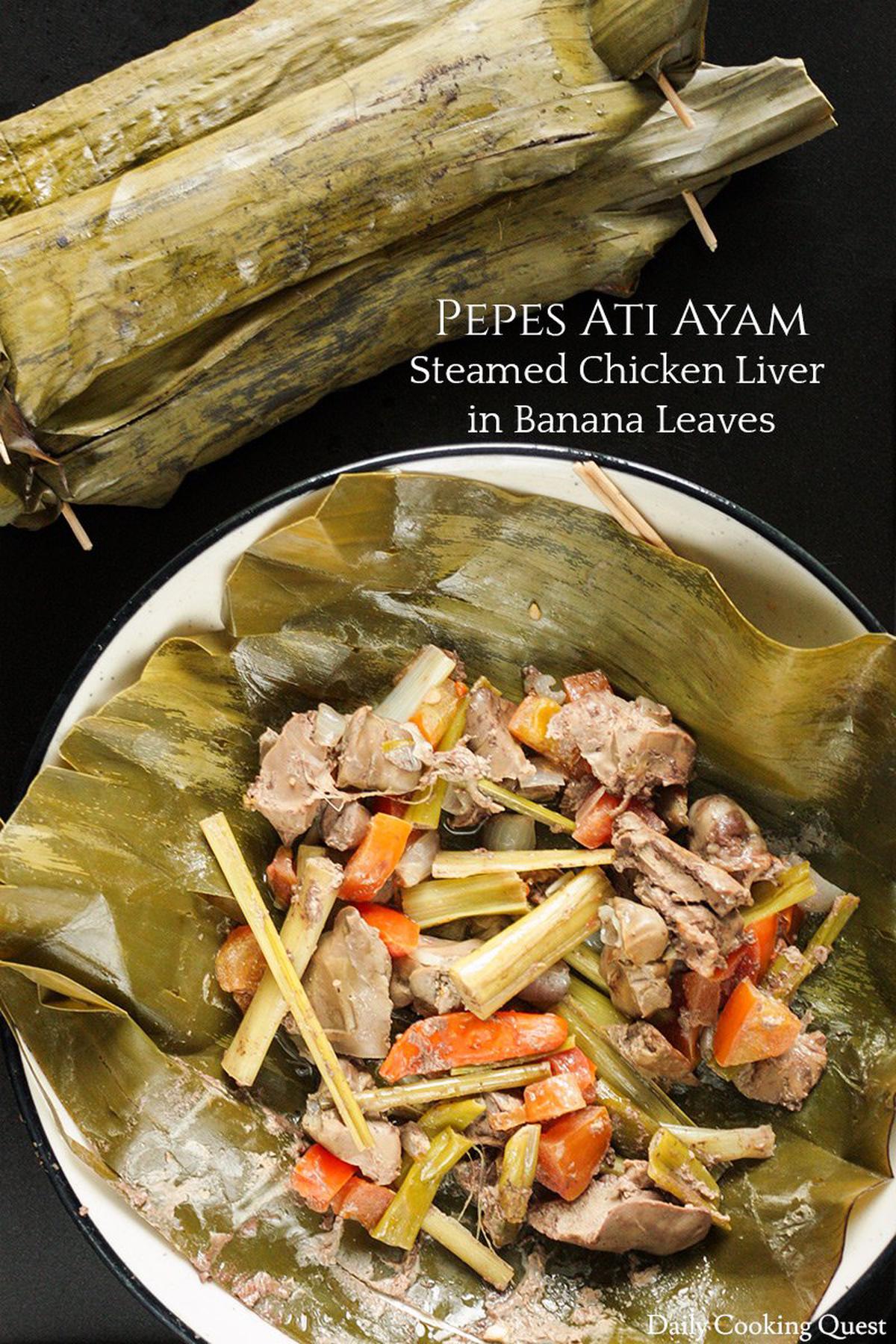 You will want to use banana leaves to wrap your pepes. I usually boil mine in a big pot of boiling water for 5 to 10 minutes so they become soft and easier to wrap. Banana leaves can always be substituted with aluminum foil, though it will never live up to a pepes made in banana leaves.
Pepes Ati Ayam - Steamed Chicken Liver in Banana Leaves
Ingredients
500 gram chicken liver (Indonesian: ati ayam), cut into bite size pieces
4 lemongrass (Indonesian: sereh), bruised and cut into 1 inch lengths
4 scallions (Indonesian: daun bawang), cut into 1 inch length
8 shallots (Indonesian: bawang merah), peeled and roughly chopped
8 bay leaves (Indonesian: daun salam)
8 Thai chilies (Indonesian: cabe rawit)
2 tomatoes, cut into small cubes
2 teaspoon salt
1 teaspoon sugar
3 tablespoon oil
For wrapping
banana leaves
toothpicks
Instructions
Prepare a steamer
Combine all ingredients in a mixing bowl and let rest for 10 minutes.
Divide into 8 portions and wrap individual portion with banana leaves and secure with toothpicks at each end of the banana leaves packet.
Steam for 45 minutes. Remove from the steamer and serve immediately with steamed white rice.