Home / All Recipes / Indonesian / Perkedel Panggang - Oven Baked Potato Fritters
Perkedel Panggang - Oven Baked Potato Fritters
I am a huge fan of perkedel but I don't make them often enough since I kind of hate deep frying. So I tried to come up with a way to bypass deep frying. In the past, I have successfully make Japanese croquette with an oven, so I applied the same principle in this recipe and come up with a fool proof way to make perkedel with oven and I think it is a huge success. From now on, I can avoid deep frying when I crave for perkedel, and I can easily double or triple the batch and it will take the same amount of time since I just put everything in the oven and they will all be done in the same time. Win!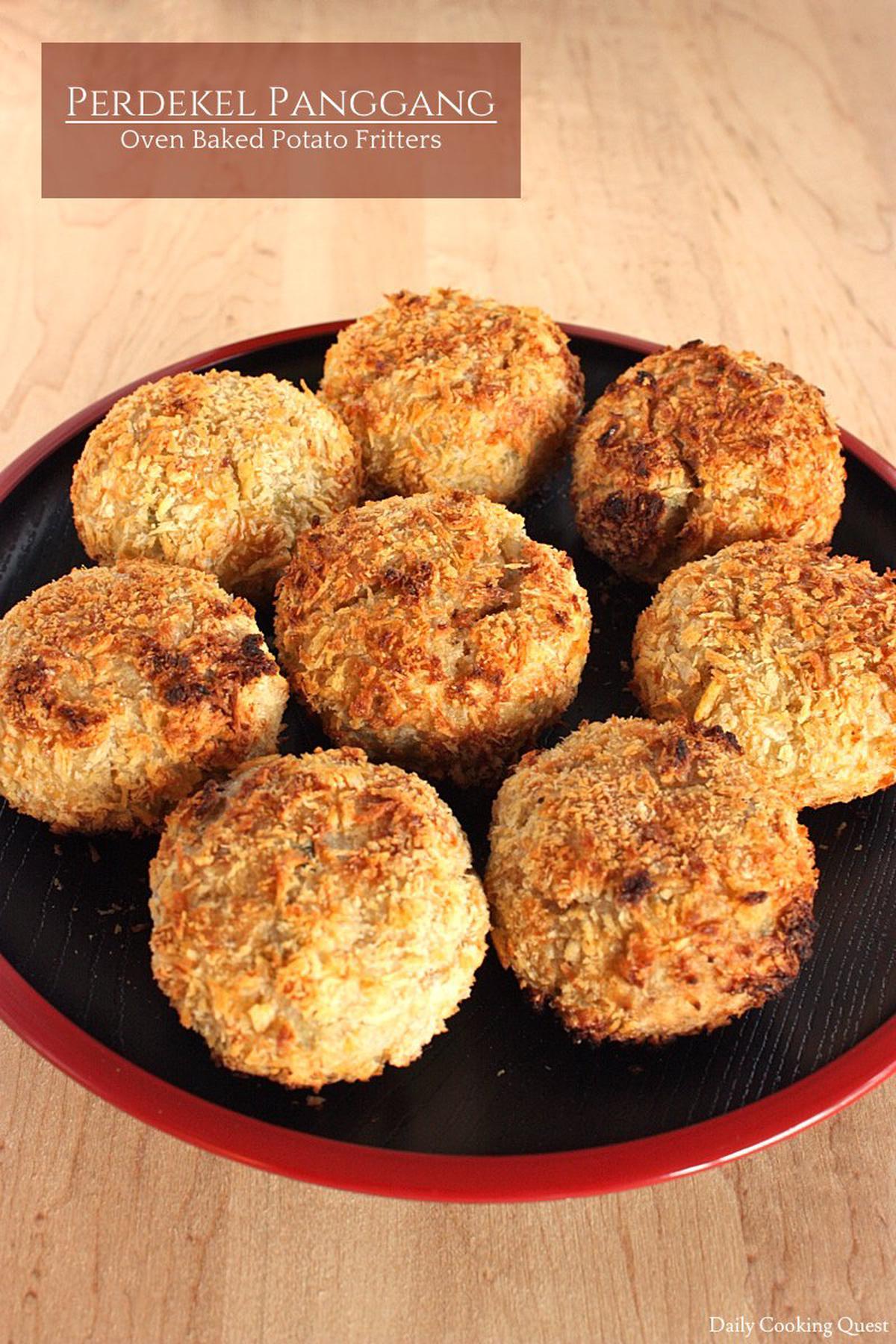 Perkedel Panggang - Oven Baked Potato Fritters
5.0 from 1 reviews
Ingredients
4 tablespoon oil
3 potatoes (about 750-800 gram), peeled and cut into wedges
1 teaspoon salt
1 teaspoon sugar
1/2 teaspoon ground black pepper
1/2 teaspoon ground nutmeg
4 scallions, thinly sliced
1 egg
3 tablespoon oil
1/2 cup panko (Japanese bread crumb), or regular bread crumb
1/4 cup all purpose flour
2 eggs, lightly beaten
Instructions
Heat 4 tablespoon oil in a wok/pan, fry potato wedges until golden brown. Set aside.
In a mixing bowl, mash the fried potatoes, then mix with salt, sugar, black pepper, nutmeg, scallions, and 1 egg.
Divide the potato mixture into 16-20 equal portions. Shape each into a patty. Set aside.
Heat 3 tablespoon oil in a wok/pan, add panko/bread crumb. Stir and cook until golden brown, set aside.
Preheat oven to 400 F, line a baking tray with parchment paper. Set aside.
Flour each potato patty with all purpose flour, then dip into beaten egg, and finally coat with panko/bread crumb. Place on prepared baking tray. Repeat the same process with the rest of the potato patties.
Bake the potato patties for 20 minutes. Serve hot.