Home / All Recipes / Indonesian / Pindang Salmon - Salmon in Spicy and Sour Soup
Pindang Salmon - Salmon in Spicy and Sour Soup
The city of Palembang on the island of Sumatra is famous for its seafood dishes, and this pindang salmon (salmon in spicy and sour soup) is one such dish. In Palembang, the fish most commonly used to make this soup is ikan patin (swai), but I use salmon since this is much easier to find in the United States. If you want, you can use catfish too, but I prefer salmon to catfish :)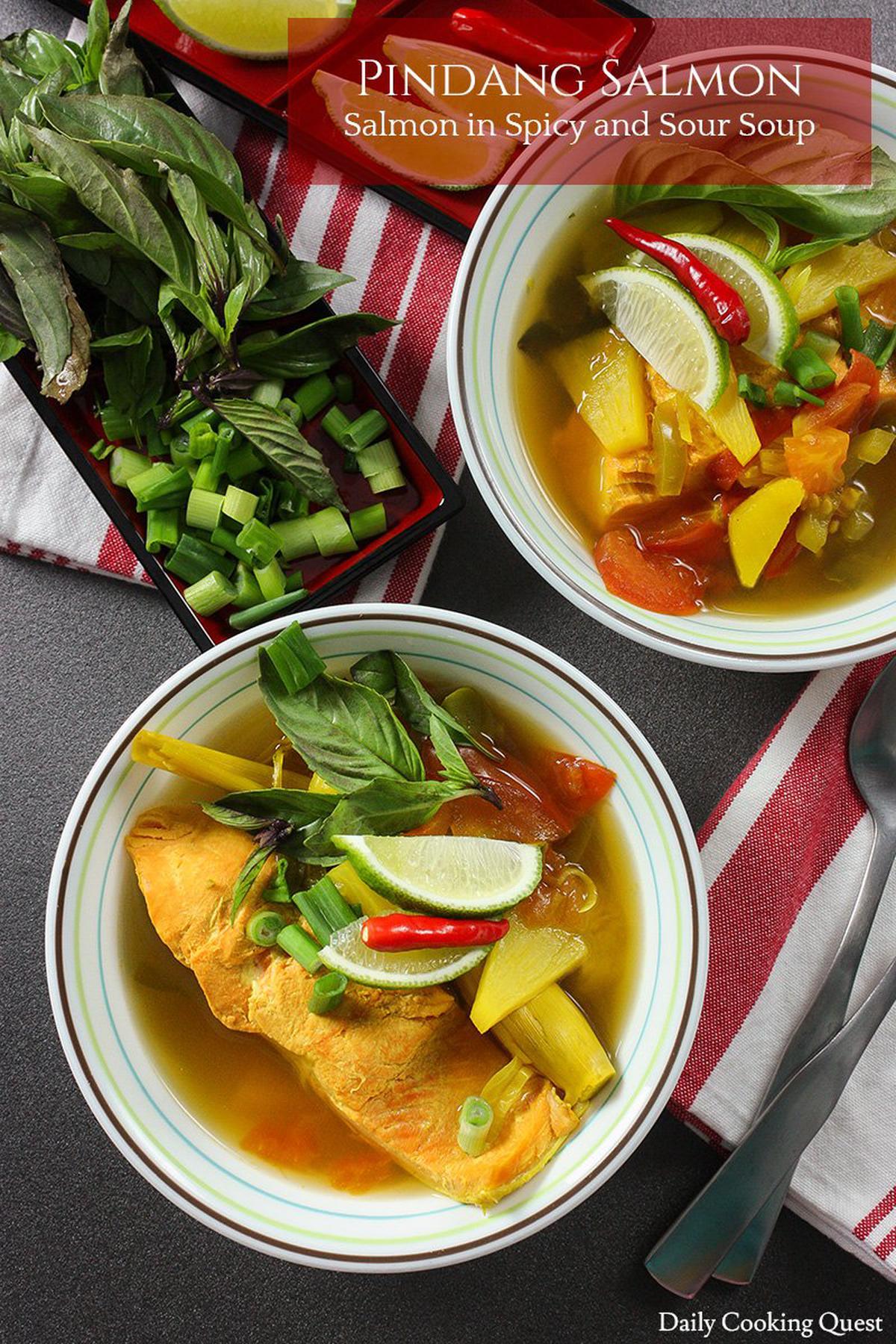 To make this soup, you will need fish of your choice (salmon or catfish, or swai if you can find it), tomatoes, pineapple, limes, lemongrass, ginger, galangal, bird eye chilies, Thai basil leaves, and scallions. Just going through the ingredients, one can image the soup to be very fresh, with sourness from tomatoes and limes, sweetness from pineapples, and spiciness from bird eye chilies. The soup looks and tastes amazing, and I think a soup like this is just the perfect thing to ward off winter chill.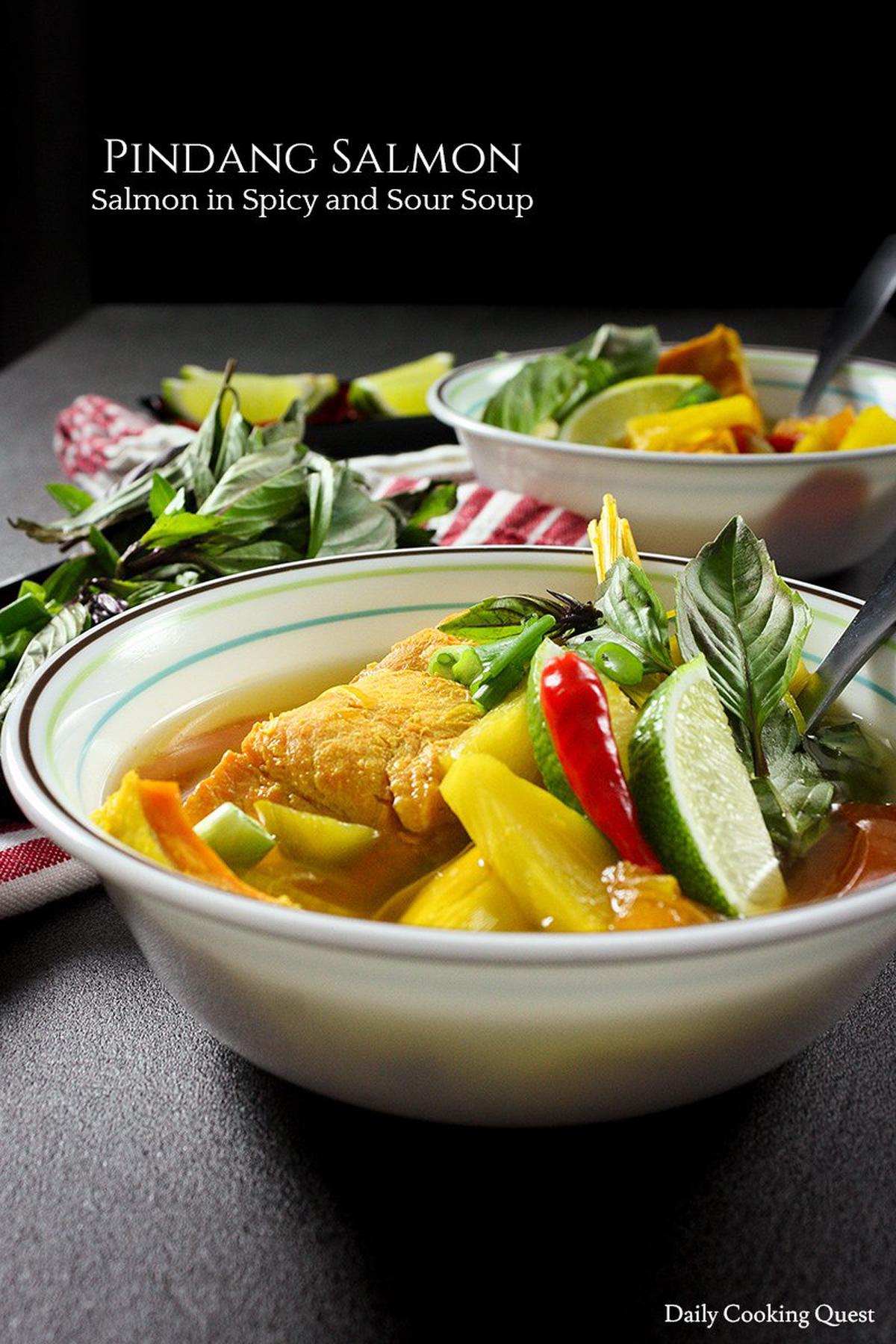 Pindang Salmon - Salmon in Spicy and Sour Soup
5.0 from 7 reviews
Ingredients
800 gram salmon fillet, cut into 8 pieces
juice of 1 lime
1 teaspoon salt
8 cups (2 liter) water
50 gram shallot, thinly sliced
4 cloves garlic, minced
1 inch ginger, thinly sliced
2 inch galangal, thinly sliced
5-15 bird eye chilies (Indonesian: cabe rawit)
3 lemongrass (Indonesian: sereh), bruised and knotted
2 Indonesian bay leaves (Indonesian: daun salam)
tamarind juice (1 teaspoon tamarind + 1 tablespoon water, mixed and strained)
1/2 teaspoon toasted shrimp paste (Indonesian: terasi bakar) (*)
1/2 teaspoon turmeric powder (Indonesian: bubuk kunyit)
4 tomatoes, cut into cubes
400 gram pineapple flesh, cut into chunks
1 tablespoon salt
1/2 tablespoon sugar
1 tablespoon Indonesian sweet soy sauce (Indonesian: kecap manis)
Garnish
1 bunch of Thai basil leaves (Indonesian: daun kemangi)
1 bunch of scallions (Indonesian: daun bawang), thinly sliced
1-2 limes, cut into wedges
Instructions
In a mixing bowl, marinate salmon pieces with juice of 1 lime and 1 teaspoon salt. Set aside for 15 minutes. Washed and drained.
Bring water to a boil in a soup pot. Add shallot, garlic, ginger, galangal, chilies, lemongrass, Indonesian bay leaves, tamarind juice, shrimp paste, and turmeric powder. Cover the lid, simmer for 15 minutes.
Add salmon, tomato cubes, and pineapple chunks. Season with salt, sugar, and sweet soy sauce. Return to a boil. Turn the heat off once the fish is fully cooked. Adjust seasoning (salt/sugar/sweet soy sauce) as needed.
Serve the soup hot with Thai basil leaves, thinly sliced scallions, and lime wedges.
Notes
(*) Can be substituted with 1 tablespoon fish sauce.