Home / All Recipes / Chinese / Pineapple Jam Sticky Rice Flour Bread Rolls
Pineapple Jam Sticky Rice Flour Bread Rolls
Asian/Chinese bakery pull-apart milk bread with pineapple jam filling.
Pineapple jam sticky rice flour bread rolls. I have plenty of pineapple jam leftover from making pineapple jam squares, so I turn them into fillings for this bread rolls that is slightly unusual than my regular ones because the addition of sticky rice flour (a.k.a. glutinous rice flour) to make it slightly chewier, but ultimately, still very delicious.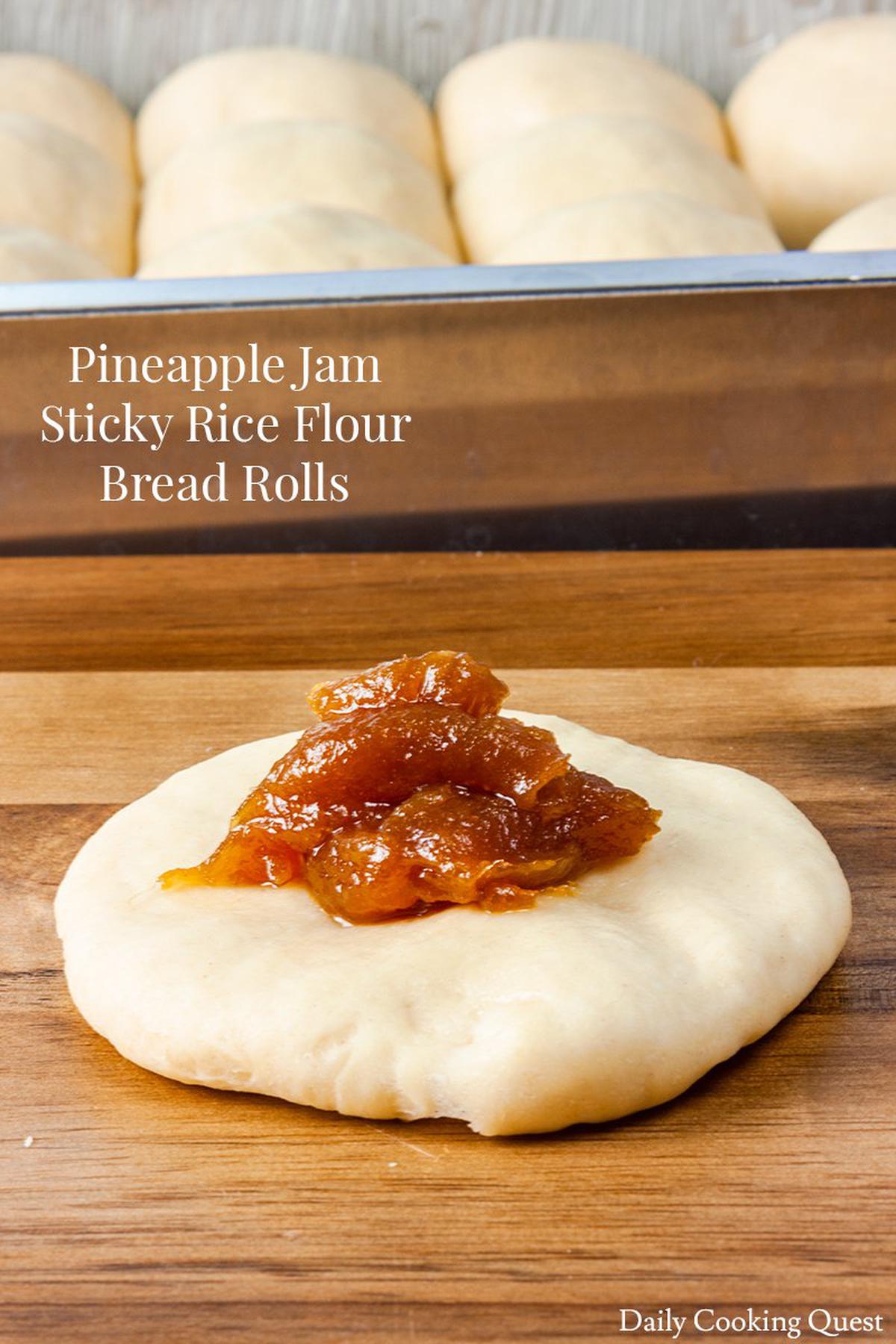 Homemade pineapple jam
Maybe because I grow up eating homemade nastar (Chinese pineapple tart), where the pineapple jam is heavily infused with cinnamon and cloves, I can never dig store-bought pineapple jam. It must be home made, or I would rather use other kind of jam, or filling for this bread. Whichever route you take, just make sure you have about 1 cup of jam for filling. And the jam needs to be chilled first, so they are not too runny.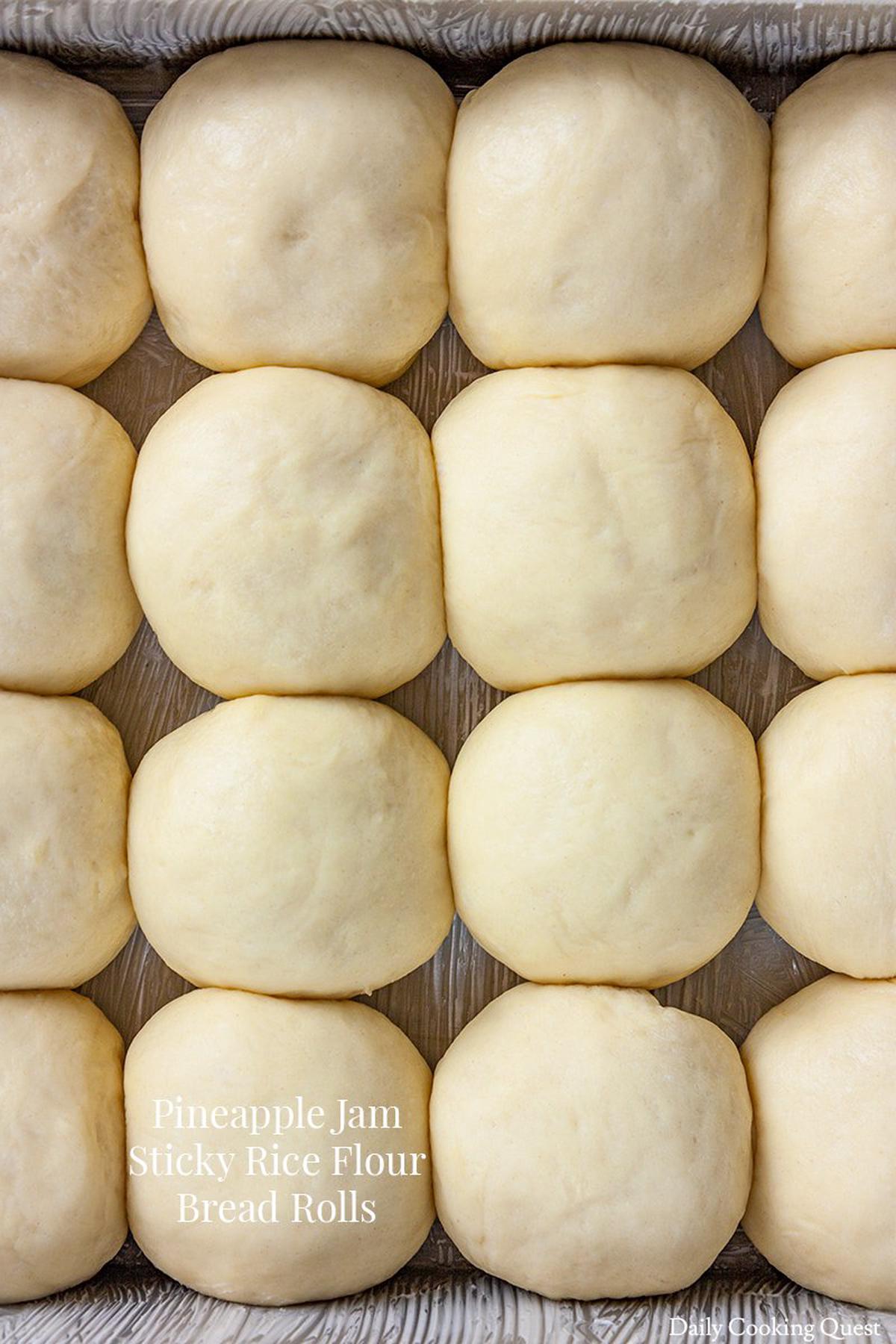 Bread dough with sticky rice flour
This bread dough has sticky rice flour in it to give it a slightly chewier texture. I usually use the one from Erawan, but I guess other brands should work just as well. If you want to ditch the sticky rice flour, just substitute with the same amount of bread flour. In which case, the bread roll texture will be more like regular Asian bakery style bread. So don't worry too much about it.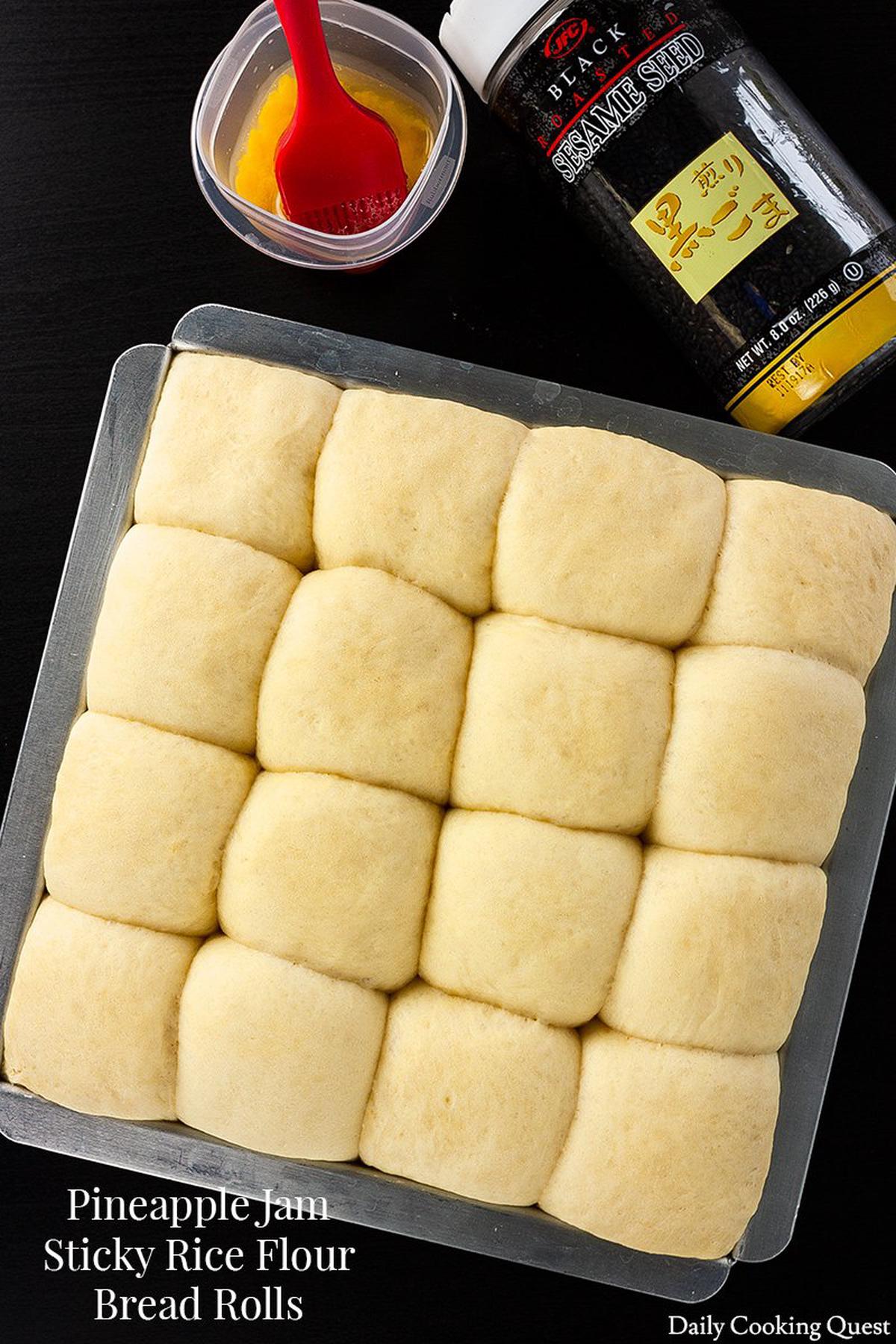 Egg wash and black sesame seeds
I like applying egg wash to my bread because the sheen once baked is just very attractive, and to me, they make the bread looks delicious. It is not a must, so if you are not used to applying egg wash to your bread, you can definitely skip it. Also, the black sesame seeds are purely for decoration. You can use slivered almonds if you wish, which I think is another great option.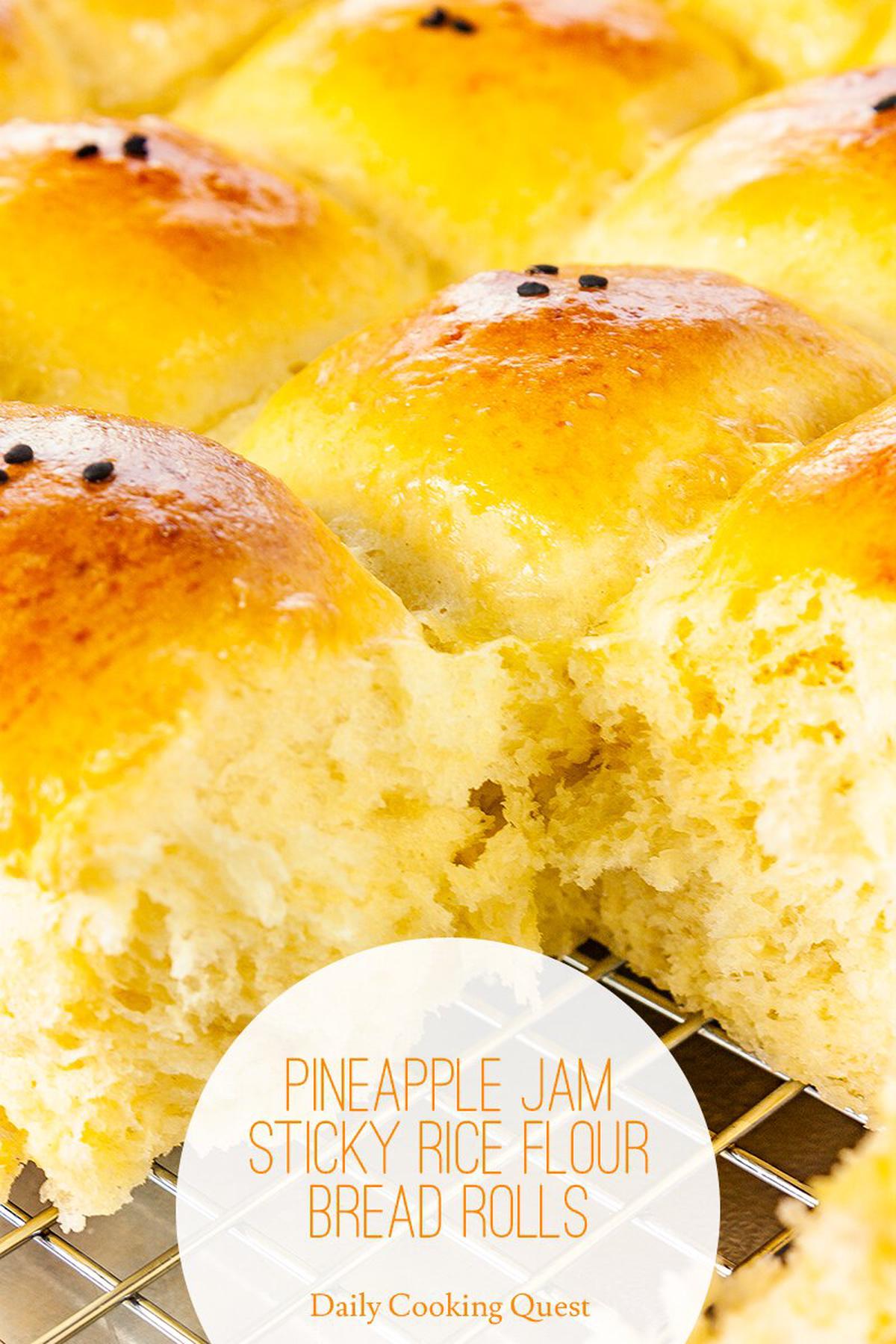 Pineapple Jam Sticky Rice Flour Bread Rolls
5.0 from 5 reviews
Ingredients
Yeast solution
1 cup warm milk (38 Celsius / 100 Fahrenheit)
7 gram active dry yeast
10 gram sugar
Bread
300 gram bread flour
60 gram sticky rice flour
40 gram sugar
5 gram salt
1 egg
45 gram (~ 3 tablespoon) unsalted butter, soften
1 cup pineapple jam, chilled (or use other jam/filling of your choice)
Optional
1 egg, lightly beaten
black sesame seeds
Instructions
Mix together warm milk, active dry yeast, and 10 gram sugar. Set aside until foamy, about 10 minutes.
In a large mixing bowl, whisk together bread flour, sticky rice flour, 40 gram sugar, and salt. Make a well, then add the yeast solution and egg. Knead for about 10 minutes. Then add the butter, and knead again for about 15-20 minutes, or until soft, smooth, not sticky, and elastic (what bakers termed window pane stage).
Divide the dough into 16 equal portions, and set aside for 15 minutes.
Rolls each portion into a circle, top with about 1 tablespoon of pineapple jam, pinch to seal, and gently roll into ball shape. Place in a greased 8"x8" square pan. Repeat for the other 15 portions.
Cover the pan with a wet kitchen towel/saran plastic. Let the dough proof until volume is doubled, about 1 hour in a warm kitchen.
Preheat oven temperature to 180 Celsius (350 Fahrenheit).
Optional: brush the top of bread dough with egg wash, and sprinkle with some black sesame seeds.
Bake the bread in preheated oven for about 20 minutes, or until golden brown.