Home / All Recipes / Indonesian / Pisang Goreng Madu
Pisang goreng (Indonesian banana fritters) recipe with honey batter. Recreate this favorite Indonesian street food in your home.
Anyone who grows up in Indonesian definitely has a fond memory of pisang goreng (banana fritters). It is the most ubiquitous street food snack, a perennial favorite for all ages, from little kids to grandmas and grandpas. Here I added honey to the batter to produce pisang goreng madu (honey batter fried bananas).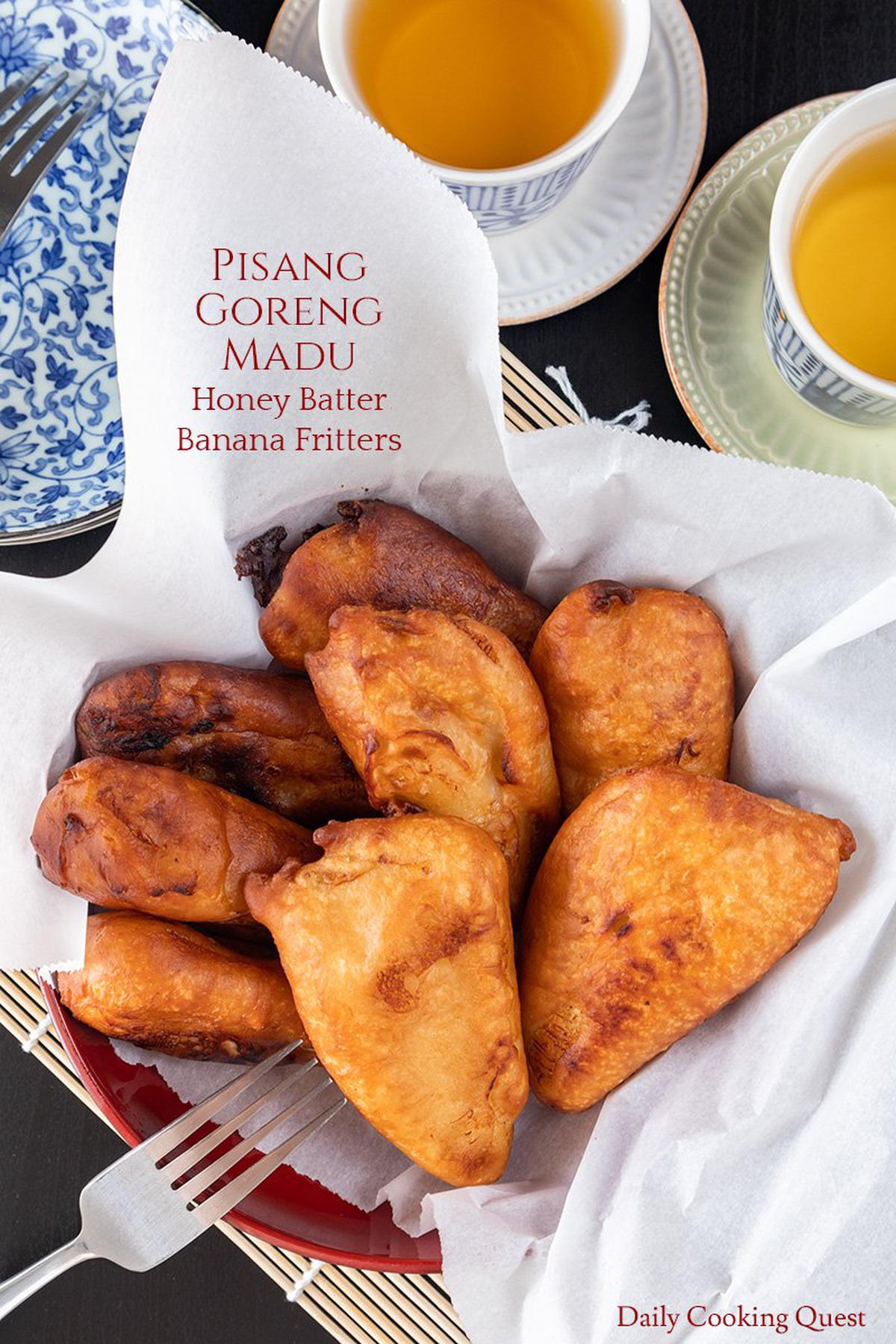 Pisang kepok (saba bananas)
We don't typically use eating bananas (a.k.a. cavendish bananas) for deep frying, or any sort of banana dish that needs cooking for that matter. Instead, we either use sabana banana (Indonesian: pisang kepok) or plaintain (Indonesian: pisang tanduk). Either one is fine for this recipe, but I stick to saba banana since that is the most common banana for making pisang goreng. Also, you want to wait for the bananas to ripen before using them. I usually wait patiently until the skins are all yelllow and even develop plenty of dark spots before turning them into fritters!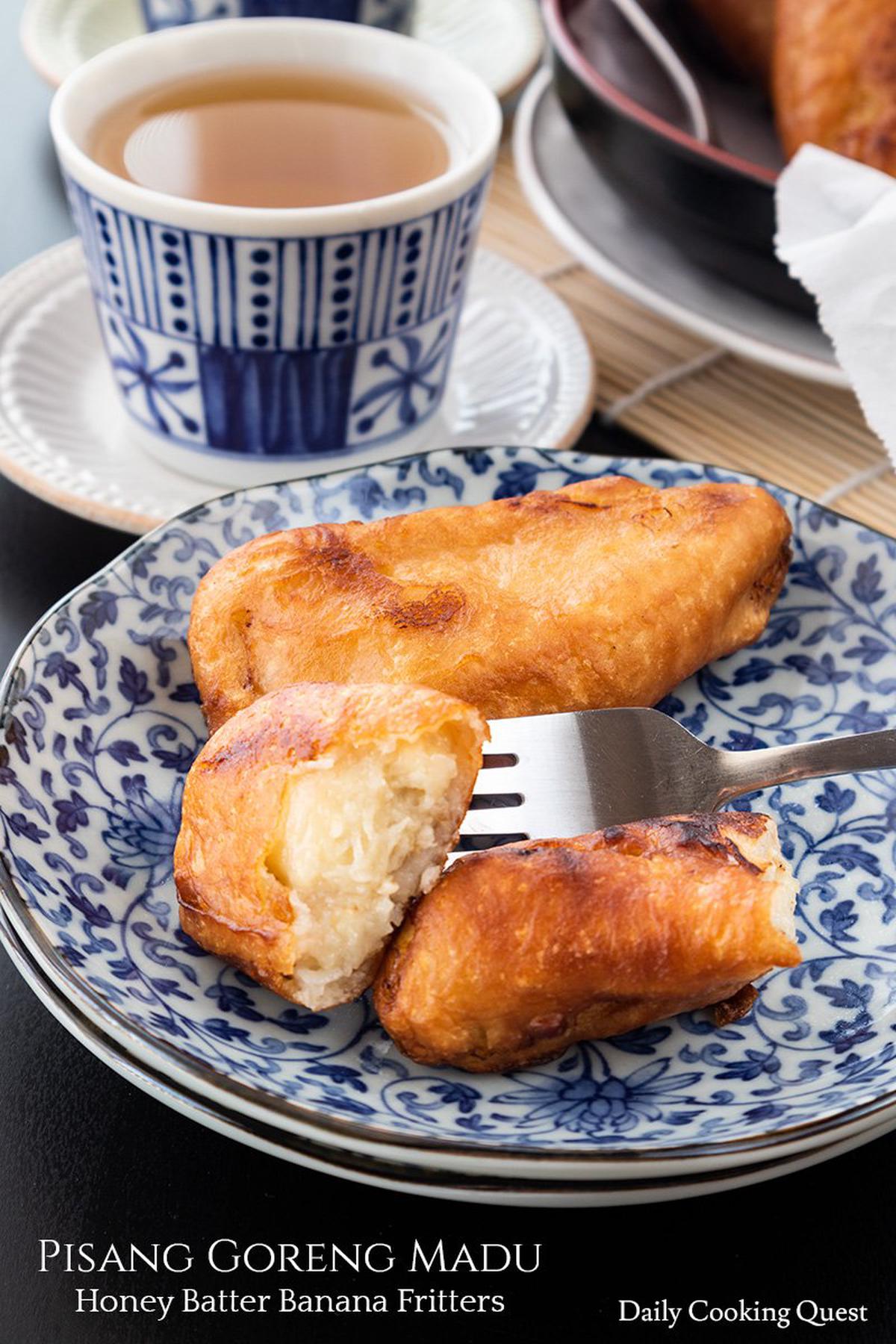 Tips for crispy fritters
Everyone loves crispy fritters, and I have two tips to help ensure your banana fritters have crispy skin. First, make sure the oil is hot before starting to deep fry. If you have a cooking thermometer, you want to start frying once the oil reaches 170 Celsius/340 Fahrenheit. Second, make sure your water to make the batter is super cold. If you have ice cubes in your freezer, it can really help if you throw in extra 5-6 ice cubes to keep the batter as cold as possible.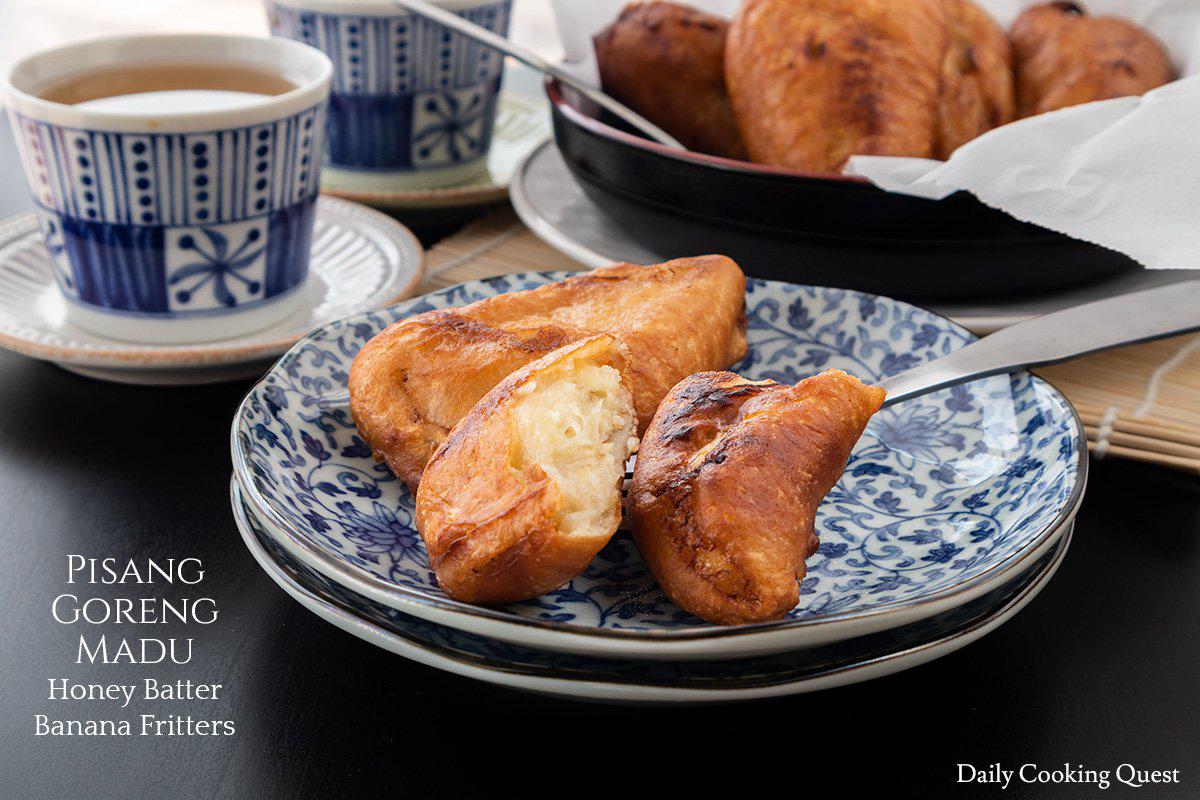 Pisang Goreng Madu
5.0 from 8 reviews
Ingredients
8-12 ripe saba bananas (Indonesian: pisang kepok), peeled
100 gram all-purpose flour
50 gram rice flour
1/4 teaspoon each: salt, baking powder
2 tablespoon honey
200 ml ice-cold water
enough oil for deep frying
Instructions
Heat enough oil in a pot for deep frying.
Make three slices along each banana's length, but keep the bottom 1 inch intact, so it can be opened up like a fan.
Mix all-purpose flour, rice flour salt, baking powder, honey, and ice-cold water in a mixing bowl to make the batter.
Once the oil is hot (~ 170 Celsius / 340 Fahrenheit), dip each banana into the batter, and fry until golden brown and crispy. About 2 minutes each. Remove and drain on paper towel/wire rack. Serve immediately.