Home / All Recipes / Chinese / Pizza Bread
You may have encountered pizza bread in Asian bakery. Now you can recreate this popular bread in your kitchen.
Have you ever visited an Asian bakery? I can never decide if I love the sweet bread varieties more, or the savory ones. And I am not ashamed to admit I can never restrain myself from buying every single one whenever I visit. Today I am sharing one of my favorite Asian savory bread, pizza bread.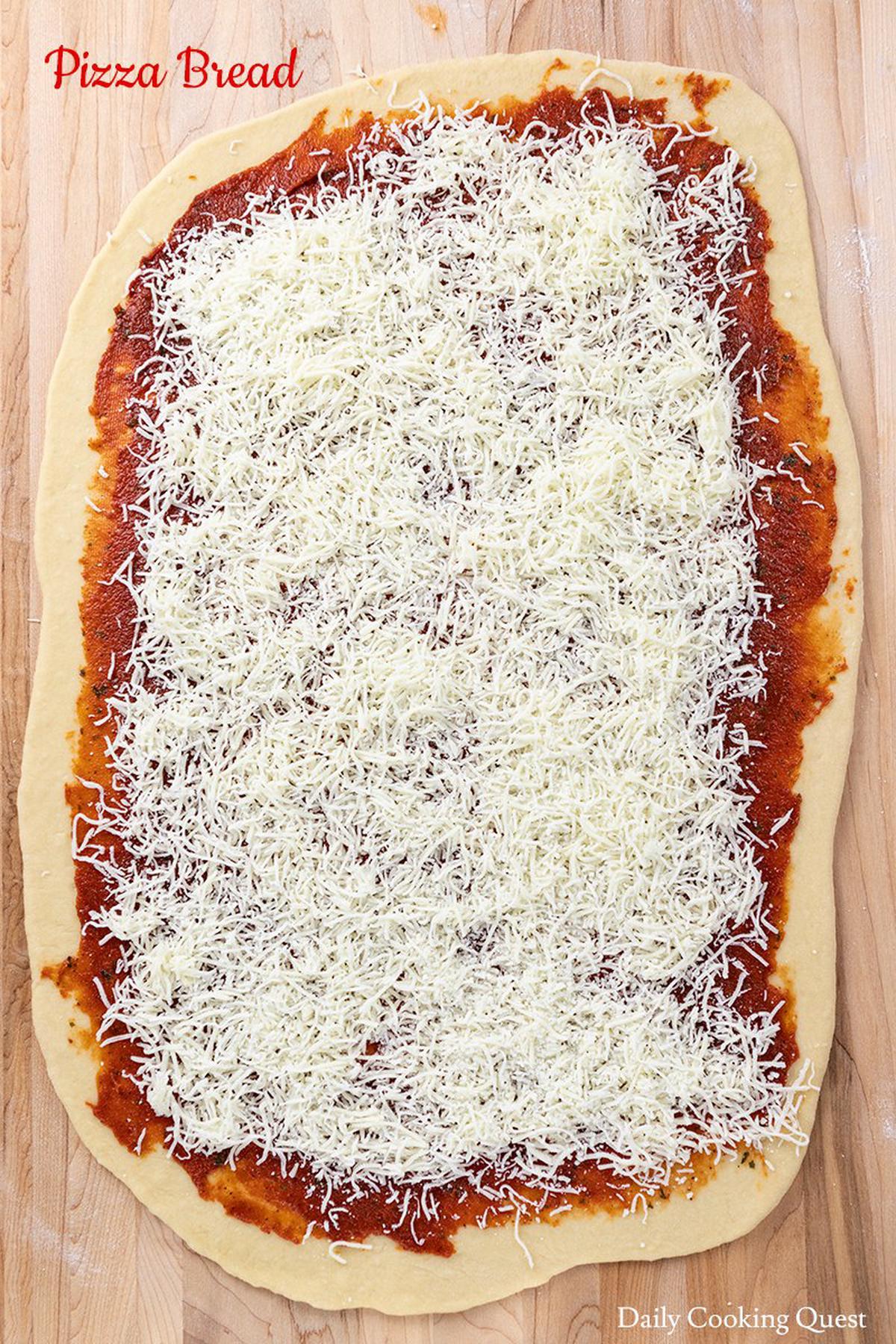 Pizza bread vs. regular pizza
You need to know that Asian bakery pizza bread is pretty different than your regular pizza. Basically all bread in Asian bakery is milk bread variety, and each bakery has their own secret milk bread recipe. And they are using the same bread recipe to create all the different bread sold in their shop. If you are looking for recipe to create regular pizza, this is not the one you are looking. If you have somehow tried pizza bread in any Asian bakery and want to recreate that, then this recipe is for you.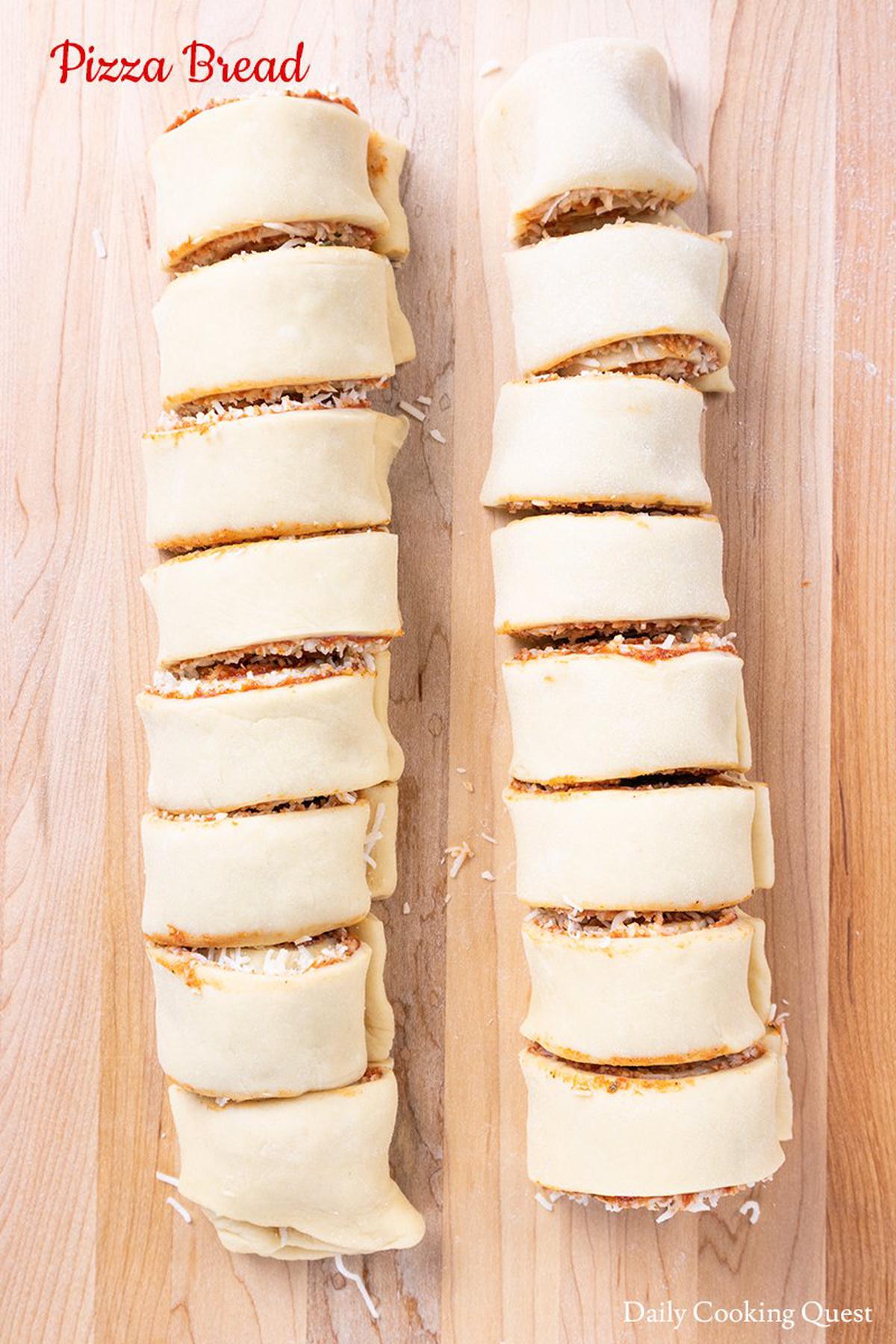 Basic pizza sauce filling
The pizza sauce filling that I provide in this recipe is super basic, just flavored tomato paste with basil leaves and mozarella cheese. You can of course add more ingredients, such as pepperoni, sausage, mushroom, onion, bacon, olives, bell pepper, or more cheese. Basically you can use your favorite pizza topping as the filling for this pizza bread.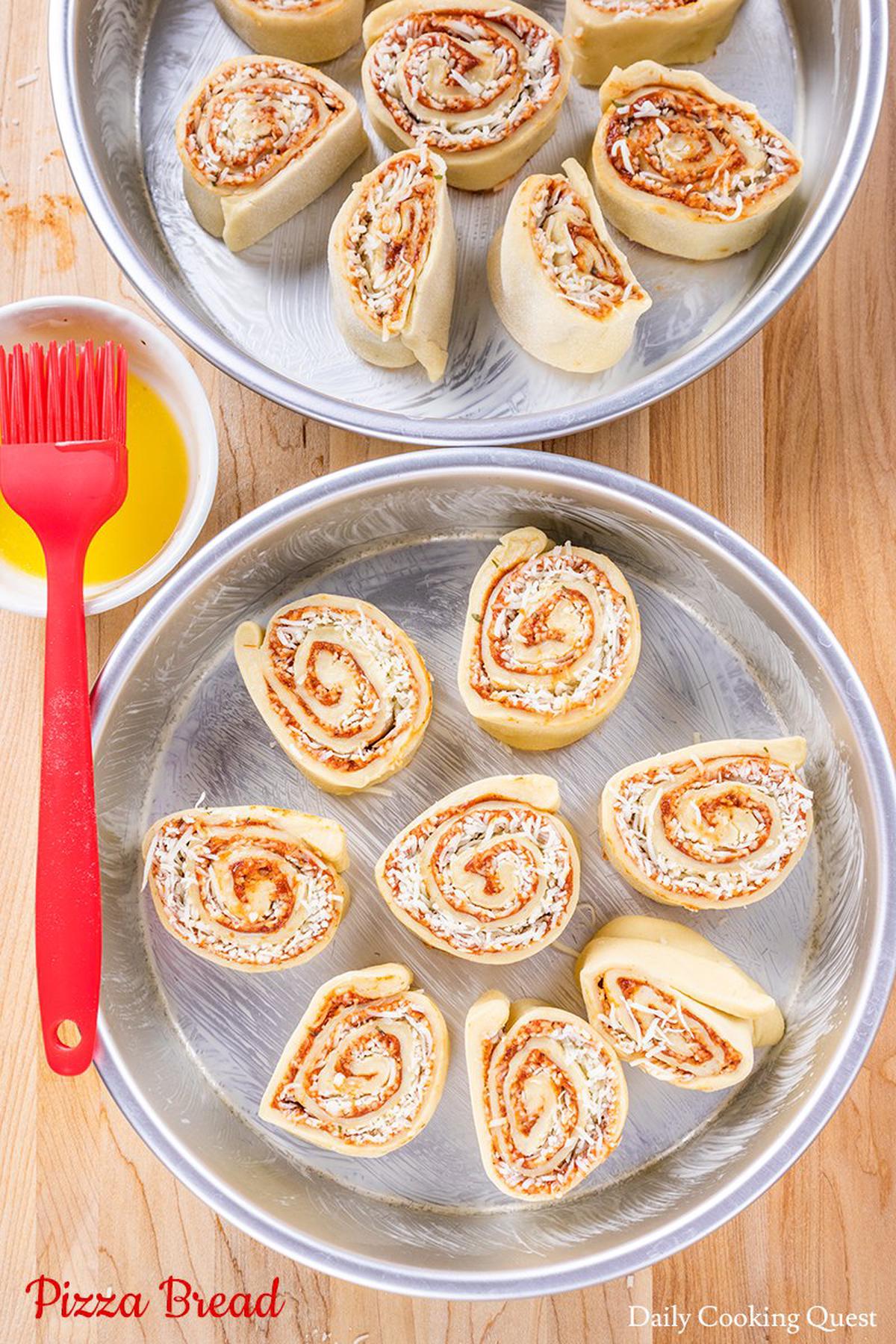 No, it doesn't have to be a roll
If it is not obvious, you can shape your bread into anything, buns, breaded loaf, individual mini pizza, and so on. Shaping them into rolls à la cinnamon rolls is just one of the many forms this bread can take. If you want to make the into rolls, it is actually better if you have two 8-inch round pans since you get a taller bread compared to mine which uses two 9-inch round pans.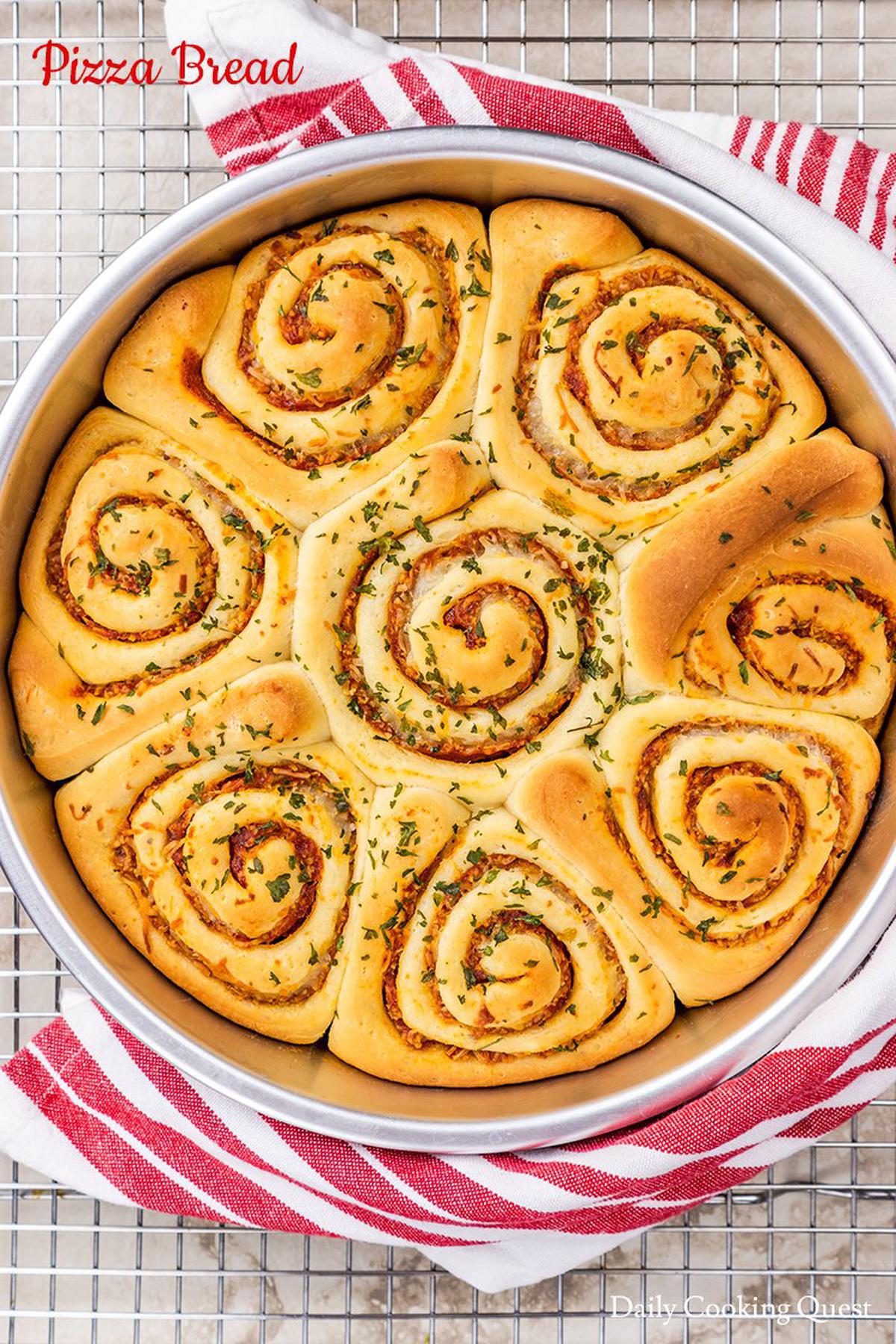 Pizza Bread
5.0 from 10 reviews
Ingredients
Bread dough
7 gram (1 packet, or 2 1/4 teaspoon) active dry yeast
5 gram (~ 1 teaspoon) sugar
200 ml (13.5 tablespoon) milk, lukewarm (38 Celsius/100 Fahrenheit)
320-360 gram (~ 3 cup) all-purpose flour
75 gram (~ 6 tablespoon) sugar
1/8 teaspoon salt
2 egg yolks
35 gram (~ 2.5 tablespoon) unsalted butter, softened
Pizza sauce filling
1 can (170 gram/6 oz) tomato paste
4 teaspoon olive oil
1 teaspoon salt
2 teaspoon sugar
1/2 teaspoon each: ground pepper, garlic powder, dried basil leaves
2 cup shredded mozarella
4 tablespoon unsalted butter, melted
dried/fresh basil leaves, to sprinkle (optional)
Instructions
Mix together active dry yeast, 5 gram sugar, and lukewarm milk. Set aside to bloom, or until foamy and frothy, about 10 minutes.
In a mixing bowl, sift together all-purpose flour, sugar, and salt. Make a well, then add in egg yolks, butter, and yeast solution. Knead until smooth and soft, only adding a bit of flour if necessary. Kneading time is about 20-30 minutes.
Place bread dough in a bowl, cover with a wet kitchen towel/saran plastic. Set aside to proof until volume is almost doubled, about 1 hour in a warm kitchen.
Meanwhile, let's make the pizza sauce filling. Mix together tomato paste, olive oil, salt, sugar, ground pepper, garlic powder, and dried basil leaves. Set aside. Also, grease two 8-inch or 9-inch round cake pans. (*)
Once the bread has finished proofing, punch down to remove air bubbles. Then transfer the bread to a lightly floured work surface. Knead for 2 minutes, then roll into a rectangle of about 15-inch by 20-inch.
Spread pizza sauce filling on the rolled dough, leaving 1-inch uncovered around the edges, and top with shredded mozarella. Roll the bread from the long end into a log. Use a sharp knife to cut the log into 16 pieces. Place 8 pieces, cut side up, into each of the prepared pan. Brush the top of bread dough generously with melted butter. Cover the pan with a wet kitchen towel/saran plastic and proof again until the dough fill the pan, about 1 hour in a warm kitchen.
Preheat oven to 180 Celsius (350 Fahrenheit). Sprinkle the bread with some dried/fresh basil leaves (if using), and bake in the preheated oven for 20-25 minutes.
Remove the bread from oven. Let it rest in the pan over a wire rack for 10 minutes, then gently remove the bread from the pan and cool on a wire rack. It is best to serve the bread warm.
Notes
(*) An 8-inch round pan gives a taller bread. In the photos, I use 9-inch round pan.