Home / All Recipes / Indonesian / Plecing Bayam - Spinach with Spicy Tomato Sauce
Plecing Bayam - Spinach with Spicy Tomato Sauce
Master how to prepare this delicious spicy tomato sauce to turn any fresh vegetables into plecing, a signature vegetables dish from the island of Lombok.
Plecing is a vegetable dish served with fiery red spicy tomato sauce. Originated from the island of Lombok, just a small hop to the east from the island of Bali, plecing is commonly served along ayam bakar taliwang (Lombok grilled chicken), and these two dishes are the signature dishes of Lombok cuisine.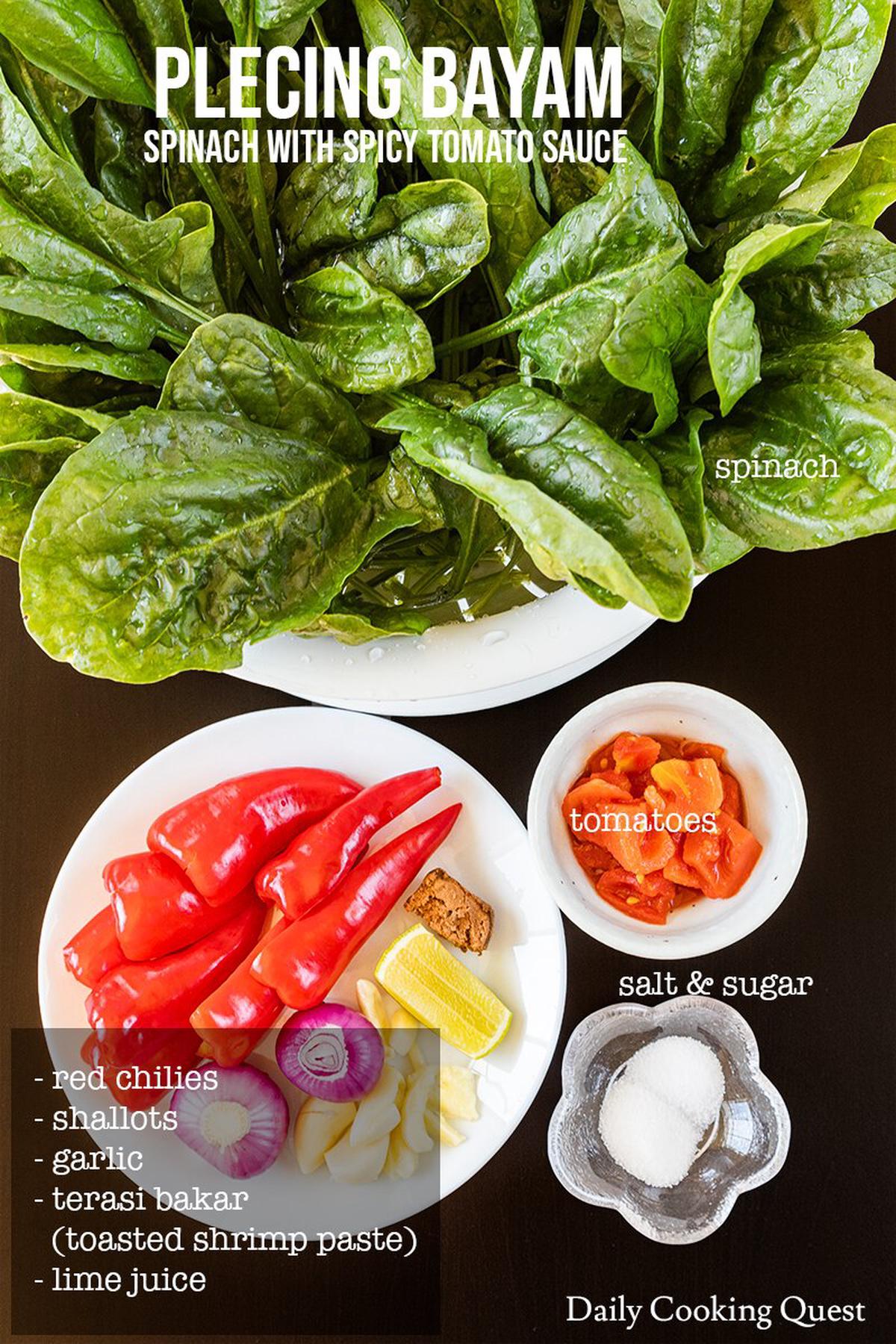 I thought a plecing is always made with kangkung?
You are right! Traditionally, a plecing is always made with kangkung (morning glory/water spinach). But unless you have access to a pretty complete Asian market in the US, a bunch of fresh spinach is much easier to find. Of course, if your market does carry it, try grabbing a bunch of kankung to make traditional plecing. The reason why I choose spinach is that I love spinach, and it so happens that plecing sauce is a perfect match for almost any simply blanched/steamed vegetables, and you can pair this spicy tomato sauce with any fresh vegetables (e.g. broccoli, kale, green beans, e.t.c.) that you come across while doing your grocery.♥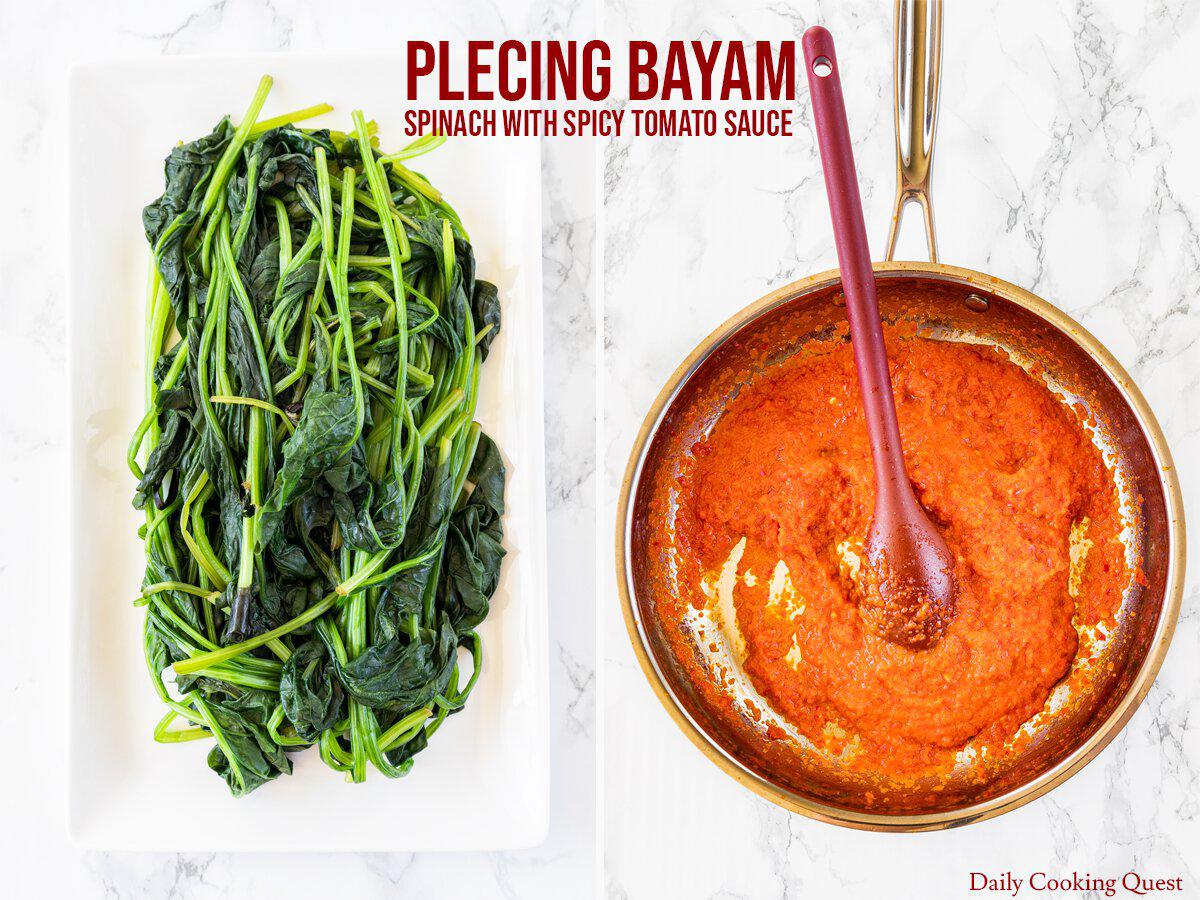 Do I really need to blanch my spinach?
Not really! Instead of blanching my spinach, I actually prefer to put the whole bunch of washed and drained fresh spinach in a really big pot/wok, cover it, and turn the heat on to medium and let the whole big bunch of spinach wilts. Just stir it a bit, especially once it starts to wilt, so the bottom parts don't end up getting burned. And that's it! Once all the spinach has wilted, simply scoop them up and arrange in a serving plate. Then you can start preparing the sauce.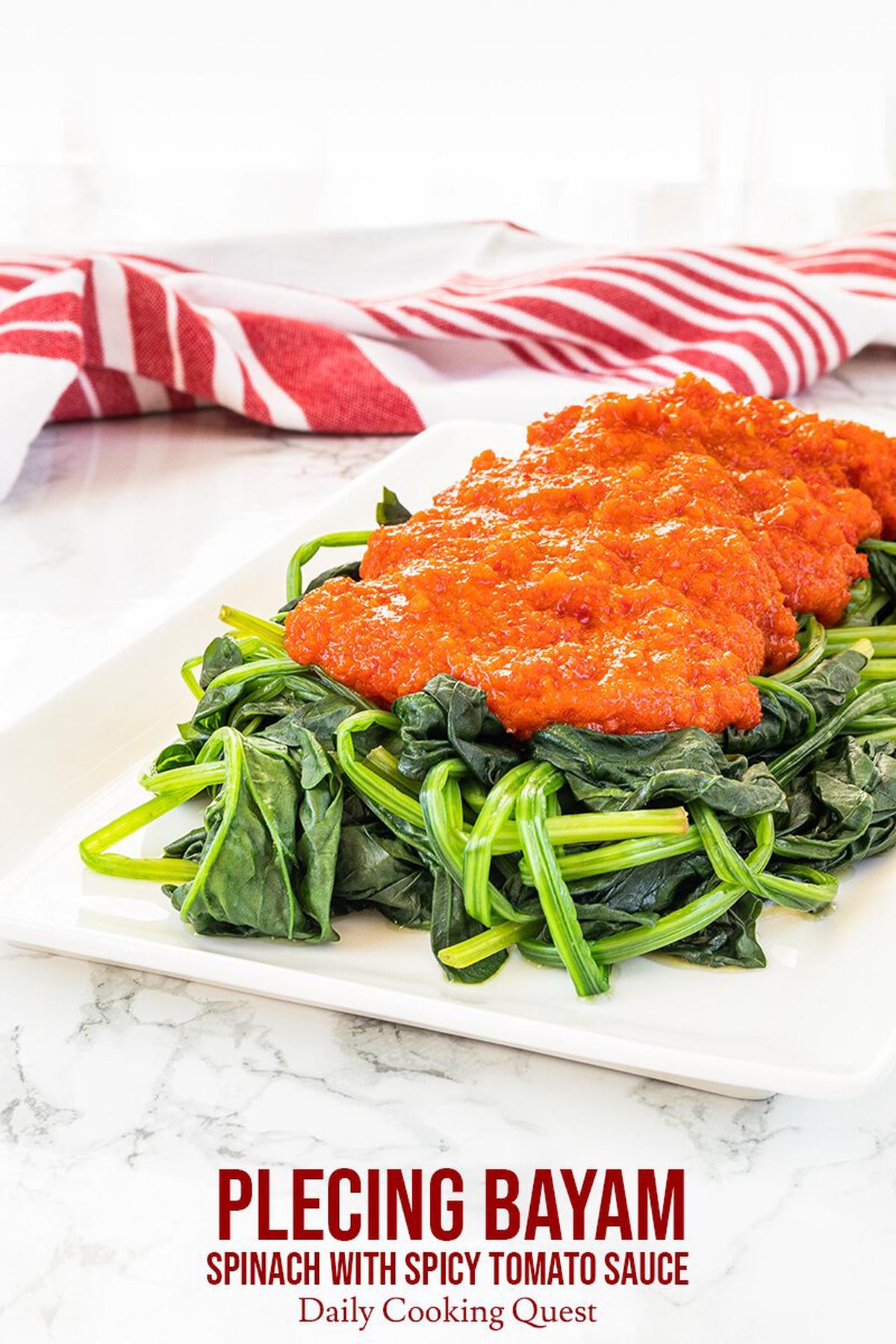 What is terasi (shrimp paste) and is there any substitute for it?
Terasi (shrimp paste) is made of fermented tiny shrimps (we call them rebon in Indonesia) and salt. It's known as belacan in Malaysia/Singapore. It looks like a block of chocolate but stinks to high heaven. A block of terasi should last for a long while since we usually use them by the teaspoon, and it should be quite easy to cut off a section with a knife from the block to use as needed. To ward of the stink, my suggestion is to wrap an opened block of terasi with double/triple layer of parchment paper, and place it inside a ziplock bag (or two!), and stash in your fridge.
How to toast terasi
Prior to using a piece of terasi, it needs to be toasted. You can do this in several ways:
Dry toast it on a frying pan.
Grab a piece of shrimp paste with a pair of tongs, and just toast it with an open flame (if you have a gas stove).
Toast it in an oven toaster.
Put it in a microwaveable plate/bowl, and cook for about 30 seconds.
Whichever method you choose, you will know it's done when the chocolate color turns paler, the piece looks dryer, and you can crumble it with your fingers. Also, the smell will be much more fragrant. I know it's super weird to say this, but you'll understand once you have more experience with toasting terasi.
Toast just the needed amount of terasi
I know it might be tempting to toast the whole block of terasi in one go and use as needed, but to me, toasting just the small piece as needed is the way to go. If you pre toast the whole lot, you will find that the taste somehow degrades with time. Plus, if you go with method 4 (the microwave method), it really doesn't take much time at all to toast a piece of terasi.
Substitute for terasi (shrimp paste)
As for substitutes, there really isn't any, though fish sauce is the closest thing you may try that will give you a semblance of terasi. If you cannot find any terasi, try substituting 1 teaspoon of terasi with 1 tablespoon of fish sauce.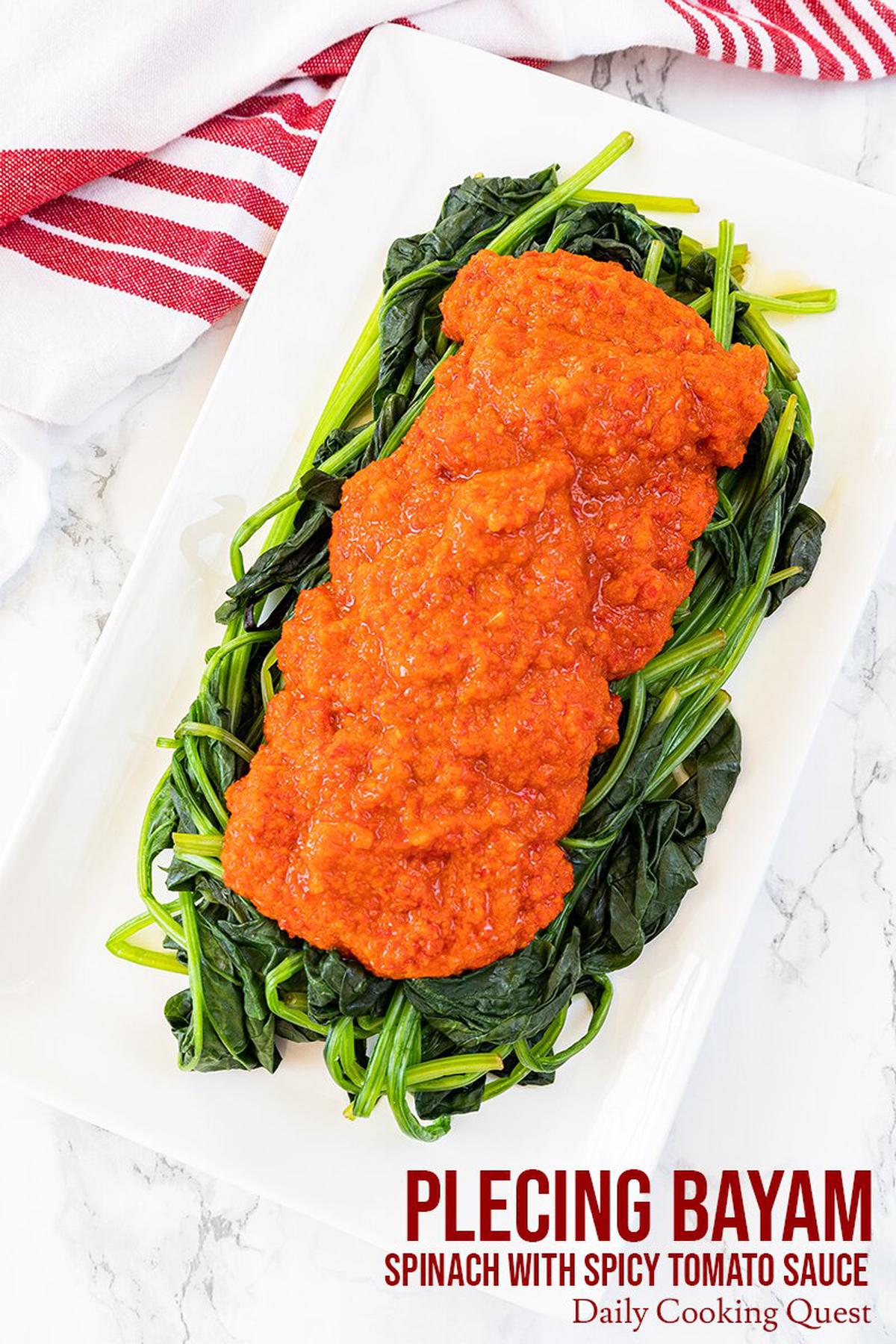 Plecing Bayam - Spinach with Spicy Tomato Sauce
5.0 from 10 reviews
Ingredients
300 gram spinach, blanched (*)
2 tablespoon oil
1 tomato, cored and cut into small pieces
50 ml water
1/2 teaspoon salt
1/2 teaspoon sugar
1 teaspoon lime juice
Grind the following into spice paste
5-10 red cayenne chilies (Indonesian: cabe keriting merah)
2-10 red bird eye chilies (Indonesian: cabe rawit merah), optional, so use as much as you wish
50 gram shallots (Indonesian: bawang merah)
2 cloves garlic (Indonesian: bawang putih)
1 teaspoon shrimp paste, toasted (Indonesian: terasi bakar)
Instructions
Arrange blanched spinach on a serving plate and set aside.
Heat oil in a frying pan and sauté spice paste until fragrant.
Add sliced tomatoes and cook until wilted.
Pour water and bring to a boil. Season with salt, sugar, and lime juice. Mix well.
Turn off heat and pour the sauce onto the blanched spinach. Serve immediately.
Notes
(*) You can use any fresh green vegetables of your choice.