Home / All Recipes / Chinese / Pork Congee
Whenever we go for a dim sum brunch, congee is definitely one of my favorite. I will get a bowl, which is usually big enough for two and share with Piti. The sharing part is so we get to sample other dim sum items :D We usually go for a dim sum with the big family, which means once every two months or so affair, pretty rare huh? In between dim sum visit, I like to make congee at home.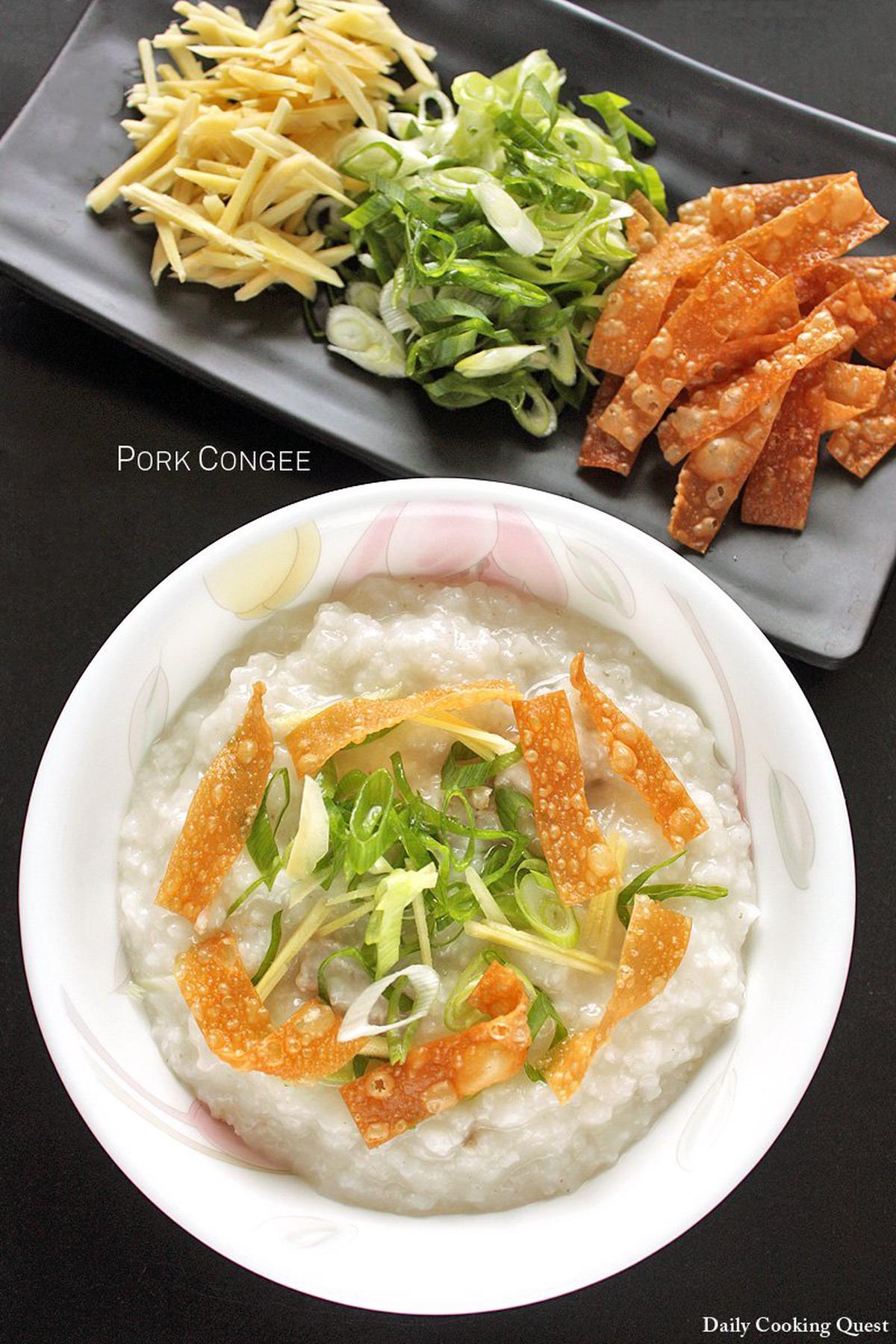 A good congee starts with a proper stock, that means plenty of pork bones and ginger in a big pot of water and simmer for 1 hour to get the good stuff. Then use the stock to make the congee, which will take 2 hours to give enough time for the rice to break down into smooth thick congee. Simple right? I add some ground pork into my congee, but this is totally optional since the congee should be great by itself, we just love having some meat in our congee to be more filling. ♥
Pork Congee
Ingredients
Stock
500 gram pork bones
2 inch ginger, peeled and bruised
10 cups water
Congee
2 rice cooker cup (1 1/2 regular cup) rice, soaked in water for 1 hour
salt
ground pepper
Ground pork
200 gram ground pork
3 tablespoon Tianjin preserved vegetables (Chinese: dong cai) (*)
1/4 cup water
2 drops of sesame oil
Garnish
2 scallions, thinly sliced diagonally
2 inch ginger, peeled and cut into thin matchsticks
1 packet of wonton skin, cut into thin strips and deep fried
soy sauce
Instructions
Stock

Boil pork bones, ginger, and water in a big soup/stock pot. Reduce heat, cover, and simmer for 1 hour.
Remove the pork bones and ginger, then drain to remove scums and impurities from the stock. Return the stock to the pot.

Congee

Bring the stock back to a boil and add the rice. Once it boils, reduce heat and simmer for 2 hours until the rice breaks down into smooth thick congee. Stir every so often to prevent the congee from sticking to the bottom of the pot.
Meanwhile, mix ground pork, Tianjin preserved vegetables, water, and sesame oil together until well combined. Set aside.
Once the congee has finished cooking, drop teaspoonful of ground pork mixture into the congee until all the pork mixture is used up. Once the ground pork is cooked through, about 5 minutes, season with salt and pepper.
Turn off heat, serve hot with garnish.
Notes
(*) If you cannot find this, you can just substitute with 1 teaspoon salt and 1/2 teaspoon of sugar to season the ground pork.