Home / All Recipes / Japanese / Red Bean and Strawberry Jelly
Red Bean and Strawberry Jelly
I just finished making a batch of azuki an (Japanese sweet red bean paste) and was itching for some azuki an based desserts. I was toying with the idea of making red bean ice cream, but since I don't own an ice cream machine, I had to switch gear and swap ice cream to jelly. It was a happy coincidence that I chanced upon a red bean pudding recipe from No Recipes and I was set to make one of my own. I almost have everything on hand, barring the blueberries, and there is no way to get fresh blueberries here, at least not all the time (if at all). Then my mind wanders off to daifuku, the Japanese mochi with red bean paste filling and strawberries. Based on that, I decided to switch blueberries to strawberries, and voila, an easy and delicious dessert is born. ♥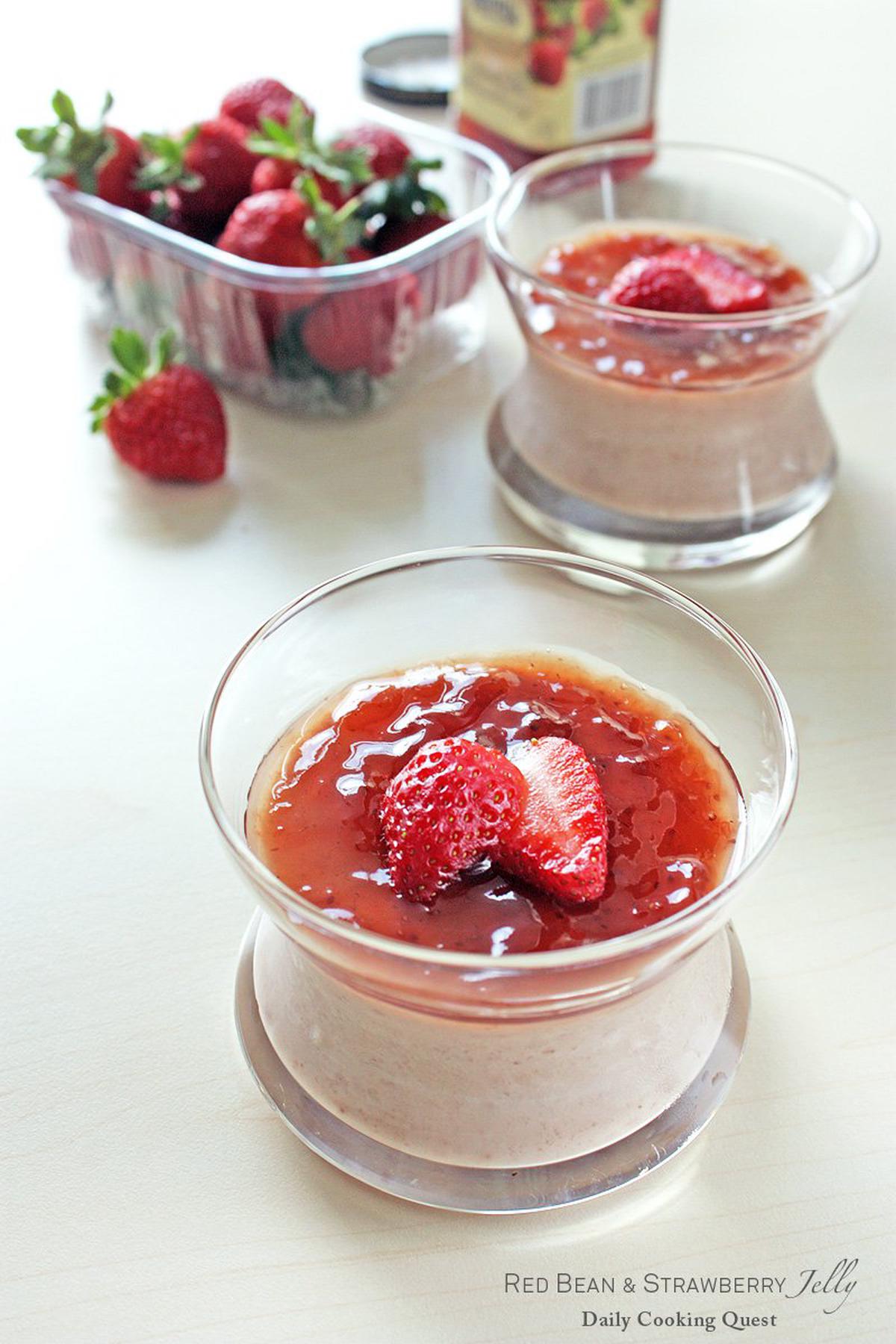 Red Bean and Strawberry Jelly
Ingredients
Jelly
1/2 cup Japanese sweet red bean paste (Japanese: azuki an)
2 cup coconut milk
1 packet of agar powder (I use 7 gram packet of Swallow brand clear agar powder)
Topping
strawberry preserves
fresh strawberries
Instructions
In a blender, process together red bean paste, coconut milk, and agar powder until well mixed.
Pour the mixture into a pan and heat with low to medium heat until it starts steaming, but prior to boiling. Pour into individual serving glasses. Allow to set at room temperature before chilling them in the fridge.
Prior to serving, spread a thin layer of strawberry preserves onto the pudding and top with some slices of fresh strawberries.