Home / All Recipes / Indonesian / Rendang Bakso Sapi - Meatballs Rendang
Rendang Bakso Sapi - Meatballs Rendang
The most traditional rendang is made with beef stew cuts, but I love to shake things up a bit, and sometimes I will use other meat (like chicken or pork), and even meatballs to make my rendang. Today, I am going to share my recipe for rendang bakso sapi - meatballs rendang.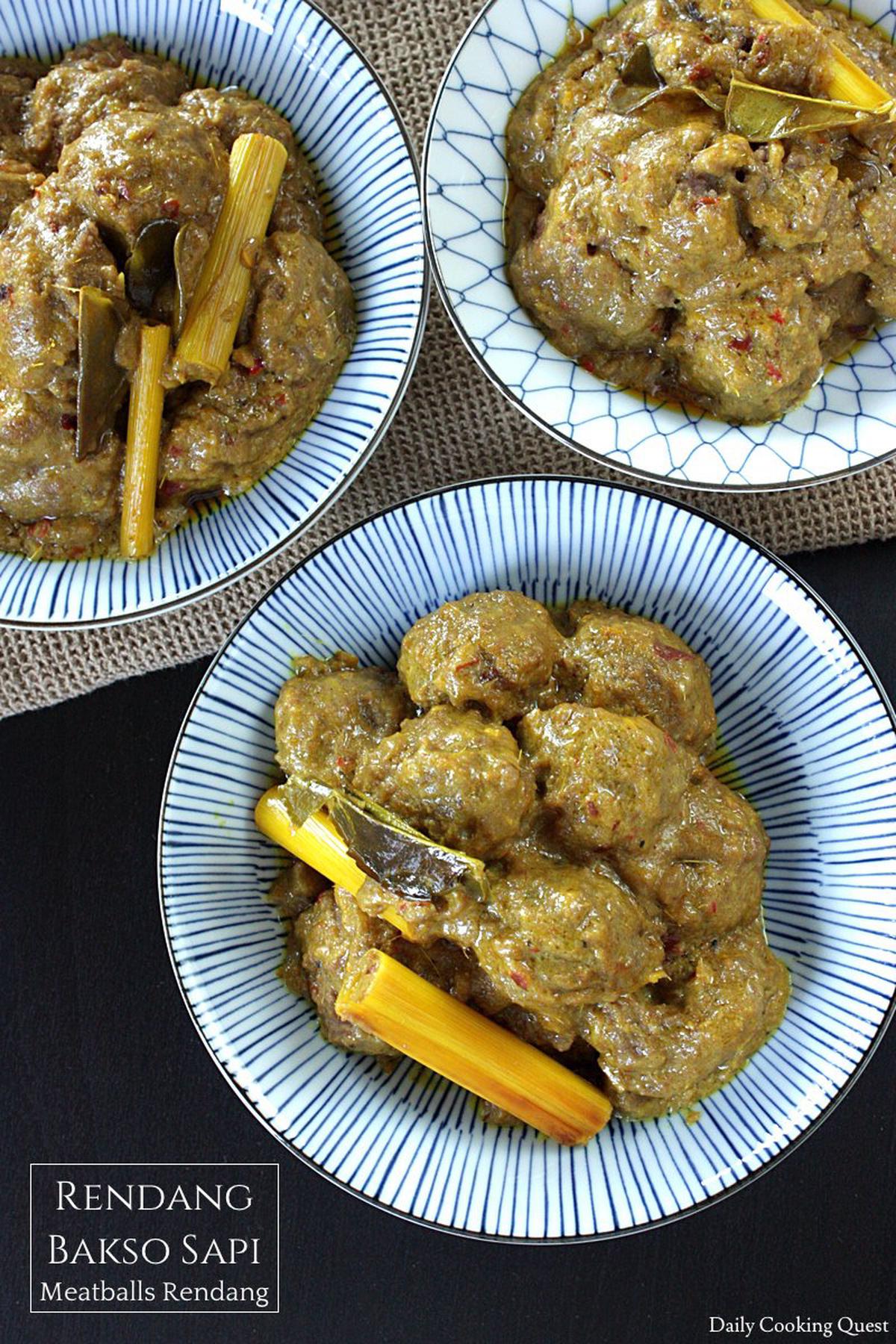 Rendang
If you have never tried rendang before, you have no idea what you are missing out. This food has been consistently ranked as one of the most delicious food on the planet. So, if you happen to walk into an Indonesian/Malaysian/Singaporean restaurant, do yourself a favor and order a portion of rendang. Once you are sold by how good a rendang can be, you need to learn to make this at home, so you can eat as much as you can without going to a restaurant :)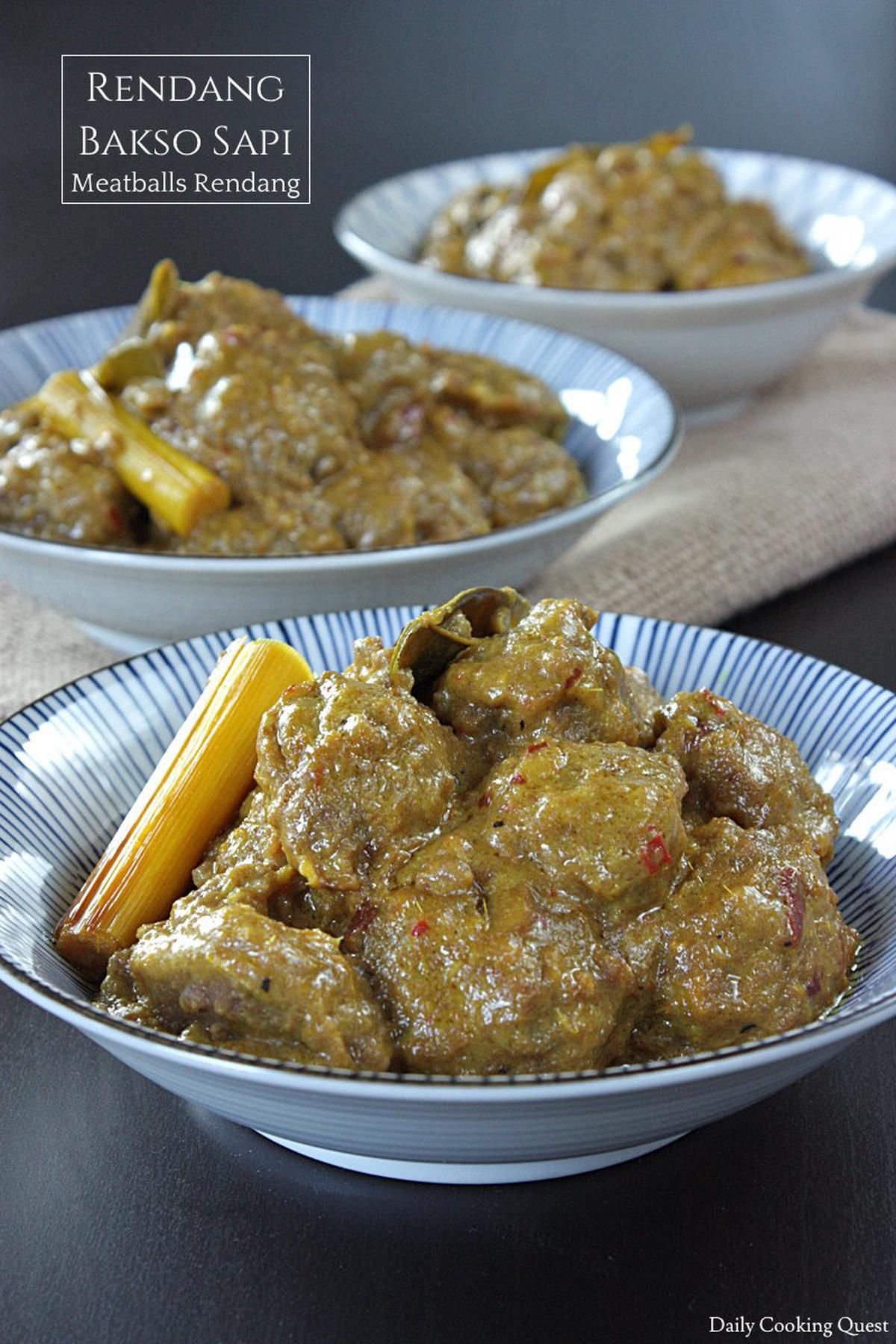 The Recipe
Rendang Bakso Sapi - Meatballs Rendang
5.0 from 1 reviews
Ingredients
Bakso sapi (Beef meatballs)
750-800 gram ground beef
100 gram tapioca starch
100 gram ice cubes, crushed
1 tablespoon salt
1 teaspoon ground pepper
1/2 teaspoon sugar
Spice paste (grind the following together)
50 gram shallot
5 cloves garlic
3-5 red fresno chilies, seeded
5-10 dried red chilies, seeded
1 inch galangal
2 lemongrass, white part only
1 inch ginger
2 teaspoon ground turmeric (or 1 fresh turmeric)
Other
3 tablespoon oil
5 kaffir lime leaves
1/2 tablespoon salt
2 teaspoon palm sugar (or brown sugar)
1 can (400 ml) coconut milk
1 cup (250 ml) water
tamarind juice (1/2 tablespoon tamarind + 3 tablespoon water, massaged and strained)
Instructions
Bakso sapi (Beef meatballs)

Mix all meatball ingredients together. Shape into meatballs, each about 1 tablespoon worth.
Boil a pot of water in a pot (about 70% full). Once it boils, drop meatballs into boiling water. The meatballs are cooked once they float to the surface. If your pot is small, you may want to cook the meatballs in batches.
Scoop out the cooked meatballs with a slotted spoon and set them aside.

Rendang sauce

Heat oil in a wok/large skillet over medium high heat. Sauté spice paste and kaffir lime leaves until fragrant, about 5 minutes.
Season with salt and sugar, then pour in coconut milk and water. Stir and bring to a boil.
Reduce heat to a simmer and continue cooking until sauce is reduced by half.
Add in the cooked meatballs and tamarind juice. Continue cooking until sauce is almost dry and looks slightly oily.
Turn off heat and serve immediately with steamed white rice.