Home / All Recipes / Indonesian / Rendang Sapi Padang - Padang Style Beef Rendang
Rendang Sapi Padang - Padang Style Beef Rendang
Recreate the world's most delicious food (beef rendang) in your kitchen. Now you don't have to visit Indonesia or Malaysia to sample authentic rendang.
Rendang sapi (beef rendang) is probably the most well known Padang dish, and surprisingly easy to make at home, since most of the time you just need to let it simmer away on a stove.
The key to successful rendang is not to skimp on the herbs and spices, and be prepared for a long stewing process resulting in a flavorful and tender melt in your mouth pieces of beef.
In short, good stuff which I guarantee a bite of this will have you nodding in agreement with all the people who have voted rendang to be the world's most delicious food.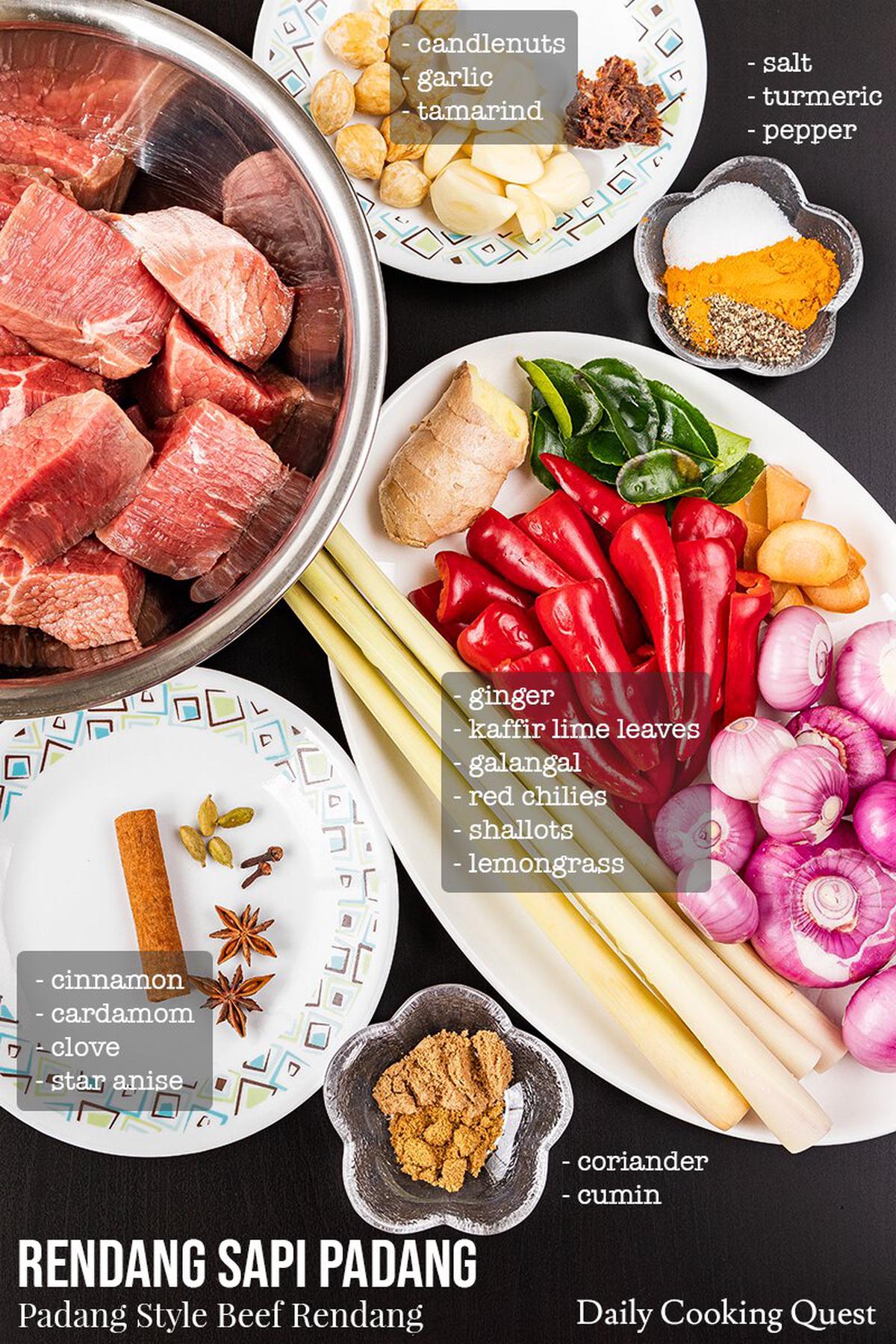 The herbs and spices you need to prepare for a rendang dish
After so many years of tweaking and tinkering my beef rendang recipe, for the moment, I am highly satisfied with this version to recreate my beloved beef rendang, Padang style. But be warned, the long list of ingredients is definitely not for the faint of heart.
The essentials
For me, the following is the minimum amount of herbs and spices that you definitely must incorporate in your beef rendang:
lemongrass
ginger
galangal
asam kandis/asam gelugur/black kokum/tamarind
shallots
garlic
red chilies
turmeric
Tamarind is the easiest to procure in the United States, followed with black kokum, but in Indonesia, we usually use asam kandis, or asam gelugur to prepare rendang dishes.
The extras, but oh so worth it
And here are the list of herbs and spices that may be safely omitted, though if you are willing to go the extra mile, you won't regret adding some, if not all, of the following:
From my own experience, other than turmeric leaves, you should be able to buy the rest of the ingredients in the United States. If you have green thumbs, you can buy some fresh turmeric roots and grow turmeric plants and harvest the fresh leaves to use for all your rendang dishes.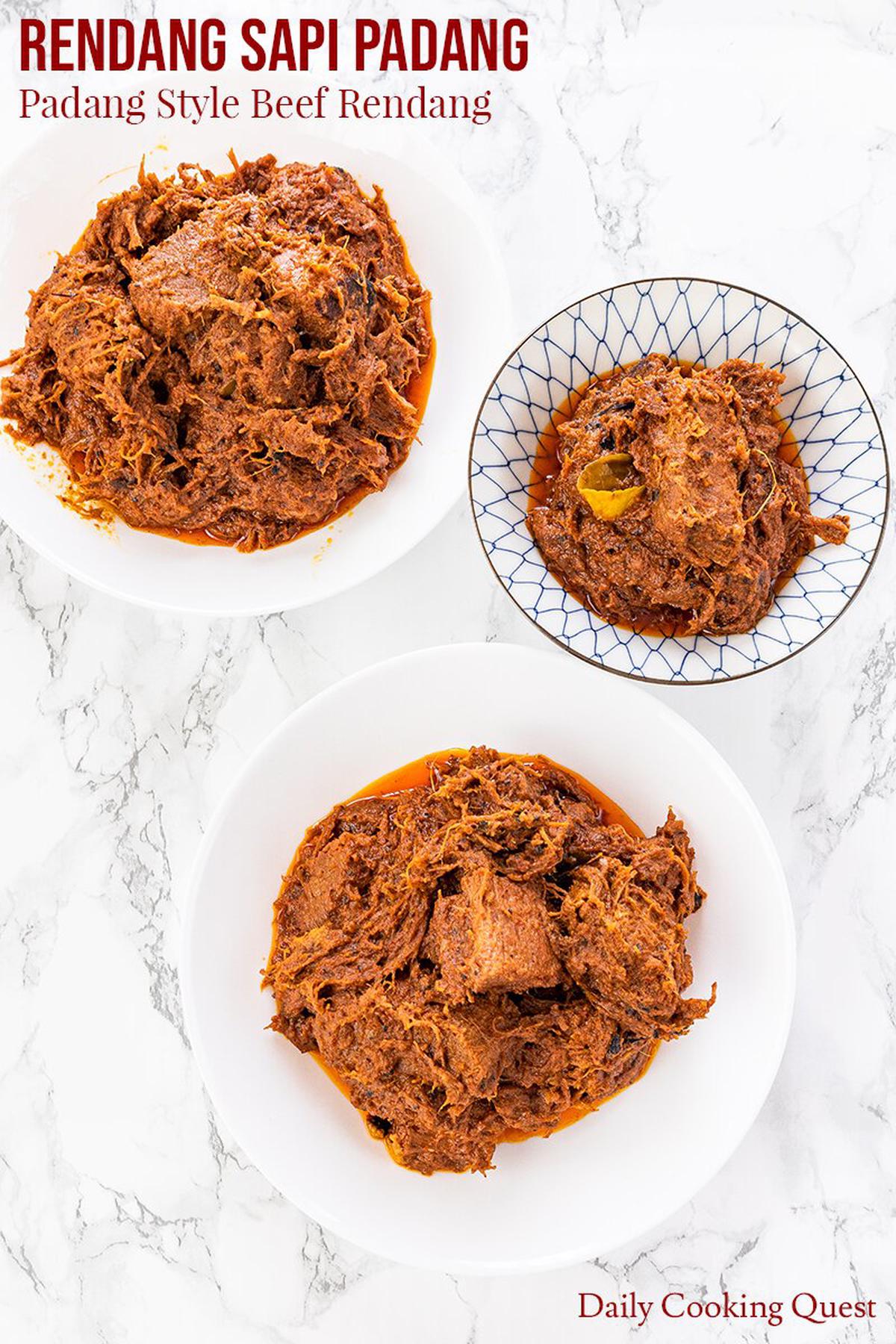 Which beef cut is suitable for beef rendang?
Rendang is a dish with long hours of slowly simmering away in a pot (most Indonesians use a wok actually), until all the liquid is reduced into a glaze! As such, you want to stick with beef cuts that are highly suitable for stew or braising. My favorites include:
beef chuck
beef shank, also known as shin
beef bottom round/rump roast (in the US), or silverside (outside of the US)
beef brisket
The first three are more commonly used to cook beef rendang, but you can also use brisket too. If your grocery only carries beef cubes that are labeled as beef stew, you can use that too, just make sure they are around 2-inch cubes.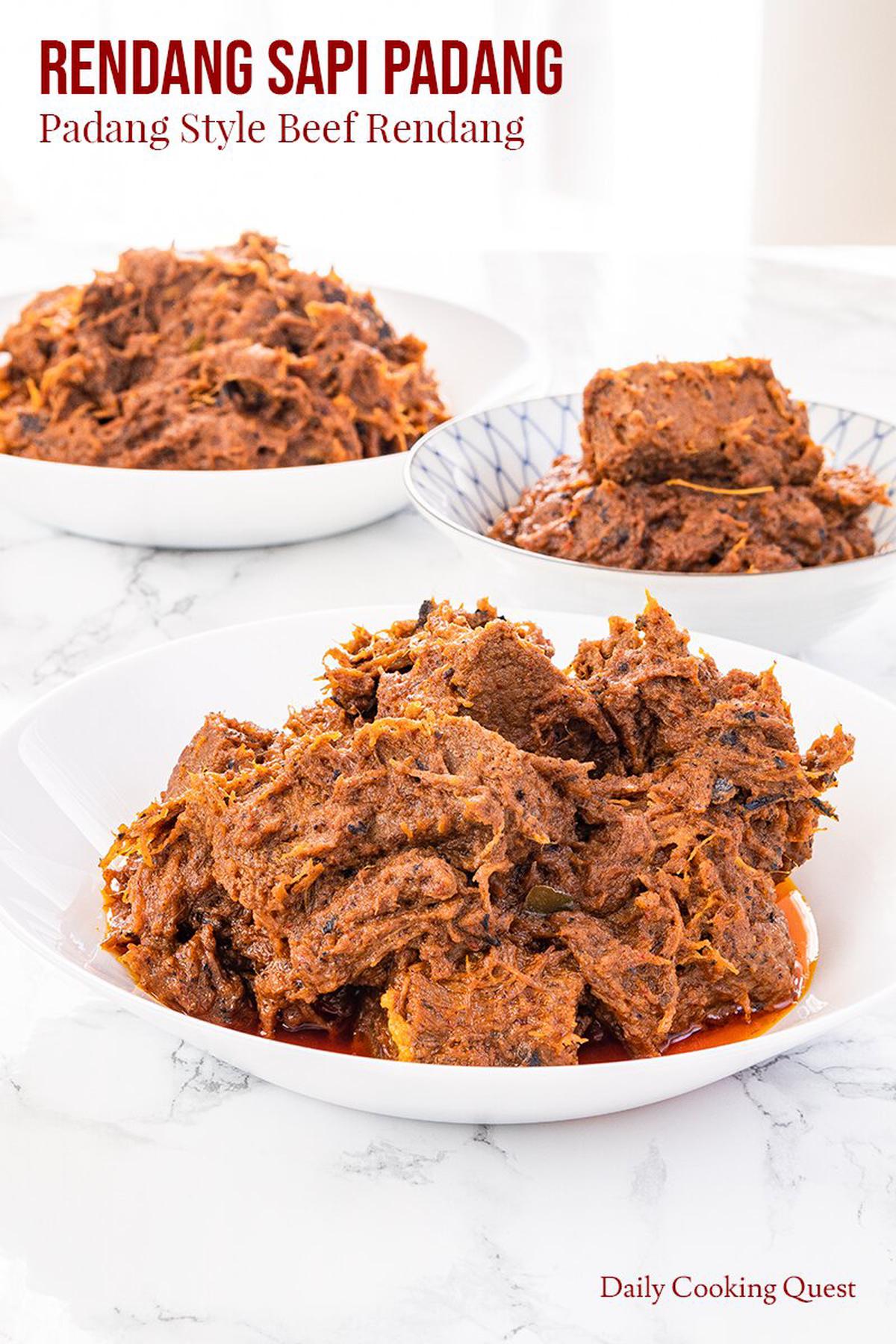 What is the difference between Padang style beef rendang to others?
The biggest difference between Padang style beef rendang compared to other beef rendang is the lack of ambu-ambu, or kerisik.
What is ambu-ambu/kerisik?
Ambu-ambu, or kerisik as they are known in Malaysian, is a buttery concoction made from toasted grated coconut. It's actually very easy to make, simply dry fry freshly grated coconut until toasty and golden brown, then ground this until the toasted grated coconut becomes an oily paste.
So, can I use ambu-ambu/kerisik for my rendang if I wish to?
If you are used to beef rendang that includes this ingredient, feel free to add some kerisik (about 4 tablespoon) near the end of your cooking, typically right before it's done.
Rendang Sapi Padang - Padang Style Beef Rendang
5.0 from 25 reviews
Ingredients
4 tablespoon oil, preferably coconut oil
5 kaffir lime leaves (Indonesian: daun jeruk), remove the ribs
4 lemongrass (Indonesian: sereh), bruised and knotted
5 Indonesian bay leaves (Indonesian: daun salam) (*)
2 fresh turmeric leaves, knotted (*)
1 cinnamon stick (Indonesian: kayu manis) (*)
4 cardamom pods (Indonesian: kalupaga), crushed (*)
2 cloves (Indonesian: cengkeh) (*)
2 star anise (Indonesian: pekak/bunga lawang) (*)
1 kilogram (~ 2.2 lb.) beef shank or chuck (Indonesian: daging sengkel atau sandung lamur), cut into 2 inch by 2 inch cubes
800 ml coconut milk (usually 2 cans of coconut milk)
1200 ml water/coconut water
2 asam kandis/2 asam gelugur/2 black kokum/10 gram (~ 2 teaspoon) tamarind
Grind the following into spice paste
250 gram (9 oz.) shallots (~ 20 Asian shallots, or ~ 6 French shallots) (Indonesian: bawang merah)
10 cloves garlic (Indonesian: bawang putih)
100 gram (3.5 oz.) red chilies (Indonesian: cabe merah keriting)
10 candlenuts (Indonesian: kemiri)
2 inches ginger (Indonesian: jahe)
2 inch galangal (Indonesian: lengkuas)
2 inches turmeric (~ 1 teaspoon turmeric powder) (Indonesian: kunyit)
1 teaspoon coriander seeds (~ 3/4 teaspoon coriander powder) (*)
1 teaspoon cumin seeds (~ 3/4 teaspoon cumin powder) (*)
1 tablespoon pepper
1 tablespoon salt
Instructions
Heat oil in a wok/large pot over a medium-high heat and fry the spice paste, kaffir lime leaves, lemongrass, Indonesian bay leaves, cinnamon stick, crushed cardamom pods, cloves, and star anise until fragrant. About 3-5 minutes.
Add beef cubes, stir until no longer pink.
Add coconut milk and water/coconut water, along with asam kandis/asam gelugur/black kokum/tamarind. Stir to mix well, and bring to a boil.
Reduce heat a bit (still above simmering point) and left the wok/pot uncovered. Cook until the liquid is reduced and thickened.
Once the liquid has thickened, reduce the heat and simmer until all the liquid is almost gone and the beef looks a bit dark. Also, you should see oil separates from the sauce.
Remove from heat and serve hot or at room temperature. Beef rendang actually improves with storage time, so if you are patient, try serving this the next day.
Notes
(*) Ingredients marked with (*) are optional, but highly recommended. Try to include some of these ingredients for an even more delicious rendang.