Home / All Recipes / Japanese / Rock Fish in Butter Ponzu Sauce
Rock Fish in Butter Ponzu Sauce
Homemade Japanese ponzu sauce with soy sauce, dashi, yuzu/lemon juice, rice vinegar, and mirin. Paired with simple pan-fried fish fillet.
Pan-fried fish fillet is my family favorite dish. Whenever I make pan-fried fish dishes like Chinese pan fried fish with soy sauce, soy bean paste fish, or pan fried fish with Thai sweet chili sauce, I can be sure that the dish will be devoured in no time at all.
Today, I am going to share another of my favorite and easy to make pan fried fish dish, rock fish in butter ponzu sauce.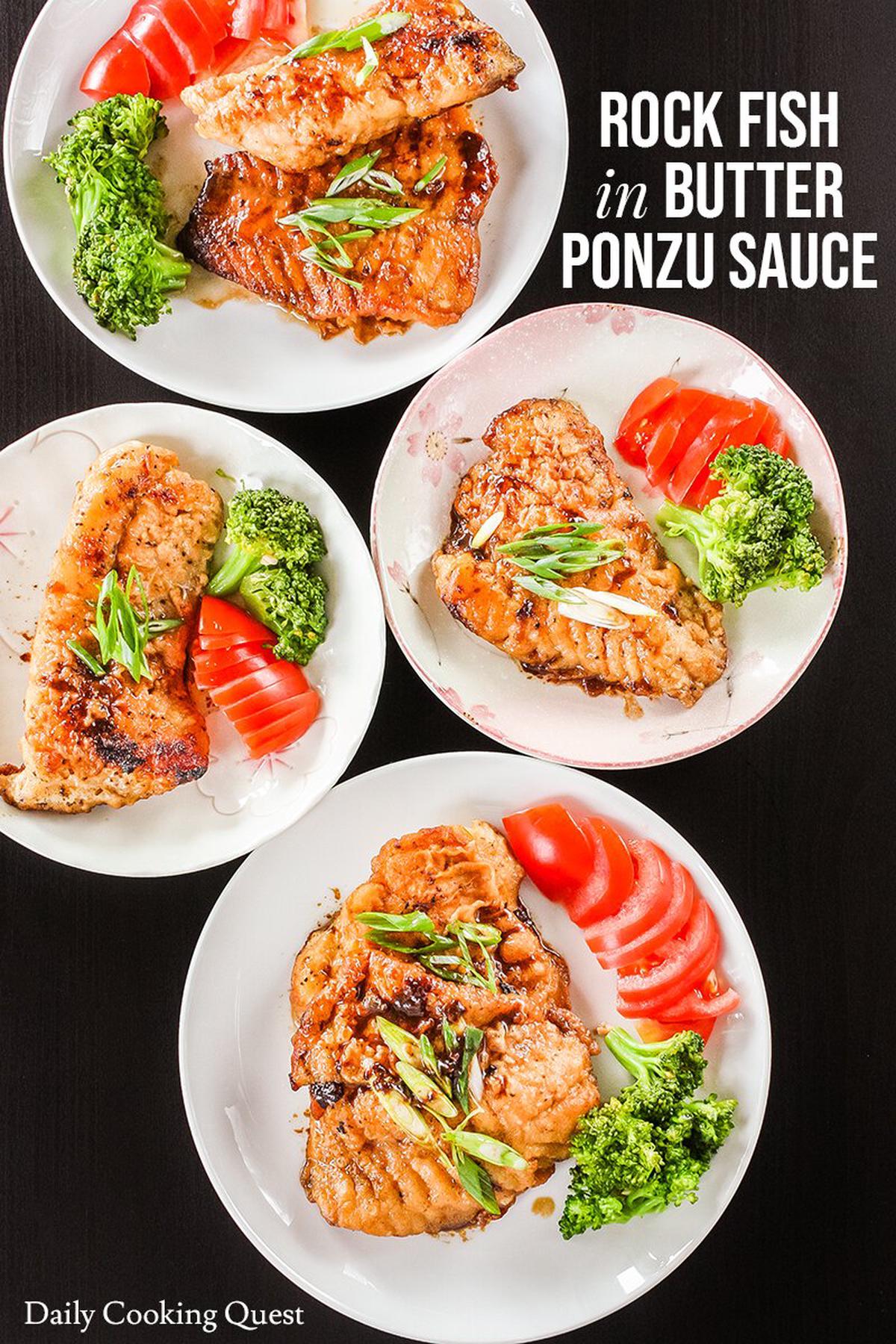 Homemade Ponzu Sauce
You can buy ready made ponzu sauce from most Asian groceries, but you can also make it easily at home from soy sauce, dashi stock, yuzu juice (or lemon juice), rice vinegar, and mirin.
My easy to remember ratio for a homemade ponzu sauce is this:
Just mix all the ingredients together to make home-made ponzu sauce.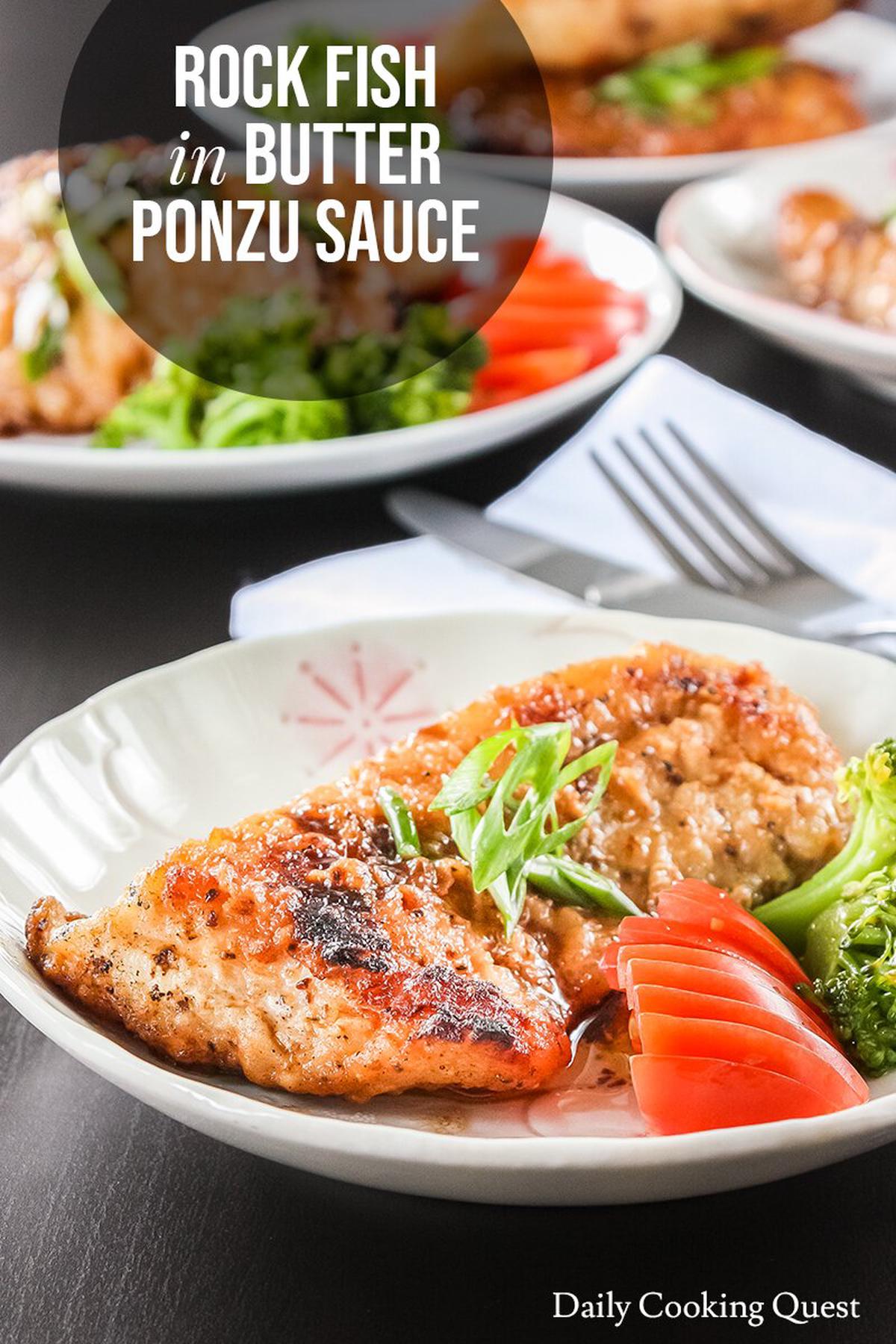 How to pan fry fish fillet and prepare the ponzu sauce
Here is how to pan fry our rock fish fillets:
Pat dry rock fish fillets (or any kind of white fish fillet of your choice, such as cod, sea bream, tilapia), sprinkle with salt and pepper, and dust with all-purpose flour.
Heat a frying pan over medium heat. Once the pan is hot, add oil, and swirl.
Add fish fillets to the hot frying pan. Let the fish fillets sit on the frying pan until the edges look golden brown.
Try to give the fillets a gentle nudge. If the fillets do not stick and can be moved around easily, flip to the other side. Again, just let the fillets sit on the pan until they self release.
Remove the pan-fried fillets from the frying pan and set aside.
Next, prepare the sauce by boiling together 2:1 ratio of ponzu sauce and butter. For a 500 gram total of fish fillet, you will need
4 tablespoon ponzu sauce and
2 tablespoon butter.
Once the sauce boils, return the fish fillet into the sauce and simmer for 1 minute and the dish is done! Super simple no? You can dress the dish up with a simple salad and garnish with thinly sliced scallions. This goes really well with steamed white rice.
Rock Fish in Butter Ponzu Sauce
5.0 from 13 reviews
Ingredients
500 gram rock fish fillet (about 4 portions)
salt
pepper
all purpose flour
4 tablespoon ponzu sauce (use the homemade ponzu sauce below if you don't want to buy ready made ponzu sauce)
2 tablespoon butter
2 scallions, thinly sliced
Home-made ponzu sauce (mix together the following)
2 tablespoon soy sauce
2 tablespoon dashi stock
1 tablespoon yuzu juice (or lemon juice)
1 tablespoon rice vinegar
1 teaspoon mirin
Instructions
Pat dry fish fillet. Sprinkle with salt and pepper, and dust with all purpose flour.
Heat oil in a frying pan on medium heat. Cook the fish fillet until golden brown on both sides. Set aside.
Wipe the pan clean, or use another clean frying pan. Boil together ponzu sauce and butter, then return the fish fillet to simmer for 1 minute.
Turn the heat off, transfer to serving plates, and garnish with some thinly sliced scallions. You can serve with a side of simple salad, and this dish goes really well with steamed white rice.