Home / All Recipes / Indonesian / Roti Coklat Pisang Cream Cheese - Chocolate Banana and Cream Cheese Bread Rolls
Roti Coklat Pisang Cream Cheese - Chocolate Banana and Cream Cheese Bread Rolls
An easy recipe for Indonesian most popular bread, roti coklat pisang (chocolate and banana bread), with cream cheese for a more indulgence experience.
Roti pisang coklat (banana and chocolate bread) is most definitely among the top three most popular and beloved bread in Indonesia. Even after the coming and going of many bread trends, this humble bread just chill and relax, assured in its position, even most newcomer bakeries are forced to offer this in their many varieties of bread just to appease the market. For a richer mouthfeel experience, some offer shredded cheddar cheese along with the standard banana and chocolate, but I think for the ultimate indulgence, cream cheese is definitely the way to go. If you are watching your weight, feel free to skip the cream cheese and just use banana and chocolate.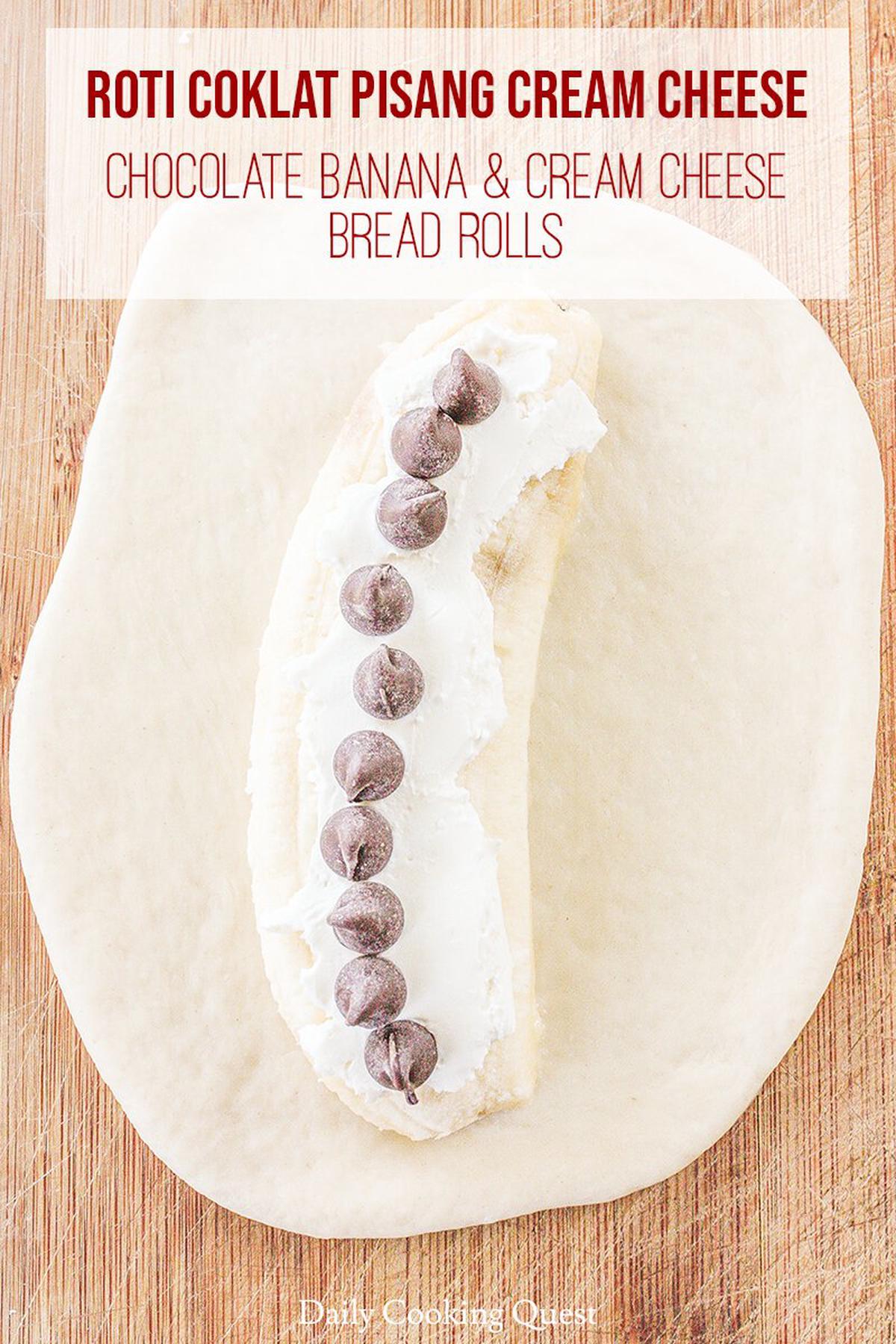 Saba Banana or Cavendish/Regular Eating Banana
Generally, we use saba banana (Indonesian: pisang kepok) for the filling, but you can also use regular cavenish/eating banana such as Dole from most groceries. Choose the ones that are ripe but still firm, this way the banana is already sweet but the firmness makes shaping the bread rolls easier. I use half a banana per bread roll and I think it is enough, if you prefer a more filling bread, use one banana, but you may want to reduce the amount of bread rolls from 20 to 12-16 (depends of the size of your bananas).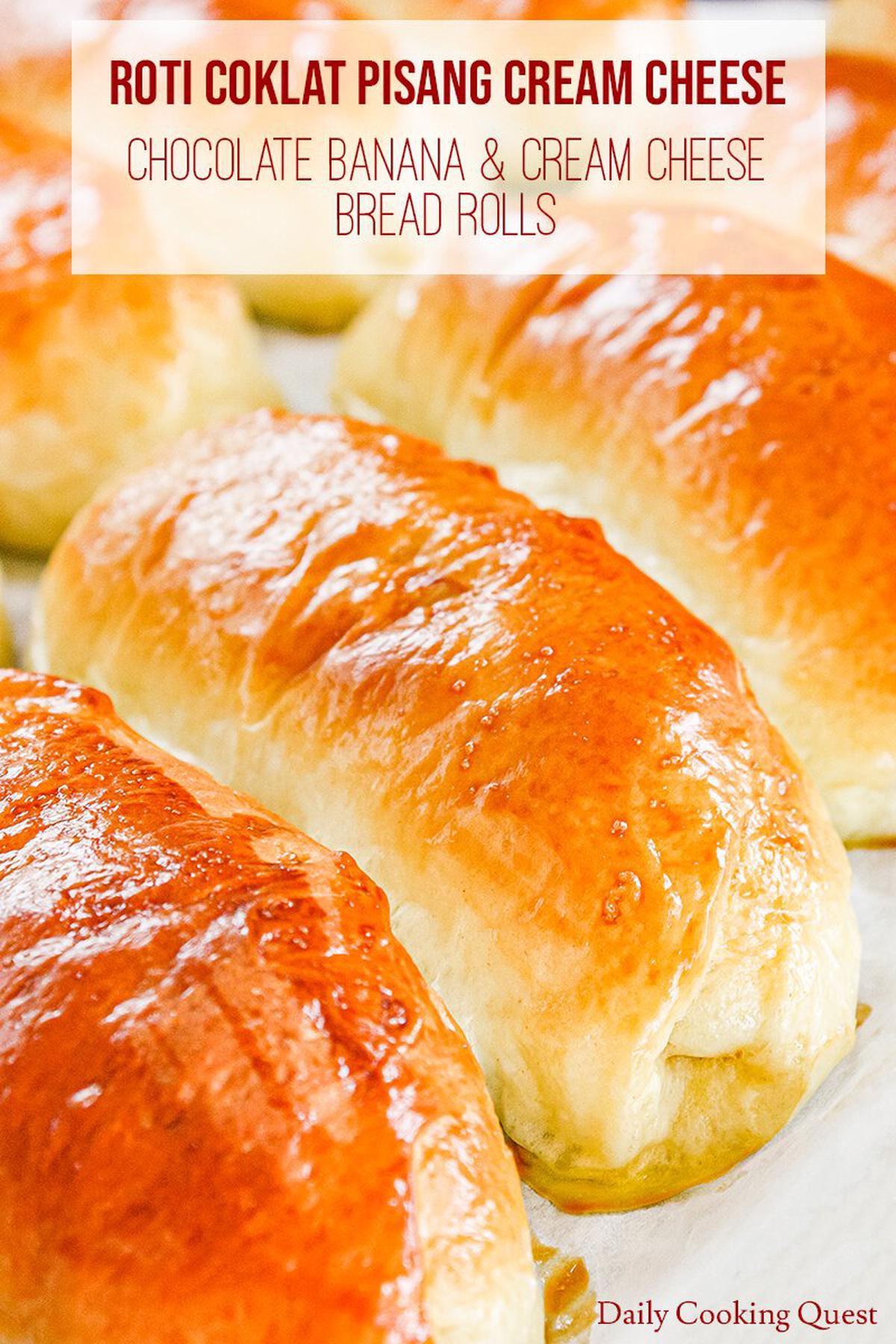 Simple Bread Rolls Shape
You can shape your bread rolls however you want. This time, I simply place the filling at the center of the bread dough, then fold each of the two edges over the top of the filling, making sure the two edges overlap. Pinch the two edges together to ensure the filling doesn't leak out during baking.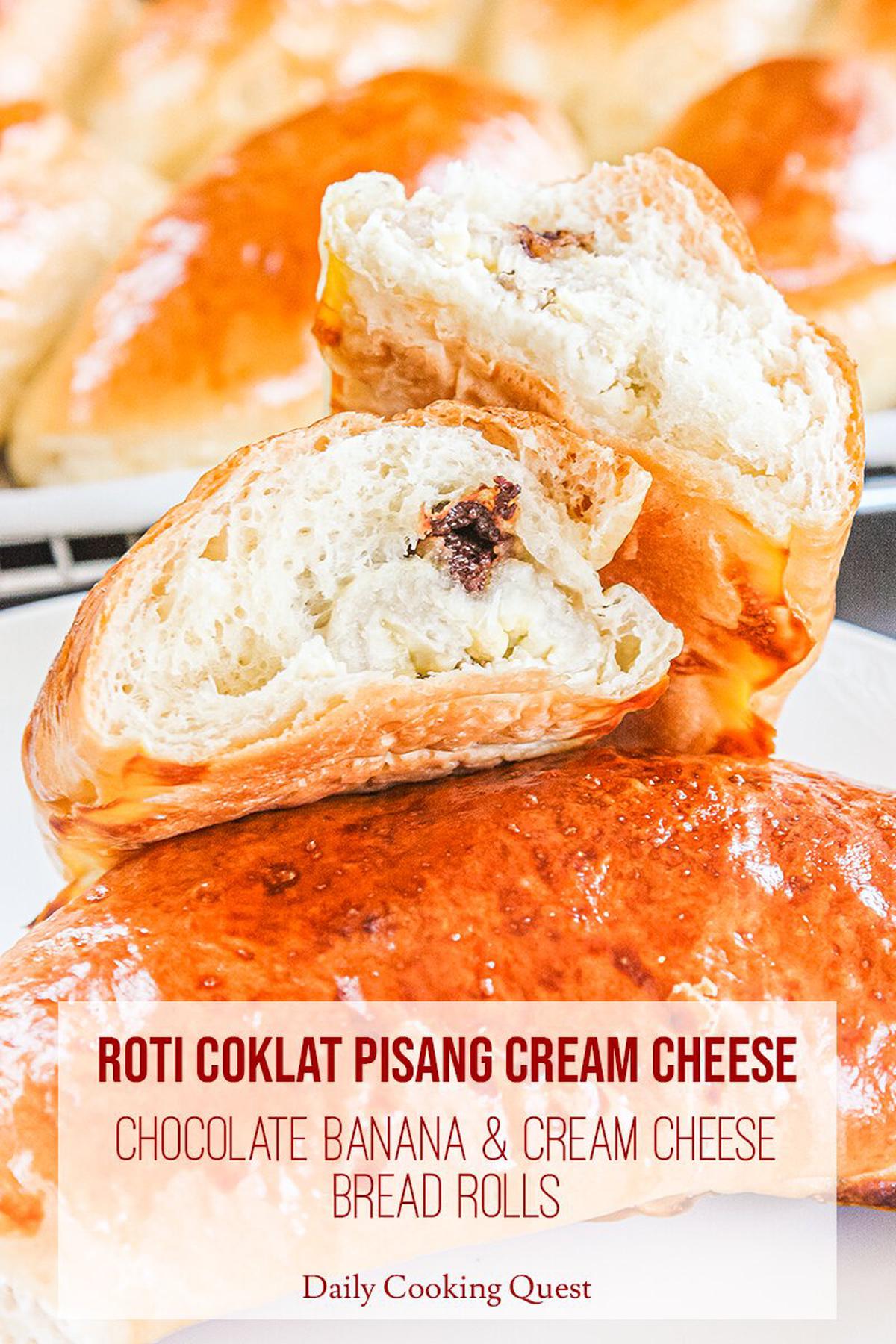 Storing Leftover Bread Rolls
If you can finish the bread in 3 days, you don't even need to refrigerate the breads. Otherwise, I usually place leftovers in an air-tight container and reheat in microwave for 10-15 seconds and they are soft and fluffy again just like out from the oven.
Roti Coklat Pisang Cream Cheese - Chocolate Banana and Cream Cheese Bread Rolls
Ingredients
Bread dough
1 cup warm milk (38 Celsius or 100 Fahrenheit)
1 tablespoon active dry yeast
1 tablespoon sugar
3 1/2 cup bread flour (or all purpose flour) (*)
1/2 cup cake flour
1/4 cup sugar
1 1/2 teaspoon salt
2/3 cup fresh cream
1 egg, room temperature
Other ingredients
10 saba bananas, cut each into half lengthwise
1 block (8 ounce) cream cheese, divide into 20 portions
200 chocolate chips
egg wash (1 egg + 1 tablespoon water)
Instructions
Bread dough

Mix 1 cup warm milk with active dry yeast and 1 tablespoon sugar. Set aside until foamy, about 15 minutes.
Sieve together bread (or all purpose) flour, cake flour, sugar, and salt in a large mixing bowl.
Make a well in the flour ingredients, then pour fresh cream, egg, and the foamy yeast solution into the well. Knead into a non-sticky, soft, elastic, and smooth dough. Hand knead is about 20 minutes.
Place the dough in a mixing bowl, cover with a wet kitchen towel/plastic saran wrap. Let the dough proof until the volume is doubled, about 1 hour in a warm kitchen.

Bread rolls

Prepare 2 baking sheets lined with parchment paper. Set aside
Punch the dough to release air bubbles, knead for 2 minutes, then divide the dough into 20 equal portions.
Take one portion of dough, roll into a slightly oval shape, place a piece of banana, a portion of cream cheese, and 10 chocolate chips at the center of the dough. Fold the two ends over the filling, and pinch to seal to ensure the filling doesn't ooze out while baking. Place onto the prepared baking sheet. Repeat for the rest of the bread dough.
Cover the bread rolls with wet kitchen towel/saran plastic wrap. Let the bread rolls proof until the volume doubles, about 1 hour in warm kitchen.
Preheat oven to 200 Celsius (400 Fahrenheit). Brush the top of the dough with egg wash, then bake in preheated oven for 15-20 minutes, or until golden brown. You may want to switch the breads in top rack with the ones in bottom rack midway to ensure even baking.
Best to consume within 3 days.
Notes
(*) I use Ardent Mills all purpose flour from Costco.