Home / All Recipes / Japanese / Sake no Potato Sarada Tsutsumiyaki - Baked Stuffed Salmon
Sake no Potato Sarada Tsutsumiyaki - Baked Stuffed Salmon
Baked stuffed salmon (さけのポタトサラダ包み焼き) is an easy recipe to make and it can be a one dish meal in itself since each portion comes with a generous serving of potato salad to serve as the requisite carb. If you use store bought potato salad, you can even skip making your own. Just scoop out about 1 cup of salad per portion and it should come out fine.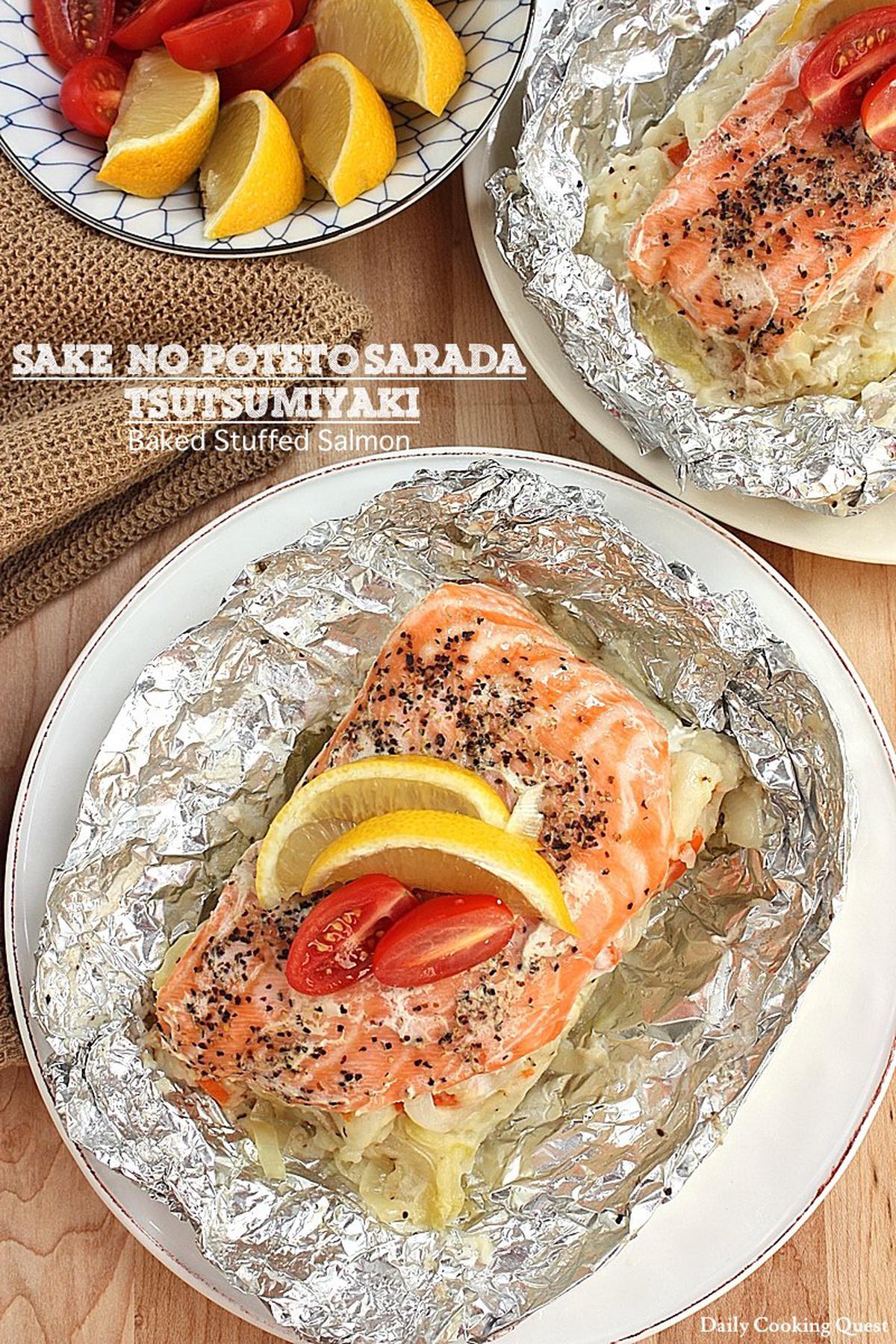 Sake no Potato Sarada Tsutsumiyaki - Baked Stuffed Salmon
5.0 from 1 reviews
Ingredients
4 salmon fillets, 150 gram each
salt
pepper
butter
1 lemon, cut into wedges
8 cherry tomatoes
Potato Salad
2 potatoes (about 300 gram), peeled
1 carrot (about 150 gram), peeled
1 cucumber (about 250 gram), peeled
1 onion
75 gram mayonnaise
salt
pepper
Instructions
Sprinkle salmon fillets with salt and pepper on both sides and set aside for 20 minutes.
Cut potatoes into 4 pieces, cut carrot into 2 halves. Boil until tender, and drain well. Cut potatoes and carrot into thin slices and set aside.
Cut cucumber and onion into thin slices, sprinkle with salt, let stand 5 minutes, then squeeze lightly to remove excess moisture.
Combine potatoes, carrot, cucumber, and onion. Add mayonnaise, and season with salt and pepper to taste.
Preheat oven to 175 Celcius (350 Fahrenheit).
Grease 4 sheets of aluminum foil with butter. Mound potato salad in the center of each sheet, top with salmon, then close up the foil to make neat packages.
Bake the salmon and potato salad packages in the preheated oven for 30 minutes.
Transfer the packages to serving plates, open the packages carefully, and serve with lemon wedges and cherry tomatoes.