Home / All Recipes / Japanese / Sake Pound Cake
A sake pound cake is an unusual but delicious way to enjoy a good Japanese sake/rice wine. The sake syrup makes the already tasty pound cake even better.
I can never turn down a good pound cake. It is so simple and yet there are so many varieties of them. A good classic pound cake is always a treat, but sometimes I like the weird ones too, like this sake pound cake. The cake by itself is not that boozy, but the since a good drinking sake has about 15-16% alcohol, adding 2/3 cup of it to the cake will definitely be a bit boozy, so please don't drive afterwards, especially if your alcohol tolerance is pretty low.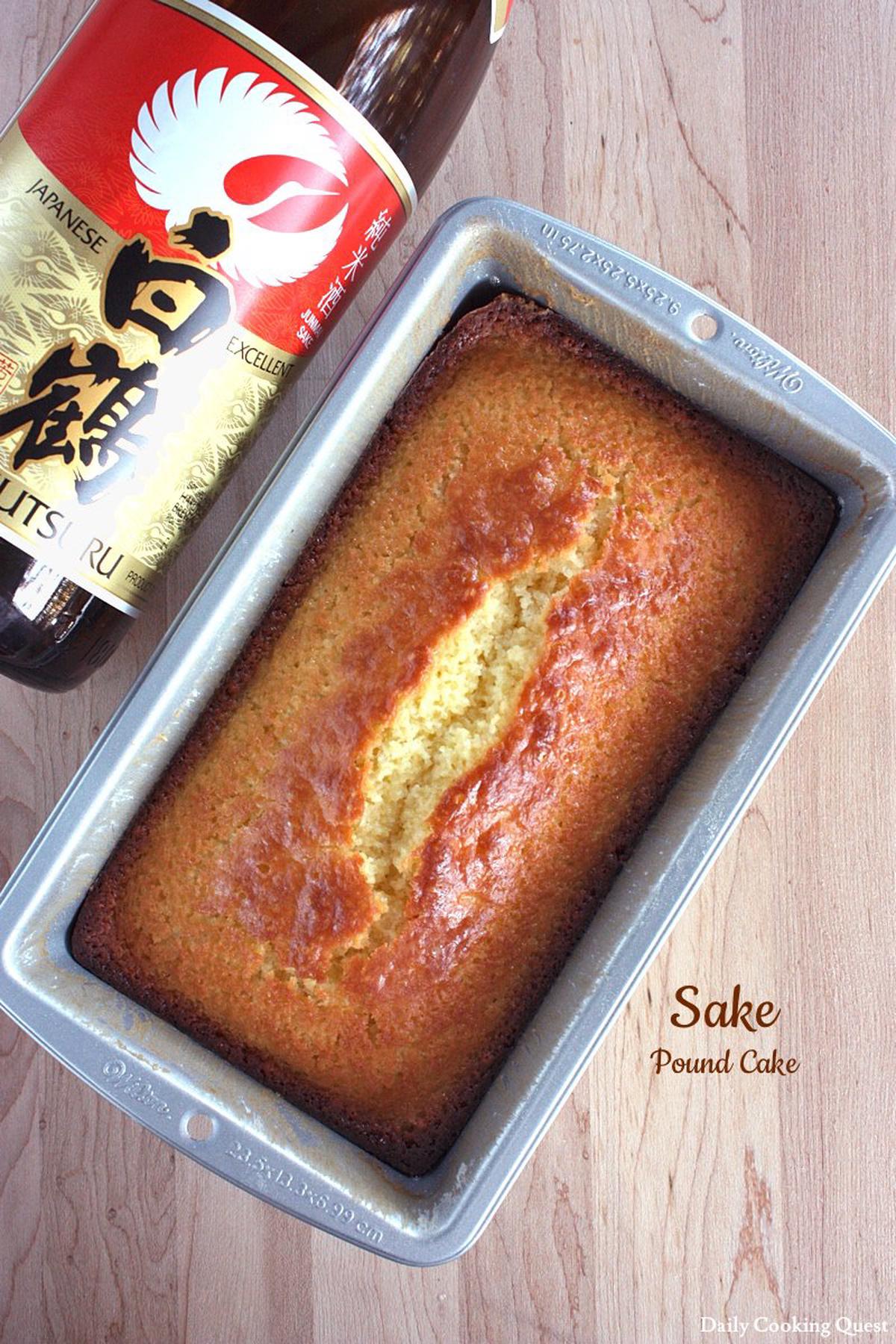 I always use drinking sake for all my Japanese recipes. If you visit Asian grocery stores, they should have plenty of choices in the alcohol aisle. Those that are good enough for everyday usage don't cost that much, about $6-$8 for a big bottle is usually good enough for cooking, much much better than cooking sake. If you want to buy one specifically for drinking though, something that cost at least $10 is usually better.
Sake Pound Cake
5.0 from 2 reviews
Ingredients
Pound cake
200 gram (7 ounce) cake flour
1 teaspoon baking powder
200 gram (7 ounce) unsalted butter, room temperature
150 gram (5.25 ounce) sugar
4 eggs
1/3 cup sake
Sake syrup
2/3 cup sake
50 gram (1.75 ounce) sugar
Instructions
Pound cake

Preheat oven to 375 Fahrenheit (190 Celcius). Grease and flour a 9" x 5" loaf pan, set aside.
Sift together cake flour and baking powder in a mixing bowl. Set aside.
Cream butter and sugar with a mixer in a mixing bowl until white and fluffy. Add egg, one at a time, mix well. Add sake, mix well.
Fold in the sifted flour to the butter and egg mixture until well mixed. Pour into the prepared loaf pan and bake for 45 minutes, or until a cake tester comes out clean.

Syrup

Place 1/3 cup sake and all the sugar in a small sauce pot and turn the heat to the lowest setting. Stir until the sugar dissolves.
Take off the heat, and add another 1/3 cup of sake to the pot. Stir. Let it cool.

Assemble

Once the cake has finished baking, slowly pour the sake syrup onto the cake, making sure that the top part of the cake is coated with the syrup. Let it cool completely in the pan. Once all the sake syrup has been absorbed by the cake, take it out and cut into slices.
Tips: I usually cover the pan with a saran and let it rest overnight in the fridge. The next day, the cake will be super moist and al the sake syrup will have been completely penetrate the cake making it super boozy :)