Home / All Recipes / Indonesian / Sambal Cabe Ijo Teri Goreng - Fried Anchovies in Green Chili Sauce
Sambal Cabe Ijo Teri Goreng - Fried Anchovies in Green Chili Sauce
Sambal cabe ijo is a popular Padang cuisine chili sauce, great with almost everything, and even the humblest boiled cassava leaves (daun singkong rebus) tastes out of this world when you eat them with this sauce. The typical sambal cabe ijo in a Padang restaurant comes with either no fried anchovies (great if you are a vegetarian), or just a teeny tiny amount. So when I make them at home, I like to add lots more of anchovies and this turns this dish into both a sauce and a meal in itself. If I can only have this to accompany my plain steaming white rice and nothing else, I will still eat away happily. ♥ For vegetarian version, please follow the recipe for just the sauce making part. And of course, you won't need to add fried anchovies in the last step.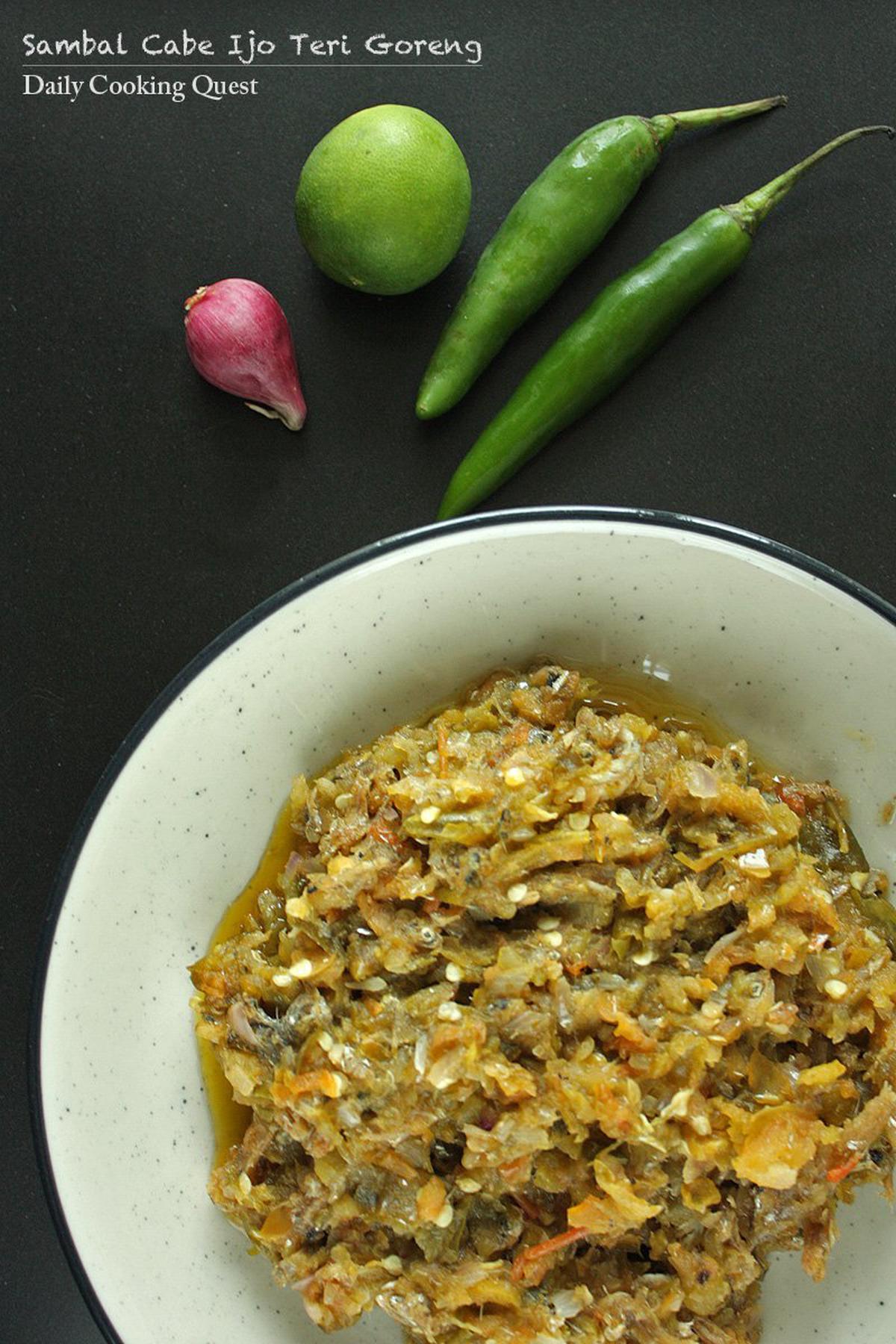 Sambal Cabe Ijo Teri Goreng - Fried Anchovies in Green Chili Sauce
Ingredients
Teri Goreng (Fried anchovies)
150 gram anchovies (Indonesian: ikan teri)
1 lime (Indonesian: jeruk nipis)
pepper
salt
oil for deep frying
Sambal Cabe Ijo (Green Chili Sauce)
100 gram green chilies (Indonesian: cabe hijau besar)
3 green tomatoes (Indonesian: tomat hijau), remove the seeds
5 shallots (Indonesian: bawang merah)
2 tablespoon oil
1 tablespoon lime juice (Indonesian: jeruk nipis)
2 teaspoon sugar
1 teaspoon salt
Instructions
Teri Goreng (Fried anchovies)

Marinate anchovies with juice of lime, salt and pepper for 15 minutes.
Heat enough oil for deep frying. Fry the anchovies until crispy and golden brown. Drain with paper towel and set aside.

Sambal Cabe Ijo (Green Chili Sauce)

Steam green chilies until soft, about 10 minutes.
Roughly grind green chilies, tomatoes, and shallots. We want this to be chunky, not a rough paste, and definitely not fine paste.
Heat oil in a frying pan and sauté the green chili mixture until fragrant, about 3 minutes.
Season with lime juice, sugar, and salt. Stir to mix well. Adjust salt and sugar as needed.
Add the fried anchovies into the pan and gently toss so everything is mixed together. Turn off heat and serve immediately with steamed white rice.