Home / All Recipes / Indonesian / Sambal Cabe Rawit Aceh - Acehnese Bird Eye Chili Sauce
Sambal Cabe Rawit Aceh - Acehnese Bird Eye Chili Sauce
If you are a self-professed lover of really hot chili sauce, you must try making this sambal cabe rawit Aceh made with Thai green bird-eye chilies.
Bird-eye chili lovers, you are going to love this one! This sambal cabe rawit Aceh is a super fiery hot bird-eye chili sauce from the province of Aceh. This chili sauce is 100% guaranteed to burn your tongue, unless you have the patience of de-seeding the little seeds from all those tiny little green chilies one by one, which masochist that I am, I did! And how was it? Even though I have to suffer one whole day of stinging hands from said activity, the sauce is still pretty powerful, which since I can be a bit of sissy when it comes to eating super hot sauce, I am glad that the ones stinging are my hands, instead of my tongue (and probably stomach too) had I not remove those pesky seeds. ;)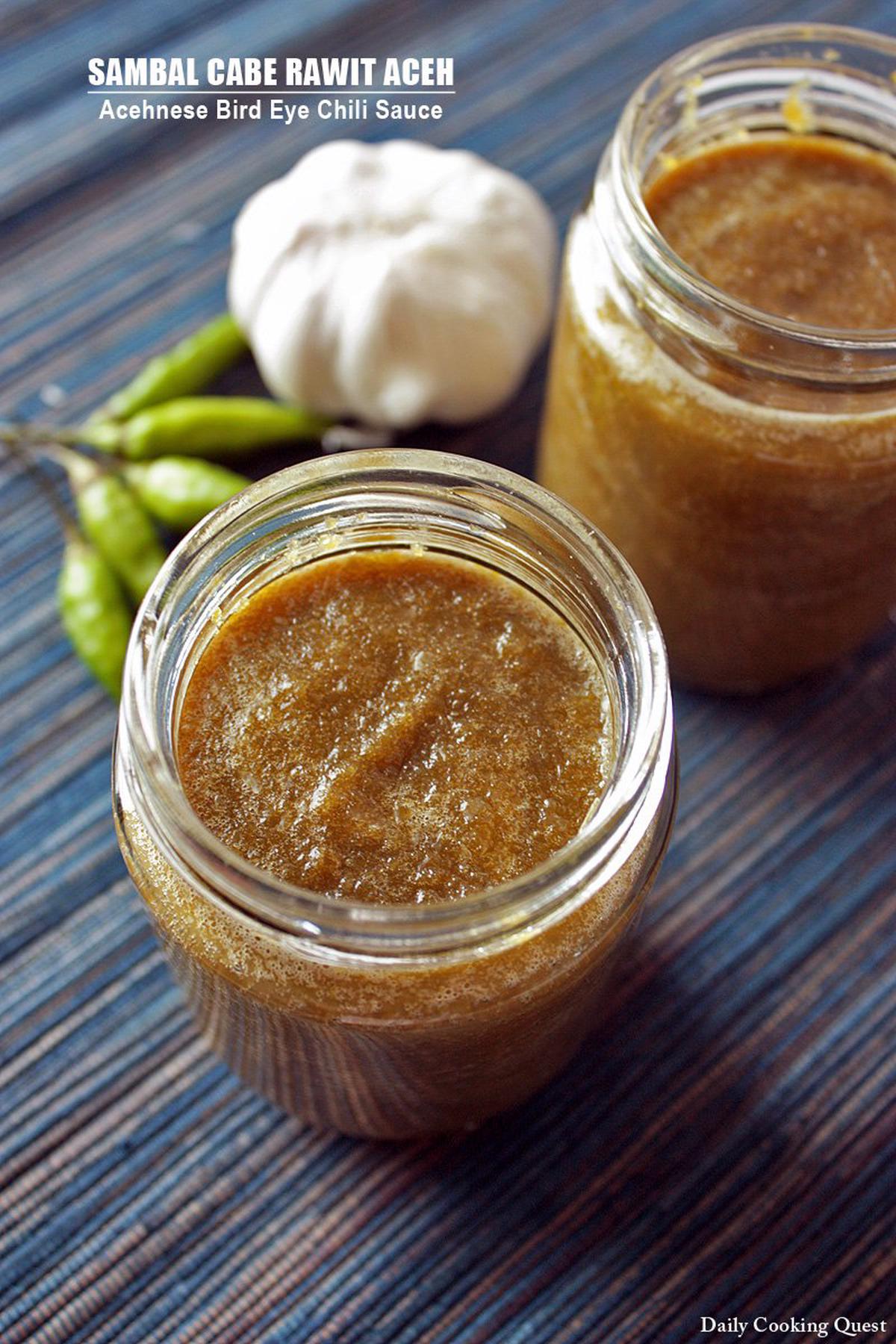 What you need to prepare sambal cabe rawit Aceh
To make this bird-eye chili sauce, you will need:
bird eye chilies, usually we use the green colored ones
garlic
sugar
soy sauce
white-distilled vinegar
water
a blender (for smooth sauce), of a food processor (for chunkier sauce)
Some of these items may protect you while you make this chili sauce
If you are smart, get a pair of gloves, and probably a pair of goggles too, the one for swimming will do because the fume kinda stings. And you'll probably need plenty of drinking water within reach while prepping the chilies, cause I don't know, I was coughing through the prep work and drinking lots of water kinda help. Yeah, brutal. Unless you want the brutal to be the other way round, like super easy prep work, but every drop of the chili sauce is gonna burn through tongues (and probably stomachs), your choice. ♥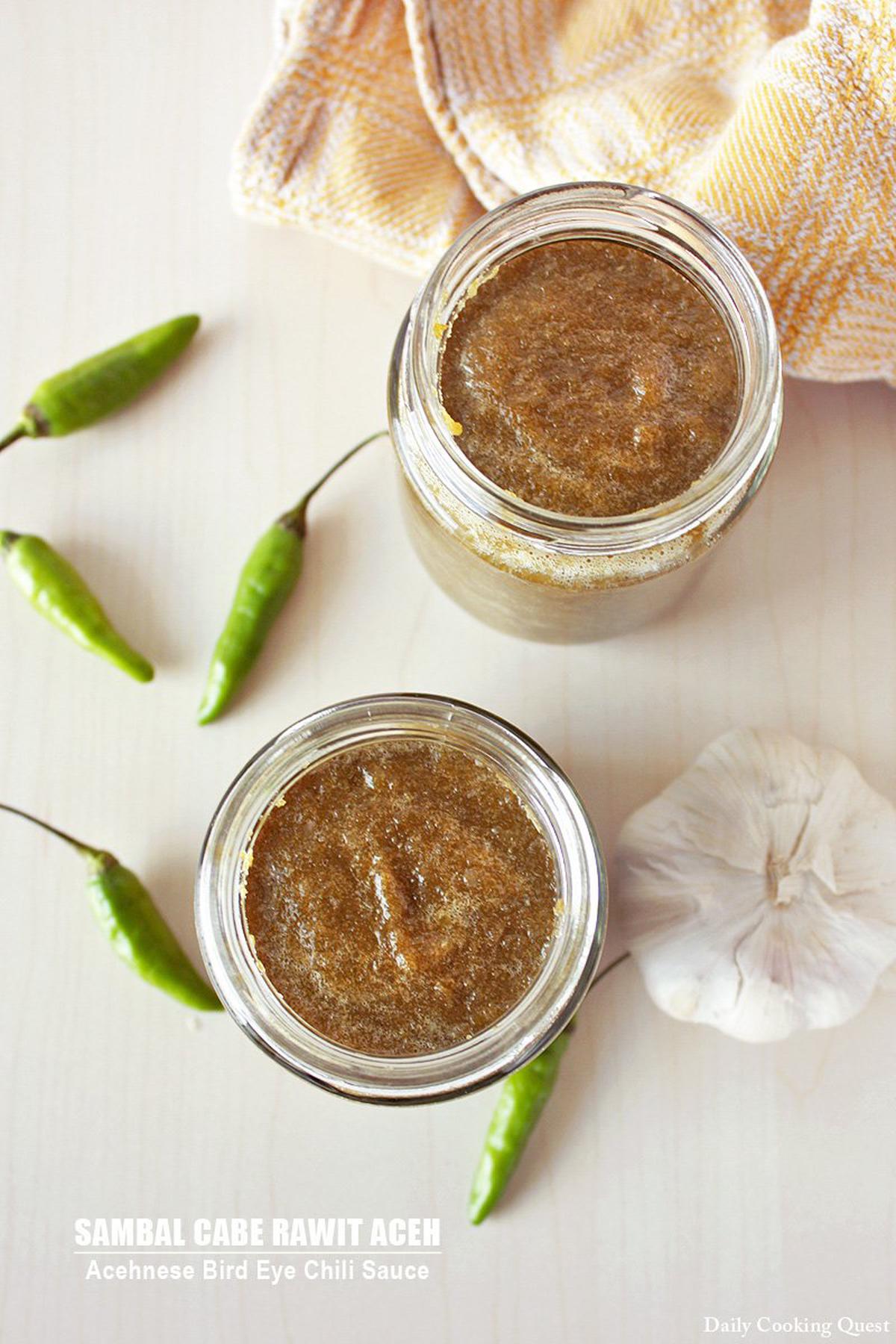 Sambal Cabe Rawit Aceh - Acehnese Bird Eye Chili Sauce
5.0 from 1 reviews
Ingredients
200 gram green bird eye chilies (Indonesian: cabe rawit hijau)
100 gram garlic (Indonesian: bawang putih), peeled
100 ml water
100 gram sugar
100 ml light soy sauce (or 50 ml regular soy sauce + 50 ml water)
2 tablespoon white distilled vinegar (Indonesian: cuka putih)
Instructions
Wash and drain the chilies, and remove the seeds (some, all, or you can choose to keep the seeds for a crazy level of hotness).
In a blender, process chilies, garlic, and water until smooth. Transfer to a sauce pot.
Add sugar, soy sauce, and vinegar to the pot, mix well, and bring to a boil. Reduce heat, and simmer for another 15 minutes.
Serve immediately, or let cool and transfer to glass jars and store the chili sauce in the fridge for up to 1 month.