Home / All Recipes / Indonesian / Sambal Goreng Daging - Beef in Chili and Spice Paste
Sambal Goreng Daging - Beef in Chili and Spice Paste
The most famous sambal goreng dish is probably sambal goreng hati, but I am not a big fan of liver or any other kind of entrails for that matter, so the next best thing (which to me is a huge step better :D) is to make sambal goreng daging with beef cubes. Our food tends to look a big glob of brown thing and sometimes I find it near impossible to convey just how yummy a dish really is, but trust me, this thing is really good. I have to stop myself from licking all the sauce that sticks to the spatula after transferring the beef to a serving plate. ♥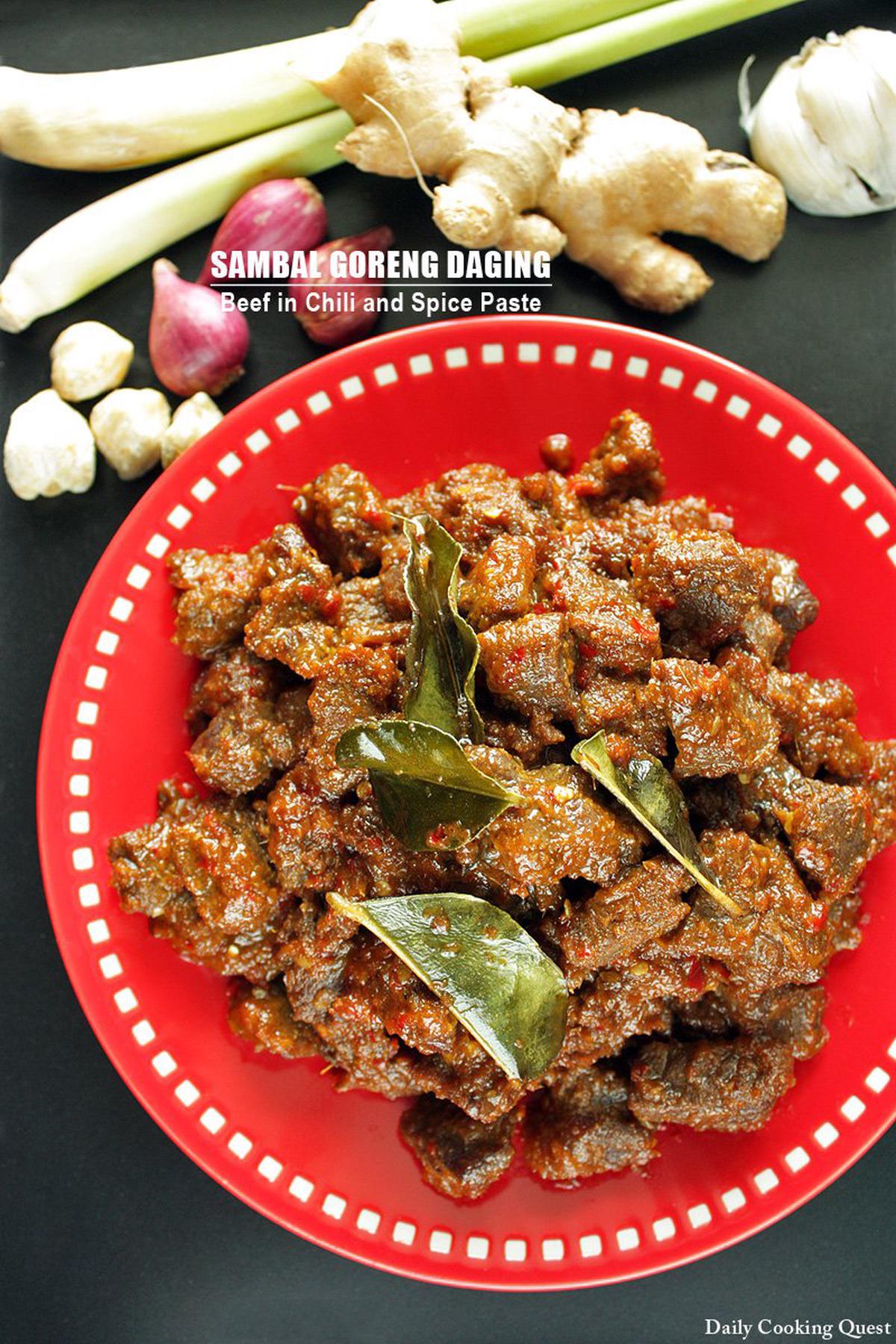 Sambal Goreng Daging - Beef in Chili and Spice Paste
4.0 from 1 reviews
Ingredients
800 gram beef shank (Indonesian: daging sengkel), , cut into 1 inch cubes
4 bay leaves (Indonesian: daun salam)
tamarind liquid (1 1/2 tablespoon tamarind (Indonesian: asam Jawa) + 6 tablespoon water)
500 ml water
4 tablespoon oil
2 lemongrass (Indonesian: sereh), bruised and knotted
6 kaffir lime leaves (Indonesian: daun jeruk)
100 ml thick coconut milk (Indonesian: santan kental)
3 tablespoon sweet soy sauce (Indonesian: kecap manis)
2 tablespoon palm sugar (Indonesian: gula Jawa)
1/2 tablespoon salt
Grind the following into spice paste
10 shallots (Indonesian: bawang merah)
5 cloves garlic (Indonesian: bawang putih)
5 red chilies (Indonesian: cabe merah keriting)
2 inch galangal (Indonesian: lengkuas)
1 inch ginger (Indonesian: jahe)
1 tablespoon coriander seeds (Indonesian: biji ketumbar)
3 candlenuts (Indonesian: kemiri)
Instructions
Place beef cubes, bay leaves, tamarind liquid, and water in a pot. Bring to a boil, reduce heat and simmer for 30 to 45 minutes, or until beef is tender. Drain and set the beef aside.
Heat oil in a frying pan and sauté beef cubes for 2-3 minutes. Remove beef from the frying pan and set aside.
Add spice paste, lemongrass, and kaffir lime leaves to the frying pan and cook until fragrant, about 3-5 minutes.
Add coconut milk, sweet soy sauce, palm sugar, and salt. Mix well and bring to a boil.
Return the beef to the frying pan, mix well, reduce heat and simmer until the sauce has reduced and thickened, about 5 minutes. Turn off heat and serve immediately.