Home / All Recipes / Indonesian / Sambal Ikan Goreng Petai - Fish and Stink Bean in Chili Sauce
Sambal Ikan Goreng Petai - Fish and Stink Bean in Chili Sauce
Petai has got to be the stinkiest bean in existence, but it looks oh so pretty with its bright green color and lovely almond shape, and yet, Indonesian love their petai to death. We just make sure we brush our teeth or take copious amount of mint candies afterward to remove the telltale breath that is so uniquely petai. If you are a fan of petai, be sure to also check my sambal udang petai (shrimp and stink bean in chili sauce) recipe.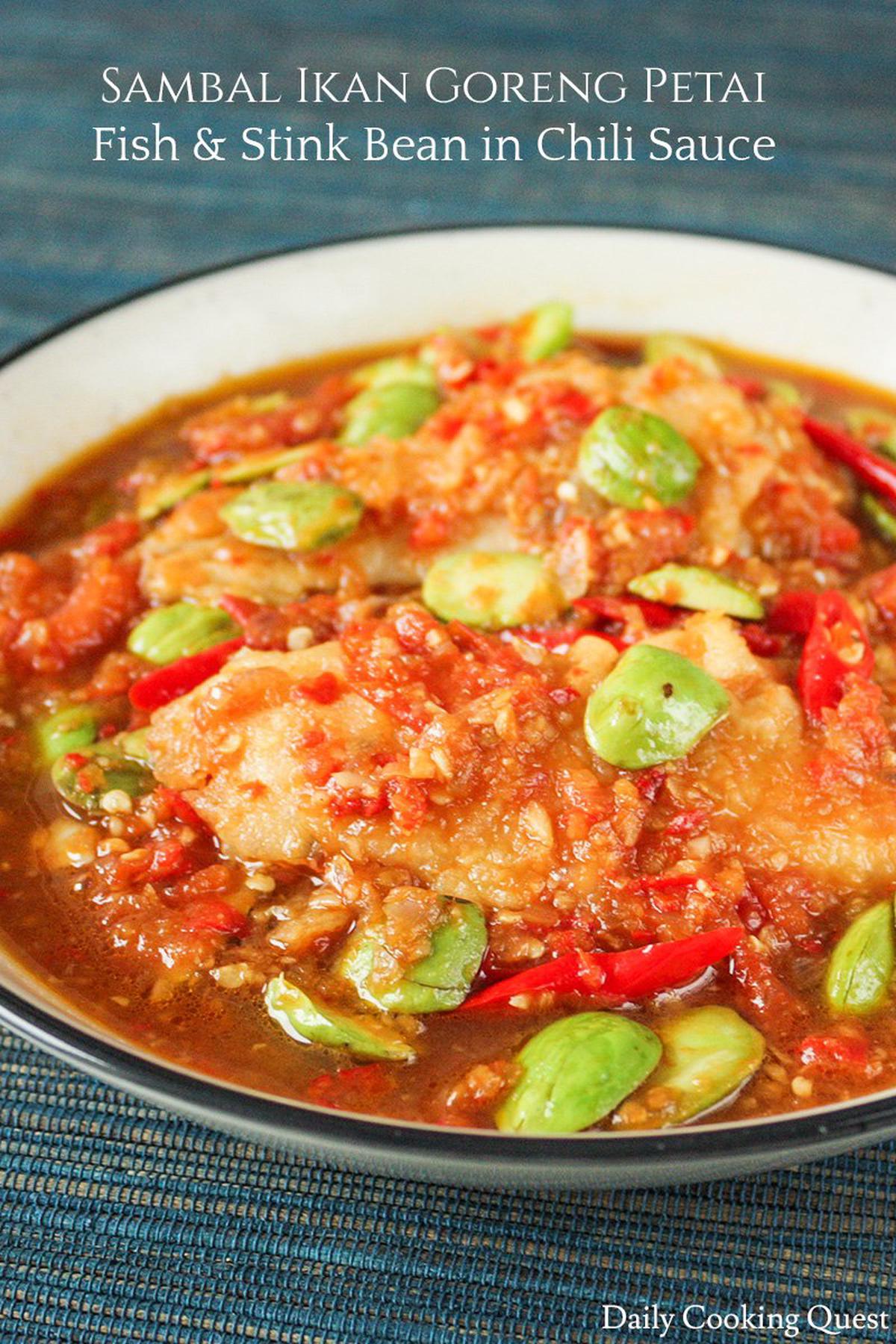 Sambal Ikan Goreng Petai - Fish and Stink Bean in Chili Sauce
5.0 from 2 reviews
Ingredients
Fried fish
4 white fish fillet (about 600 gram)
juice of 1 lime
salt
pepper
all purpose flour
Sauce
100 gram stink bean (Indonesian: petai)
1 tomato, cut into small cubes
3 red chilies (Indonesian: cabe merah keriting), sliced diagonally
1 tablespoon sweet soy sauce (Indonesian: kecap manis)
1 teaspoon salt
1 teaspoon sugar
1/3 cup water
Grind the following into spice paste
5 red chilies (Indonesian: cabe merah keriting)
10 shallots (Indonesian: bawang merah)
4 cloves garlic (Indonesian: bawang putih)
1 cm ginger (Indonesian: jahe)
Instructions
Fried fish

In a mixing bowl, combine fish fillet with lime juice, sprinkle with salt and pepper and set aside to marinate for 15 minutes.
You can either prepare your fish by pan frying or deep frying. Either way, dust some all purpose flour to coat your fish before frying.
Once the fish is fried, arrange on a serving plate and set aside.

Sauce

Half each stink bean. Discard the ones with worms inside. Wash and drain.
Heat oil in a frying pan and sauté spice paste and petai until fragrant, about 3 minutes.
Add tomatoes, red chilies, sweet soy sauce, salt, sugar, and water and bring to a boil.
Reduce heat and simmer for 3 minutes. Adjust salt and sugar as needed.
Turn off heat and pour the sauce over the arranged fried fish. Serve immediately.