Home / All Recipes / Indonesian / Sambal Kacang - Peanut Chili Sauce
Sambal Kacang - Peanut Chili Sauce
When I was younger, my parents used to take us to this seafood place where the specialty was boiled fresh shellfish such as clams, mussels, shrimps, and crabs. This was a rather shabby looking place, but always packed to the brim, and sometimes we even had to wait for seats! The first thing you notice when walking into this place will be the tanks, filled with multitude of live shellfish, then the many huge pots of boiling broth to cook said shellfish, and finally plastic tables and chairs where the cooked shellfish are to be consumed.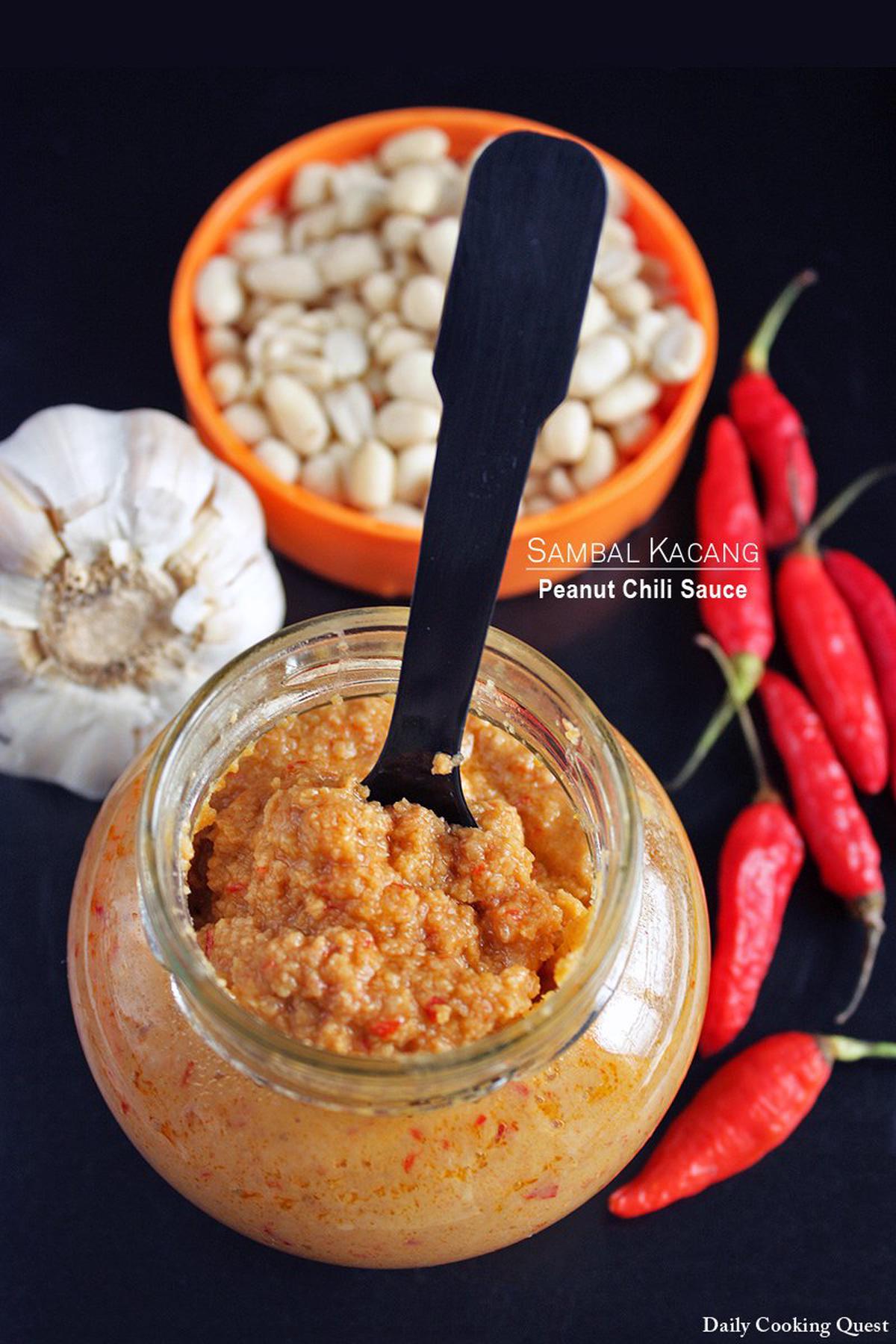 On the tables were various dipping sauces to suit your preference, I remember a pineapple based sauce (definitely fruity, can't remember exactly anymore), then some really hot chili sauce, and the one I love most was definitely the peanut chili sauce. I know its weird, but somehow peanut sauce and boiled shellfish seems to go really well together, or at least this one does. So, if you are a fan of simply boiled shellfish, and are looking for the perfect sauce, please give this one a try. ♥
Sambal Kacang - Peanut Chili Sauce
5.0 from 3 reviews
Ingredients
2 tablespoon oil
100 gram shelled peanut (Indonesian: kacang tanah kupas)
3 red bird eye chilies (Indonesian: cabe rawit merah)
1 red cayenne chili (Indonesian: cabe keriting merah)
2 cloves garlic (Indonesian: bawang putih)
1 teaspoon salt
2 teaspoon sugar
200 ml water
1/2 teaspoon vinegar (Indonesian: cuka)
Instructions
Heat oil in a frying pan and sauté peanuts until toasted and fragrant, about 5 to 8 minutes, stir frequently so the peanuts are evenly browned. Set aside.
Sauté bird eye chilies, cayenne chili, and garlic until fragrant. About 3 to 5 minutes. Set aside.
In a food processor, grind the cooked peanut, chili, and garlic into a paste. Transfer to a pot.
Add salt, sugar, and water into the pot, stir to mix well. Cook until the peanut sauce is boiling.
Turn off heat, add the vinegar, and stir to mix well. Serve immediately or let cool, transfer to a clean jar, and store in a fridge.