Home / All Recipes / Indonesian / Sambal Krecek dan Tahu - Beef Skin and Tofu in Chili Sauce
Sambal Krecek dan Tahu - Beef Skin and Tofu in Chili Sauce
Sambal krecek is part of the side dish to accompany nasi gudeg. Krecek is made from beef skin, usually sold in 100 gram packages and can be consumed as is. Most of the times, the crackers are sold under the name of rambak kulit or kerupuk kulit. Aside from the requisite crackers, we usually add other ingredients in our sambal krecek, such as black eyed beans (Indonesian: kacang tolo), tofu, or tempeh. In this recipe, I will use a combination of black eyed beans and tofu.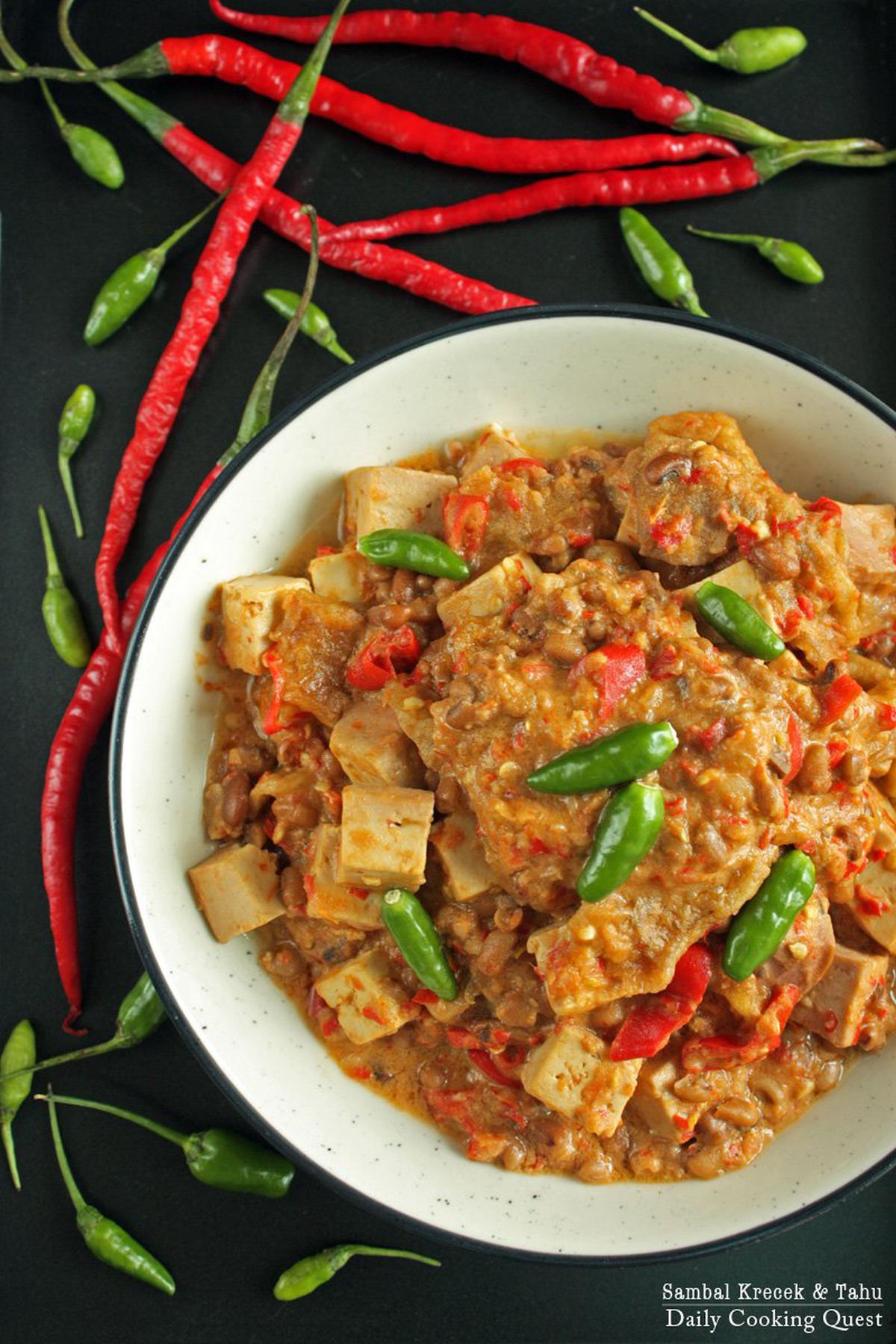 Sambal Krecek dan Tahu - Beef Skin and Tofu in Chili Sauce
5.0 from 3 reviews
Ingredients
2 tablespoon oil
2 red chilies (Indonesian: cabe merah besar), sliced diagonally
2 bay leaves (Indonesian: daun salam)
1 lemongrass (Indonesian: sereh), bruised and knotted
1 inch galangal (Indonesian: lengkuas), bruised
2 teaspoon salt
1 tablespoon palm sugar (Indonesian: gula Jawa)
5 Thai chilies (Indonesian: cabe rawit), optional
500 ml coconut milk (Indonesian: santan)
50 gram black eyed beans (Indonesian: kacang tolo), washed and drained
200 gram firm tofu (Indonesian: tahu putih), cut into small cubes
100 gram beef skin crackers (Indonesian: kerupuk kulit/rambak kulit)
Spice paste
8 red chilies (Indonesian: cabe merah keriting)
5 shallots (Indonesian: bawang merah)
4 cloves garlic (Indonesian: bawang putih)
1 tomato
Instructions
Heat oil in a frying pan. Sauté spice paste, red chilies, bay leaves, lemongrass, and galangal until fragrant and turns a darker shade, about 5 minutes.
Add salt, palm sugar, Thai chilies (if using), and coconut milk. Bring to a boil.
Add black eyed peas. Reduce heat and simmer until the beans become tender and cooked. About 30-45 minutes.
Add tofu. Keep simmer until the sauce is reduced and almost gone.
Add beef skin crackers. Once the crackers wilted and all the sauce is absorbed into the crackers, turn off heat. Transfer to a serving plate and serve hot or at room temperature.