Home / All Recipes / Indonesian / Sambal Lado Mudo - Green Chili and Tomato Relish
Sambal Lado Mudo - Green Chili and Tomato Relish
Sambal lado mudo, or more popularly known as sambal cabe ijo, is definitely the most famous chili relish from Padang cuisine. It may look like a pure green mess, but once you taste it, messy or not, you'll want to have it with every meal. If you order a rice meal in any Padang restaurant, this sambal is almost always guaranteed to be included in your meal, and most are generous enough to give more if you ask. For those who don't have easy access to Padang restaurant, here is my simple recipe to recreate sambal lado mudo at home.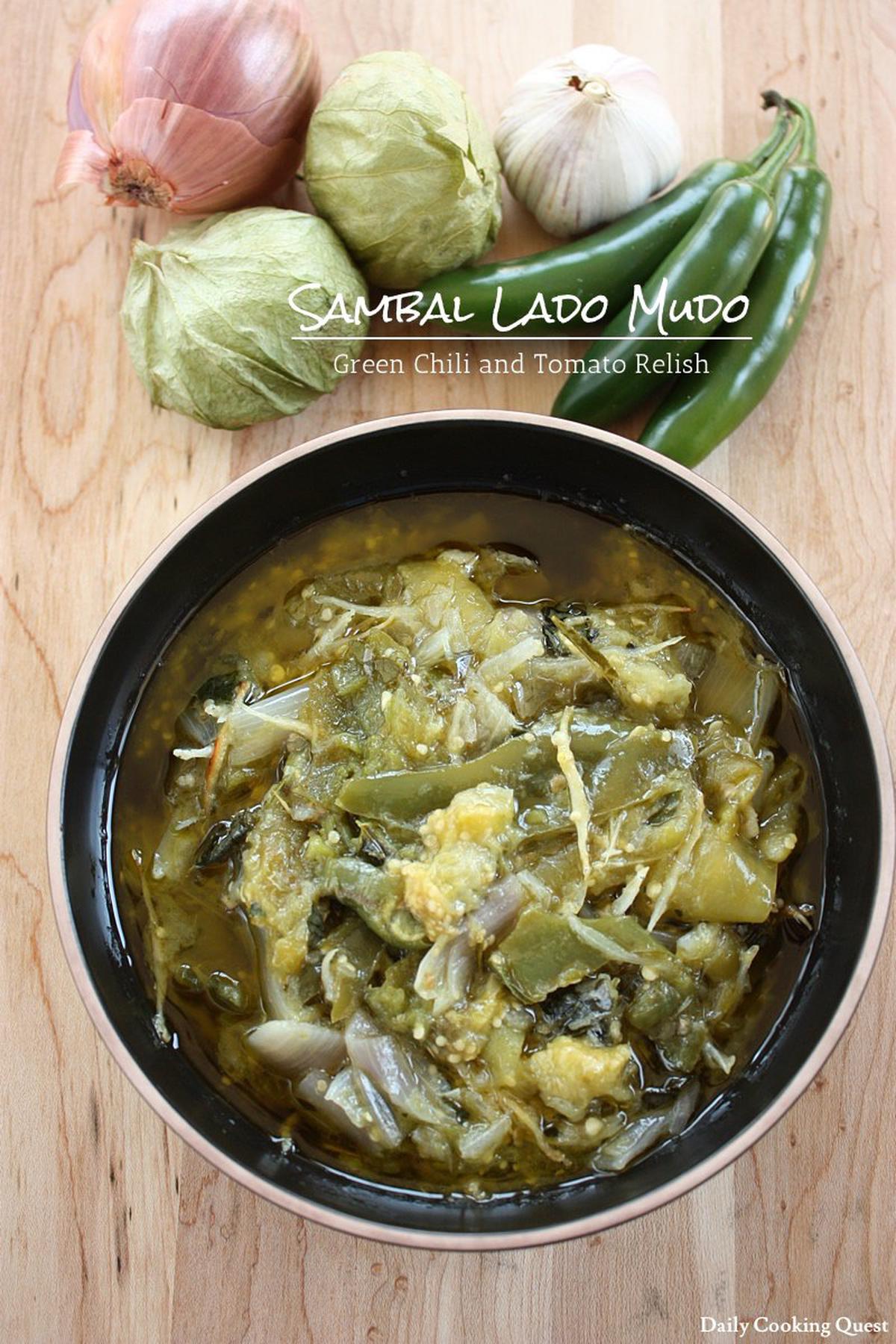 Sambal Lado Mudo - Green Chili and Tomato Relish
Ingredients
100 gram green serrano chilies (Indonesian: cabe hijau keriting)
5 tomatillos, about 300 gram (Indonesian: tomat hijau), cut into halves
100 gram shallot (Indonesian: bawang merah)
2 cloves garlic (Indonesian: bawang putih)
6 tablespoon oil (olive oil or canola is a good choice)
1/2 teaspoon salt
10 kaffir lime leaves, remove ribs and shredded
2 tablespoon anchovies (Indonesian: ikan teri nasi), fried until crispy
Instructions
Boil a pot of water, then add green chilies, tomatillos, shallot, and garlic until wilted, about 5 minutes. Drain and set aside.
With a mortar and pestle, bruise and lightly grind the boiled ingredients.
Heat oil in a frying pan, then fry the ground ingredients along with salt, kaffir lime leaves, and anchovies. Mix well, and cook 5 minutes.
Turn off heat, transfer to a serving bowl, and serve as a side dish to steamed white rice.