Home / All Recipes / Indonesian / Sambal Tauco - Chili Sauce with Fermented Soy Bean
Sambal Tauco - Chili Sauce with Fermented Soy Bean
Tauco is Indonesian version of fermented soy bean, and the best in my opinion comes from Medan. I am partial see, since I grow up in Medan and that's what I have been eating all my life. ;) The theory behind adding tauco to chili sauce is exactly the same as the one where we add terasi (toasted shrimp paste) to chili sauce, both has the goal of infusing the final product with a kick of umami. If you are a vegetarian, this is a better choice since tauco is totally vegetarian, and pretty healthy too since it is made of soy bean. If you live outside of Indonesia and has no way to find Medan tauco, or any Indonesian tauco for that matter, just use Chinese version of fermented soy bean. ♥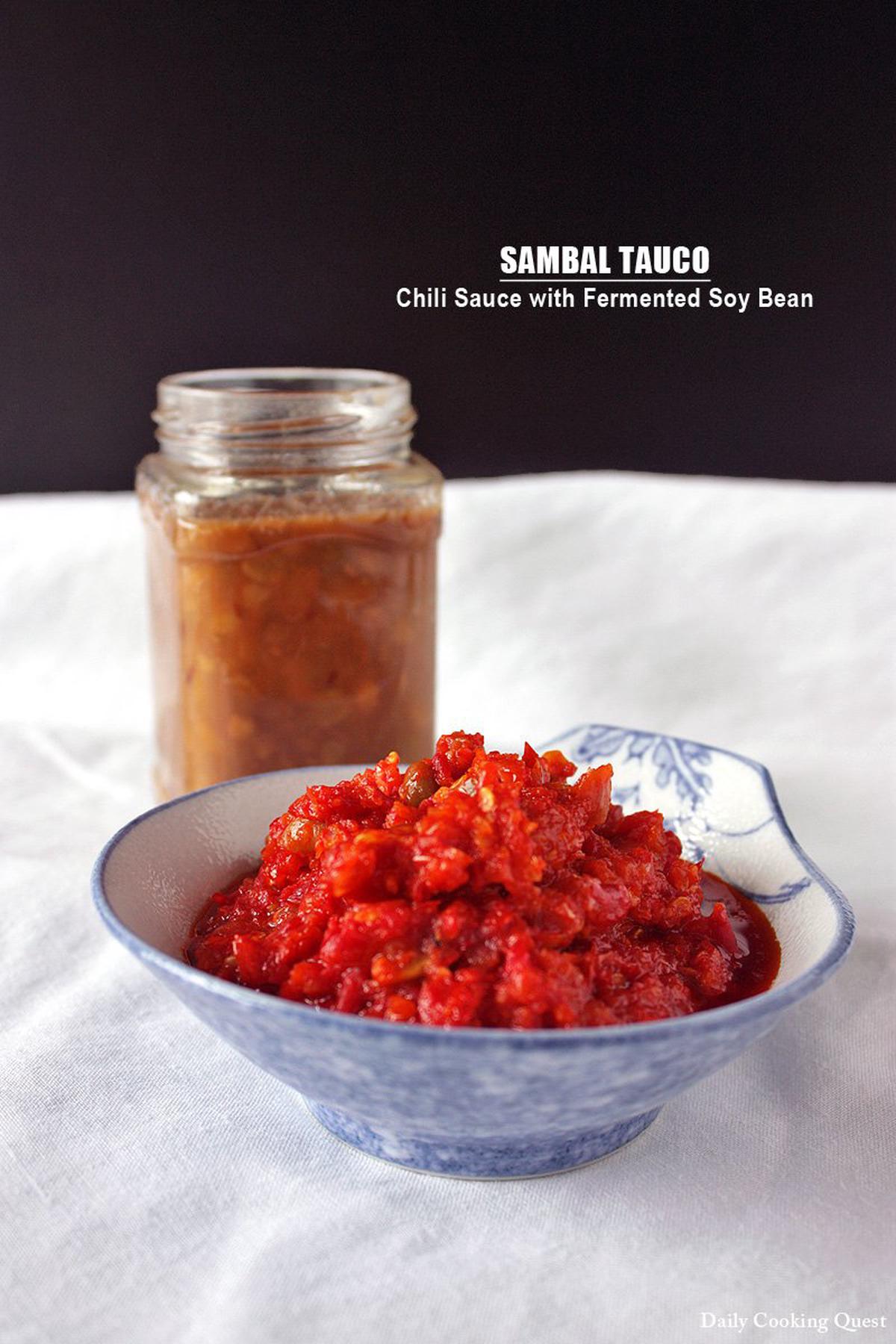 Sambal Tauco - Chili Sauce with Fermented Soy Bean
5.0 from 2 reviews
Ingredients
8 red anaheim chilies (Indonesian: cabe besar merah)
6 shallots (Indonesian: bawang merah)
2 cloves garlic (Indonesian: bawang putih)
1/2 teaspoon salt
1/2 teaspoon sugar
1 teaspoon lime juice
3 tablespoon oil
2 tablespoon fermented soy bean (Indonesian: tauco)
Instructions
Boil the chilies until soft, a fork should easily pierce through the chilies once they are soft. Drain and set aside.
Grind together chilies, shallots, garlic, salt, sugar, and lime juice with a food processor (or mortar and pestle) into a coarse paste.
Heat oil and sauté the chili paste until fragrant and bubbly, about 5 minutes.
Add the fermented soy bean, and mix well. Cook for another 1 minute.
Turn off heat, and serve immediately. Or transfer to a glass jar, let cool, and store in the fridge. Always return to room temperature before serving.