Home / All Recipes / Indonesian / Sambal Tauco Udang Medan - Medan Spicy Shrimp Stir Fry
Sambal Tauco Udang Medan - Medan Spicy Shrimp Stir Fry
This is probably my favorite tauco dish, sambal tauco udang Medan, and of course this comes from the city of Medan. ;) I love shrimp dishes, and I love it when it is spicy, plus the color is just lovely no? If I have only this dish plus a bowl of steamed white rice for my meal, I will probably be needing some extra rice. ♥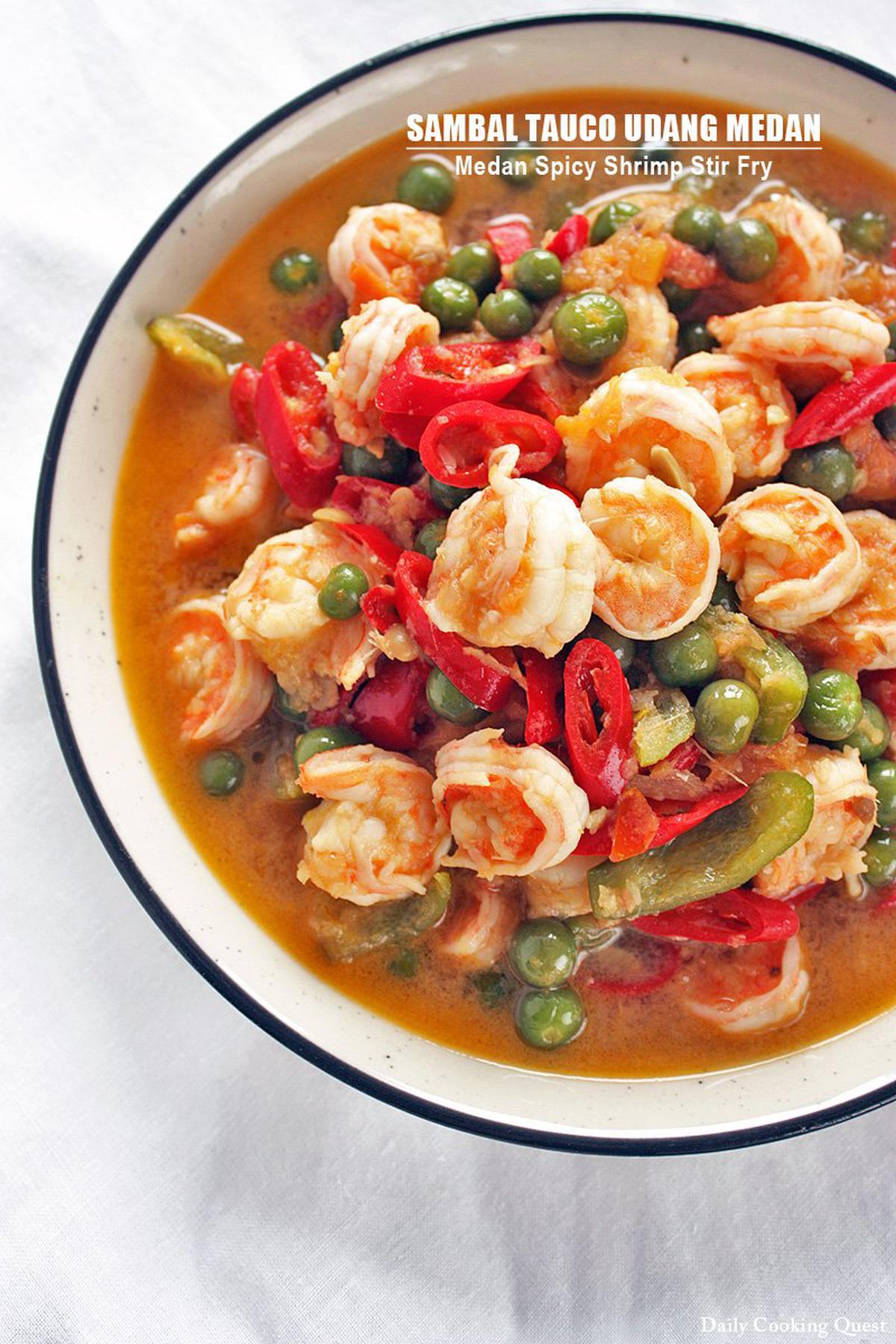 If you love petai (stink bean), feel free to add some to this dish, about 50 to 100 gram will do. And if you are a fan of really spicy dish, add a couple of cabe rawit (bird eye chili) to really spice it up. Most restaurants will include cabe rawit for this, though you can always ask them to use only 1 or 2 to get a milder dish.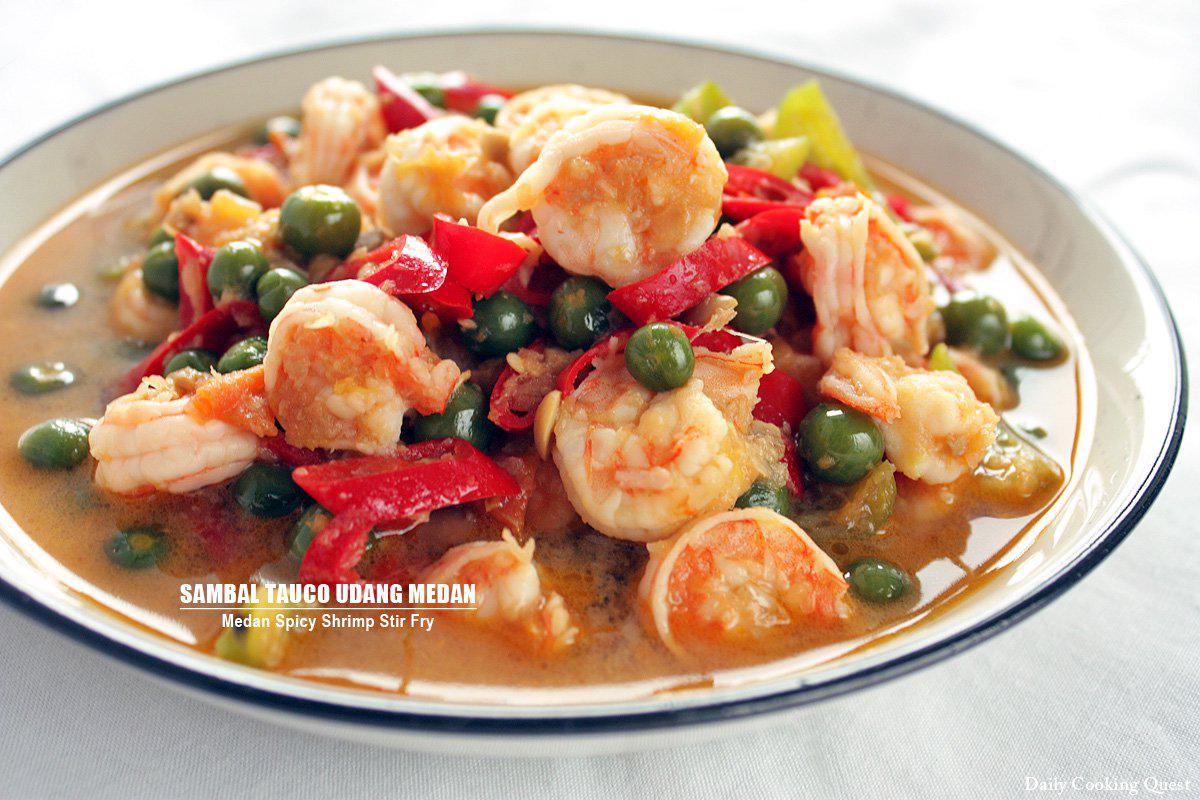 Sambal Tauco Udang Medan - Medan Spicy Shrimp Stir Fry
5.0 from 2 reviews
Ingredients
3 tablespoon oil
1 lemongrass (Indonesian: sereh), bruised and knotted
2 bay leaves (Indonesian: daun salam)
5 red anaheim chilies (Indonesian: cabe besar merah), sliced diagonally
5 green anaheim chilies (Indonesian: cabe besar hijau), sliced diagonally
2 to 5 green bird eye chilies (Indonesian: cabe rawit hijau), thinly sliced (*)
2 tablespoon fermented soy bean (Indonesian: tauco), washed and drained
100 gram night shade/pea eggplants (Indonesian: leunca), washed and drained
1 tomato, diced
1/2 cup water
1 1/2 tablespoon palm sugar (Indonesian: gula Jawa), or to taste
1 teaspoon salt, or to taste
500 gram shrimps, peeled and deveined
Grind the following into spice paste
10 shallots (Indonesian: bawang merah)
4 cloves garlic (Indonesian: bawang putih)
1 inch ginger (Indonesian: jahe)
1 inch galangal (Indonesian: lengkuas)
Instructions
Heat oil and sauté spice paste, lemongrass, and bay leaves until fragrant, about 4 to 5 minutes.
Add chilies and fermented soy bean, cook until chilies are slightly wilted.
Add pea eggplants and cook for another 2 minutes.
Add tomato and water, season with sugar and salt. Adjust sugar and salt to suit your taste. Cook until the sauce boils and bubbles.
Add the shrimps and quickly toss around. Once the shrimps turn pink, turn off heat, transfer to a serving plate and serve immediately with steamed white rice.
Notes
(*) Adding bird eye chilies is optional. Be warned that the final dish will be really hot and spicy if you do so.