Home / All Recipes / Indonesian / Sambal Terasi Udang - Spicy Shrimp Sauce Prawns
Sambal Terasi Udang - Spicy Shrimp Sauce Prawns
Nowadays I rarely cook prawns because I have developed allergic reaction to shellfish and nuts. They are not life threatening, but still, I would rather not deal with them. If I just eat a spoonful and remember to quickly pop some Claritin, I will be fine. That said, my hubby is missing this sambal terasi udang - spicy shrimp sauce prawns very much and has been begging me to prepare it for him. So I hope you guys are going to enjoy it as much as he does. Though I really really wish I can eat the whole thing, I know I need to exercise extreme self restrain or else.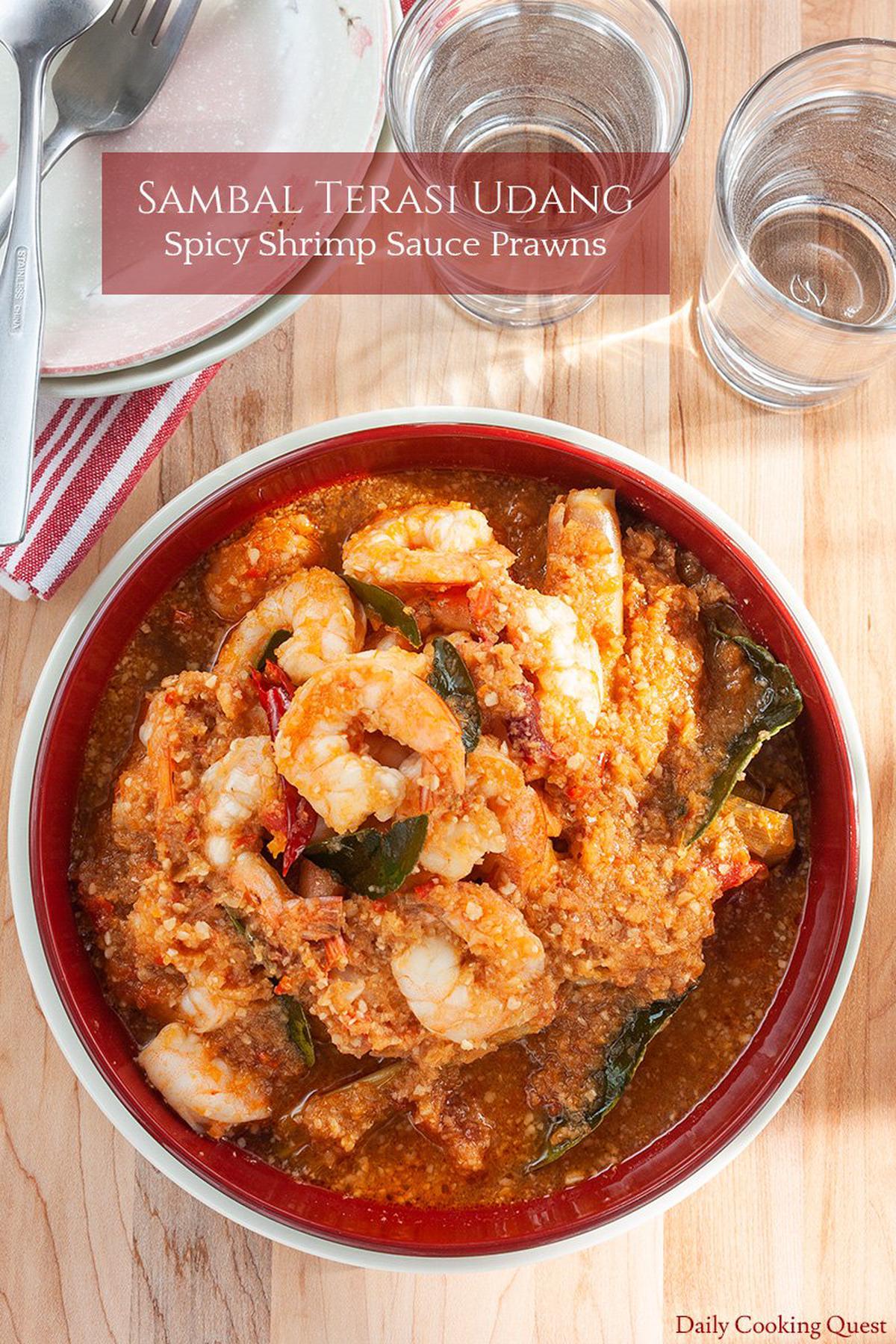 Double shrimp treatment
What is so great about this dish is the double use of shrimps/prawns, which makes this a super shrimpy dish. We have a pound of fresh fairly large prawns (I use the ~30 pieces/pound prawns). Then, the sauce has terasi in it, which is basically a block of fermented shrimp. You should be able to buy them from your Asian market. They are either imported from Malaysia in which case they are called belacan, or from Thailand which to be honest I have no idea what they are called. Either way, use the same amount as the recipe, and please remember to toast first with your frying pan. If you want a super duper simple way, you can just microwave for 1 minute.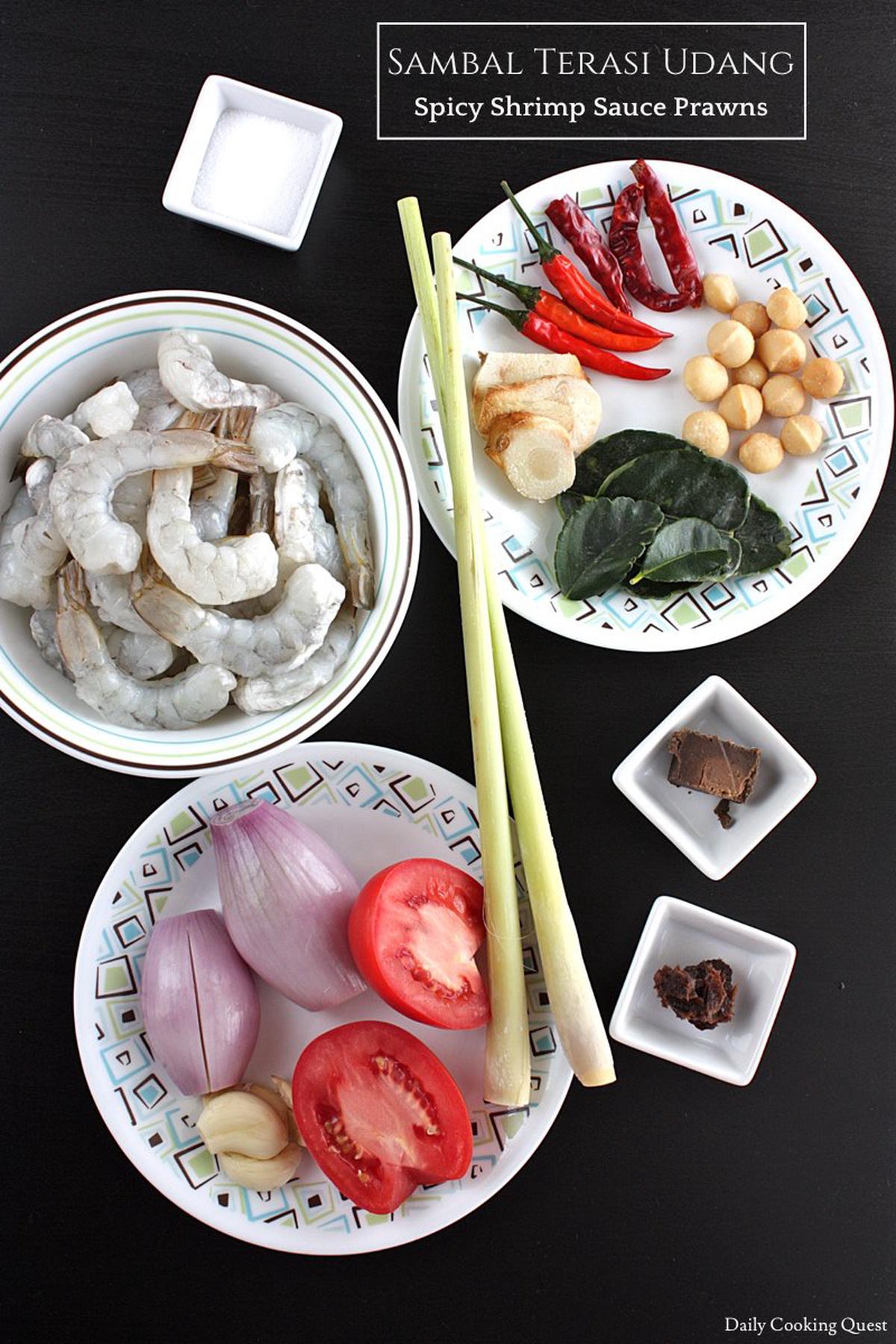 Crack open your windows
Terasi is great, it's like fish sauce but super extreme concentrated. Unfortunately, it does have quite a strong odor. To uninitiated, this can even be offensive. If you are a first timer, be sure to crack open your windows AND if you have hood, turn it on. I promise that despite the crazy smell, the dish is sure to turn out beautiful in the end.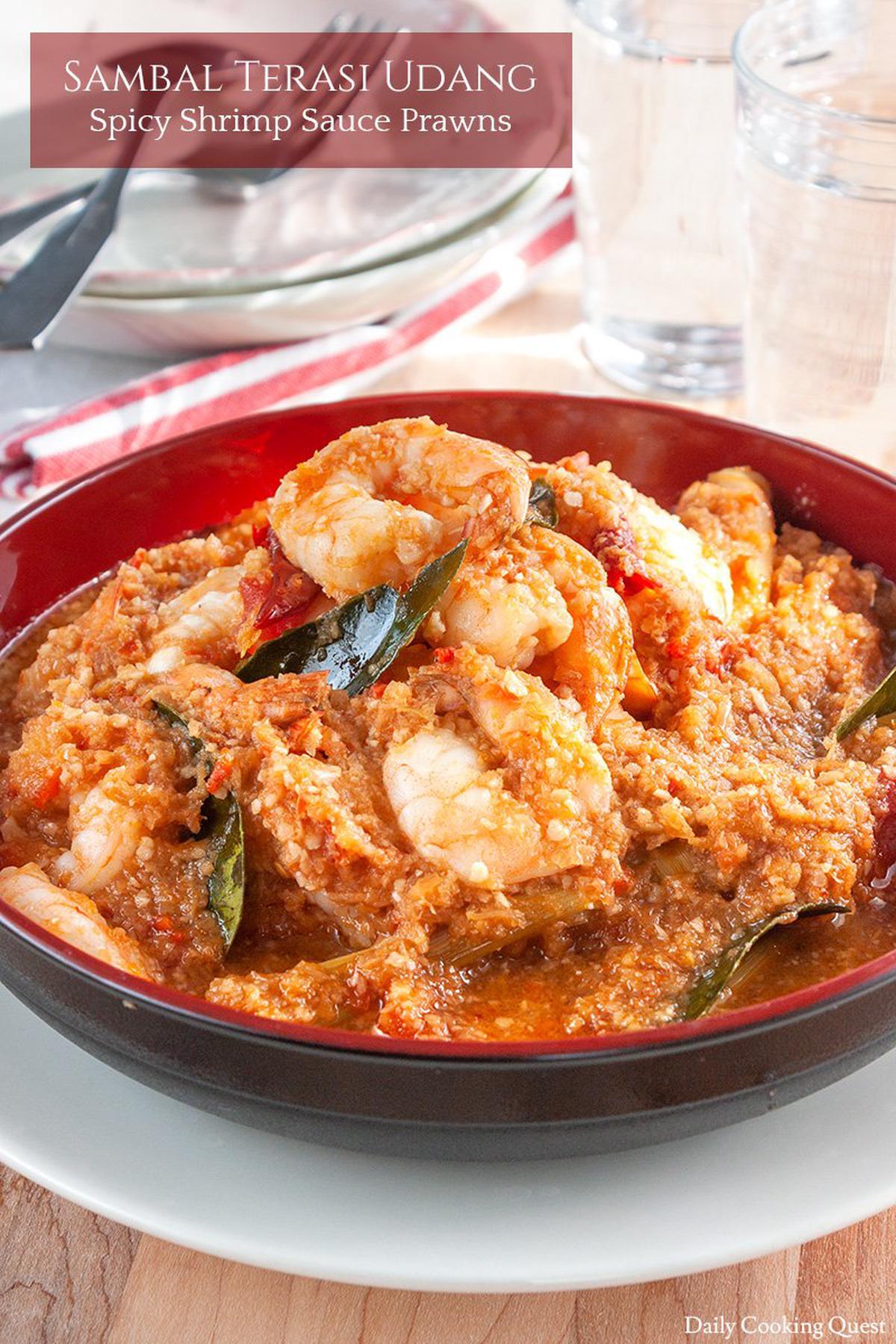 Sambal Terasi Udang - Spicy Shrimp Sauce Prawns
4.5 from 2 reviews
Ingredients
1/4 cup oil
2 lemongrass, bruised and knotted
3-5 dried red chilies, seeded
3/4 cup water
tamarind juice from 5 gram tamarind + 2 tablespoon water, massaged and strained
1-2 teaspoon salt, or to taste
2-3 tablespoon sugar, or to taste
450 gram (1 lb.) prawns, shelled and deveined
4 kaffir lime leaves
Grind the following into spice paste
100 gram shallot (or onion)
3 cloves garlic
1 tomato
3-5 red bird eye chilies, seeded
1 inch galangal
6 candlenuts (or 12 macadamia)
10 gram shrimp paste (Indonesian: terasi), toasted
Instructions
Heat oil in a wok/frying pan over medium-high heat. Sauté spice paste, lemongrass, and dried red chilies until fragrant and cooked. About 8-10 minutes.
Add water, tamarind juice, salt, and sugar. Stir, then cover the wok/pan with a lid, and bring to a boil.
Reduce heat to a simmer and continue cooking for another 5 minutes.
Give a quick taste test and add salt/sugar if needed. Add in the prawns and kaffir lime leaves. Cover again with lid, and cook for another 2-3 minutes, or just until the prawns are cooked.
Turn off the heat. Transfer to a serving platter and serve with steamed white rice.