Home / All Recipes / Indonesian / Sapi Tumis Leunca - Beef and Green Nightshade Stir Fry
Sapi Tumis Leunca - Beef and Green Nightshade Stir Fry
The two most common and popular recipes using leunca (green nightshade) are definitely lalapan and sambal leunca. Not that there is anything wrong in using leunca only for those recipes, but if you are willing to experiment, give this easy stir fry recipe a try and you might be hooked.
The photo above shows the ingredients use in the recipe, minus the beef. I use thinly sliced beef when making this, but I am quite certain other proteins can be used too, like thinly sliced chicken, or even tofu to make a completely vegetarian version of this dish.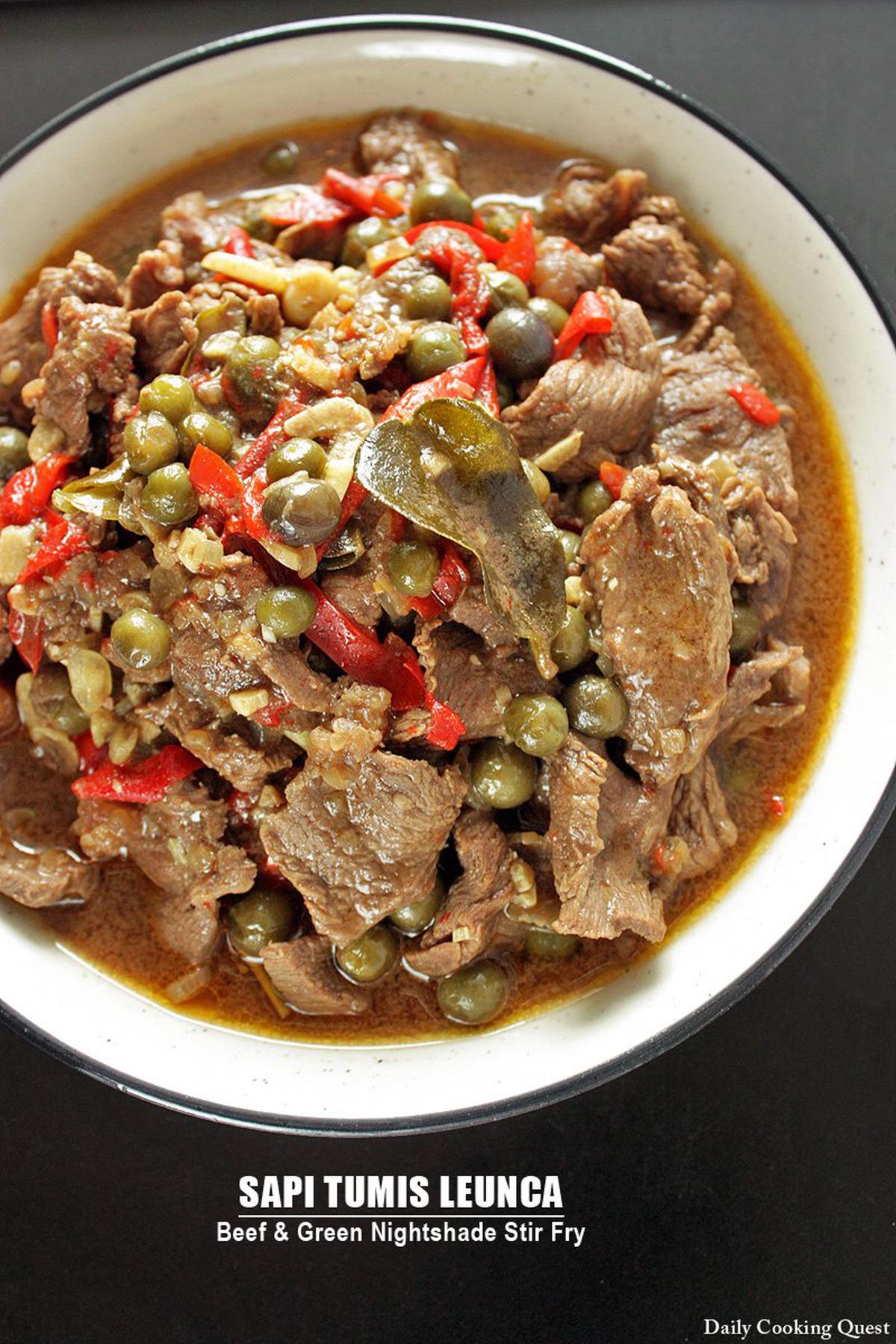 Sapi Tumis Leunca - Beef and Green Nightshade Stir Fry
5.0 from 1 reviews
Ingredients
2 tablespoon oil
6 shallots (Indonesian: bawang merah), thinly sliced
3 cloves garlic (Indonesian: bawang putih), thinly sliced
4 red anaheim chili peppers (Indonesian: cabe besar merah), seeded and sliced diagonally
3 kaffir lime leaves (Indonesian: daun jeruk)
1 lemongrass (Indonesian: sereh), bruised and knotted
500 gram beef (Indonesian: daging sapi), thinly sliced
100 gram green nightshade (Indonesian: leunca)
1 cup water
1 tablespoon sweet soy sauce (Indonesian: kecap manis)
1 teaspoon salt
1/2 teaspoon sugar
Instructions
Heat oil in a frying pan and sauté shallot, garlic, chili, lime leaves, and lemongrass until fragrant.
Add beef into the pan and cook until no longer pink.
Add green nightshade, water, sweet soy sauce, salt, and sugar. Mix well and bring to a boil. Cook until the beef is tender and the sauce is slightly reduced.
Turn off heat, transfer to a serving plate and serve immediately with steamed white rice.