Home / All Recipes / Indonesian / Sari Kacang Hijau - Mung Bean Drink
Sari Kacang Hijau - Mung Bean Drink
Kacang hijau, or mung bean, is almost always made into dessert, such as bubur kacang hijau. The other popular use is to make a mung bean drink. This drink is quite popular in Indonesia, and you can find them sold in boxes, very much like how fresh milk or fresh juice is sold. Making a home made version of this drink is pretty simple, we just need mung bean, pandan leaves, ginger, and palm sugar. Easy peasy, right? ♥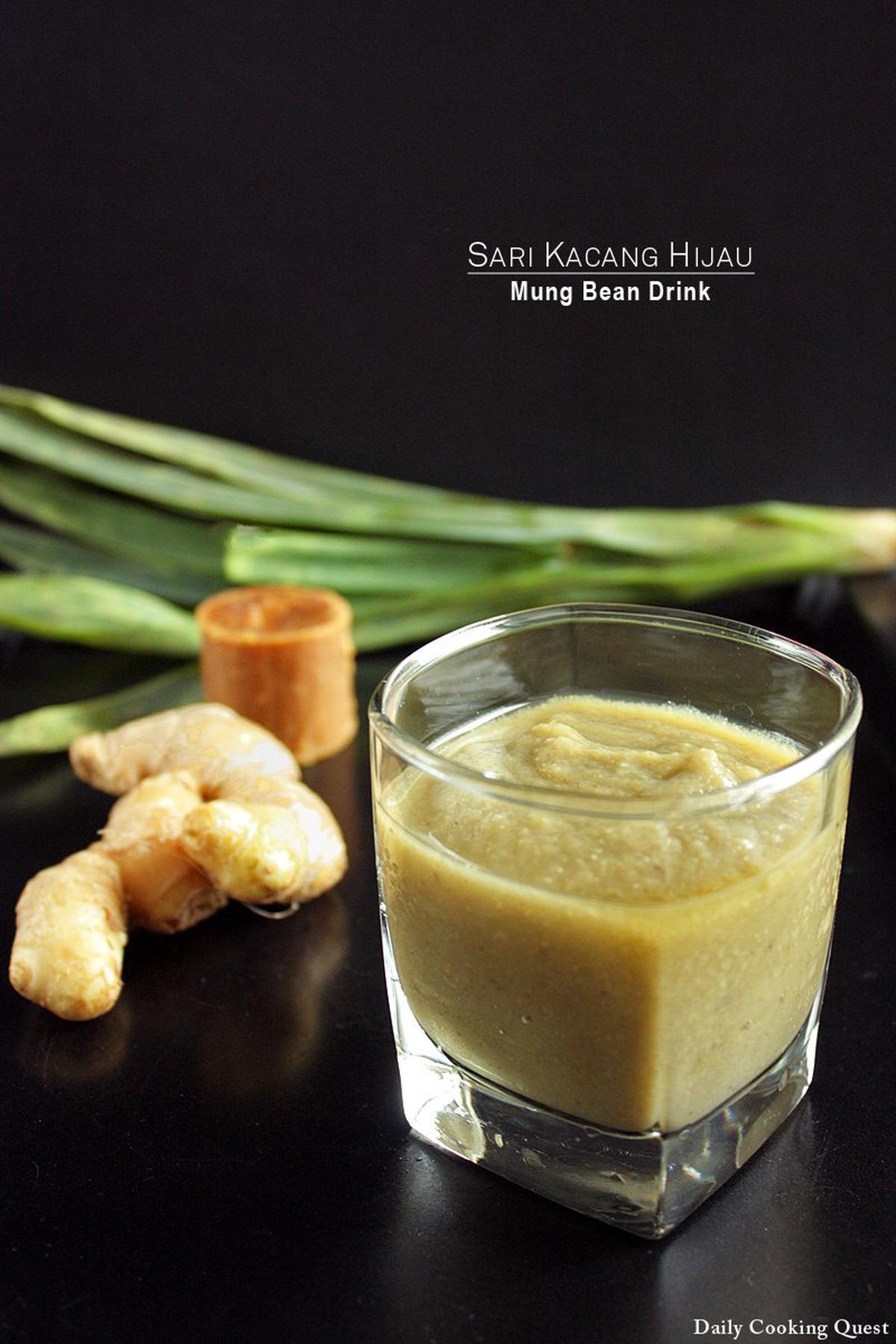 If you follow my recipe, you will get a rather thick drink, which is intentional. Most people love to add plenty of ice cubes to the drink, which will automatically water it down and reduce the thickness by a lot. If you think you will not be serving this with ice cubes, please feel free to thin it down with some cold drinking water prior to serving.
Sari Kacang Hijau - Mung Bean Drink
5.0 from 2 reviews
Ingredients
175 gram mung bean (Indonesian: kacang hijau), washed and drained
3 cups water
80 gram palm sugar (Indonesian: gula Jawa)
2 pandan leaves (Indonesian: daun pandan), knotted
2 inch ginger, peeled and bruised
Instructions
Bring mung bean and water to a boil. Reduce heat and simmer until the beans started to split. Turn off heat, let cool a bit, then process until smooth with a blender.
With a strainer, strain to get a smooth mung bean liquid. Return the strained liquid to the pot, add enough water to get a total of 5 cups liquid.
Add palm sugar, pandan leaves, and ginger into the pot. Bring to a boil again, then simmer for 5 minutes. Turn off heat and let cool.
Mung bean drink is usually served cold. So, transfer to a pitcher and chilled. Serve with or without ice cubes depends on how thick you want your mung bean drink to be.