Home / All Recipes / Indonesian / Saus Ayam Jamur - Chicken Mushroom Sauce
Saus Ayam Jamur - Chicken Mushroom Sauce
Stock a batch of this easy chicken and mushroom sauce toppings in your fridge to add to your rice, noodles, or ramen for a quick, tasty, and healthy meal.
Saus ayam jamur - chicken mushroom sauce is probably the number one topping for noodles in Indonesia. Just about any noodle shop you visit will have this topping, so if you are Indonesian and you miss the kind of noodles you grow up with, try making this easy sauce. I usually have a large batch sitting in my fridge so I can boil a serving of egg noodles and just add this topping to make a delicious meal. Super useful on busy days as I don't need to make complicated dishes.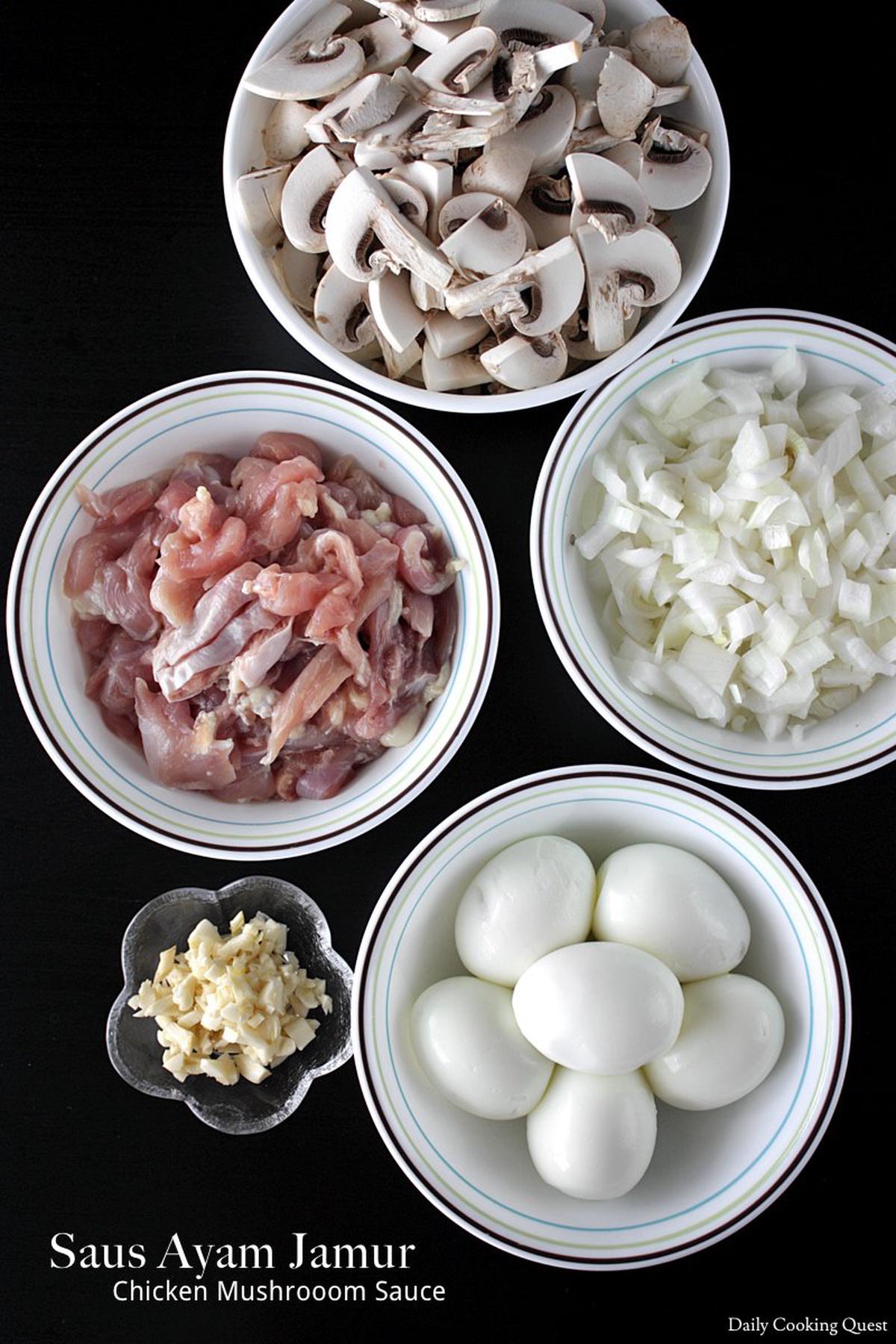 Not just mushroom and chicken
Obviously you need chicken and mushroom, but there is so much else going on to create this delicious sauce. You need onion, garlic, and don't forget your hard boiled eggs! As for seasonings, you need soy sauce, kecap manis (Indonesian sweet soy sauce), and ground pepper. So quite a bit more than simply chicken and mushroom, but the rest of the ingredients should be easy to procure.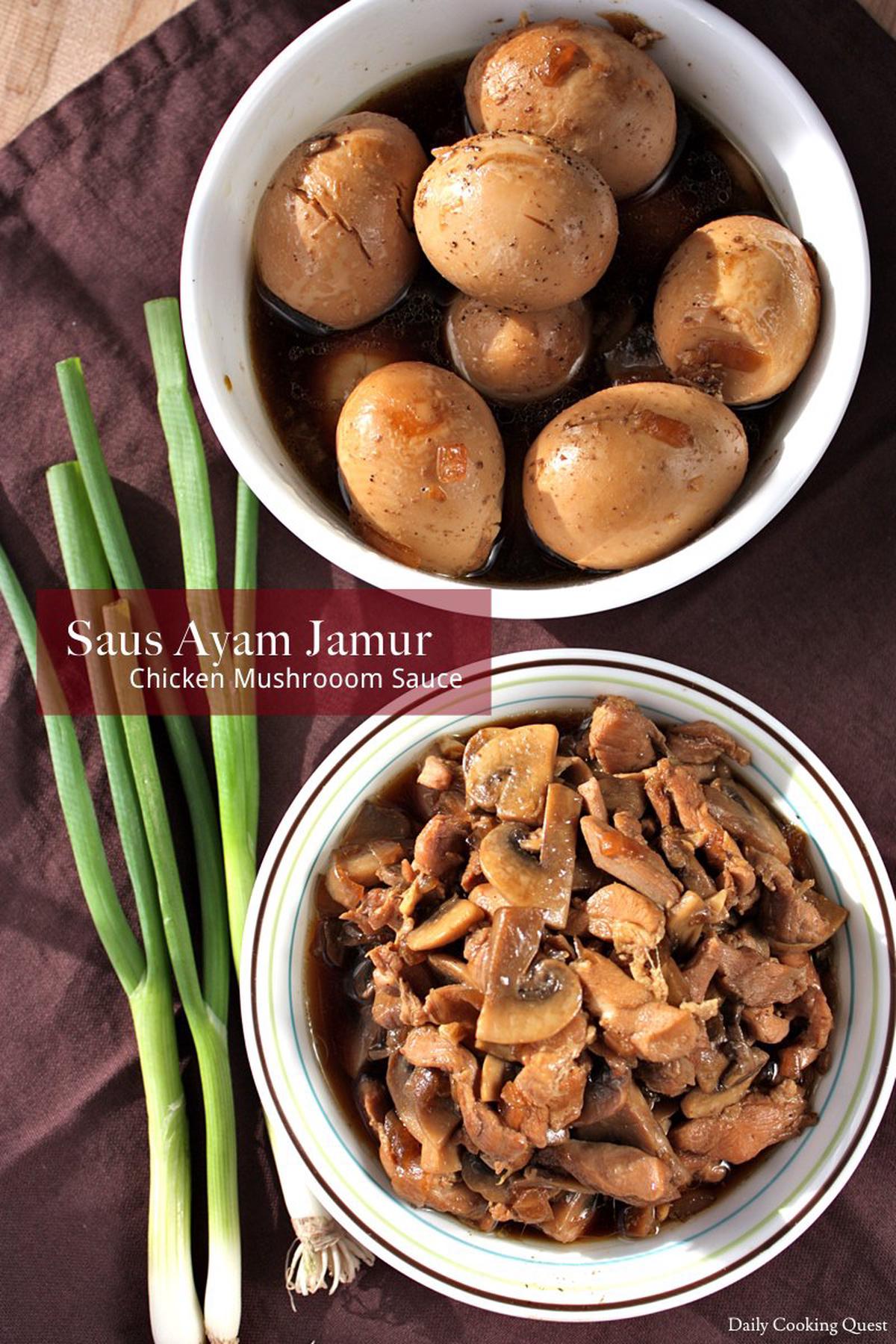 Easy cooking even for beginners
There are recipes that are suited for people who have been cooking for years and years, and then there are recipes like this. I have been making this chicken and mushroom sauce since back in my college days, so I am quite certain even novice cooks can handle this. First, you fry the onion, garlic, mushroom, and chicken. Then, add soy sauce, kecap manis, ground pepper, and water. Once it boils, add hard boiled eggs (peeled!), and simmer away for 30 minutes. Easy!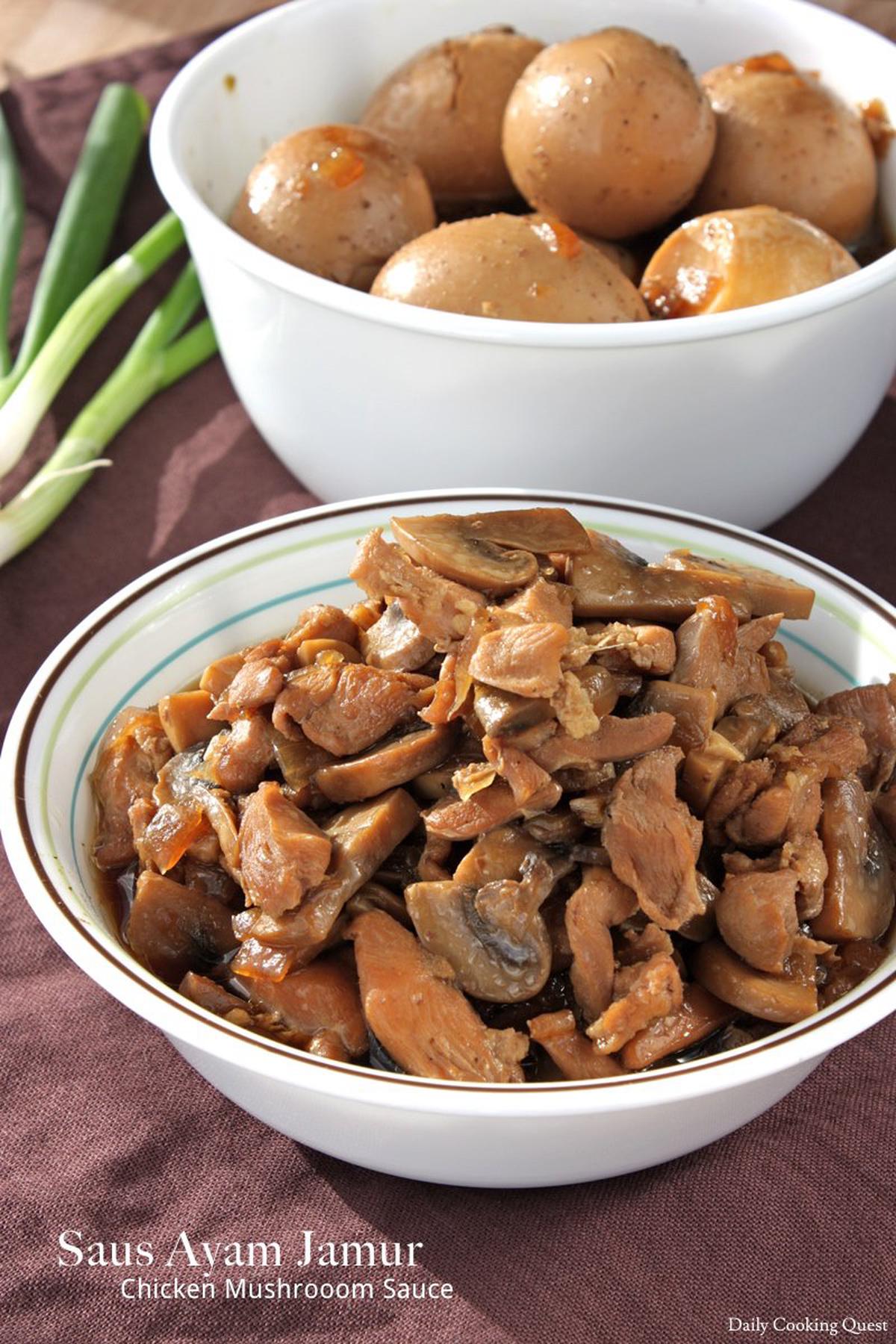 Saus Ayam Jamur - Chicken Mushroom Sauce
5.0 from 5 reviews
Ingredients
1/4 cup oil
1 onion, diced
4 cloves garlic, minced
700 white button mushroom, cut into thin slices
700 gram chicken thigh, cut into thin strips
1/4 cup soy sauce
1/4 cup kecap manis (Indonesian sweet soy sauce)
1 tablespoon ground pepper
2 cup water
1 dozen peeled hard boiled eggs
Instructions
Heat oil in a wok/large pan over medium-high heat. Fry onion and garlic until onion is translucent.
Add mushroom, cook until wilted.
Add chicken thigh, and cook until no longer pink.
Season with soy sauce, kecap manis, and ground pepper. Add water, and mix well.
Once the sauce boils, add hard boiled eggs. Reduce heat to a simmer, cover with a lid, and cook for 30 minutes.
Turn off heat. Adjust with salt/sugar/pepper if necessary. Transfer to a serving platter.
Served with boiled egg noodles.