Home / All Recipes / Indonesian / Sayap Ayam Bumbu Ketumbar - Baked Chicken Wings in Cilantro Sauce
Sayap Ayam Bumbu Ketumbar - Baked Chicken Wings in Cilantro Sauce
Planning for a party soon? If so, this easy and super delicious baked chicken wings in cilantro sauce is going to be a big hit! You can double or triple the recipe as you need, and how I wished I did since they were gone in a heart bit ;)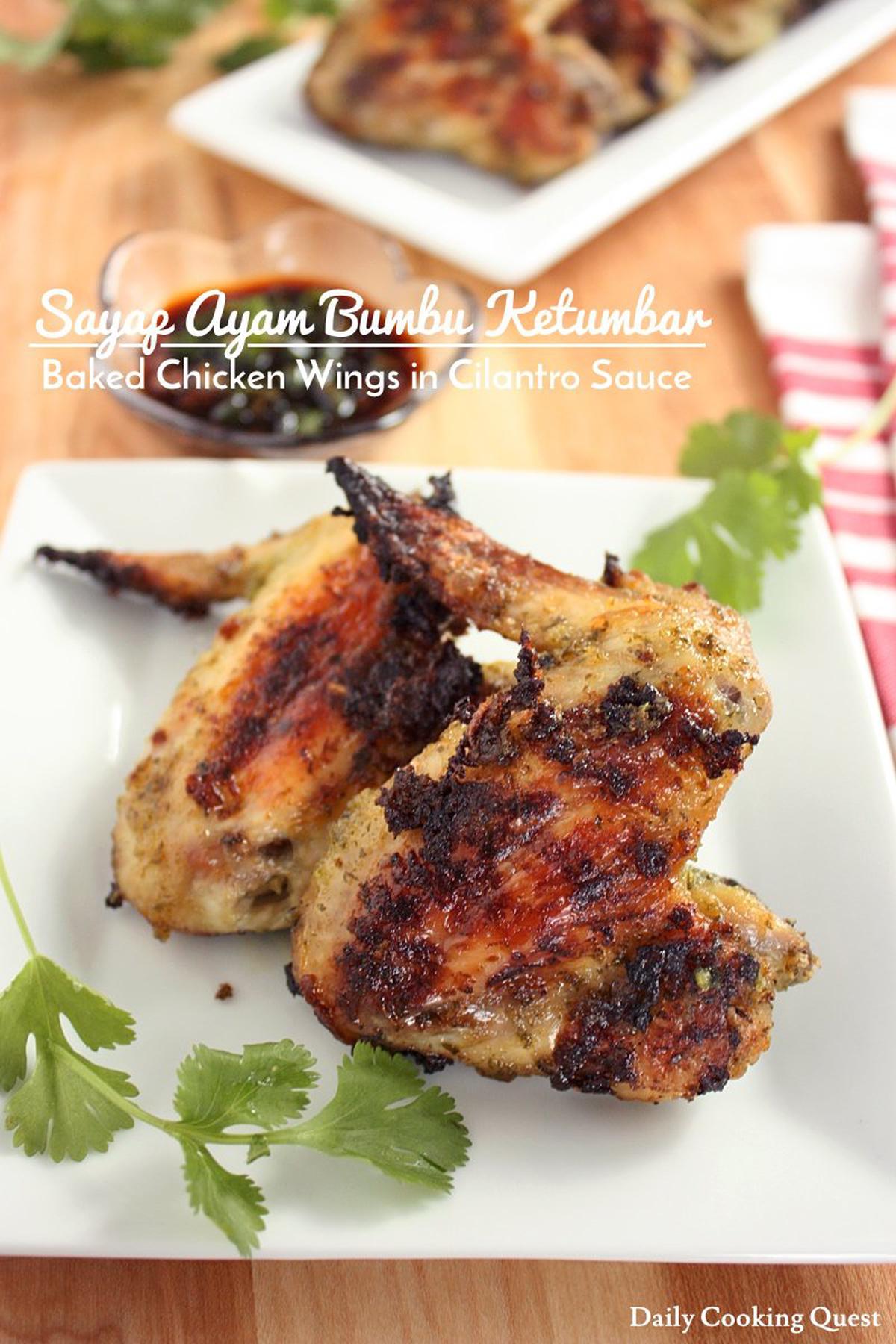 Sayap Ayam Bumbu Ketumbar - Baked Chicken Wings in Cilantro Sauce
Ingredients
12 chicken wings
1 tablespoon salt
1 tablespoon lemon juice
Cilantro sauce for marinating
1/4 cup cilantro leaves (Indonesian: daun ketumbar)
8 cloves garlic (Indonesian: bawang putih)
4 shallot (Indonesian: bawang merah)
1 scallion (Indonesian: daun bawang)
2 green anaheim chilies (Indonesian: cabe hijau besar)
2 teaspoon salt
1 teaspoon ground pepper
1/2 tablespoon sugar
100 ml oil
Instructions
In a mixing bowl, rub chicken wings with salt and lemon juice. Set aside for 30 minutes, then rinse and dry.
In a food processor, blend together all the ingredients to make the cilantro sauce.
In a mixing bowl, mix chicken wings and cilantro sauce together. Cover the bowl with a saran wrap and let the chicken marinate in the fridge for at least 2 hours (or overnight).
Preheat oven to 190 Celcius (375 Fahrenheit).
Line a baking tray with a parchment paper.
Transfer the marinated chicken wings to the prepared tray, and bake for 25 minutes.
Open the oven door, and flip the chicken wings to the other side. Close the oven again, and bake for another 25 minutes.
Serve piping hot.