Home / All Recipes / Indonesian / Sayur Gori - Jackfruit Stew in Coconut Milk
Sayur Gori - Jackfruit Stew in Coconut Milk
Young jackfruit is a very common vegetables in Indonesia. Each region has its own signature young jackfruit dish. In Medan where I grew up, our signature dish is probably this sayur gori - jackfruit stew in coconut milk. This dish involves a long list of spices and aromatics, but I guarantee that it is a super easy dish to prepare. If you are fellow Medan expats, you will want to give this recipe a try and cook this lovely sayur gori in your kitchen :)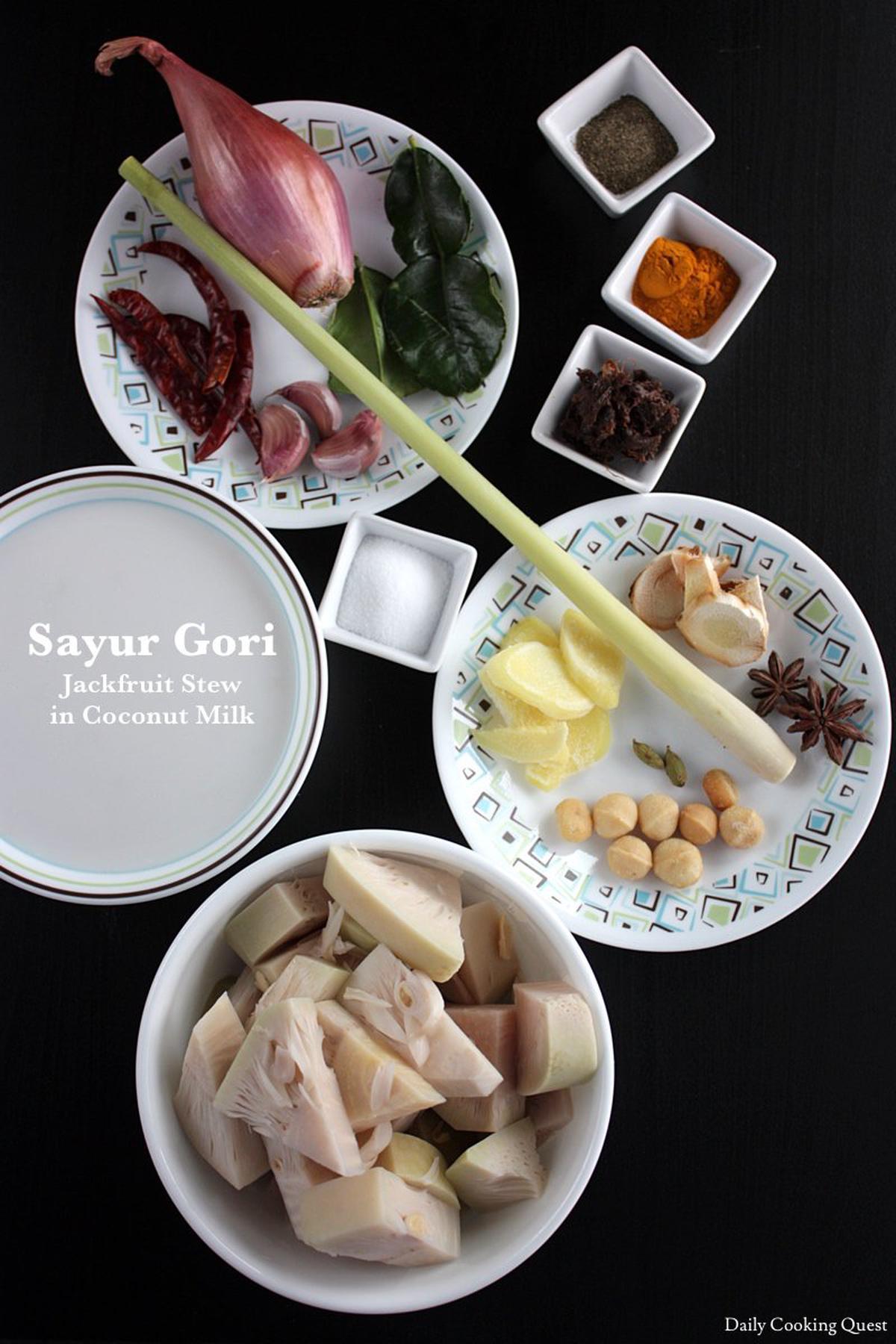 Young Jackfruit
On rare occasions, your Asian markets may stock fresh young jackfruit. If you are feeling adventurous, you can buy one (it will be really large and heavy!), bring it home, and chop it all up yourself. You will need to boil raw young jackfruit until a bit tender before starting with this recipe (Call it Step 0 if you will). But on most occasions, you can always get some canned young jackfruit. I will assume you are going to use the can version :)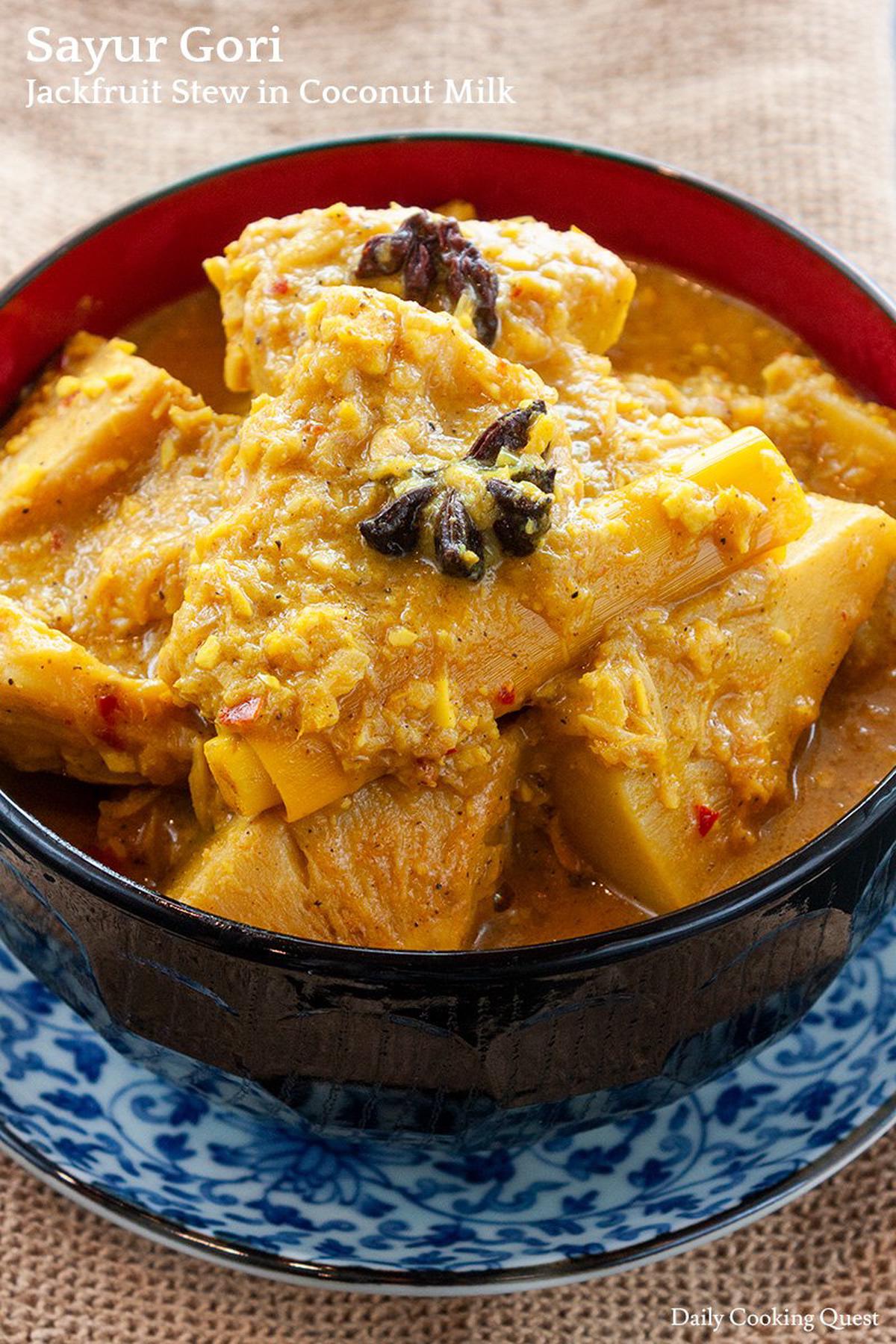 The long list of spices and aromatics
Aside from the young jackfruit, here is the super long list of what you need to make this dish. The easy ones: shallot, garlic, ginger, red chilies, coconut milk, turmeric powder, salt, pepper, sugar. These you may need to go to your Asian markets: galangal, lemongrass, kaffir lime leaves, cardamom pods, star anise, candlenuts (or macadamia), and tamarind. Phew! Once you have everything, let's start cooking.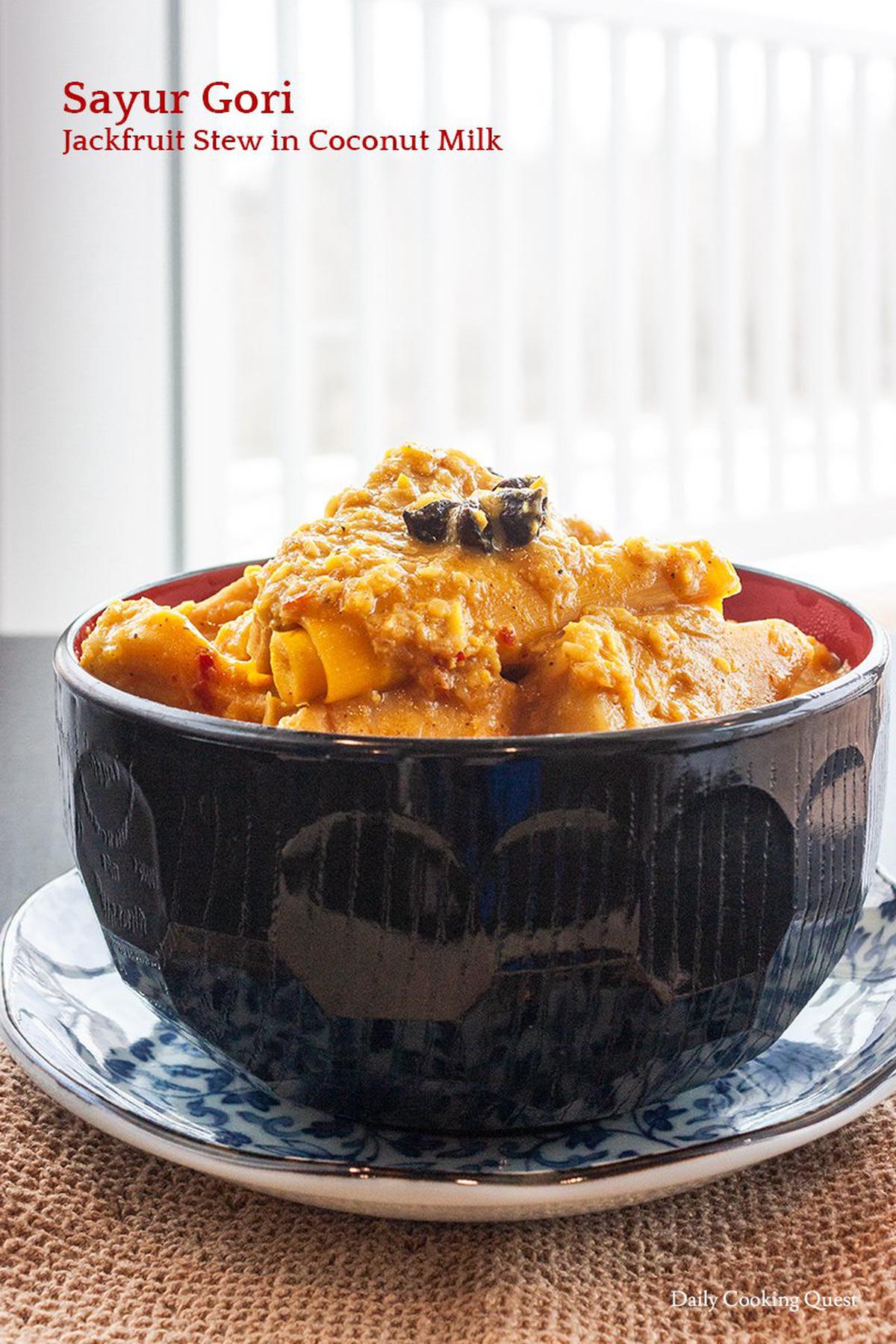 The Recipe
Sayur Gori - Jackfruit Stew in Coconut Milk
5.0 from 1 reviews
Ingredients
4 tablespoon oil
1 teaspoon ground turmeric
2 star anise
1 lemongrass, cut into sections and bruised (or bruised & knotted)
2 cardamom pods, cracked
2 cans (~ 500 gram net weight) young jackfruit, drained
1/2 teaspoon ground pepper
2-3 teaspoon salt, or to taste
1/2-1 tablespoon sugar, or to taste
tamarind juice (10 gram tamarind + 3 tablespoon water, mixed, massaged, and strained)
400 ml water
1 can (400 ml) coconut milk
3 kaffir lime leaves
Grind the following into spice paste
100 gram shallot
3 cloves garlic
5 red chilies (dried or fresh, any variety, though I prefer bird eye chili)
4 candlenut (or 8 macadamia)
1 inch ginger
1 inch galangal
Instructions
Heat oil in a wok/large and deep skillet over medium-high heat. Sauté spice paste, ground turmeric, star anise, lemongrass, and cardamom pods until fragrant.
Add in young jackfruit, pepper, salt, sugar, tamarind juice, and water. Mix well and bring to a boil.
Reduce heat to medium and simmer uncovered for 20 minutes.
Add coconut milk and mix well. Once it boils, quickly reduce heat to a bare simmer and cook for another 20 minutes.
Give a quick taste test, and add more salt, sugar, and/or pepper if needed.
Turn off heat, then toss in the kaffir lime leaves. Gently stir for 30 seconds, then transfer to a serving bowl. Serve with steamed white rice.