Home / All Recipes / Indonesian / Sayur Lontong Zucchini - Zucchini and Vegetables Coconut Milk Stew
Sayur Lontong Zucchini - Zucchini and Vegetables Coconut Milk Stew
Indonesian sayur lontong (coconut milk vegetables stew) with zucchini instead of chayote, and plenty of vegetables.
When I have plenty of vegetables that need to be cooked, I love turning them into sayur lontong. Sayur lontong is essentially a medley of vegetables and meat cooked in a spiced coconut milk broth. Since summer is the season when zucchini looks its best, I decided to prepare sayur lontong with zucchini.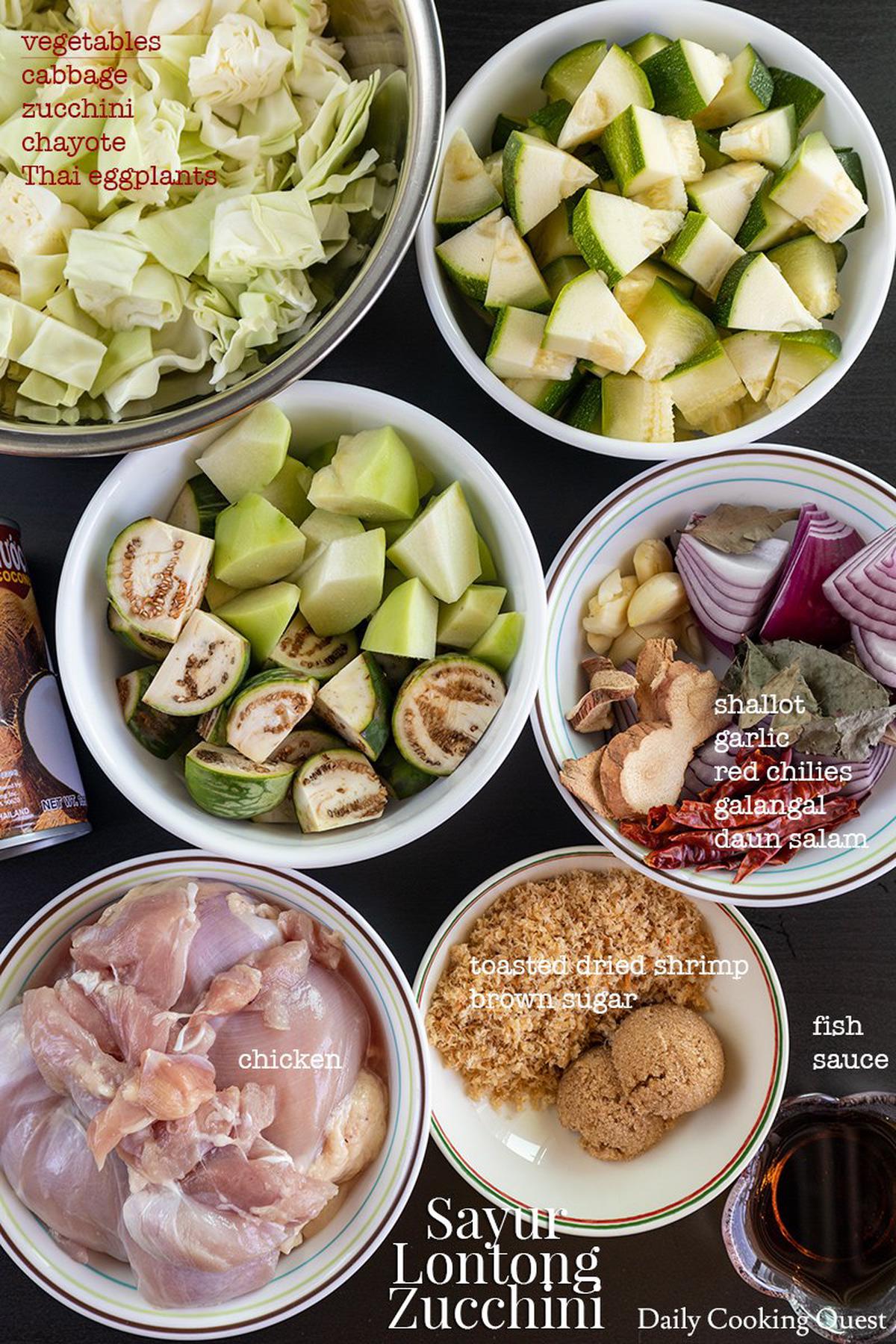 Ebi = not vegetarian friendly
Although you can substitute the meat (typically beef, or chicken) with tofu, you cannot turn sayur lontong into vegetarian friendly dish. The broth for sayur lontong definitely needs to have ebi (toasted ground shrimp) in it, or it just won't be the same. Dried shrimps can be easily found in almost any Asian market. You can also use shrimp powder (same amount) to cut prep time. I actually prefer the shrimp powder since the quality is much more consistent. Sometimes I go to my local Asian market and walk away disappointed with the inferior quality compared to the ones sold in Indonesia.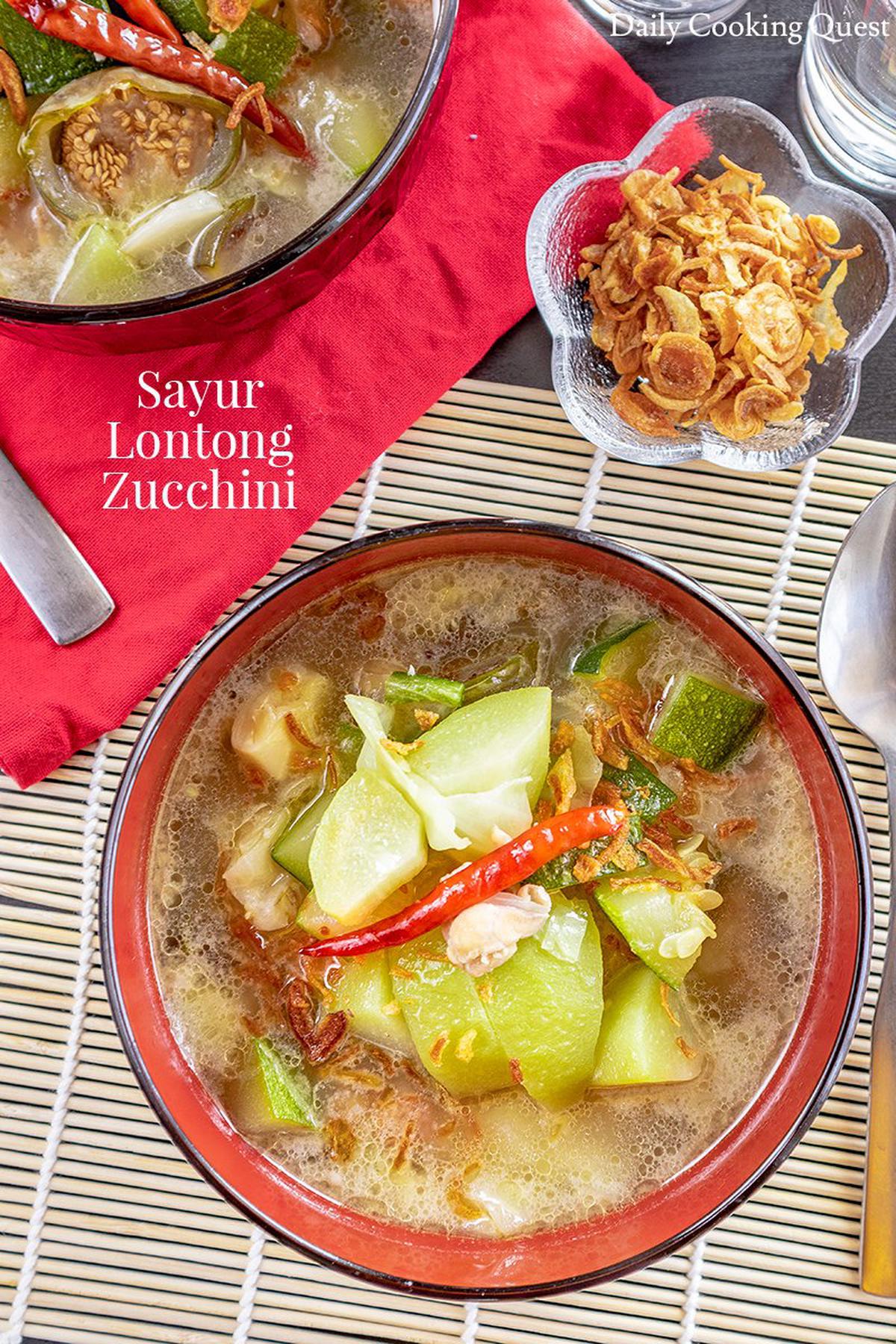 Choice of vegetables
You can use all sort of vegetables for this dish. The more common and popular ones include chayote, snake beans, stink beans, cabbage, and eggplant. Since some of the more commonly used vegetables can be hard to find in the United States, I also use zucchini, or other squashes, carrots, and green beans.
Here is my tips on how to cook the vegetables. Since different vegetables need different cooking time, I add the ones that need longer cooking time first before adding the broth. And once the meat is cooked, then I add the remaining vegetables that only needs short cooking time and cook only until those vegetables are tender but still retains its crispiness.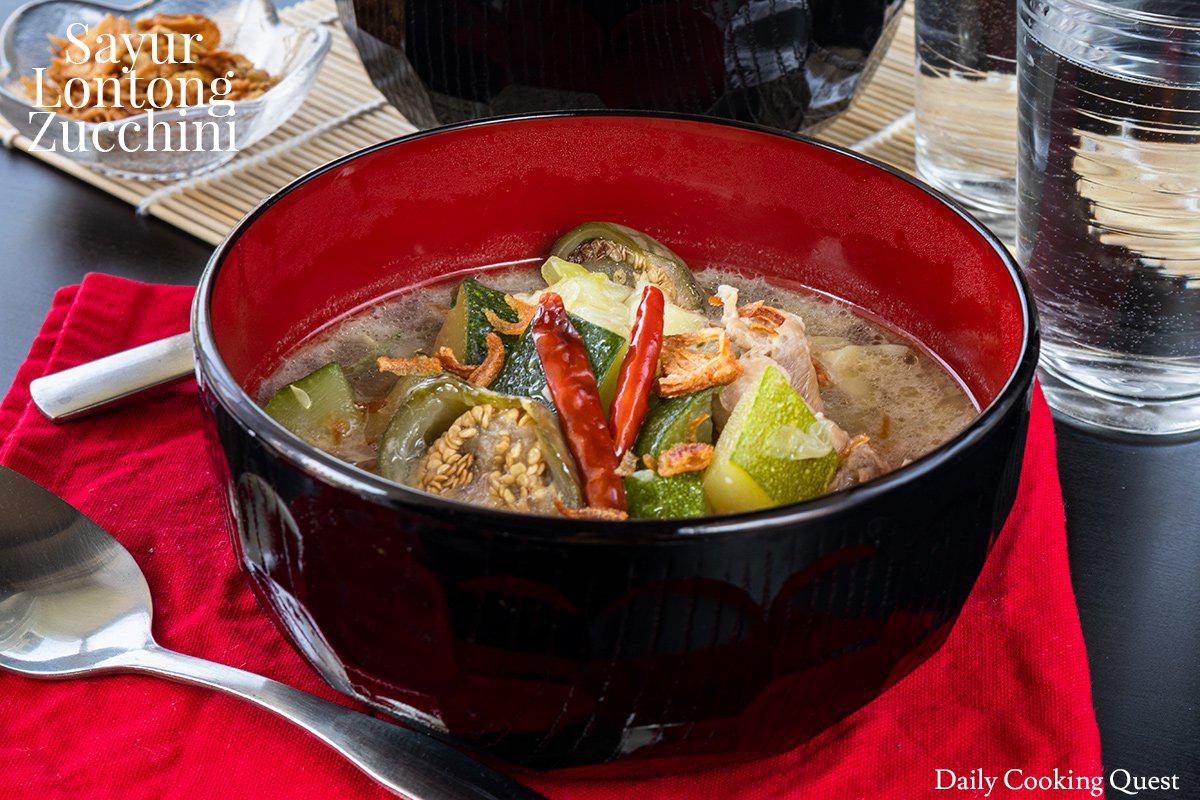 Sayur Lontong Zucchini - Zucchini and Vegetables Coconut Milk Stew
5.0 from 6 reviews
Ingredients
3 tablespoon oil
1/4 cup ground toasted dried shrimps (Indonesian: ebi)
2 inch galangal
2 Indonesian bay leaves (Indonesian: daun salam), optional
500 gram chicken meat (preferrably thigh), cut into cubes
1/2 cabbage, chopped roughly
1 can (400 ml) coconut milk
7 cup water/chicken stock
2 tablespoon fish sauce (Indonesian: kecap ikan)
2 tablespoon palm sugar (Indonesian: gula Jawa)
2 zucchini, cut into chunks
1-2 chayote (Indonesian: labu siam), peeled, seeded, cut into chunks
8-10 Thai eggplants (or 1 regular Chinese eggplant), cut into chunks
salt, to taste
Spice paste (grind the following together)
100 gram shallot (or red onion)
4 cloves garlic
3-10 red chilies (fresno, cayenne, or jalapeno)
Instructions
Heat oil in a soup pot and sauté spice paste, dried shrimp, galangal, and bay leaves until fragrant.
Add chicken, cook until no longer pink.
Add cabbage, and cook until wilted.
Add coconut milk, water/stock, fish sauce, and palm sugar. Bring to a boil, then reduce heat to a simmer and cook uncovered until chicken is fully cooked. About 10-15 minutes.
Add zucchini, chayote, and Thai eggplant. Cook until vegetables are cooked and tender, but still retain its crispiness. About 5-8 minutes.
Turn off heat. Taste test, and add more salt and/or palm sugar as needed. Serve hot with steamed white rice.