Home / All Recipes / Indonesian / Serundeng - Spiced Shredded Coconut
Serundeng - Spiced Shredded Coconut
Fresh shredded coconut cooked with spice paste, palm sugar, and tamarind created this popular Javanese side dish called serundeng. We treat serundeng very similar to how Japanese treat furikake, basically just sprinkle on top of white rice to have a tasty meal. If you happen to make some nasi uduk, nasi kuning, or nasi liwet, serundeng will go perfectly with those as well. It is not hard to make serundeng at home, but it does require a bit of patience since frequent stirring is needed at the end of the cooking process. When fresh shredded coconut is unavailable, the best substitute is frozen shredded coconut, which I have had good luck finding them in my nearby Asian markets in Bay Area.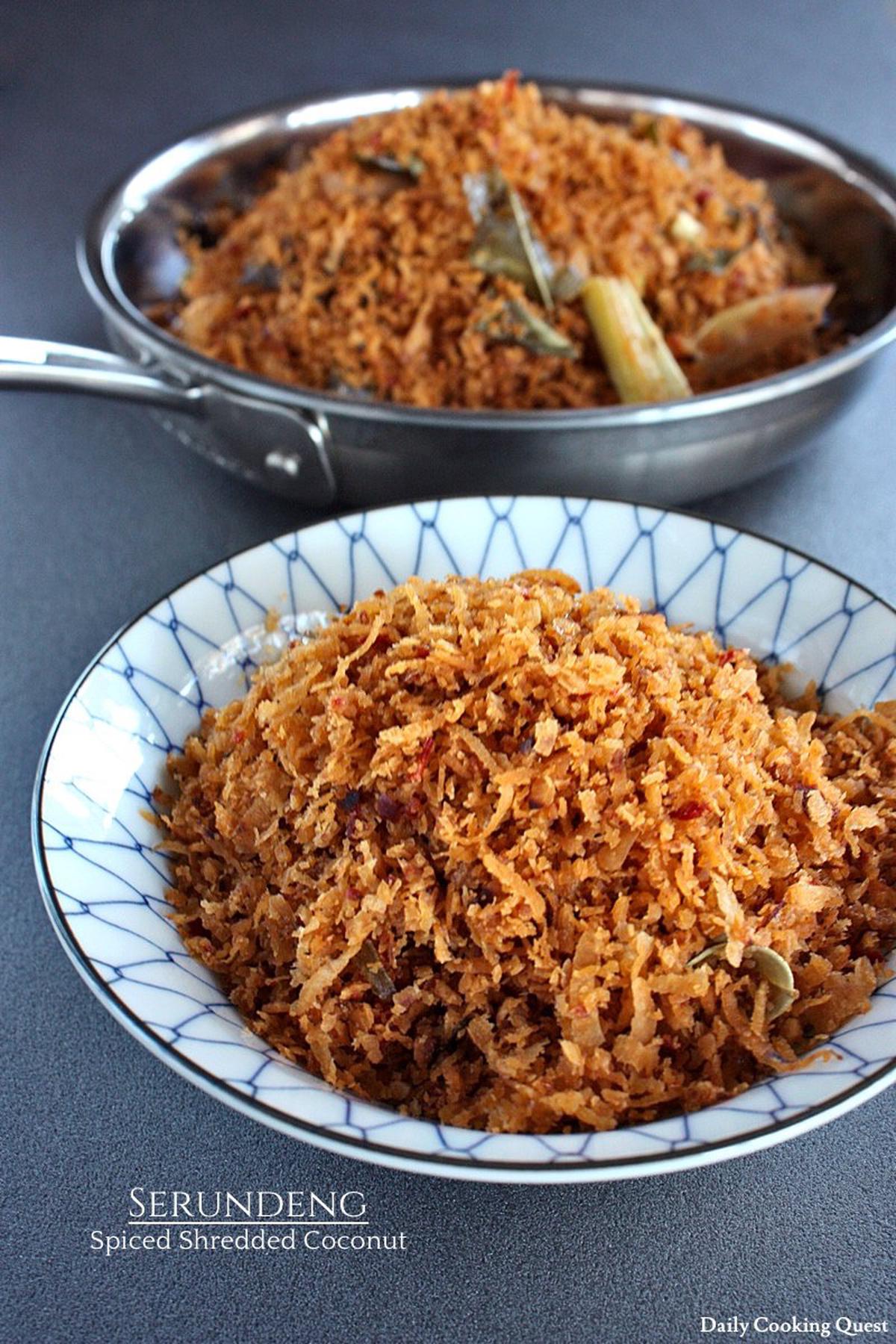 Serundeng - Spiced Shredded Coconut
4.0 from 1 reviews
Ingredients
3 tablespoon oil
2 lemongrass (Indonesian: sereh), bruised and knotted
10 kaffir lime leaves (Indonesian: daun jeruk)
4 Indonesian bay leaves (Indonesian: daun salam)
1 inch galangal (Indonesian: lengkuas), bruised
400 gram shredded coconut (Indonesian: kelapa parut), fresh or frozen
1 teaspoon salt
1 tablespoon fish sauce (Indonesian: kecap ikan)
4 tablespoon palm sugar (Indonesian: gula Jawa)
tamarind liquid (1 tablespoon tamarind + 3 tablespoon water, soaked, massaged, and strained)
Grind the following into spice paste
4 red fresno chilies (Indonesian: cabe merah besar)
4 dried red chilies (Indonesian: cabe merah kering)
4 cloves garlic (Indonesian: bawang putih)
4 candlenuts (Indonesian: kemiri)
100 gram shallots (Indonesian: bawang merah)
2 teaspoon ground coriander (Indonesian: bubuk ketumbar)
Instructions
Heat oil in a wok/frying pan on medium heat. Sauté lemongrass, kaffir lime leaves, bay leaves, galangal, and spice paste until fragrant. About 4-5 minutes.
Add shredded coconut, salt, and fish sauce. Stir to mix well. Cook until rather and not lumpy, about 5 minutes.
Add palm sugar and tamarind liquid. Stir to mix well. Cook until dry and fluffy, stir frequently especially towards the end to prevent burnt bits and even browning. It should have the color very close to brown sugar at the end of the cooking process.
Turn off heat. Transfer to a large mixing bowl to cool. Remove lemongrass, leaves, and galangal from the serundeng. Store in a clean jar/tupperware. Consume within 1 week.