Home / All Recipes / Japanese / Simmered Acorn Squash
Make a traditional Japanese simmered dish (nimono) using acorn squash. With only a handful of ingredients, you can fully enjoy the bounty of the Fall harvest.
Fall and winter is a great time for squash loving people. It is when the market is flooded with gorgeous winter squashes, from acorn squash, kabocha, butternut, and of course, pumpkins
If you are wondering what to do with all those pretty looking squashes, then I have a very easy recipe for you today, simmered acorn squash.
This is basically a nimono, a very traditional Japanese recipe, though it is more commonly made with kabocha. But kabocha can be more elusive in the United States compared to acorn squash, so I am using acorn squash instead.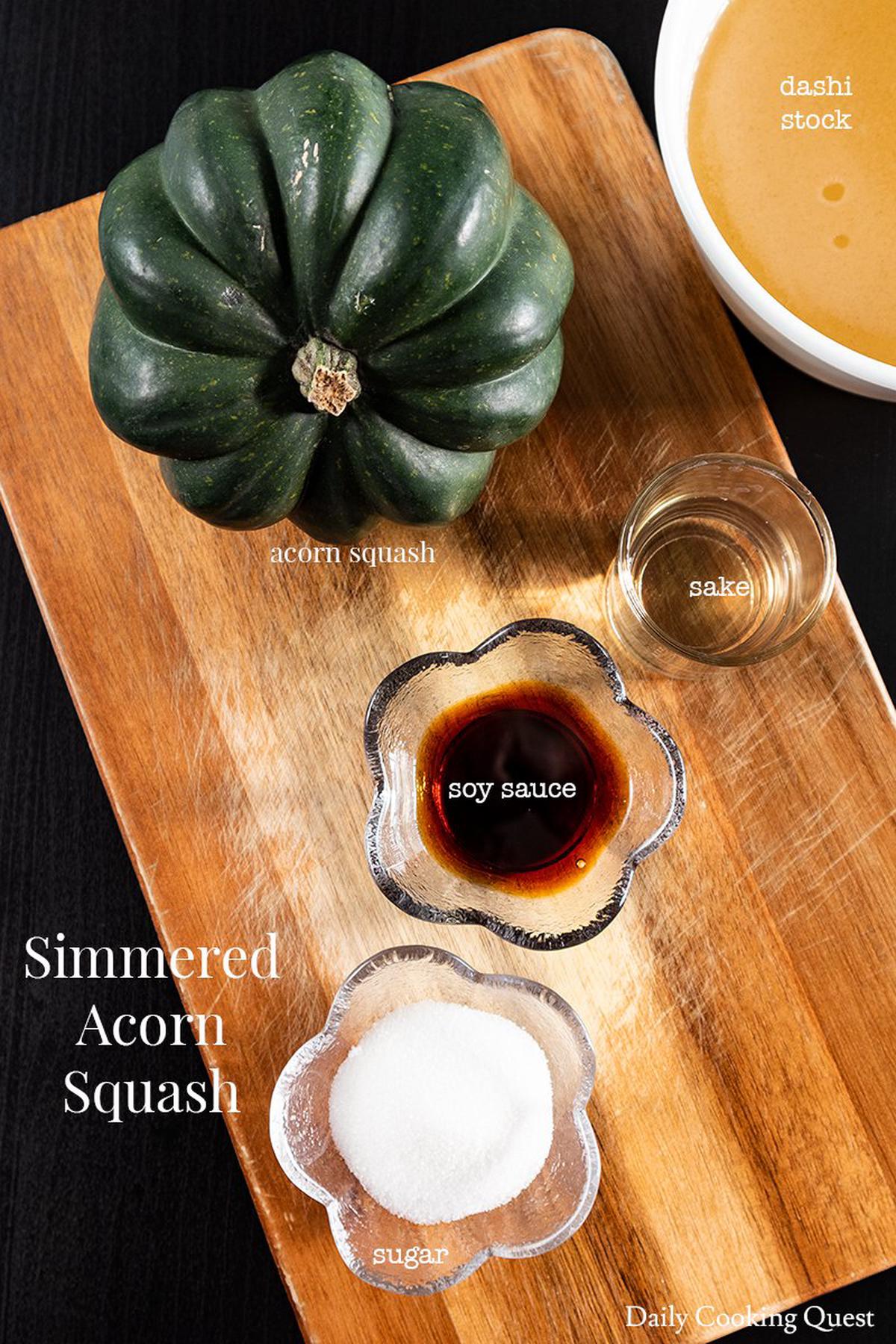 How to Cut and Prep an Acorn Squash
Acorn squash, like kabocha, can be very tough. You need to make sure your knife is very sharp, and be very careful when cutting one up.
To make it a bit easier and a bit safer, first, cut the squash in two and scoop up all the seeds and fibrous part.
Next, place the two halves on a microwave safe plate, and microwave the squash for 2-3 minutes just to softened it a bit, because it is that much easier to cut them into smaller chunks once they are slightly soft.
Also, there is no need to peel the skin. You can eat the skin if you want, but even if you don't want to eat the skin, cooking them with skin on helps keep the squash as intact as possible after they are out from the cooking pot.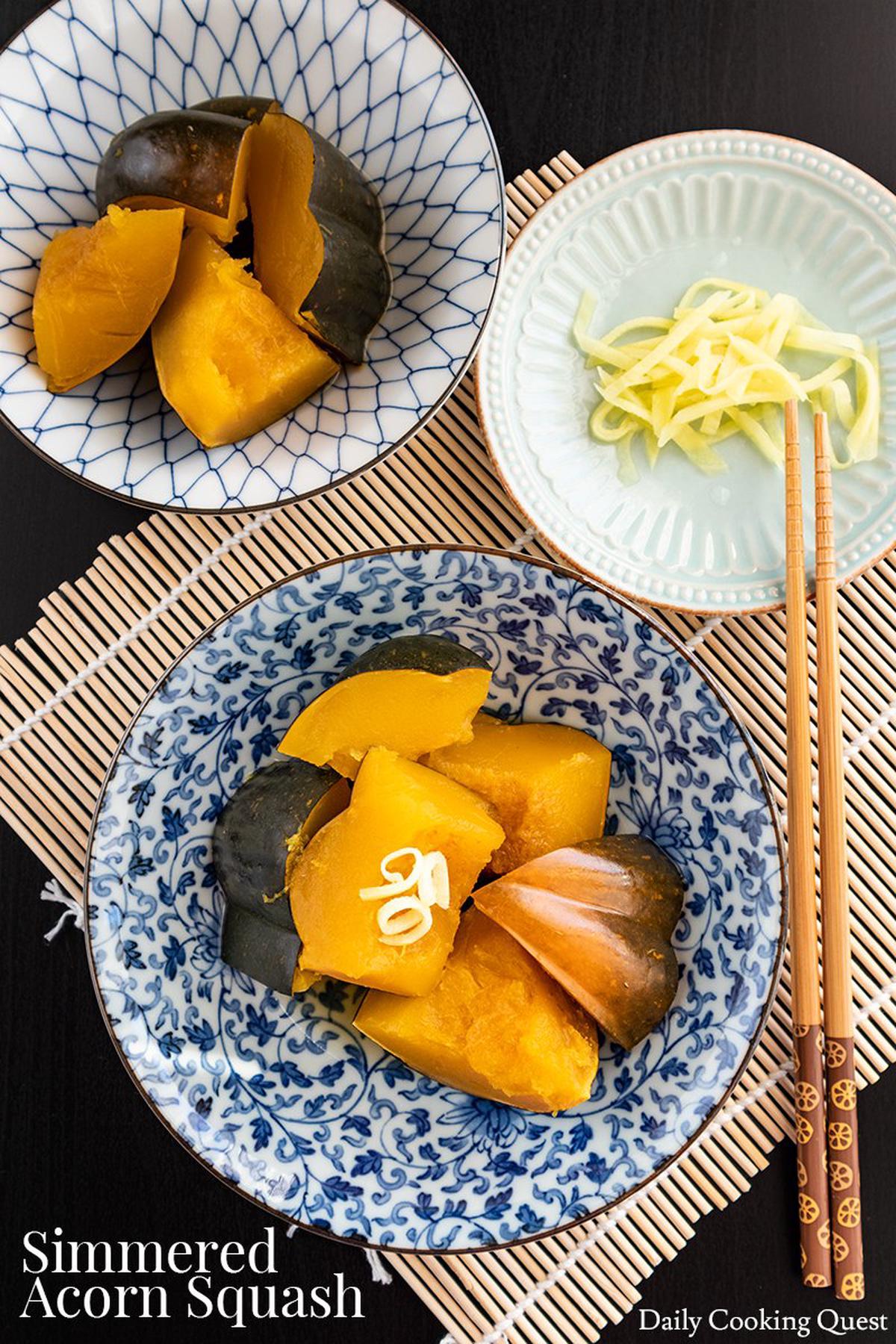 Otoshibuta (落し蓋) or Drop Lid
An essential tool to simmer this squash is an otoshibuta, or a drop lid. You can get the traditional wooden one, or a stainless steel one, or a more modern silicon version.
You can still cook this with your regular lid if that is all you have, but a humble looking drop lid ensures that the heat is evenly distributed and reduce the tendency of liquid to boil with large bubbles. This in turns, reduces the mechanical stress on the food and keeps fragile ingredients in their original shape.
So if you want your squash to be as intact as possible, use a drop lid. Or make one from an aluminum foil. Just cut them into a round shape, slightly smaller than your pot, and poke one or two holes at the center.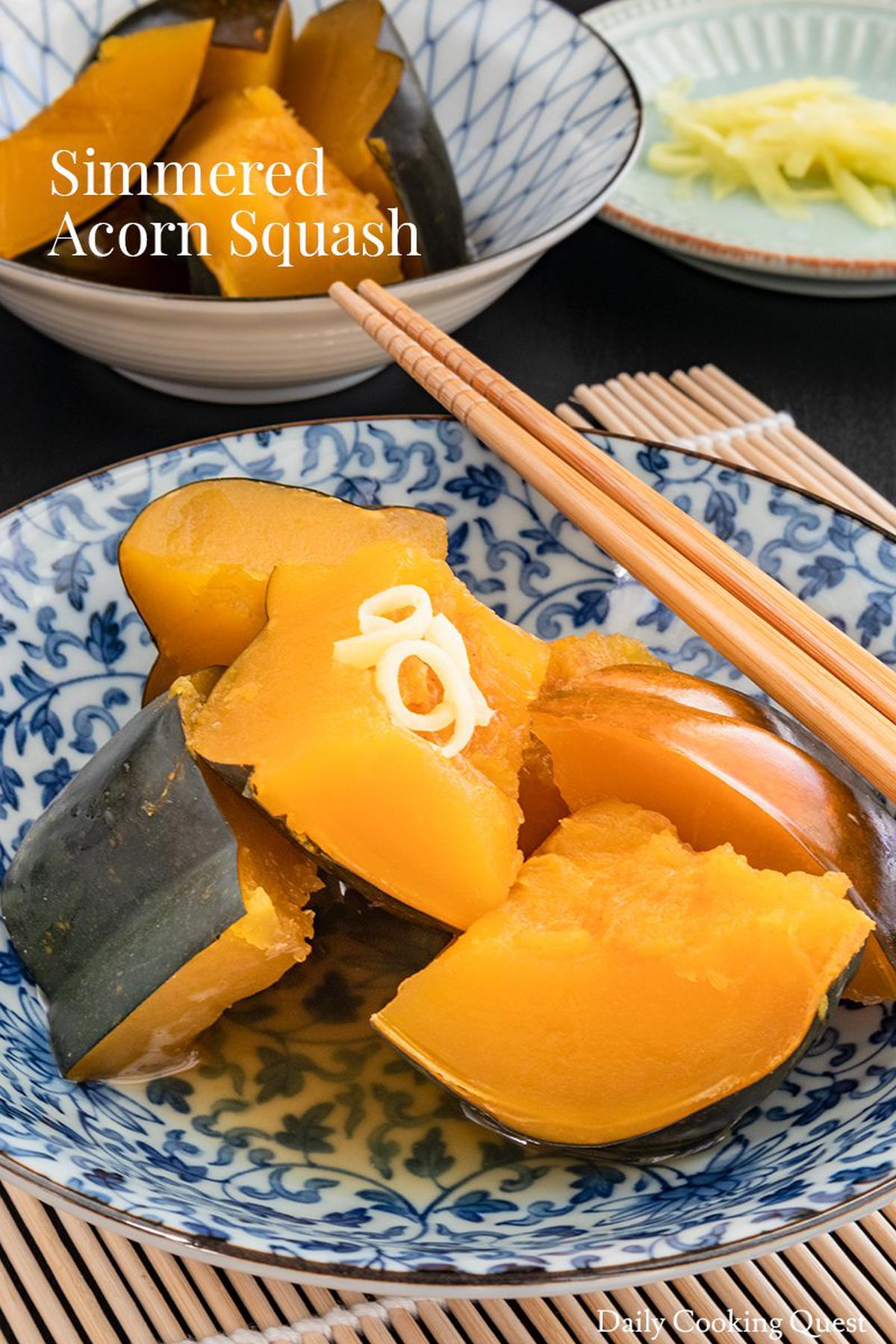 Simmered Acorn Squash
5.0 from 5 reviews
Ingredients
1 acorn squash (~ 750 gram / 1.5 lb)
2 cup (500 ml) dashi (or 2 cups water + 1 teaspoon instant dashi granules)
1 tablespoon sugar
2 tablespoon sake
2 teaspoon soy sauce
1 inch ginger, thinly sliced (for garnish, optional)
Instructions
Carefully cut acorn squash into two halves, use a spoon to remove the seeds and fibrous part. Place on a microwave safe plate, and cook on high with a microwave for 2-3 minutes. Cut the acorn squash into 2-inch pieces, and arrange in one layer in a pot.
Mix together dashi, sugar, and sake. Pour into the pot. The liquid should cover at least 80% of the squash, please add water if this isn't so.
Cook on medium high heat until boiling, then add soy sauce and shake the pot gently to distribute the soy sauce. When it boils again, reduce heat to medium low and cover the pot with an otoshi buta (drop lid). (*)
Simmer for 30 minutes. The squash should be very tender and very flavorful by the end of cooking time.
Turn off the heat, and let the squash rest in the hot pot for another 30 minutes without removing the lid. This will make the squash even more flavorful. Serve the squash with some thinly sliced ginger.
Notes
(*) You can make a makeshift drop lid by cutting a piece of aluminum foil into a round shape slightly smaller than the pot you are using, then make a couple of holes in the center to let off a bit of steam while cooking.