Home / All Recipes / Japanese / Simmered Tofu, Shimeji, and Oyster Mushroom
Simmered Tofu, Shimeji, and Oyster Mushroom
This is based on a nameko (simmered mushroom) recipe, but I tweaked it a bit to include deep fried tofu (aburage), and using two kinds of mushrooms, shimeji and oyster mushroom, instead of just one, typically enoki. So…, if you want to go back to basic, just use enoki, but keep the rest of the recipe the same. ♥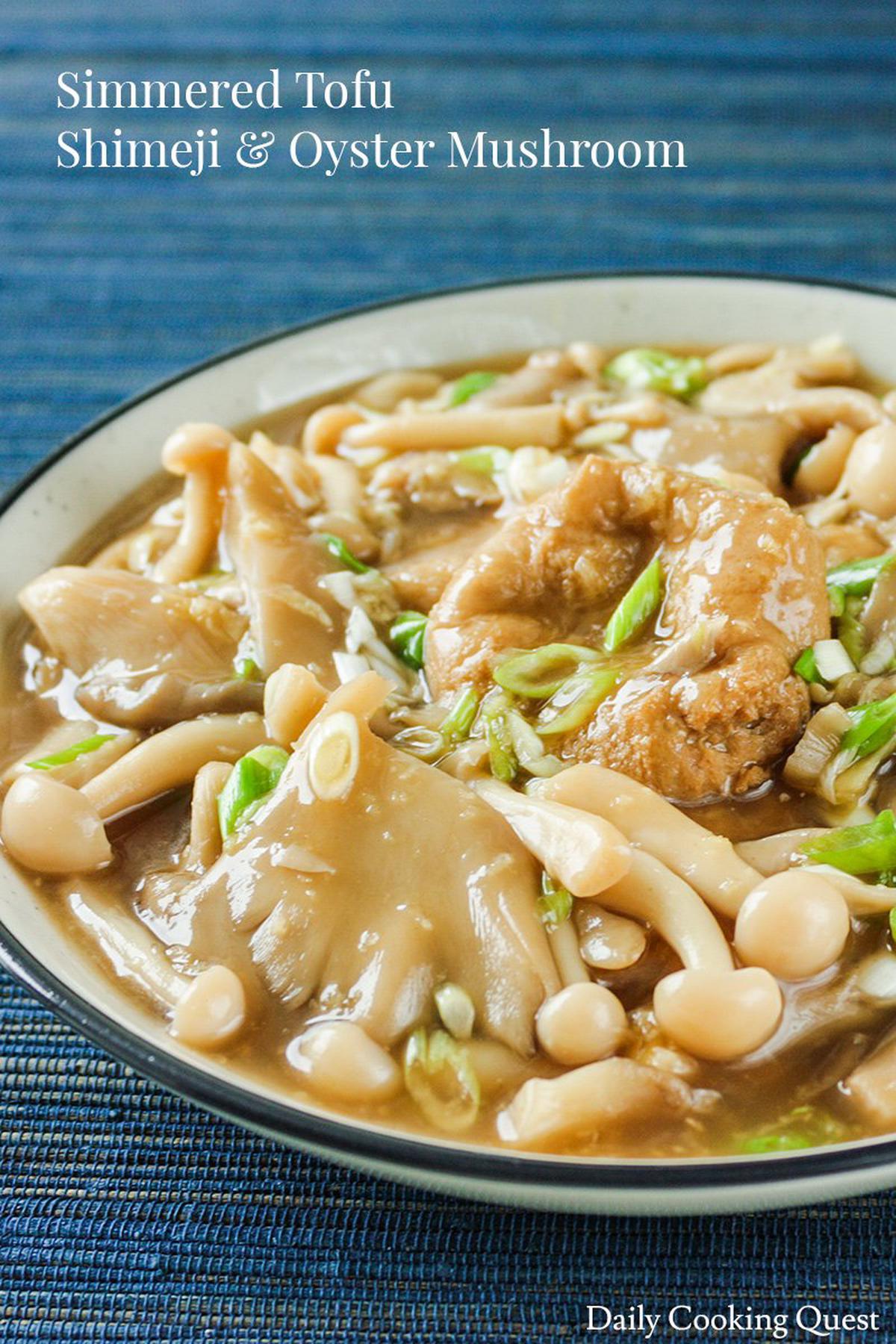 Simmered Tofu, Shimeji, and Oyster Mushroom
Ingredients
100 gram aburage (deep fried tofu)
150 gram shimeji mushroom
150 gram oyster mushroom
600 ml water
3 tablespoon soy sauce
3 tablespoon mirin
3 tablespoon sugar
2 teaspoon bonito flavored dashi seasoning
1 inch ginger, peeled and grated
1 teaspoon starch(corn/potato/tapioca) + 1 tablespoon water
2 scallions, thinly sliced diagonally
Instructions
(Optional) Bring a pot of water to boil and blanch aburage to remove excess oil. Drain and set aside.
Place aburage, shimeji mushroom, oyster mushroom, water, soy sauce, mirin, sugar, and dashi seasoning in a pot. Bring to a boil. Reduce heat and simmer until sauce is reduced, about 30 minutes.
Add grated ginger and mix well. Pour starch liquid to thicken the sauce. Add thinly sliced scallions and mix evenly. Turn off heat, and serve immediately with steamed white rice.