Home / All Recipes / Indonesian / Soto Ayam Ambengan - Ambengan Chicken Soup
Soto Ayam Ambengan - Ambengan Chicken Soup
The naming of a soto is pretty simple, usually we just append the location it hails from after soto. For example, soto Betawi comes from Betawi, which is Jakarta by the way :) Then, coto Makassar comes from Makassar, soto Bandung comes from Bandung, etc.
Soto ayam Ambengan is exactly like that, but I think it is way way WAY too specific since this soto actually comes from the city of Surabaya, from a soto restaurant located on Ambengan Street! I mean, if it is up to me, I would have called it soto Surabaya, less confusion. ;)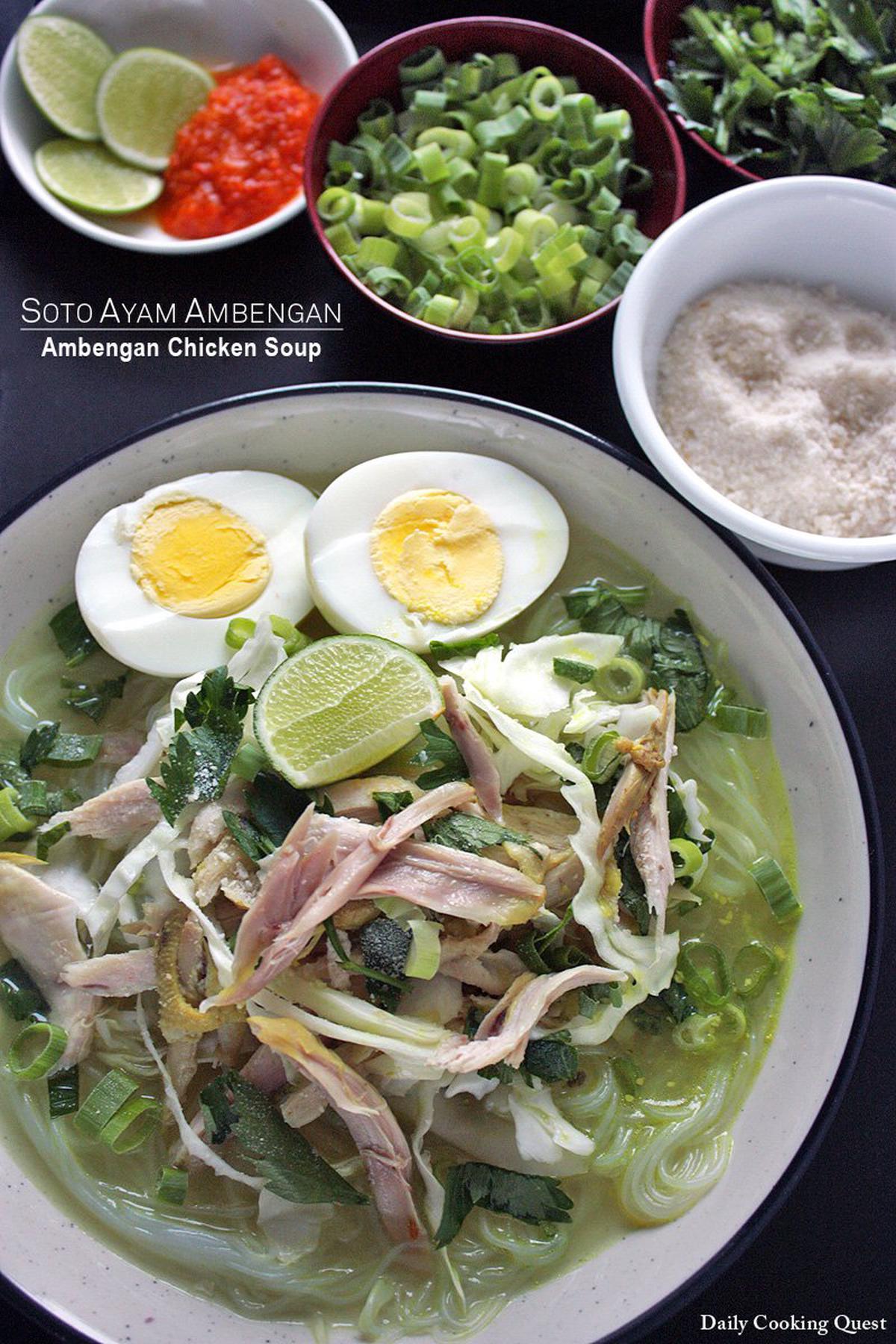 Now that you know how the soup got its name. I am going to tell you the characteristic of this soto.
Soto ayam Ambengan has a yellow colored soup since turmeric is one of must have spices to make the soup, and koya is always added when enjoying a bowl of this soup.
Koya is a powdery mixture made from crushed shrimp crackers (kerupuk udang) and fried garlic, good stuff I am telling you, it amps up the umami taste by a lot.
If you cannot find shrimp crackers, the best substitution would be crushed fried ebi (dried tiny shrimps).
Here is another shot with a broken down list on what goes into a soto ayam Ambengan, minus the soup by the way so you get a better idea. ♥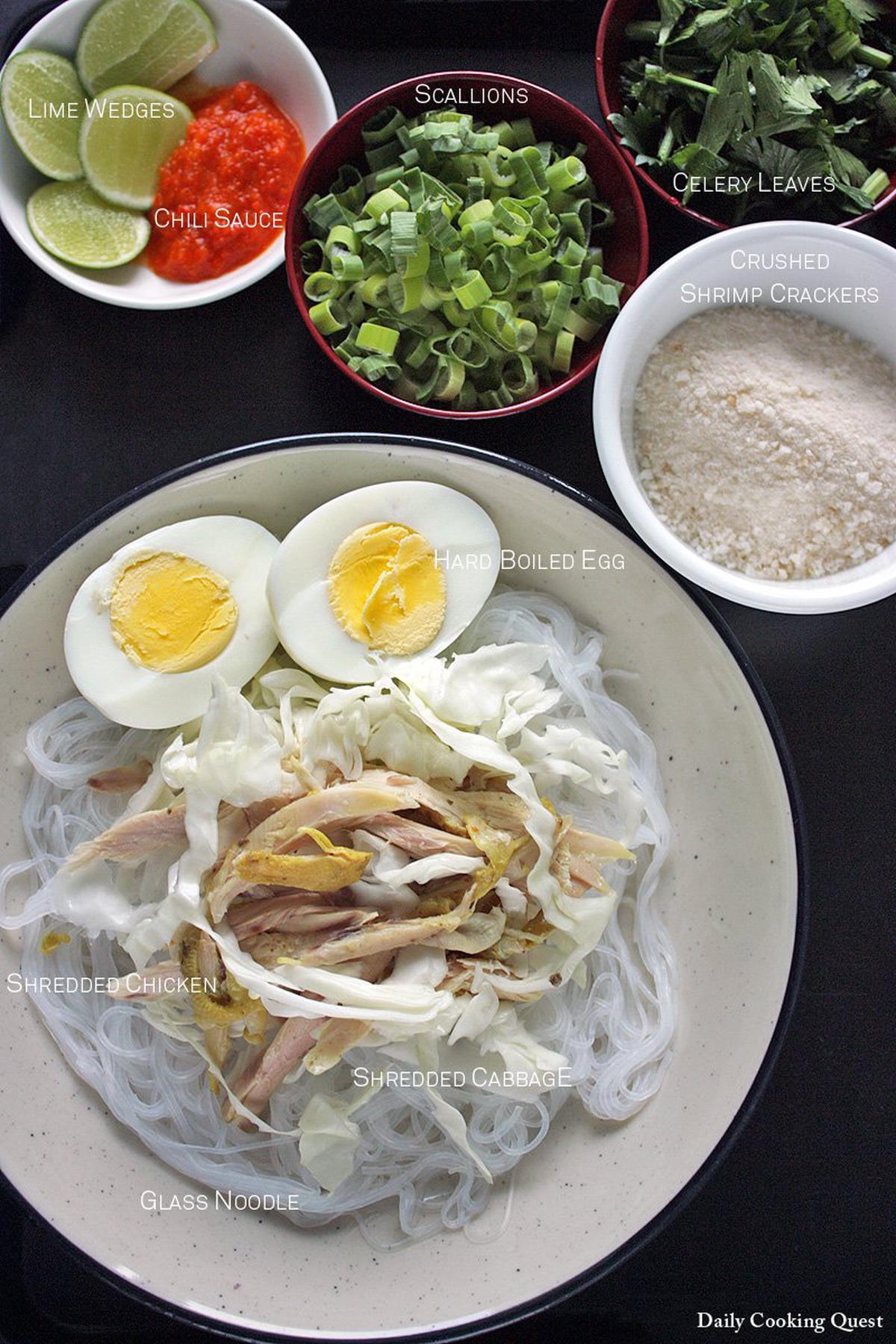 Soto Ayam Ambengan - Ambengan Chicken Soup
5.0 from 4 reviews
Ingredients
1 free range chicken (Indonesian: ayam kampung), cut into 4
2 1/2 liter water
5 lemongrass (Indonesian: sereh), bruised and knotted
10 kaffir lime leaves (Indonesian: daun jeruk)
2 tablespoon oil
2 tablespoon salt, or to taste
1 tablespoon sugar, or to taste
Grind the following into spice paste
15 shallots (Indonesian: bawang merah)
8 cloves garlic (Indonesian: bawang putih)
6 candlenuts (Indonesian: kemiri)
2 inch turmeric (Indonesian: kunyit)
1 inch ginger (Indonesian: jahe)
Koya (shrimp crackers powder), grind the following together
20 gram shrimp crackers (Indonesian: kerupuk udang)
1 tablespoon fried garlic
1/4 teaspoon salt
Garnish and accompaniments
100 gram glass noodle (Indonesian: sohun)
100 gram cabbage (Indonesian: kol)
6 hard boiled eggs (Indonesian: telur rebus)
2 scallions (Indonesian: daun bawang), thinly sliced
1 bunch Chinese celery (Indonesian: daun seledri), thinly sliced
lime wedges
boiled chili sauce (Indonesian: sambal rebus) *
Instructions
Soto

Boil together chicken, water, lemongrass, and kaffir lime leaves.
Meanwhile, heat the oil in a frying pan, and sauté spice paste until fragrant. Transfer the cooked spices into the chicken soup.
Season the soup with salt and sugar, and keep cooking until the chicken is thoroughly cooked.
Turn off the heat, remove the chicken from the soup, remove the bones and tear the meat into small shreds with your hands. Set the chicken meat aside.

Garnish and accompaniments

Soak the glass noodle in cold water until soften, then blanch in boiling water until fully transparent. Refresh under cold water, drain, and set aside.
Thinly slice the cabbage to make cabbage shreds, then blanch in boiling water.

To serve

Arrange boiled glass noodle, cabbage, chicken meat, and egg in a serving bowl. Top with some soup and some koya. Garnish with sliced scallion and Chinese celery. Serve with boiled chili sauce and lime wedges.
Notes
(*) Sambal rebus (boiled chili sauce) recipe: https://dailycookingquest.com/sambal-rebus-boiled-chili-sauce.html