Home / All Recipes / Indonesian / Soto Bandung - Bandung Beef and Daikon Soup
Soto Bandung - Bandung Beef and Daikon Soup
Among the many soto, I would rank soto Bandung as one of the simplest to make. And probably the easiest to reproduce too if you live outside Indonesia since most of the ingredients are easily obtainable from a decent Asian grocers, so please give it a try. Oh, and don't forget to make the super lovely sambal rebus to go with this, okay? ♥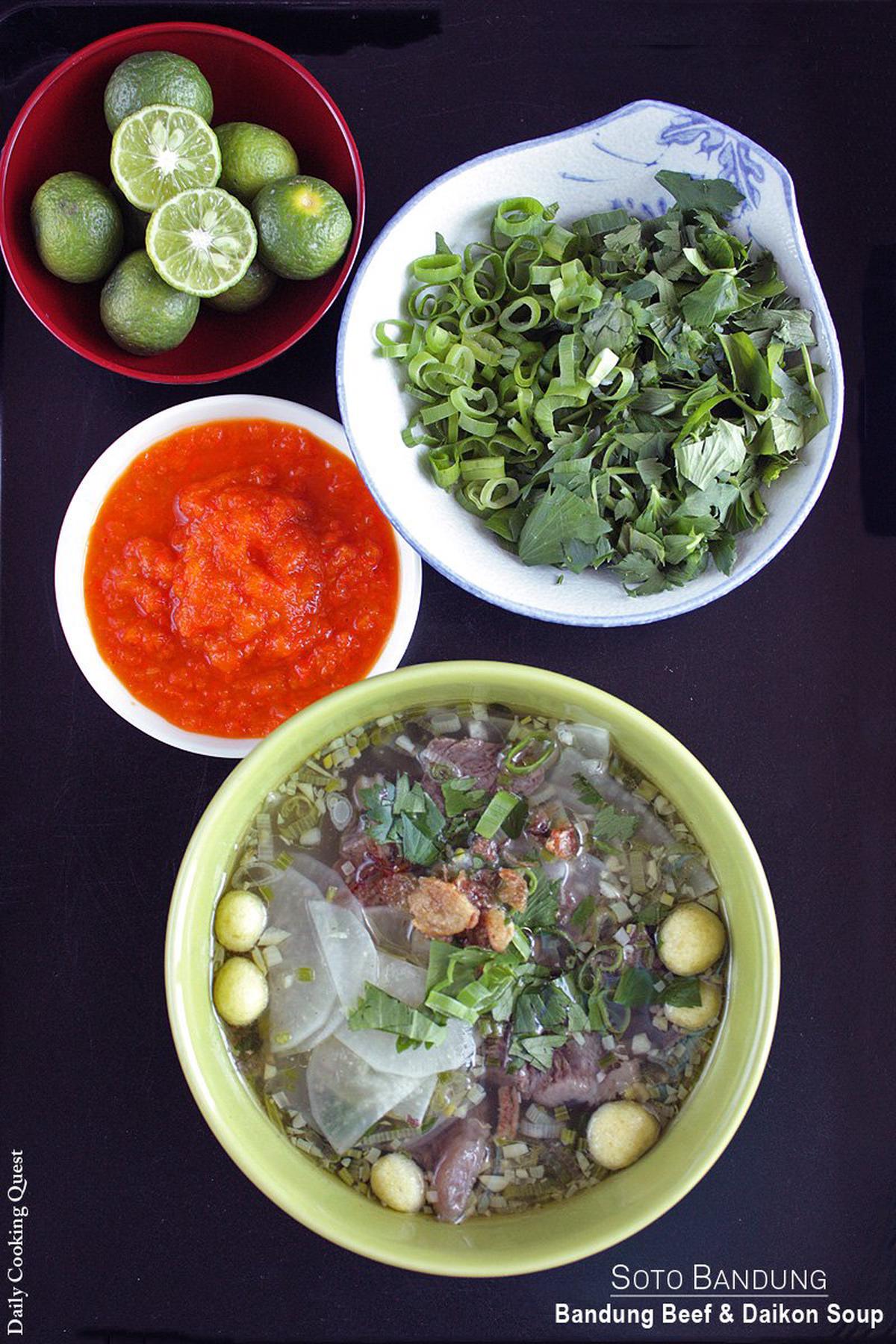 Soto Bandung - Bandung Beef and Daikon Soup
Ingredients
250 gram beef, cut into small bite size cubes
2 bay leaves (Indonesian: daun salam)
2 inch ginger (Indonesian: jahe), peeled and bruised
2 lemongrass (Indonesian: sereh), bruised and knotted
1 liter water
2 tablespoon oil
6 cloves garlic (Indonesian: bawang putih), minced
2 scallions (Indonesian: daun bawang), white parts only, thinly sliced
1 bunch Chinese celery (Indonesian: daun seledri), stalks only, thinly sliced
1 teaspoon salt
1 teaspoon sugar
1/2 teaspoon ground white pepper
150 gram daikon (Indonesian: lobak), peeled, halved lengthwise, and thinly sliced
Garnish & accompaniments
2 scallions, green parts only, thinly sliced
1 bunch Chinese celery, leaves only, roughly chopped
deep fried shallot flakes (Indonesian: bawang goreng)
deep fried soy bean (Indonesian: kacang kedelai goreng) (*)
kaffir lime (Indonesian: jeruk limo) (**)
sambal rebus
Instructions
Boil beef, bay leaves, ginger, lemongrass, and water in a soup pot. Reduce heat, cover, and simmer until the beef is tender.
Meanwhile, heat oil in a frying pan and sauté garlic until fragrant but not yet golden brown. Add green parts of scallions and stalks of Chinese celery, fry until fragrant. Turn off heat, then add this to the pot containing beef soup. Season the soup with salt, sugar, and pepper. Adjust the taste as needed.
Add thinly sliced daikon into the soup, and when the soup boils again, turn off the heat.
Serve the soup hot with scallions, celery, shallot flakes, and soy beans. Some sambal rebus with a squeeze of kaffir lime to go with the soup is heavenly.
Notes
(*) Can be substituted with peanut as well.
(**) Can be substituted with lime as well.