Home / All Recipes / Indonesian / Soto Daging - Indonesian Beef Soup
Soto Daging - Indonesian Beef Soup
Indonesian soto daging (beef soup) is one of the easiest soup to prepare, basically a dump and forget kind of soup, and perfect for busy days.
I was looking through the recipes that I have published so far, and I could not believe I haven't shared this super delicious soto daging to this day. This is one of the very first soto recipes I learn to make when I started having to cook for myself back in college days, which is more than a decade ago, and this suddenly makes me feel old [depressed]. I was taking some college classes in Malaysia and then halfway I transferred to a college in the Midwest. I was freaked out that I still had so… many courses I needed to graduate, I played catch up and took like 22-24 credits each semester for 2 1/2 years toward my graduation. Crazy times.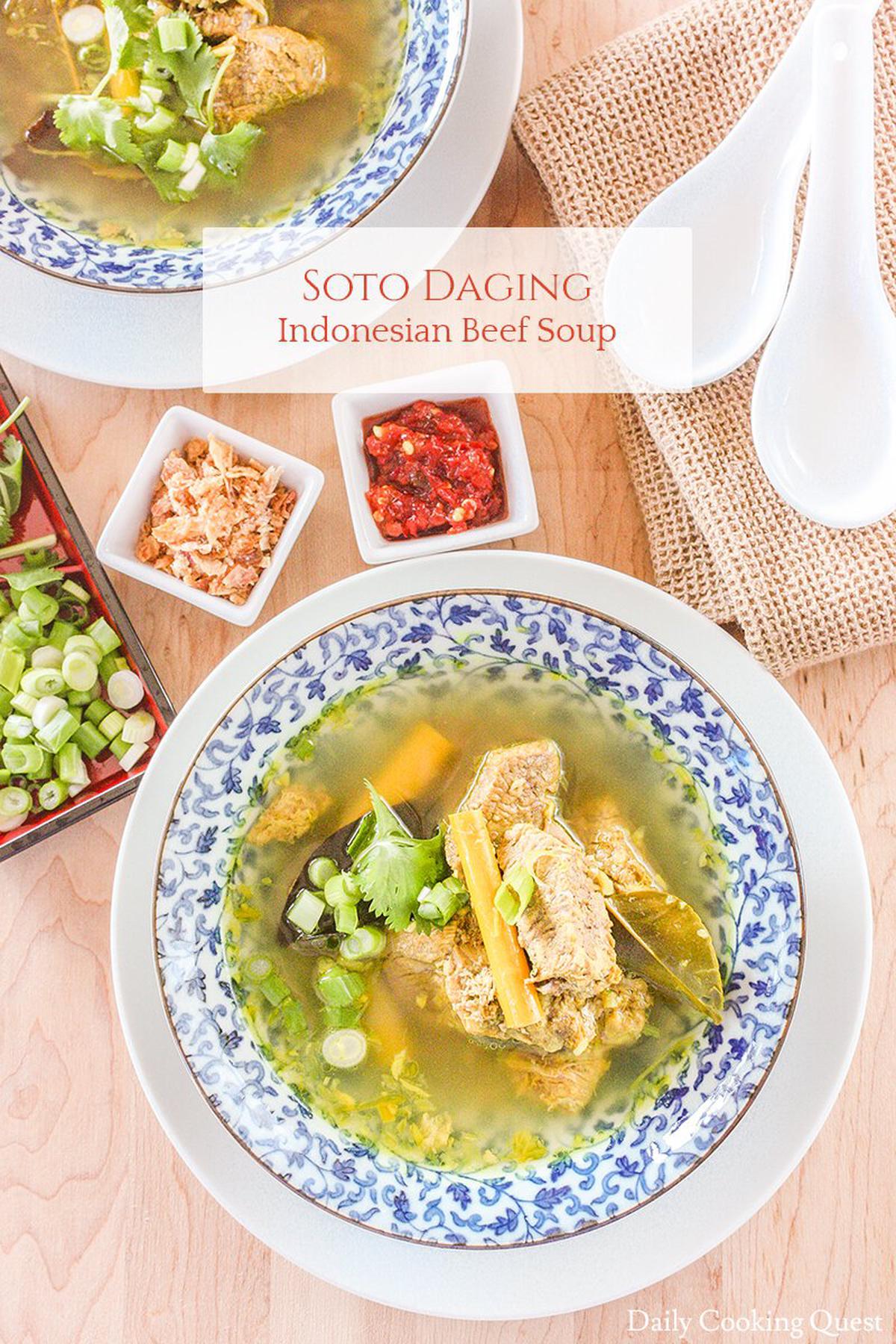 Even when I was so swamped with school work, I still managed to find time in weekends to do grocery and prepare food for 1 whole week. Two reasons, the first one being it was so much cheaper to cook my own food than eating out, and the second one was because I was so sick and tired of eating out even if I had the money, which I didn't, which probably contributed to the quality of the take-out food I resorted to in the first place. What I prepared back then was nothing fancy of course, and I gravitated to soups like this since I can make a huge batch that lasted for at least a week. I have to admit back then my dishes most likely didn't taste as good as now, and definitely not nearly as pretty ;)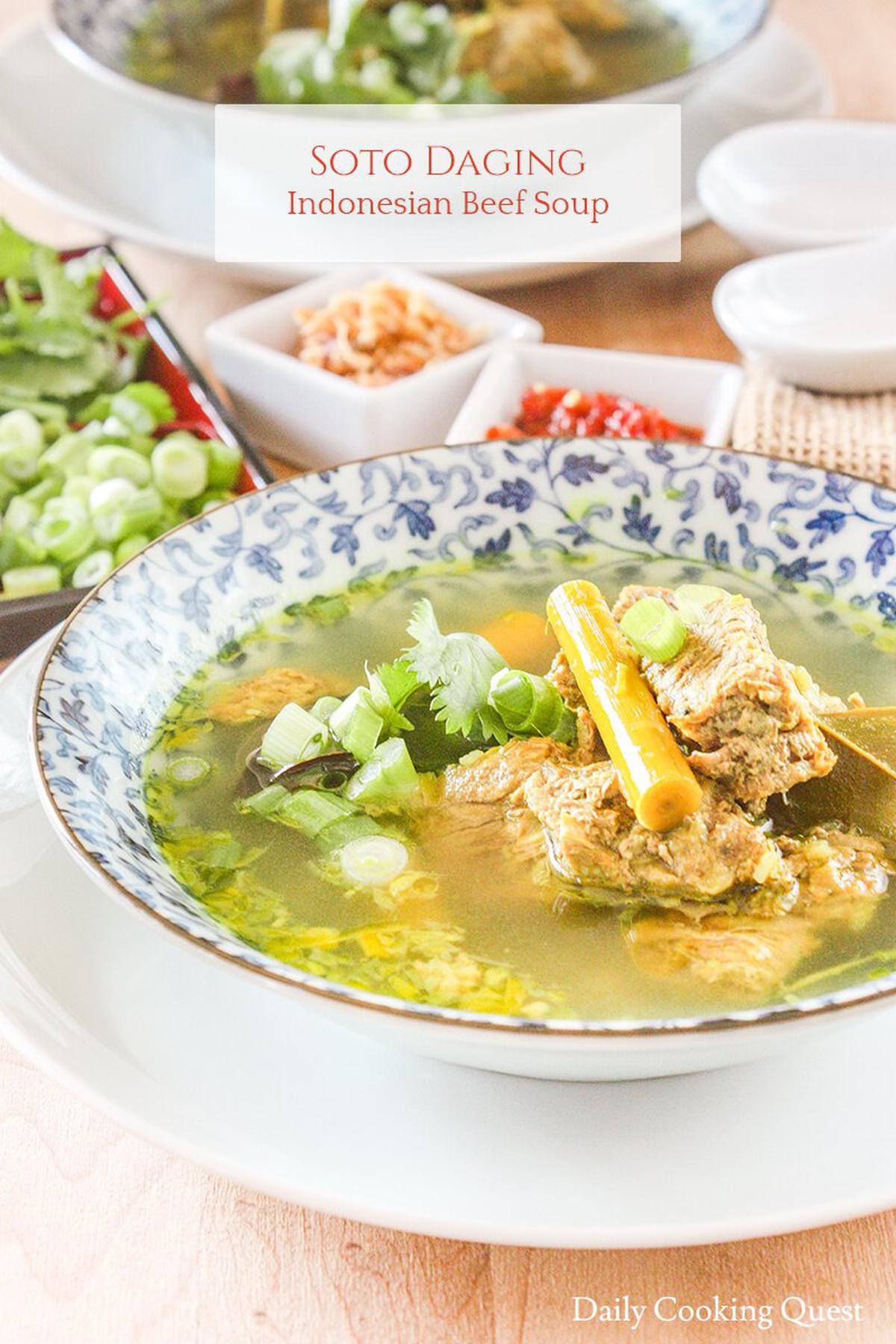 Soto Daging - Indonesian Beef Soup
4.8 from 4 reviews
Ingredients
1 kilogram beef stew cuts
8 cups (2 liter) water
3 lemongrass, greener top part (reserve 3" bottom whiter part for spice paste)
10 kaffir lime leaves (Indonesian: daun jeruk)
4 Indonesian bay leaves (Indonesian: daun salam)
1 cinnamon stick
1 star anise
1/2 teaspoon nutmeg
1 1/2 tablespoon salt, or to taste
Spice paste (grind the following together)
80 gram shallot
6 cloves garlic
3 lemongrass, bottom 3" whiter part
1 inch galangal
1 inch ginger
1 teaspoon pepper
1 teaspoon coriander seeds/powder
1/2 teaspoon cumin seeds/powder
1/2 teaspoon turmeric powder
Garnish
2 scallions, thinly sliced
4 stalks cilantro, thinly sliced
sambal oelek
deep fried shallot flakes (Indonesian: bawang merah goreng)
lime wedges
sweet soy sauce (Indonesian: kecap manis)
Instructions
In a soup pot, boil together beef, water, lemongrass, kaffir lime leaves, Indonesian bay leaves, cinnamon stick, star anise, and nutmeg. Reduce heat and simmer until the meat is tender. About 1 to 2 hours.
Heat 4 tablespoon of oil in a frying pan on medium heat. Sauté spice paste until cooked and fragrant, about 5 minutes.
Once the meat is tender, return the soup to a boil. Add the fried spice paste and seasoned the soup with salt. Adjust the amount of salt as needed.
Reduce heat to a simmer, and cook for another 10 minutes.
Turn off heat. Serve the soup hot with garnishes and steamed white rice.