Home / All Recipes / Chinese / Soy Bean Paste Fish
Soy bean paste sauce is a great way to dress up a simple pan fried fish fillet. Quick, easy, tastes incredible, and guaranteed to be a favorite. You need only 30 minutes to prepare this delicious Chinese pan fried fish dish, including prep time!
When you want something quick (30 minutes), easy, delicious, and healthy to boot, you may want to give this soy bean paste fish a try. This soy bean paste sauce is one of my favorite sauce, and if you are like me, you will want to pair it with everything, from fried tofu cubes, to something heavier such as bite size fried chicken.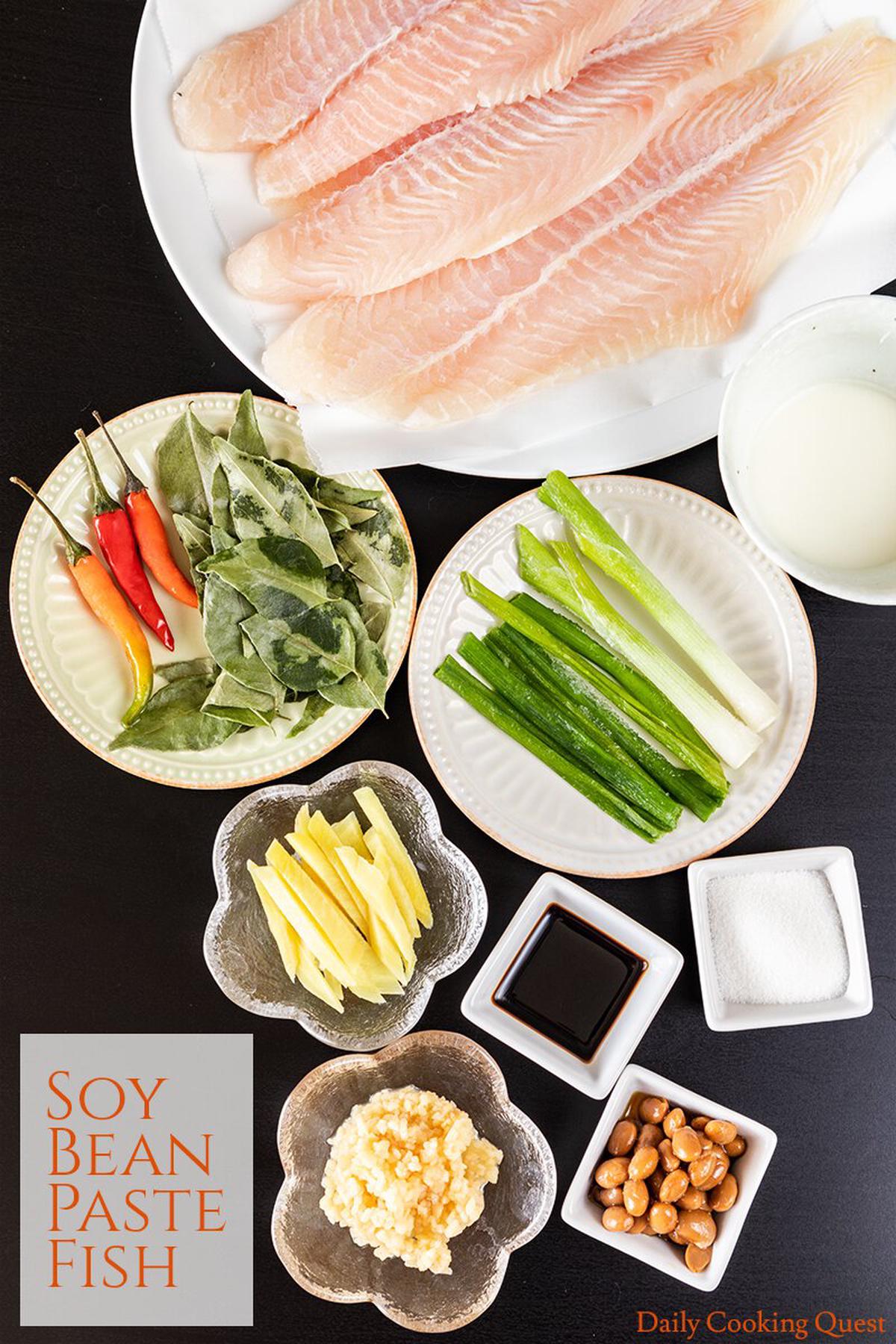 Choosing your fish and how to pan fry fish fillet
Red snapper, rock fish, swai, cod, grouper, halibut, and tilapia are some of my favorite white fish fillet for pan frying. As long as the fish fillet of your choice has firm flesh, it should be good. If white fish is not your favorite, you can even use salmon or trout fillet. Whichever fish fillet you choose, be sure to pat them dry with paper towel, sprinkle with salt and pepper, and dust with all-purpose flour (or cornstarch for gluten-free option).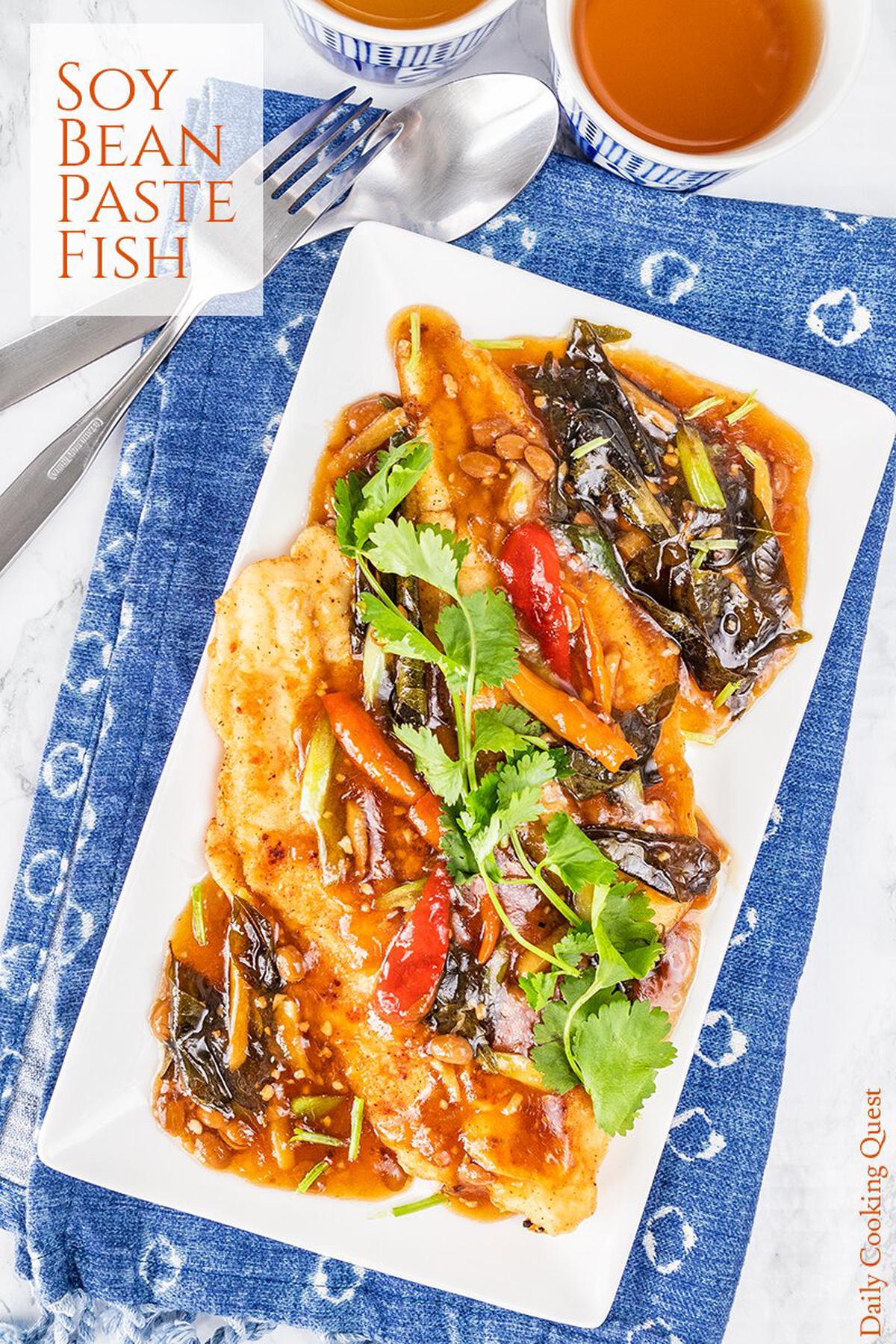 Salted soy beans (tauco)
The key ingredient for making soy bean paste fish is salted soy beans. We call this tauco in Indonesia. You can find salted soy beans in most Asian market, and sometimes they are also called fermented soy beans. I typically go either with Yeos salted soy beans, or Dragonfly fermented soy beans. You can use other brands, but try to select the ones with whole soy beans, not the ones with ground soy beans.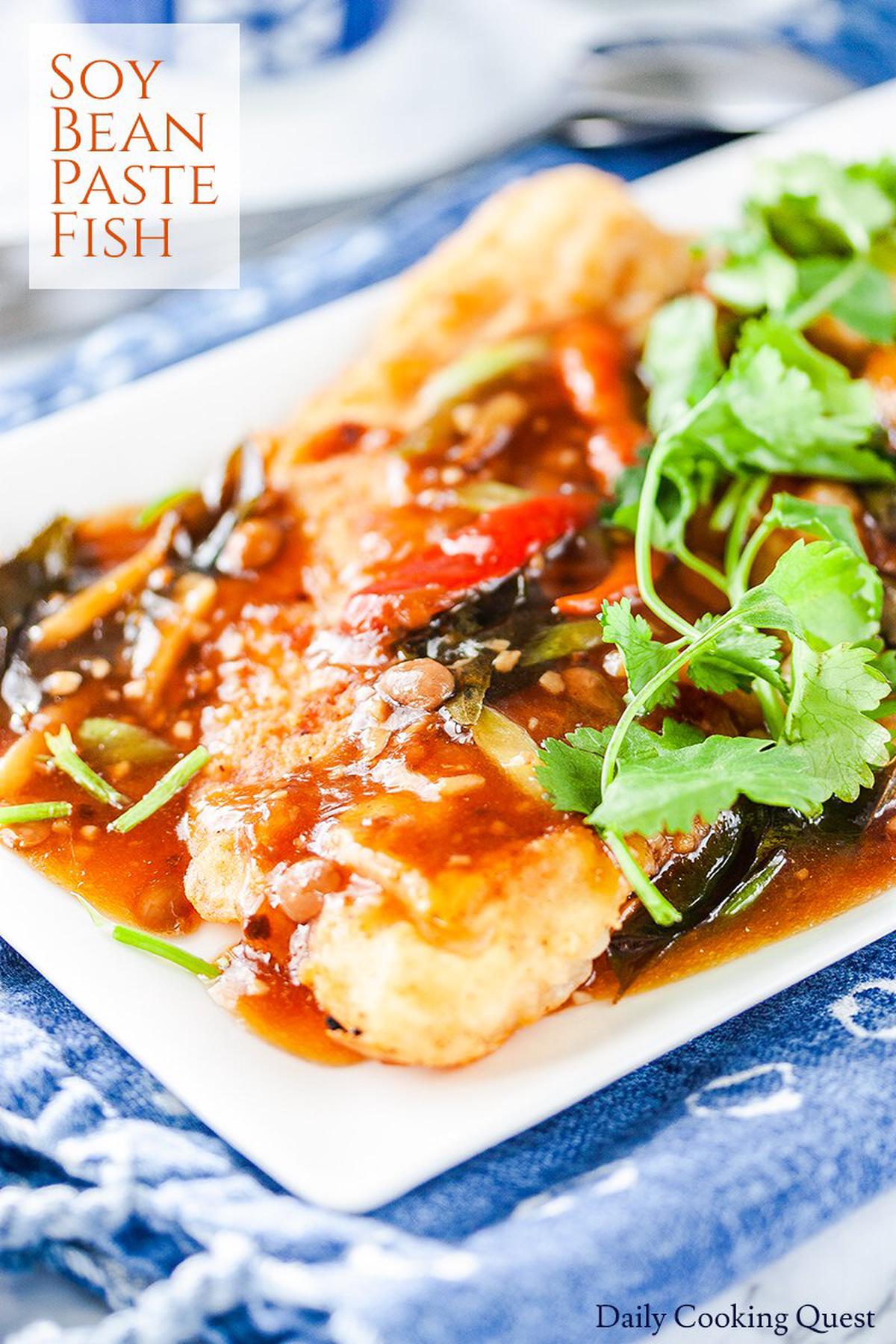 Curry leaves (or kaffir lime leaves)
Another key ingredient is curry leaves. Stores that only sell East Asian (Chinese, Korean, Japanese) and Southeast Asian fares (Indonesian, Singaporea, Malaysian, Thai, Vietnamese, e.t.c.) are usually not a good place for fresh curry leaves. It is better to try Indian or Middle Eastern markets for some fresh curry leaves. I usually buy them in bulk, as in I buy half a gallon worth of zip lock bag of curry leaves, then freeze them. Curry leaves can last for months and months when frozen like this. If fresh curry leaves is not something that is easy to come by, you can substitute with kaffir lime leaves.
Soy Bean Paste Fish
4.5 from 2 reviews
Ingredients
Pan fried fish
4 fish fillets (any firm white fish will do), about 600-700 gram
salt
pepper
all purpose flour
3 tablespoon oil
Soy bean paste sauce
2 tablespoon oil
5 cloves garlic, minced
1 inch ginger, julienned
1-3 serrano/jalapeno/fresno chilies, seeded and sliced diagonally
2 sprigs (about 30 leaves) fresh curry leaves, remove stalks (*)
1 tablespoon salted soy beans
1 tablespoon sugar
1 teaspoon light soy sauce (or regular soy sauce)
1 cup water
1 tablespoon corn starch + 2 tablespoon water
2 scallions, slice diagonally
Instructions
Pan fried fish

Pat dry fish with paper towel, sprinkle with salt and pepper, and dust with all purpose flour.
Heat oil in a frying pan and pan fry fish fillet until golden brown on both sides, about 3 minutes each side. Set aside in a serving plate.

Soy bean paste sauce

Heat oil in the same frying pan (no need to clean after frying the fish) and sauté garlic, ginger, chili, and curry leaves until fragrant. About 3 minutes.
Add soy bean paste, stir for 30 seconds.
Season with sugar, soy sauce, and pour the water. Mix well, and bring to a boil.
Adjust seasoning as needed. Then thicken the sauce with corn starch solution.
Turn off heat, add scallions, mix well. Pour the sauce over the pan fried fish. Serve immediately.
Notes
(*) Can be substituted with 6 kaffir lime leaves, but the aroma of the dish will be different.